I was very eager to return to Music on the Mesa in Taos, June 3-5.  The venue itself is stunning, with vitas of the mountains right past what I call the cornucopia main stage. The weather usually is cooler up at 8,000 feet in Taos than in other parts of the state and the night sky, even with concert lighting, is breathtaking.
But, more important to music fans is the quality of the artists Stephen Plyler brings to this festival. He does his homework in spade. He told me he handpicks each and every act. Most of them are bands he's been a fan of for years. Others he's heard live somewhere, and some he's watched a lot of live YouTube videos of.  For a couple where he couldn't find an on-stage video, he looks at the band's tour schedule and actually calls venues to see how the band sounds live. After all, engineers can fix a lot of sour zingers through their state-of-the-art sound equipment. The measure of a band is how they sound live and how they interact with the audience. That is the essential ingredient, as Jon Cleary once told me.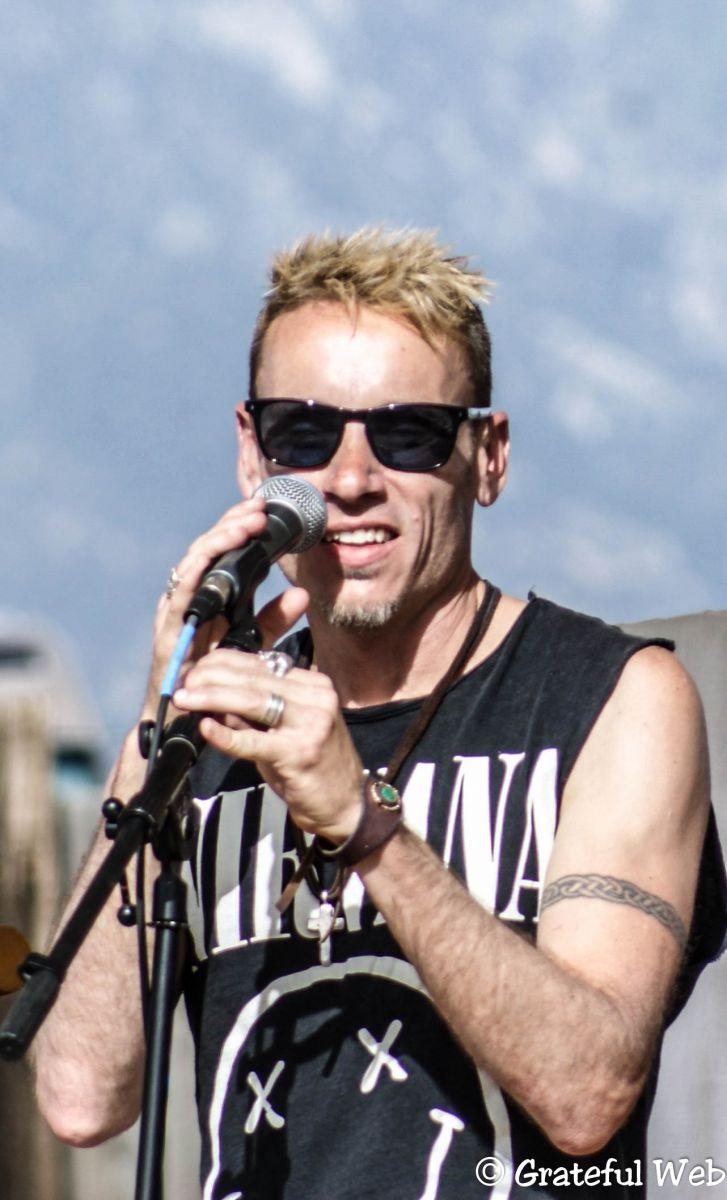 Music on the Mesa 2016 did not disappoint. I was blown away by all of the acts and was very pleased to see a few return from last year.  Each day there was at least one band I'd come up from Santa Fe to see especially. And every night, I'd walk away turned on by a couple of bands I'd never seen before. So forgive my enthusiasm about those old and new favorites.
Here's how Day One fell together. It was a short day at the festival, beginning at 5 pm. Five bands played hour and a half sets, staggered through three different stages, with none really competing with any other stage.
So let's turn to the opening band on the Patio stage. Young sound engineer Sarah Martinez was working everything from a tablet. (Technology sure has changed the need to lug around huge soundboards.) She was a tad nervous because she said that the next act was "the biggest band I've ever run sound for."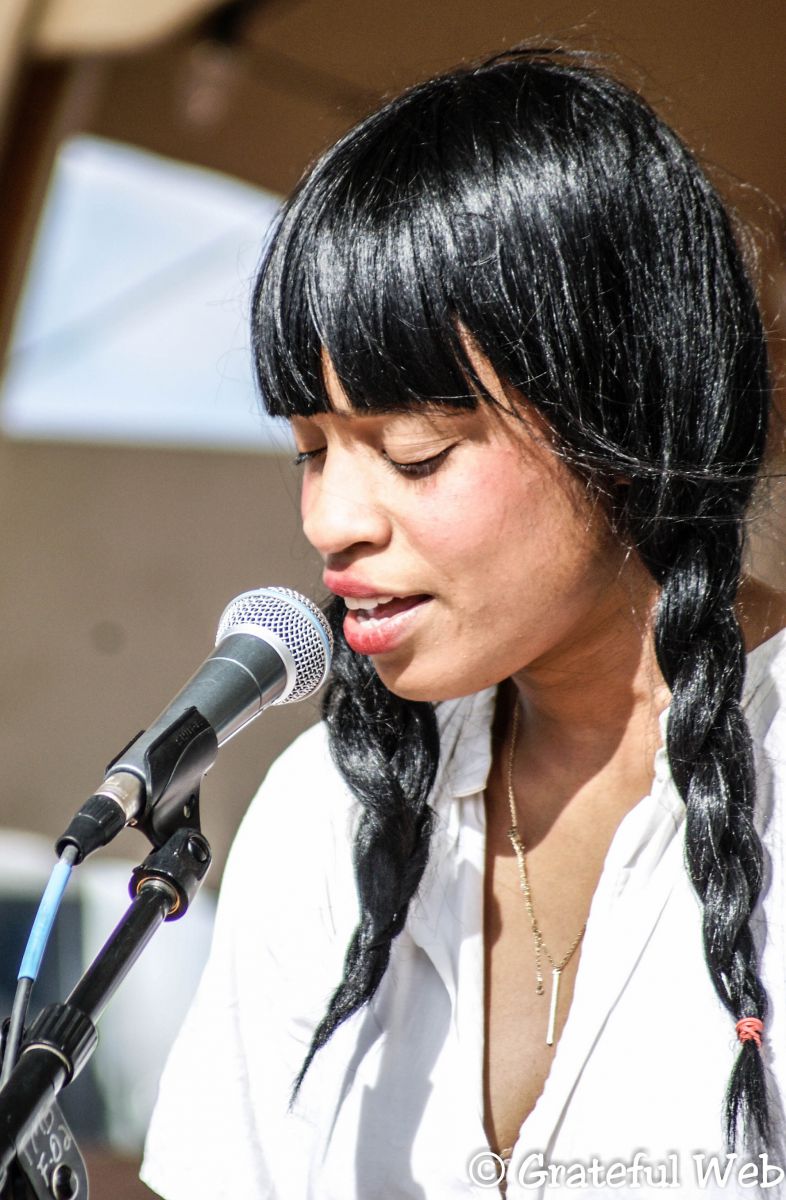 That act was Adia Victoria. I'd read the buzz about her, especially what Rolling Stone had to say. I found her to be a curious singer-songwriter with an hypnotic voice. She's skilled but young yet and writes rather enigmatic songs. Her voice, though, has opened a lot of doors for her as a young black talent.
What I was impressed with most, however, was her band. It's unusual for a new artist to find a backup band who supports unusual songs that ranged from plaintive jazzy numbers to deep water South stomps. These musicians were sensitive and listened to each other and to the songs. Tiffany Minton's drum work was varied, flowing from just a bit of quiet fill to driving the song. She's young, too, but shows strong maturity and restraint not to overshadow the delicateness of Adia Victoria's voice.  Then there was Mason Hickman on keys. I grinned a couple of times, watching him man the double keyboards, almost dancing in his seat, as his flourishes added depth to Adia's sometimes swamp sound. Jason Harris on bass and Alex Caress completed the sound. Adia herself picked up an electric guitar for a couple of numbers and she's certainly no slouch, doing her own kind of shredding.
What I found a little odd was right at the end of her set Adia put on a black slouch hat she had been wearing in the sun and just walked off the stage right through the crowd and out of the festival grounds. She never stopped though people wanted to talk to her. I wondered if that was how she coped with performing or whether it was something else.
However, with the press that she is getting and the encouragement from the industry, I have a sense Adai will move on to do a solo act with a bigger label. It is my hope that these band members get noticed enough to provide the color for another eclectic front person or perhaps one of them has some songwriting chops. These players are that good.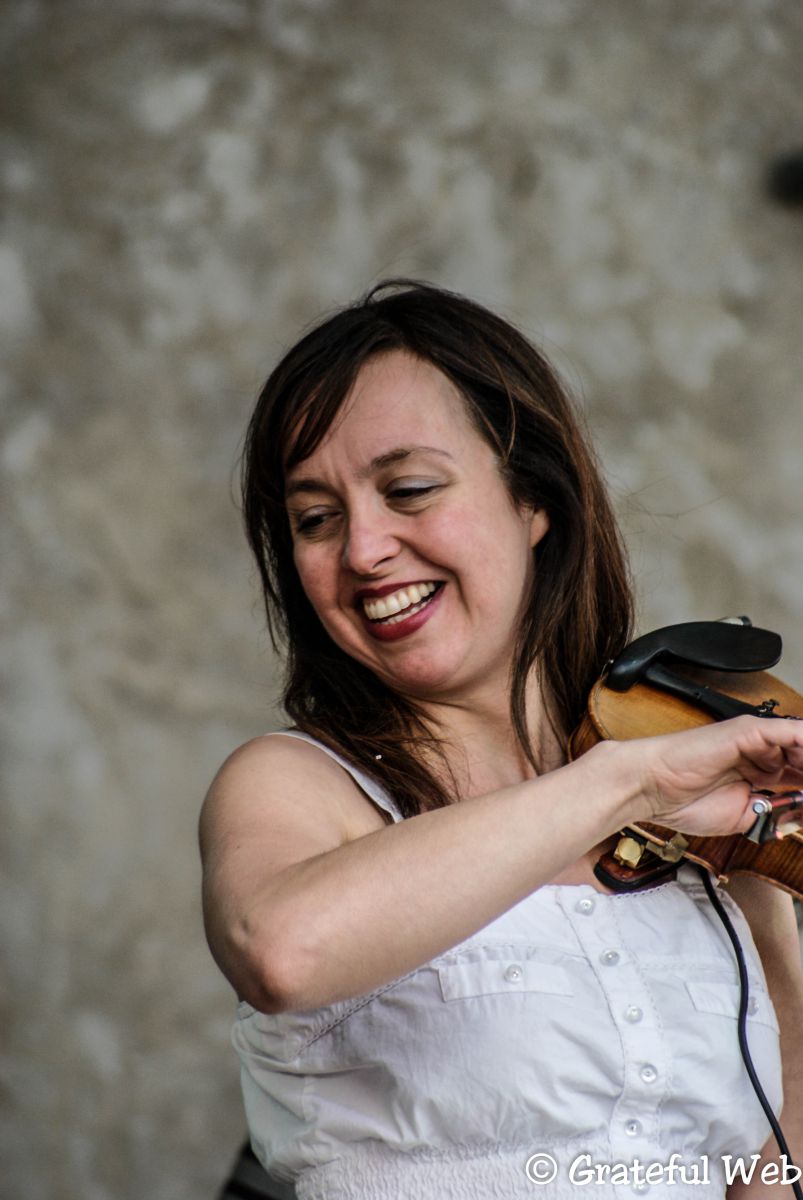 Next up was the Mike + Ruthy Band on the main stage. Like Stephen, I did my homework on this band, and it quickly became my must-see (other than Elephant Revival, a band I'd interviewed and seen many long years ago). Ruthy played guitar and a tiny banjo while Mike played guitar. They were supported by two members from their much larger band (drums, bass) that was limited by the extent of this cross country tour. They were also joined by guest steel guitarist, Charlie Rose, who plays with Elephant Revival. The band is tight, allowing Mike and Ruthy to shine.
I was impressed with Ruthy's deep, powerful voice and Mike's tight backup harmonies.  Ruthy's vocal phrasing was often sensitive and very tender, though she could belt out a powerful lyric when called for.  Song after song impressed me, not just in execution but also in content. This was accessible music that everyone could relate to. Like songs in the folk tradition (which is still alive and well in New York where they're from), these songs were about family and the people they meet on the road.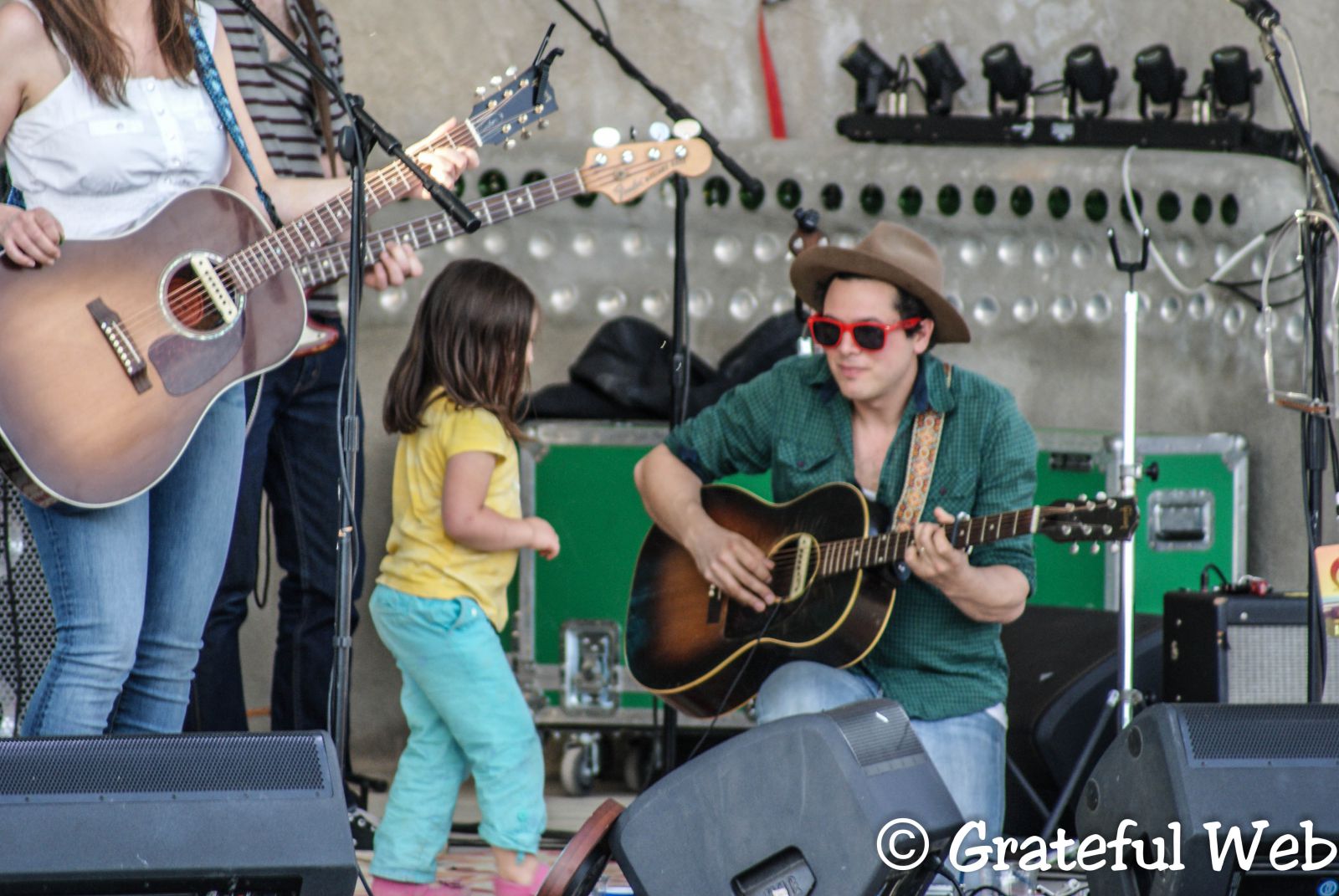 Two songs, written because of their children (Opal 4 and her brother Willy 8) who were with them on this tour, were jaw-dropping. These were sweet lullabies or syrupy bubble gum. "Oh, Mama," derived from trying to get her son to nap, turned into an amazing blues number with the line: "Oh, Mama, hold me close and sing to me in the middle of the day." That line alone could transfer to a relationship as well. And there was "Rock on, Little Jane," a song Mike wrote about Opal but had to change it to the generic Jane because not much rhymed with Opal.  It was a blend of 70s rock and a taste of fiddle.
At one point Opal wandered out on stage to dance with the band and check on her dad and mom. It was a sweet moment that didn't interrupt the act at all. They just flowed with it as I'm sure they did at home when they rehearsed.
Mike and Ruthy also told some great stories in between songs. These were often a bit lengthy but they kept the audience's attention through them and were wonderful setups to the songs that followed.
Amid all of their originals, they only did one true cover, a Richard Thompson song, "1952 Vincent Black Lightning." However, they co-wrote a song with Woodie Guthrie. His granddaughter sent them the lyrics of a never-before-recorded song and asked them to write music for it and record it. The song was timeless, but had a more contemporary feel.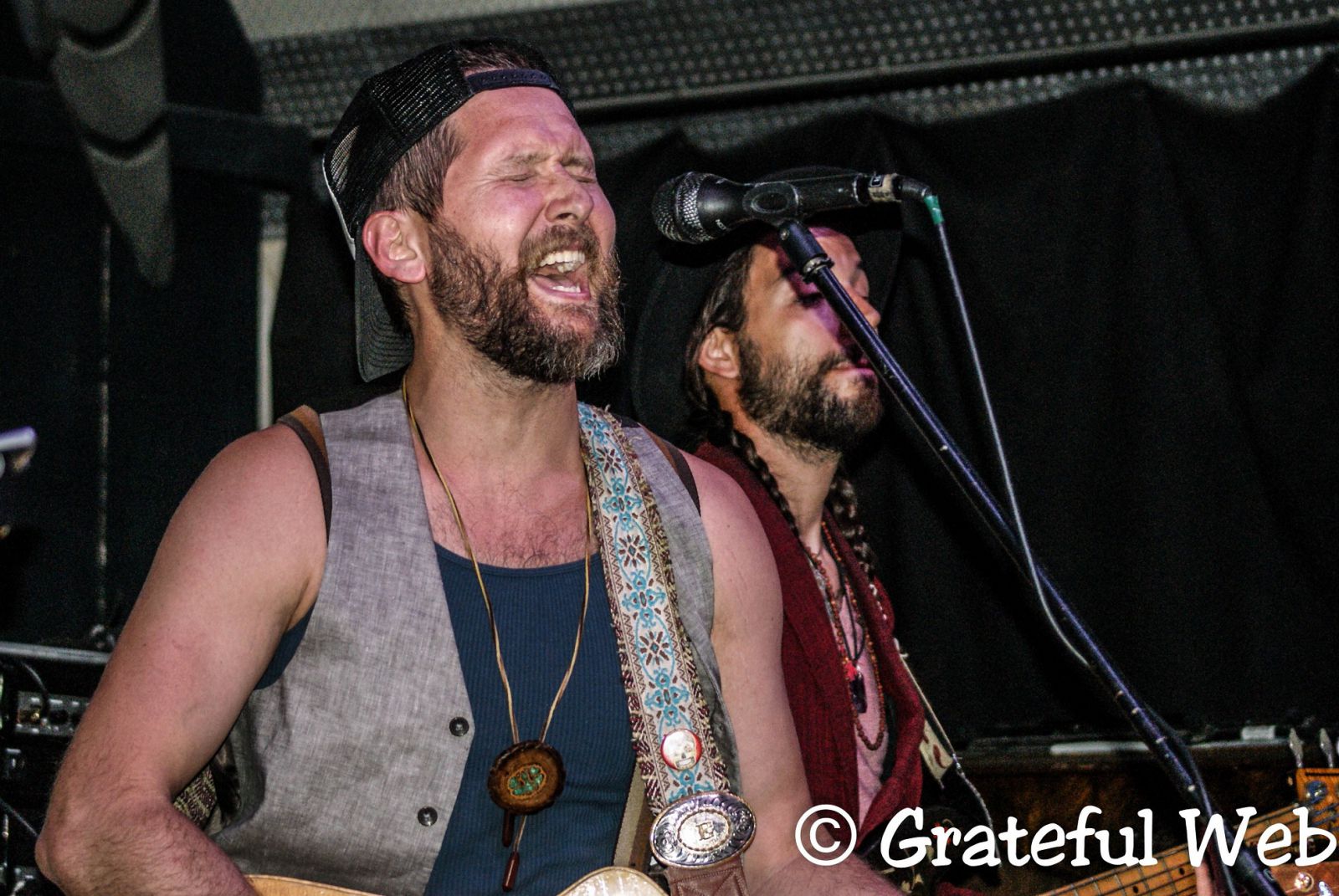 Following Mike + Ruthy was The Giving Tree Band on the inside state. I was limited inside and after sundown to shooting concert photos with no flash due to restrictions at this festival, even for professionals. I spent a fair amount of time trying to get settings right but that didn't happen until the next day. 
The Giving Tree Band, however, was full of fire. This group does a mix of acoustic and amped instruments, while still preserving that old Appalachian holler sound, Their mandolin player was hot and feeling it that night. Vocals were strong with good back ups. It was a very danceable band and allowed festivalgoers to finally let loose on the wooden dance floor inside. I'd like to catch this band again sometime where I could sit and listen a bit more. Dancers and fans packed the indoor space and were enjoying themselves.
On the main stage, rounding out the evening was the long-awaited Elephant Revival. I'd seen this band several years ago when they all tried to crowd onto a tiny little stage in a bar in Fargo ND.  The sound engineer at the bar had to figure out how to mic Bonnie Paine's stompbox as well as the never ending parade of instruments she and her bandmates played. This night, there was plenty of room for everyone to spread out and this time they brought along their own sound engineer, Jay Anderson, who spelled Gypsie, the festival's veteran soundman.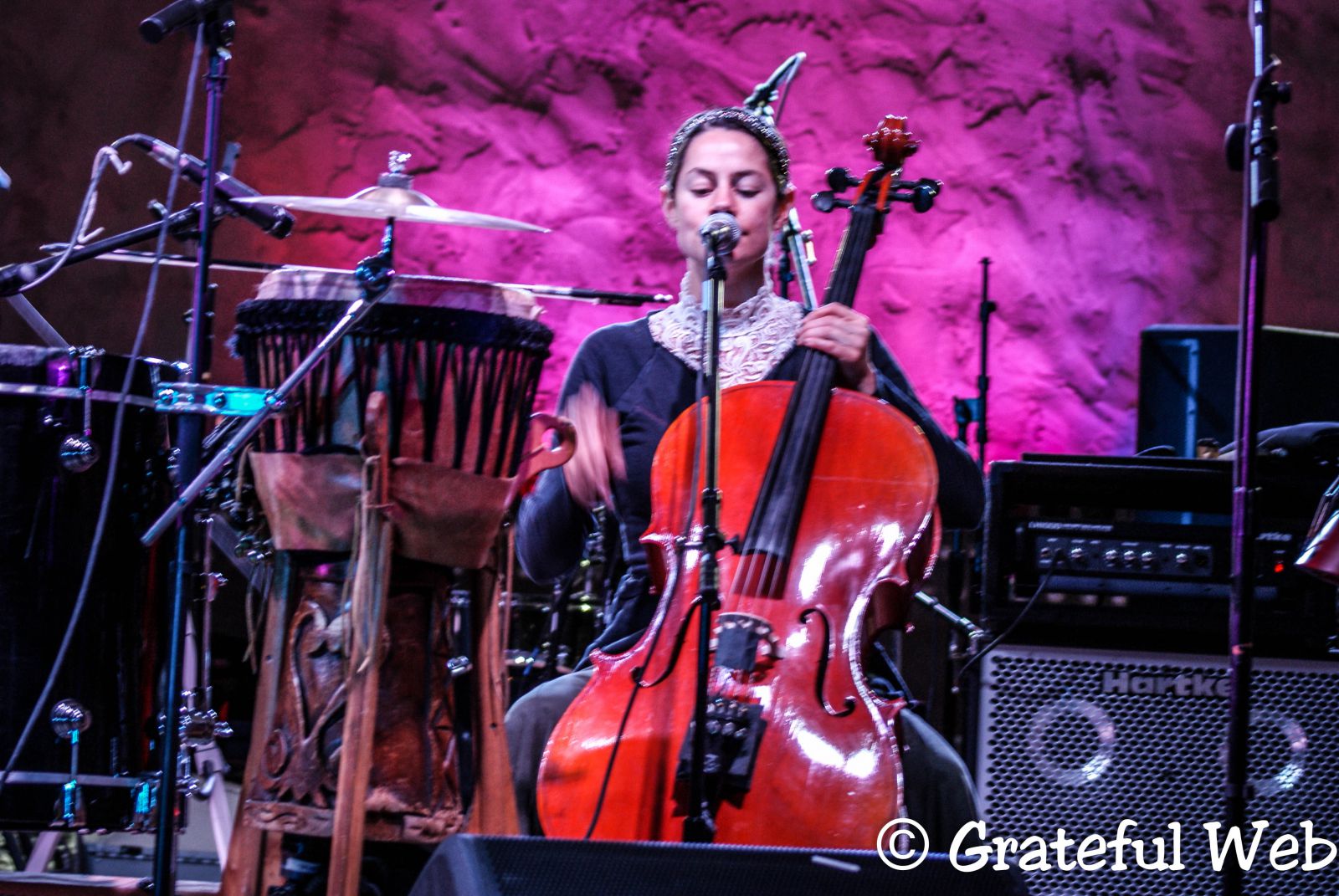 Elephant Revival has outgrown literally and professionally small bar stages. They now tour with a couple of new people I hadn't met back then. Here is the band lineup and what they play. (This will blow your mind.) Bonnie Paine singes lead vocals mainly and plays washboard, djembe, musical saw, cello, and stompbox.  Bridget Law gives vocal assist and plays fiddle and octave fiddle. Dango Rose plays double bass, mandolin, and banjo. Daniel Rodriguez plays guitar, banjo, and double bass. And finally, Charlie Rose plays banjo, pedal steel, guitar, horns, cello, and double bass. All of them can chime in on complex harmonies, and their bus driver, Carl Coe, stepped up on stage for "When I Fall" (and the encore) to play snare drum with mallets for them.
If you've never seen Elephant Revival, you are missing something quite unique. This band writes complex tunes and has the chops to pull off all of the nuances with various instruments. Bonnie Paine's voice is unique and rich. She's able to do a ballad that sounds authentically English and then turn to do a pirate/gypsy tune with theater and gusto or offer a sensual bluesy song. Her washboard additions added color and texture, while her cello numbers ranged from ethereal and robust, with carefully selected additions by others in the band.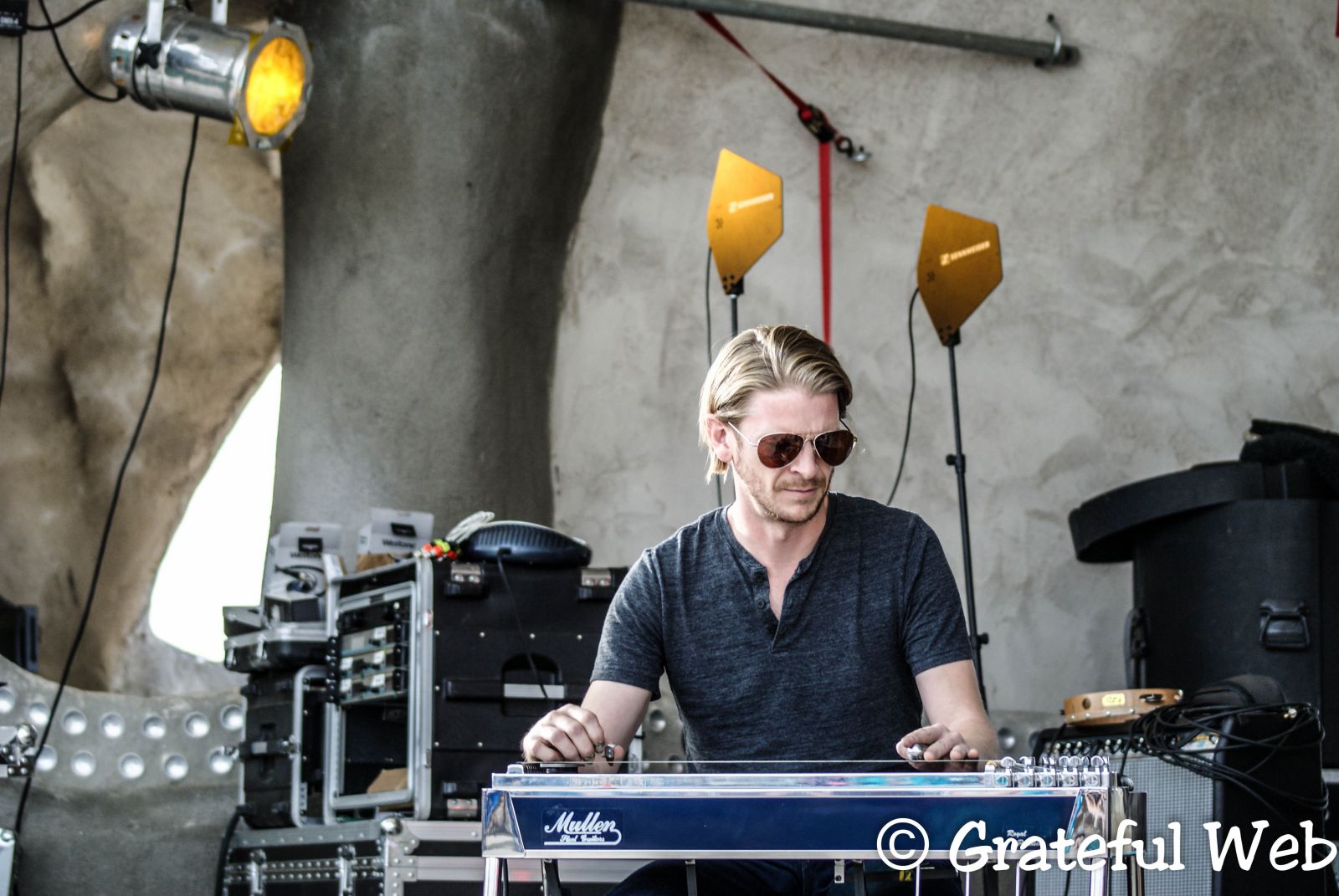 Vocal harmonies and instrumentation by the other musicians were outstanding.  They did one a capella song, dedicated to Bonnie's grandmother who had just passed. It was tight and powerful.
I was very impressed with Charlie Rose's banjo work. It was jazzy like Alison Brown's and just as thoughtful. But all of the band members are impressive. Elephant Revival is always a well-balanced blend of instruments and voices. It is clear that their rehearsals have been experiments in aural creativity. Their entire set was music from their new album and a few cuts from their past ones. The only cover was their encore, the only one of the day (and only the first of two of the entire festival) was Jefferson Airplane's "White Rabbit." Gracie Slick would've loved this version.
Finally, Reviva, a local Albuquerque reggae/rock band, did the after party on the indoor stage.  Festivalgoers weren't ready to stop the music and danced for another hour and a half.
For me, I drove back to my hotel, looking at the dark sky over the mesa, grinning. It had been a spectacular first day and more was to come.