Every town has its bar band that packs in the crowds on Saturday nights, but few towns have a draw like Minneapolis' group, The Feelin Band, and what they can produce, wrapped up in a good time.
A four-piece band, made up of a regional music veterans, has a sound that is as varied as its musical roots. Band members, however, may also vary, depending on how far the band needs to tour. When the band is playing locally, the players are consistent. Sam Weyandt (electric and acoustic guitars, mandolin, backup vocals) also played with those Northern-based southern rockers, White Iron Band. St. Johns University professor Jeff Engholm (standup and electric bass, trombone, backup vocals) plays with the George Maurer Jazz Group and Collective Unconscious and the Led Zeppelin cover band, Blimp. Paul Grill (drums, percussion, backup vocals) played with Hobo Nephews of Uncle Frank and tours regularly with the band. The fourth member is Nicholas Mrozinski, the founder and driving force for The Feelin Band, who played piano with the White Iron Band and supported Teague Alexy (Hobo Nephews of Uncle Frank) in his solo work. But Mrozinski also is comfortable with a range of other instruments, including organ, micro-korg, melodica, acoustic guitar, and some percussion.
It is Mrozinski's vision, along with his versatile voice and prolific songwriting talents, that has shaped the band. Their debut release, The Sacred Play of Life, is a 17-track journey into love, life, and spirit. Woven through its songs are blues, jazz, rock, country, pop, reggae, and theatrical and klezmer stylings, as well as a sprinkling of hip-hop and R&B. The band is able to handle all of these genres easily.
But more difficult for any band would be the diverse vocal styles. Mrozinski is able to deliver those with ease and grace. There are the Delta sounds of Leon Russell and Aaron Neville in his voice. Sometimes, he has flavors of Tom Jones and Van Morrison. Sometimes, his voice has an echo of John Legend and Tom Waits.
His piano work equally cannot be lumped into anyone particular style. This may be due to his intense creativity. Even as a child when he played classical music festivals. "I would always get points docked off because I would add stuff to left hand," Mrozinski recalls. "So, then the judges would say, 'You're not playing what's written."
However, Mrozinski may have not grown into the talent that he was if it hadn't been for a formative experience when he was in second grade. "I was thinking about quiting piano," he says. His maternal grandfather was dying. "He was yelling up to my grandma, 'Play the piano. Play the piano,'" Mrozinski recalls. "She said, 'I can't. I can't.' Then he said, 'Tell Nickie to play. Tell him never to stop.' That was the last words he ever said. Ever since then, that has been the sole motivation and the breath almost behind it to pursue this." He took lessons in earnest and eventually started playing in bands when he was in high school.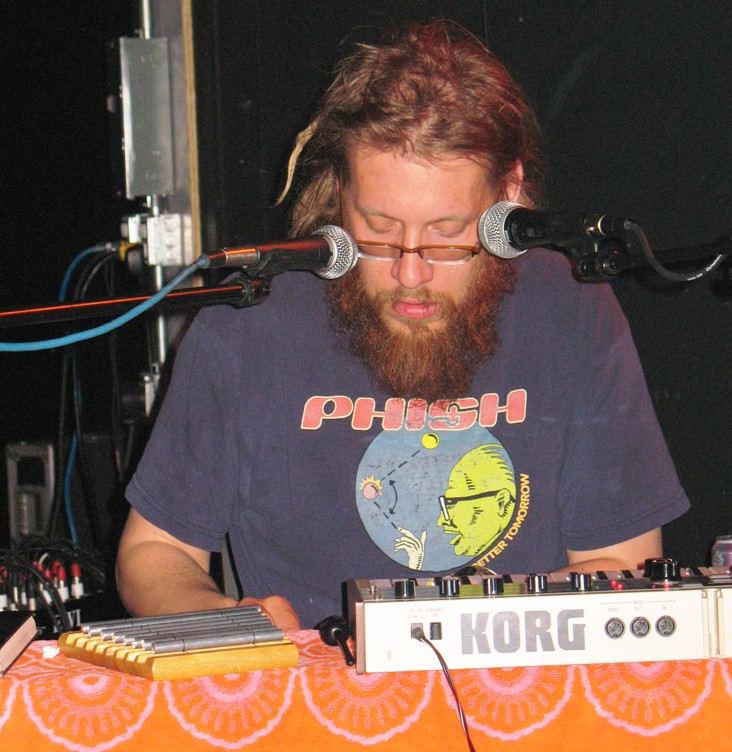 Later, he made connections with musicians like the White Iron Band and Hobo Nephews. He moved to Colorado and tried to make it as a musician there. But like many local bands, playing in Colorado wasn't easy. "It was tough," Mrozinski remembers. "National acts were ripping through there for 12 bucks. Who wants to see Whispering Drew?" And, like many local bands, even if they opened for a national act, the clubs paid in product. As Scott Franz of Inchfoot Yard and Zen Mothers said, "You can't make a living on a bar tab."
While he was there, he began recording CDs. "I made an acoustic one when I was first thinking about moving back to Minnesota from Colorado," Mrozinski says. "I put out four CDs that are under The Feelin' Band name. I came back and did an acoustic album, which we just made 100 of them in 2004. In between that, I started working on a solo piano CD that's done. That was like on the shelf, off the shelf, on the shelf, off the shelf." The solo piano CD will be released next month to a wider distribution.
Then, Mrozinski got a call from the White Iron Band to come on home and play with them. "When I first moved back from Colorado, the White Iron Band was my main focus," he says. Then he started pulling together a couple of players to become The Feelin Band and play some of his own music. "The Feelin Band would play when the White Iron Band wasn't playing. The Feelin Band has its own sound. We played with Teague Alexy (Hobo Nephews)." He even recorded with Alexi, including two of Mrozinski's songs. "We spent some time doing that and just kind of filling in the cracks. Then, we were saying, 'We really think we got something special here, something cool.' So, then we went to a four-piece."
Mrozinski was busy playing music and partying. Then about a year and a half ago when he found out he was to become a father, he made a significant change in his life. "I was just kind of searching for something deeper," Mrozinski says. He quit drinking. "I have the doors open upstairs so that I can communicate with my tongue and get it out more," he adds. He began to dig further into life and began to write some serious material that explored Spirit and Love. He began playing regularly with the members of The Feelin Band and testing out new material. They then decided to take the band out in between gigs with their other bands.
The Sacred Play of Life is the culmination of that initial spiritual exploration. It is less gospel than it is more Buddhist and Bob Marley's One Love. There is a groundedness in the songs and a real playfulness in their presentation. Sprinkled throughout the wide range of music and vocal styles are these auditory bits taken from Mrozinski's life. There are sounds of a household—brushing teeth, washing dishes, flushing the toilet, saying "I Love You" to each other, spinning the dial on the radio, etc. These grounding bits emphasize Mrosinski's sense of the present, the sacredness in the ordinariness of living with those you love. Mixed in with all this is a cut called, "Villian,"a theatrical piece about the money machines that ensnare so many lives. The Sacred Play of Life is a remarkable piece of recording.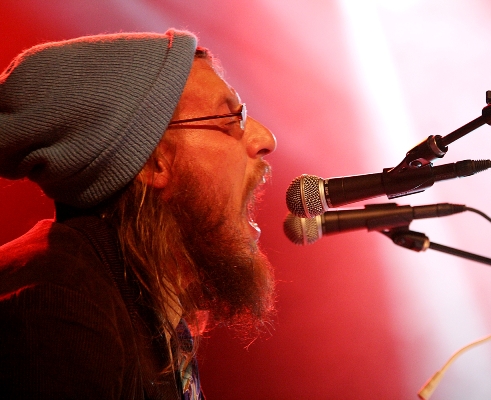 Moreover, this album is a long way from Mrozinski's first efforts or even his songs with Teague Alexy. "I started writing in high school," he says. "I started writing simple tunes, two-chord tunes with a verse. They have just gradually grown....Now, The Sacred Play of Life is the motivation to change....We're just trying to bring this kind of awareness that's here, that we're totally alive right now. I even think the new tunes that I've been working on is like the next step, a forward step."
In the meantime, The Feelin Band is touring in the Midwest but plans to spread their music across the country. They have already made a trip back to Colorado. But as the band begins to tour widely, Mrozinski tries to bring his family along with him. In the fall, The Feelin Band hopes to hit one of the coasts.
Though Mrozinski and The Feelin Band are becoming more widely know, Mrozinski doesn't have pretentions. "Sometimes I think when I get tired of playing music, I just want to shack up at a restaurant and start cooking," he says. Right now, The Feelin Band is doing its own kind of cooking.
Look for The Sacred Play of Life and check them out live when you can. The band is worth a very careful listen.