Six years ago, Marc A. Ross discovered a seminal way to champion environmental causes. Ross, who has been both an environmental prosecutor and an industry defense attorney, remembers, "One common theme that I saw…. was that small groups of citizens that were directly impacted by environmental issues…were being steam rolled by industry. They were being outmaneuvered, being outgunned, out-litigated simply because they didn't have the PR or the financial resources to hire competent counsel and scientists to take up their very legitimate claims."
That's when Ross decided to level the playing field by tapping the high profile music industry's PR strength and its ability to fundraise for charities. In 2002, Rock the Earth was born, and Ross became its executive director.
Rock the Earth brings environmental awareness to music fans, garnering not only donations for their projects but also volunteers. Today, the organization has only three paid employees and three dozen Volunteer Staffers and Advisory Board Members. They also have a technical team of scientists from a variety of fields, environmental attorneys, and consultants. This broadens Rock the Earth's ability to tackle different issues.
Early on, Rock the Earth consulted with festivals, tours, and the cruise industry to help them green their events. Over time, other organizations, such as Reverb, CLIF Bar GreenNotes, and MusicMatters, have appeared to take on that mission and other environmental concerns.
Rock the Earth's mission evolved to providing environmental education, fostering activism, and offering legal and technical assistance to small groups. "We're a great plug and play organization," says Ross. For example, Rock the Earth is an active presence at many festivals and concerts. They maintain a presence at Bonnaroo on the Solar Stage. "Every day, we conduct a series of interviews, panel discussions, and musical performances all on the theme of social change through music," Ross explains.  His one-on-one interviews showcase performers who don't normally talk about these issues. At Bonnaroo, Rock the Earth has worked with a number of artists, including Bob Weir, Warren Haynes, Michael Franti, Bonnie Raitt, John Butler, Trevor Garrod (Tea Leaf Green), and Liz Berlin (Rusted Root).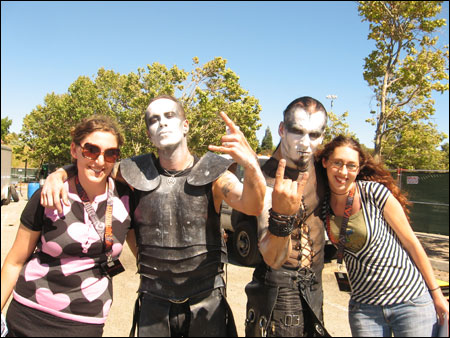 Last year, the organization was a major presence at Ozzfest and at Warp Tour shows. "We were the first and only non-profit to work with Ozzfest, and obviously the first environmental group to work with Ozzie," Ross says. "A lot of Ozzie's music has been political over the years from 'Crazy Train' to some of his newer songs on his most recent album are political and environmentally-conscious songs…. I just don't think the rest of the environmental movement thought about working with someone like Ozzie."
This year Rock the Earth is also moving forward with its first environmental litigation. Against the National Park Service, it focuses on mismanagement of the Colorado River through the Grand Canyon. "It will impact how all wilderness areas and, in some ways, public lands are treated in this country and whether concessions and recreation are put over wilderness protection," says Ross. "Pretty soon there won't be anywhere you can go in this country without hearing the roar of motors."
Rock the Earth also has partnered with the Center for Water Advocacy as well as several indigenous plaintiffs, including the Oglala Sioux tribe, to stop the expansion of a uranium mine in Nebraska that affects indigenous water rights and may affect public health. "That issue has legs because it touches on global warming and whether or not this new Western uranium boom and nuclear power boom is the solution to global warming," says Ross.
This past year, Rock the Earth was successful in its first petition campaign against Wal-Mart to get them to stop buying and selling mulch from Louisiana cypress trees. The organization also conducted its first service project, partnering with the John Butler Trio, CLIF Bar GreenNotes, and two other organizations, to clean up Ocean Beach in San Francisco.  And, Rock the Earth's legal and technical team worked or reviewed fifteen separate issues brought to them by the music community.
Nearly half of its 2,000-plus members in all fifty states have volunteered to work tables at festivals and concerts, provide technical or legal assistance, write grants, or help spread the word.  This will ensure that Rock the Earth will continue to champion the earth as its motto says: Defending the Earth One Beat at a Time.
This spring, Rock the Earth was awarded the Mimi Fishman Memorial Community Service Award at the 7th Annual Jammy Awards. Those Ross was honored and humbled by the award, he also called music fans to action saying, "...regardless of who is our next President, come January 2009, our country and our planet will still continue to face very serious environmental issues that will only be solved by keeping the pressure on the government and polluters and holding them accountable for their actions." The work continues.
UPDATE:  On April 29, 2008, a three-judge panel of the Nuclear Regulatory Commission's (NRC) Atomic Safety and Licensing Board ruled in favor of the Oglala Tribe's right to challenge the proposed Crow Butte Uranium Mine expansion. Though, the NRC Staff has appealed, much work remains by the tribe to block the mine expansion.