Rhythms on the Rio is celebrating its tenth year, bringing music to the San Luis Valley of Colorado. And the South Fork Music Association (SFMA) pulled out all the stops!
On the main festival stage beside the rushing Rio Grande River, Texas singer/songwriter Shawn Nelson eased into the weekend events with a traditional tune, "Wildwood Flower." It allowed him to showcase his band: Fletcher Murchison on mandolin and backup vocals and Morgan Thompson. A tight trio, Nelson and his bandmates launched into some of his original tunes that were more reminiscent of red dirt bands than what you'd expect from a Houston native who's been performing in Austin for a dozen years. "My Old Time Gal," "Medina," and "Nobody Got a Hold on Me" were not only danceable tunes but also good solid songs. Moving into deeper waters, Nelson offered "One Foot in the Grave," not a morbid tune but one of hope and survival.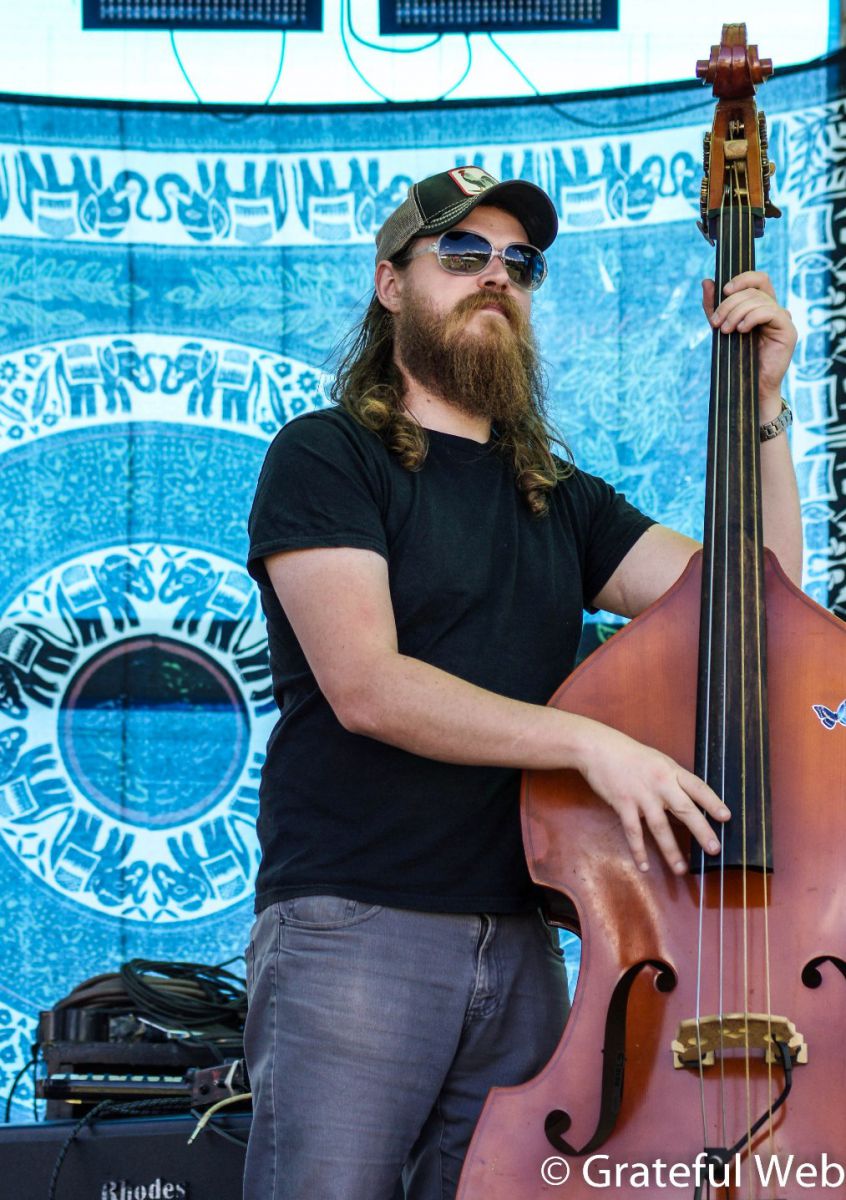 All in all, Shawn Nelson and his band offered upbeat songs that were definitely not your grandpa's country. Thompson and Murchison were top-notch instrumentalists. I enjoyed Thompson's slap bass style on a couple of tunes. He was always spot on, driving the musical train but he was restrained in the flashes he offered. Murchison's mandolin style was often hot and intricate but again didn't overwhelm the naturalness of Nelson's lyrics.
One tune I especially liked was "P & L's Midway," a skewed look back on his childhood that was quirky but warm. Nelson's deep Texas delivery and his easy handsome smile made him an instant hit, even as the first band out the gate at a festival that was younger than usual and up for the headliners coming later on.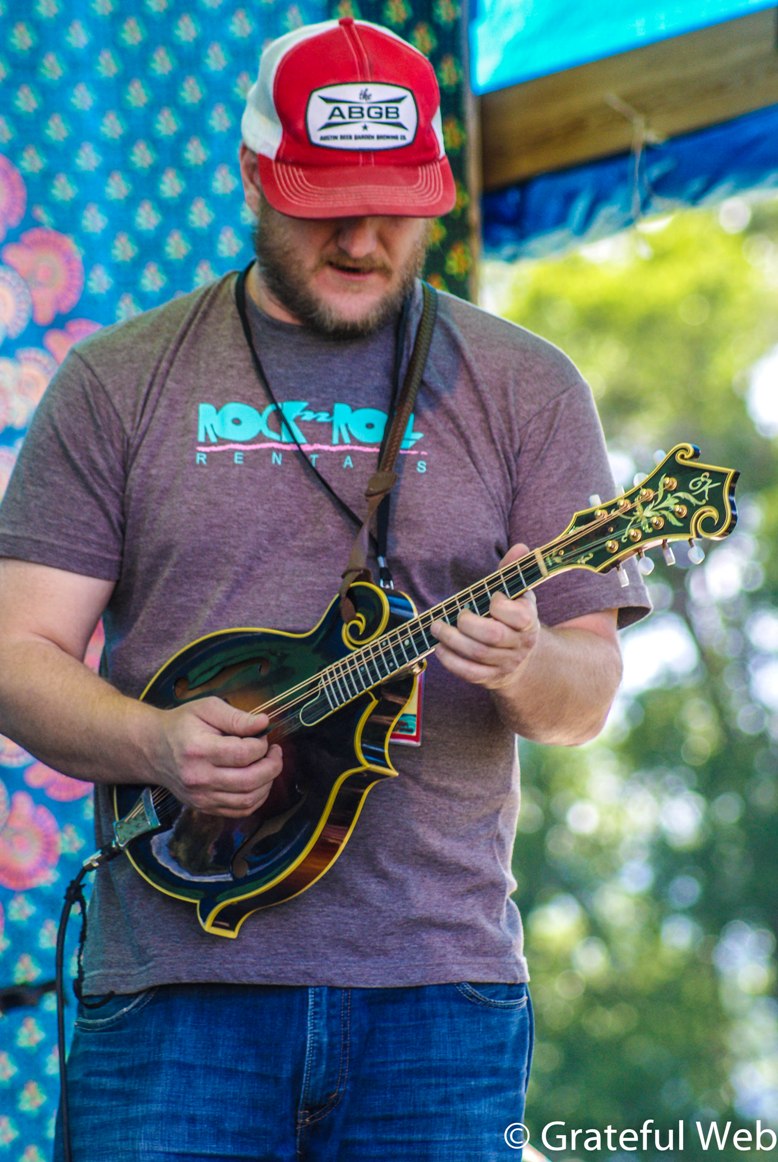 The set ended far too quickly. But Nelson promised to be back Saturday night for the late night campground stage. That should be a spectacular evening.
Returning to the Rhythms on the Rio stage for the second year was Big Medicine Gang. Last year I was so taken with this band's fire—and this year that fire was hotter than ever. Their blend of what they call Rocky Mountain reggae and funk really cooks. It's obvious that these musicians listen and play off each other, stepping into song after song, adding this and playing with that, noodling and layering until it's a big musical gumbo of goodness.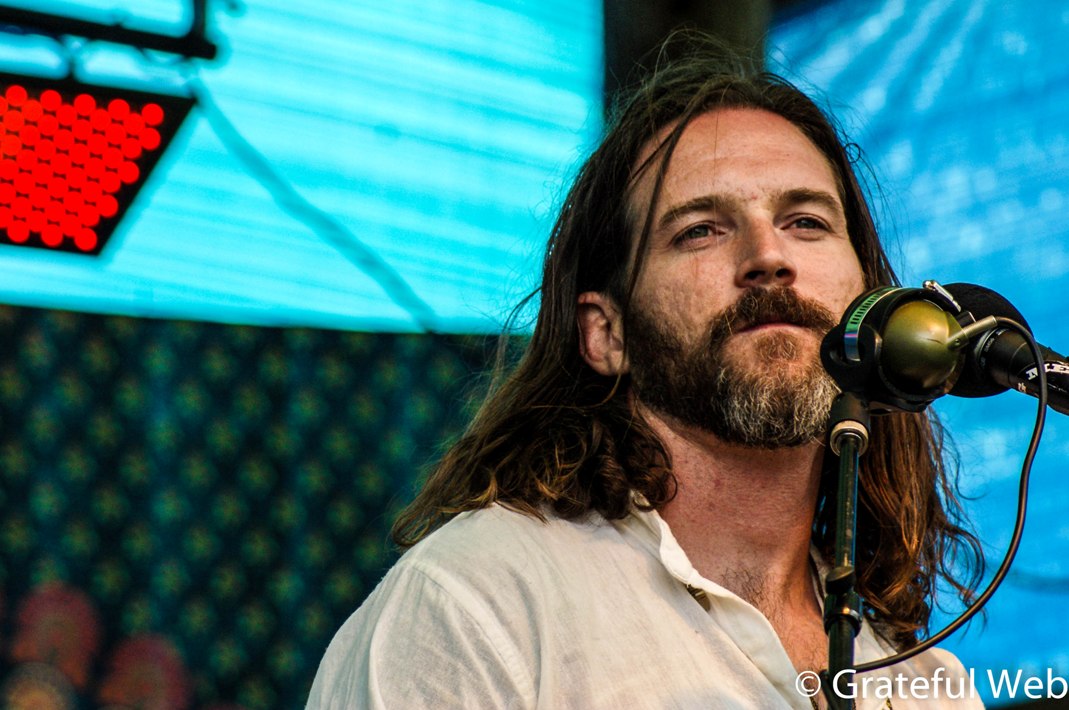 Seth Strickland's vocals continue to impress me. There is still that J.J. Gray tone in a few songs but then he moves into others with a totally different vocal style. It was always a pleasure to see where that all would lead.
Keys player, A. G. Lunsfjord's vocals contrasted Strickland's, sometimes taking on a Leon Russell flavor. But Lunsfjord's keyboard word was outstanding—even his layers of melodica were unexpected but just the right touch. At one point there was this lovely interplay between Lunsfjord and bassist Otis Lande (formerly of Mountain Standard Time) that was killer. It slid into percussion and then some.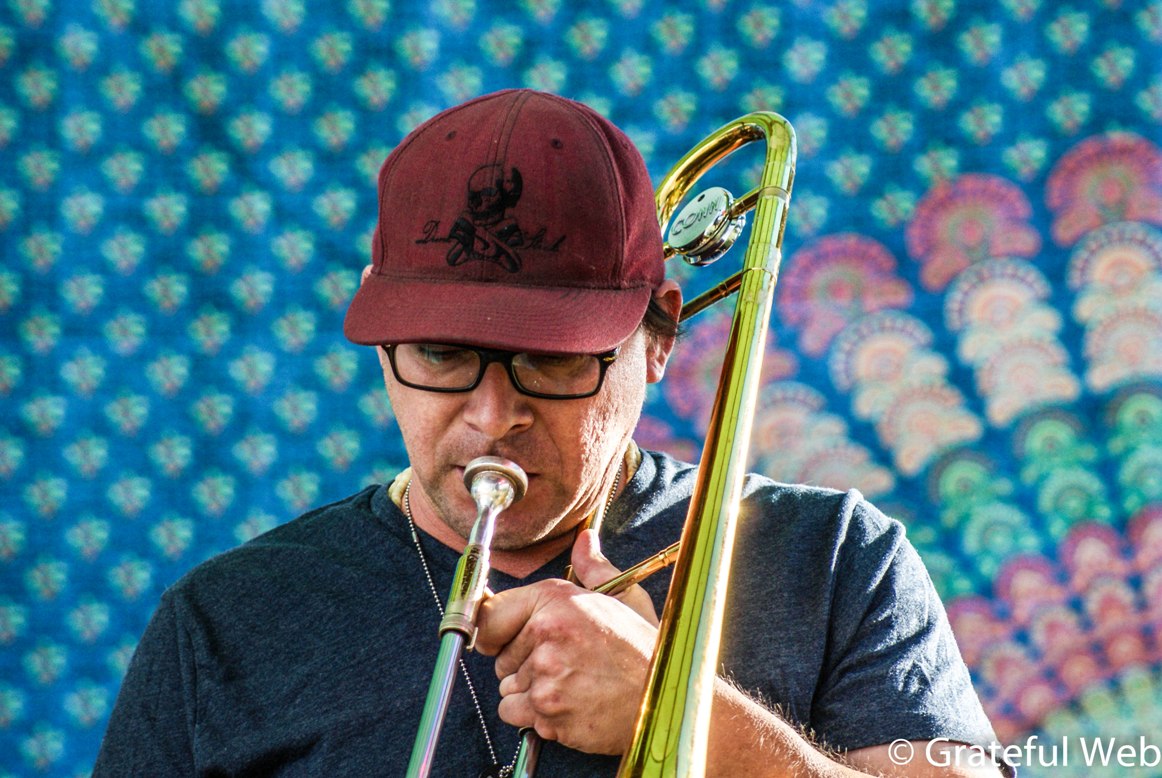 Gustav Hoffman's trombone playing was outstanding. Often he moved into rifts that resembled trumpet that added flare and strength to many of the songs.
Alex Shult and Matt Coddel kept this musical train on track with drums and percussion. Often overlooked in most bands, these drummers were well appreciated. In fact, Coddel added background vocals on a tune or two and even talked to the audience.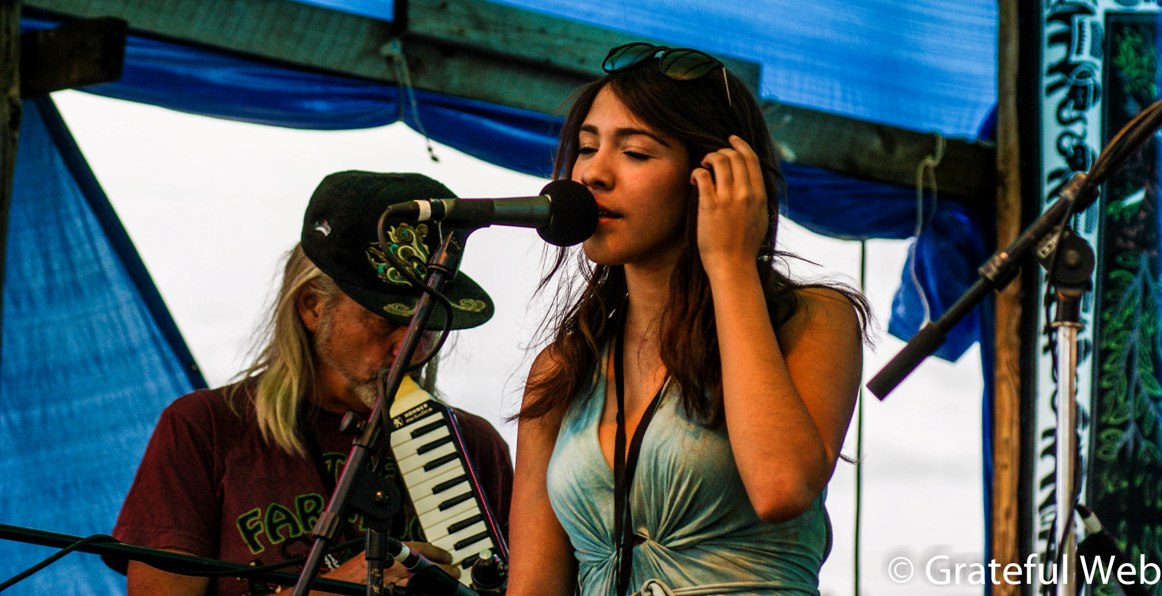 But this year's surprise was Halle Tomlinson, a sweet young thing with a dynamite voice. She was a welcome addition to the lineup as backup vocalist. She appeared on the band's latest album as a quick layer of color for some tracks and then joined them on the road for a few shows. This young lady is someone to watch. We're going to hear more from her.
Returning for their third year at Rhythms on the Rio, Euforquestra slid onto the stage and banged out a swamp funk tune that crept into your soul. Austin Zaletel (sax) led those vocals with Matt Wright (keys) and Mike Tallman (guitar) laying down some great backup vocals.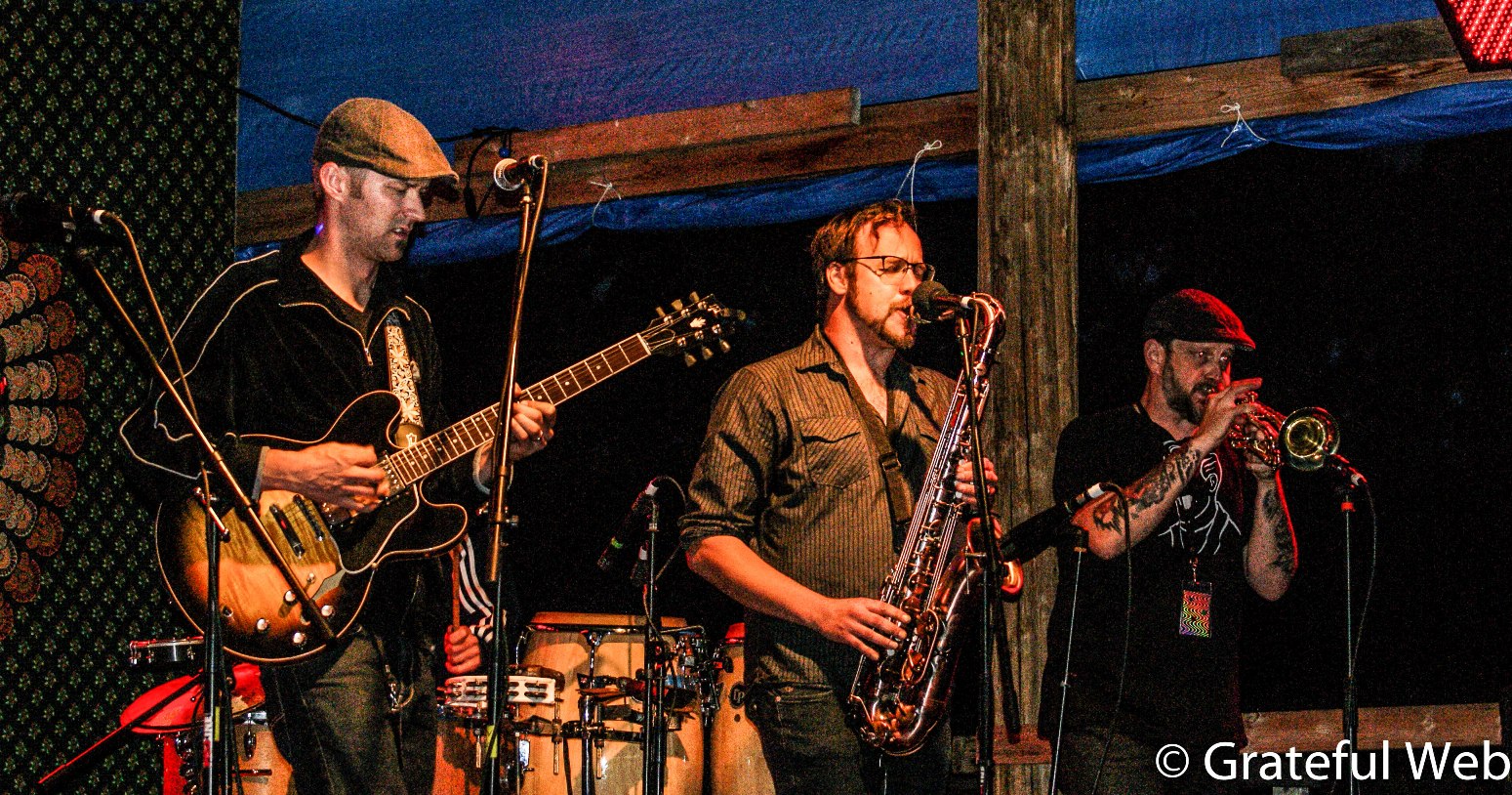 From that swampy goodness, things exploded. As always Euforquestra blasts high energy, but it's always an organic thing, not something that plasters you to the back of your chair like sitting in front of a jet engine. This band seeps into you, taking you higher and higher, until the big finish, making you wish for more. One of the reasons for that is Euforquestra's evolving lineup. You never quite know who's going to show up on their stage.
This year, in addition to Zaletel, Wright, and Tallman, were regulars Craig Babineau (drums), Matt Grundstad (percussion), Adam Grosso (bass), and Jon Gray (trumpet). And adding so much more than pretty faces were singers Kim Dawson and Ayo Awosika. Dawson is a veteran R&B/Soul singer who's sung with Ivan Neville, George Porter, Jr., Nigel Hall, and The Motet. She's a power singer who uses her instrument to thrill audiences. Her counterpart, Awosika, is a soul singer, who stirs with an inner rumble.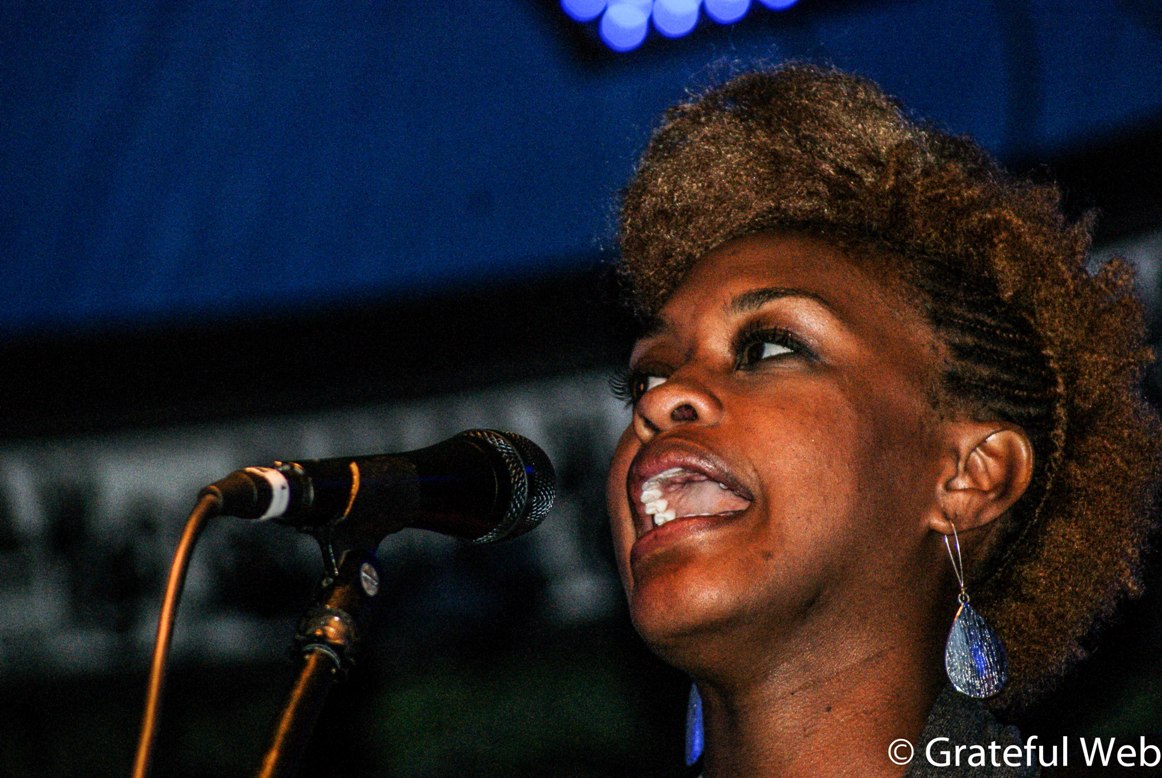 During the two-hour set, we heard and saw everything—R&B, soul, funk, island tunes, and rock and roll. Awosika gave us a Stevie Wonder song and even an original slow ballad with heart and soul that she wrote. There was the scandalous Erykah Badu song, "Annie Don't Wear No Panties," that came out sweet and cute, sung by Awosika and Dawson. There was a drum solo that roped in Zaletel and Tallman playing hand percussion instruments—very fun! And Jon Gray's trumpet enrichment on many of the band's songs was inventive, intricate, and colorful; a great addition to the band!
When time ran out on their set, the audience wanted more. Paul Orr, president of SFMA, came out and let us have more. Euforquestra did a two-song encore. The first song showcased Adam Grosso on bass and Matt Wright on keys. But the last song left me speechless. The band launched into Led Zepelin's "Gonna Give You My Love," with Dawson singing Robert Plant's vocal lines. Dang it was fine….more than fine.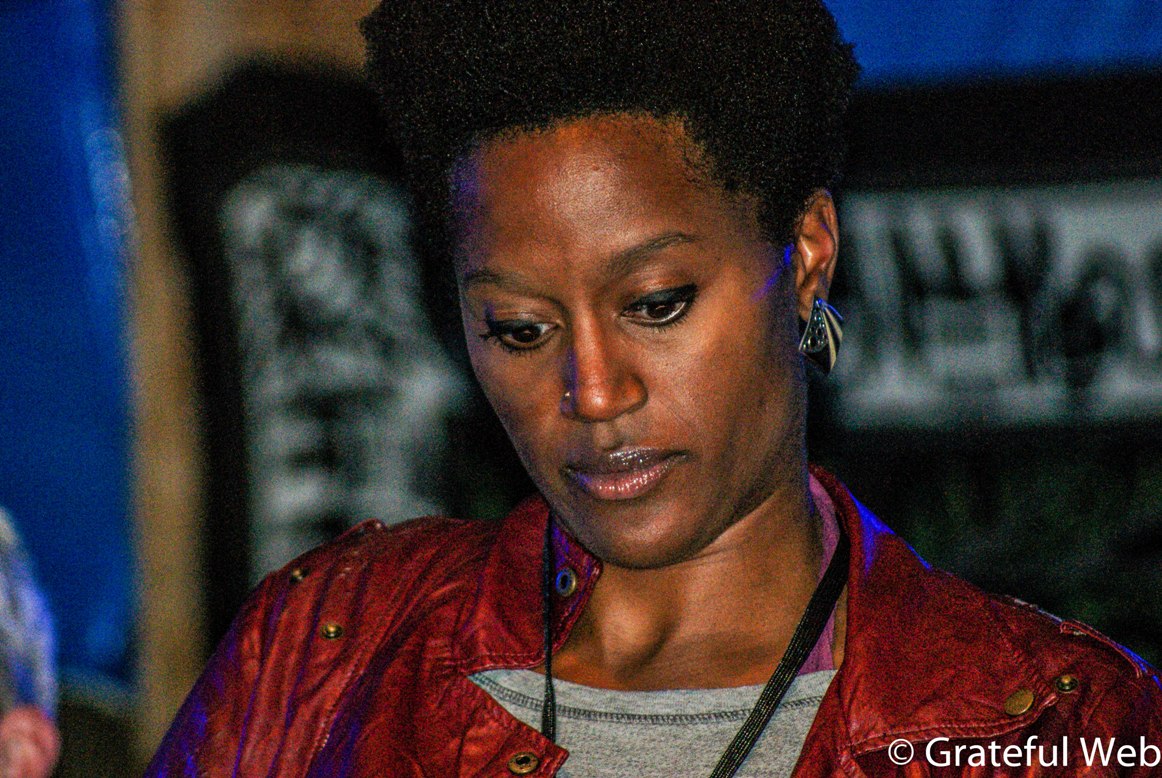 But the night wasn't over. On the other side of the festival grounds, where 180 people were encamped, The Scrugglers kept that good vibe going. Playing into the wee hours, the band laid down their Holiday RV of South Fork. The new stage is lower to the ground and open air with a canopy, allowing for better appreciation of the music by more campers.