Slightly Stoopid kick-started their Summer Sessions tour July 9 at Eugene's Cuthbert Amphitheater with a skanking, Rastafied set of dub-infected fusion. The open-air venue, tucked along the banks of Oregon's Willamette River, provided a sparkling setting for a sun-splashed evening of righteous rhythms and knowing grins.
G. Love and Special Sauce dropped the needle on their first groove with the summer sun still high in the sky and party guests just arriving. Unfazed by the hot, bright light or the casually gathering (but lively) weeknight crowd, this Philly-based trio hit the stage swinging like a long-armed monkey on a jungle gym. Providing a pitch-perfect opening to the evening's festivities, GLSS immediately invited all comers with a warm and welcoming house-party vibe—"Cause it's some hot cookin' that's going on tonight!"
Celebrating the 20thanniversary of their self-titled debut and supporting a brand new release (Sugar), all three original GLSS members (Jeffrey "Houseman" Clemens, drums; Jimmy "Jazz" Prescott, stand-up bass; Garrett "G. Love" Dutton, guitar/vocals/harmonica) are reuniting for the first time in eight years. Last Wednesday's brisk, high-energy set featured old favorites (Cold Beverage, This Ain't Living, Baby's Got Sauce) alongside equally satisfying, new joints (Nothing Quite like Home, Weekend Dance).
Slapping the F-U-N with a healthy dab of K-Y, G. Love and Special Sauce know how to make it funky. Clemens and Prescott laid down a loose, slinky beat that stretched and snapped back while G. Love's gutbucket guitar flourishes and hype harp trills punctuated the spaces in between. Both connoisseurs and creators of tasty, rump-shaking grooves, G. Love and Special Sauce dished-out more funky, Philly flavor at the Cuthbert than Fat Albert's Junkyard Band.
Stephen Marley strode to the mike next and delivered a well-received set of classic, roots-style reggae. Never straying far from his iconic father's formula, Marley masterfully rendered a collection of pulsating, chalice-burning rockers that unified the Cuthbert crowd into a swaying throng of glistening, blissful believers, all singing praises to Jah.
What Marley may lack in originality, he more than compensates with authenticity. Familiar Jamaican "riddims" shook the hillside amphitheater as echoes of Papa Nesta reverberated from popular hymns—Is this Love?, Buffalo Soldier and Could You Be Loved. Stephen is a five-time Grammy winner himself and his own songs played quite nicely next to his father's classics. The Marley band was on point and lively throughout. Their moving, skillfully executed "catch a fire" set pleasantly segued into the evening's headlining act.
With daylight still setting beneath the Cuthbert's rim, Slightly Stoopid took the stage, tossed-out a "What's up Eugene!?" and starting working an old-school, horn-blazed, rough-n-tough riff that wrapped itself around the crowd and gently rocked—Don't Stop.
In an instant they revealed not an influence but an understanding of what the whole thing was about. Their shit was real. This was not a tribute, but a revival.
Fronted by two white guys from Oceanside, Calif. (multi-instrumentalists Kyle McDonald and Miles Doughty), Slightly Stoopid seem an unlikely source for crucial, ranking reggae, but they truly do play the "blue-eyed riddim."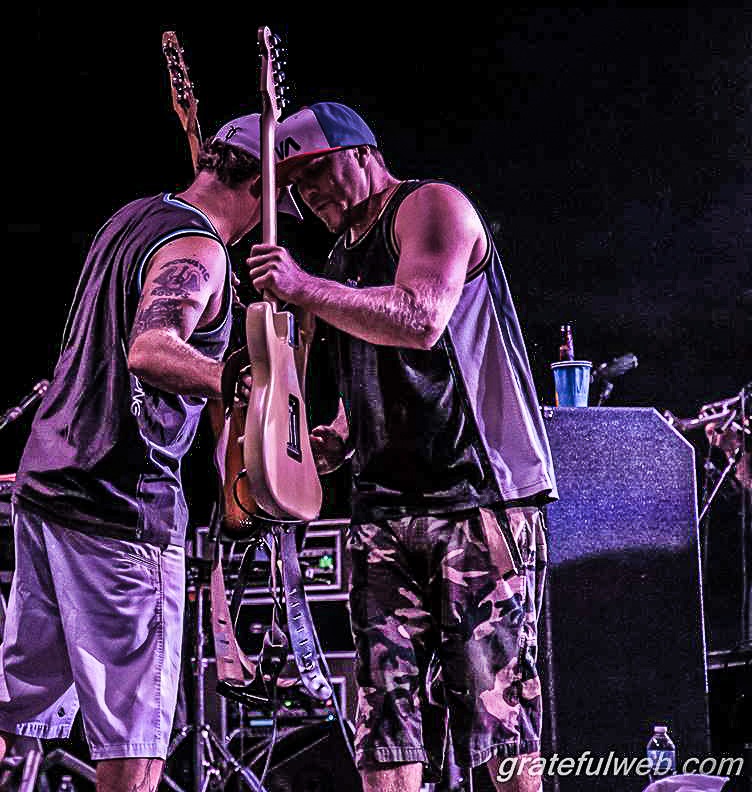 In spite of their well-deserved reputation for "genre-blending," Slightly Stoopid consistently and right from the start of last week's show, displayed their reggae roots. There were forays into funk, punk, jazz, soul and hip-hop, yet nearly everything they did at the Cuthbert was infused with sponji reggae.
The roots-heavy, Rasta chant, Anywhere I Go, featured oscillating rhythmic interplay between percussionist Oguer Ocon, keyboardist Paul Wolstencroft and guitarist (on this track) McDonald. The hypnotic vibrations evoked a "climb aboard," Burning Spear quality, suggesting a shared journey—over the hills and far away.
Doughty grabbed the guitar and took over on vocals for 'Till It Gets Wet, a springy, Yellowman/Eek-A-Mouse-styled, deejay toast that had the crowd bouncing. Spiraling, jazzy horn solos from C-Money (trumpet), Dela (sax) and the incomparable Karl Denson (sax) highlighted the skanking, dubbed-up jam.
Denson (Greyboy All-Stars, Tiny Universe) collaborated with Slightly Stoopid on their 2012 Top of the World release, and will be sitting-in with the group for the entire summer tour. He adds another mind-blowing dimension to Stoopid's sick sound system, and supplies a powerful source of creative energy. The laid-back, space rocker, Closer to the Sun, offered Denson another chance to open his toolbox and really go to work.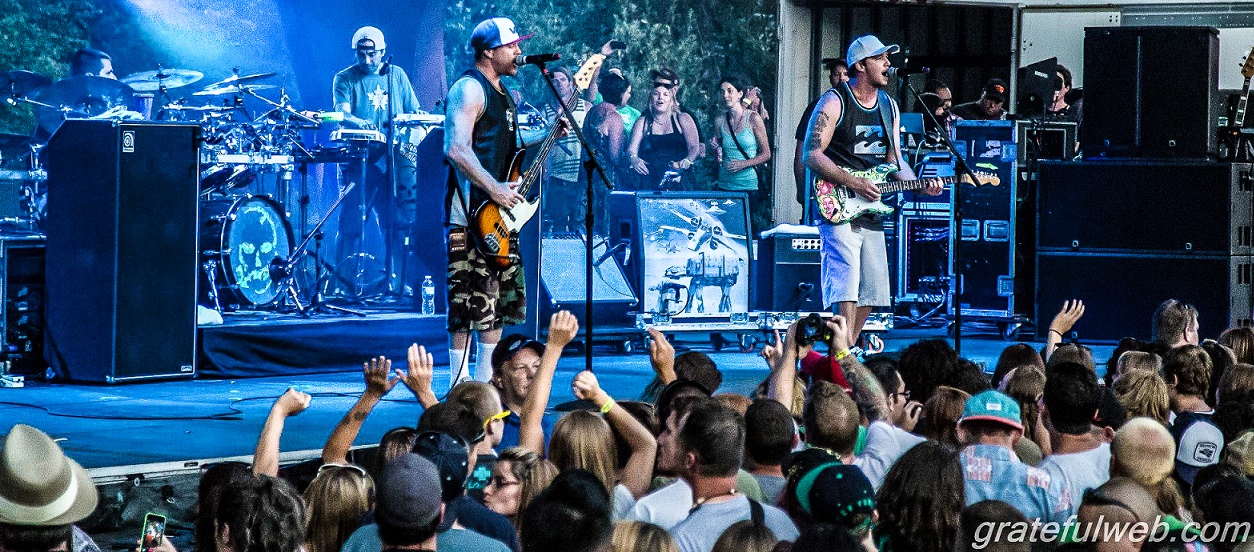 It's rare to see acts touring with horn sections anymore, but Slightly Stoopid's crew (C-Money, Dela and Denson) were indispensible in Eugene; again, for their fluid interjections of creative energy. The heightened emotional impact of live horns simply has no electronic equivalent.
The same could be said for real, live drummers. Ryan Moran and percussionist Ocon are equally essential to Stoopid's rich, textured sound. They combined intuitively at the Cuthbert, building a dynamic, rhythmic foundation while effortlessly negotiating a ridiculous range of styles.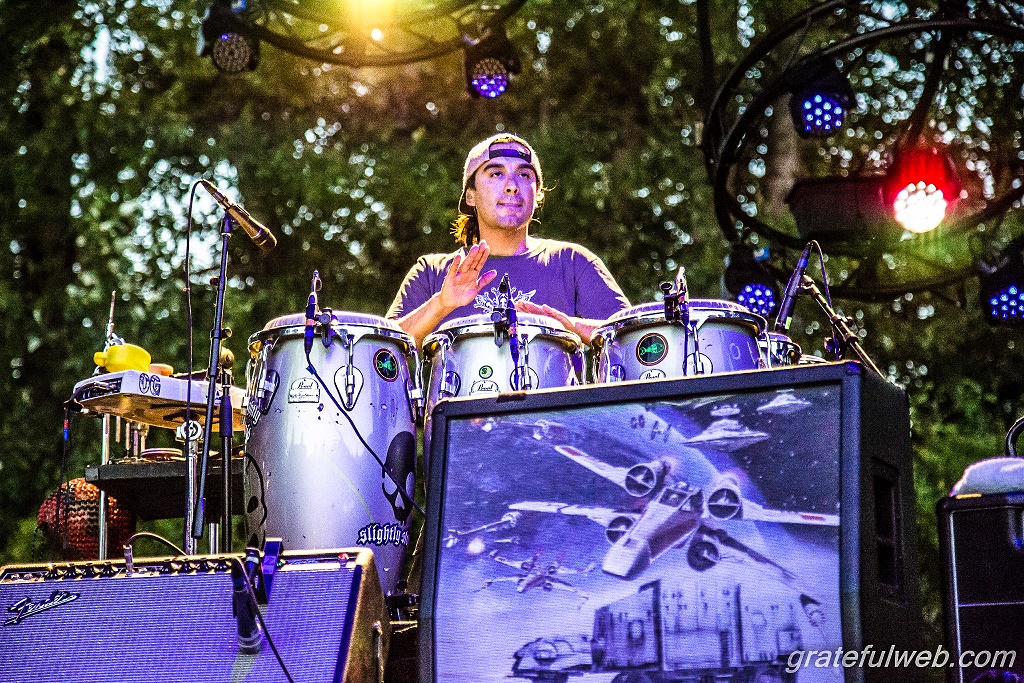 The title track from Top of the World explored a relaxed, chill groove bubbling with electronica-laced effects and Wolstencroft's understated organ touches. McDonald worked a lean, strutting bass line, and both he and Doughty took turns on the mike.
Fruits brought back the bouncing ska beat, rippling with kaleidoscopic dub treatments, and emphasized the spectacular instrumental interplay between these top-shelf musicians.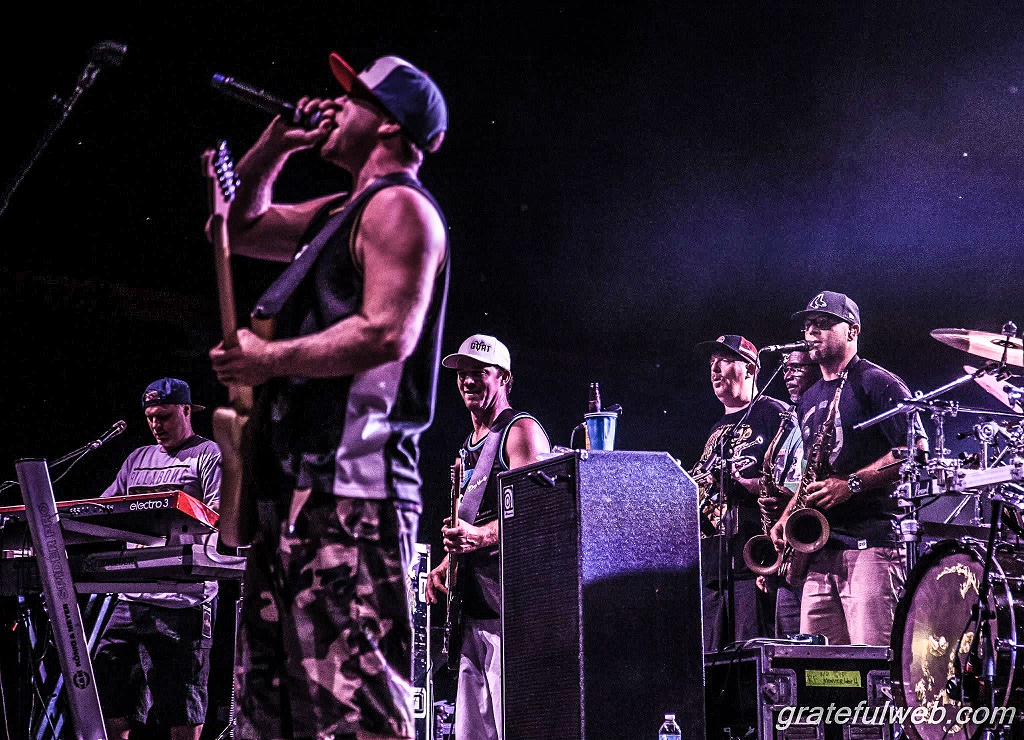 "A Quarter Pound of I'cense" clouded the front of the stage as Eugene's famed medicinals began to circulate freely. Well-known advocates for legalization, Slightly Stoopid enthusiastically accommodated the abundant number of local herbalists with burning numbers like Fat Spliffs and the sweet, back-porch strummer, Collie Man.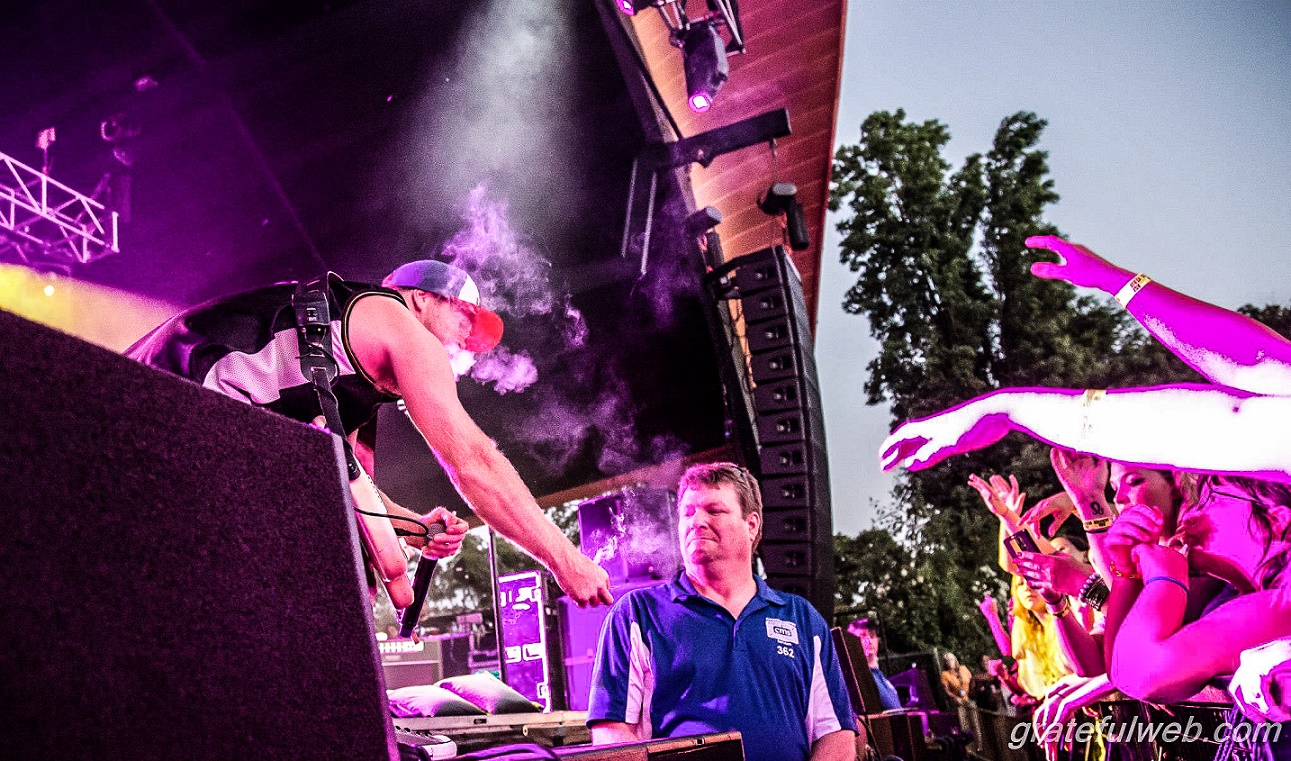 The show reached an energetic high-point with Stoopid's terrific version of Delroy Wilson's I'm in a Dancing Mood; a delicious, beautifully soft rocker that lifts and lightens with a touch of soul. Stoopid made it extra sponji in Eugene, tightly weaving tasty, instrumental flourishes between the shuffling beat, the strolling bass and the echo-enhanced rhythm. The appreciative Eugene crowd collectively nodded and grooved, as the choice cut effortlessly transported everyone to their desired "happy place."
Stoopid also dropped their sweet cover of Express Yourself, the funky Charles Wright riff sampled by N.W.A. An unmistakable bass hook, punctuated with blasts of brass soul and a filthy, jangly rhythm, Express Yourself hit like an iced beverage of choice, quenching a spiritual thirst. The tune also nicely summarized the main points of Stoopid's mission statement—"Whatever you do, do it good!"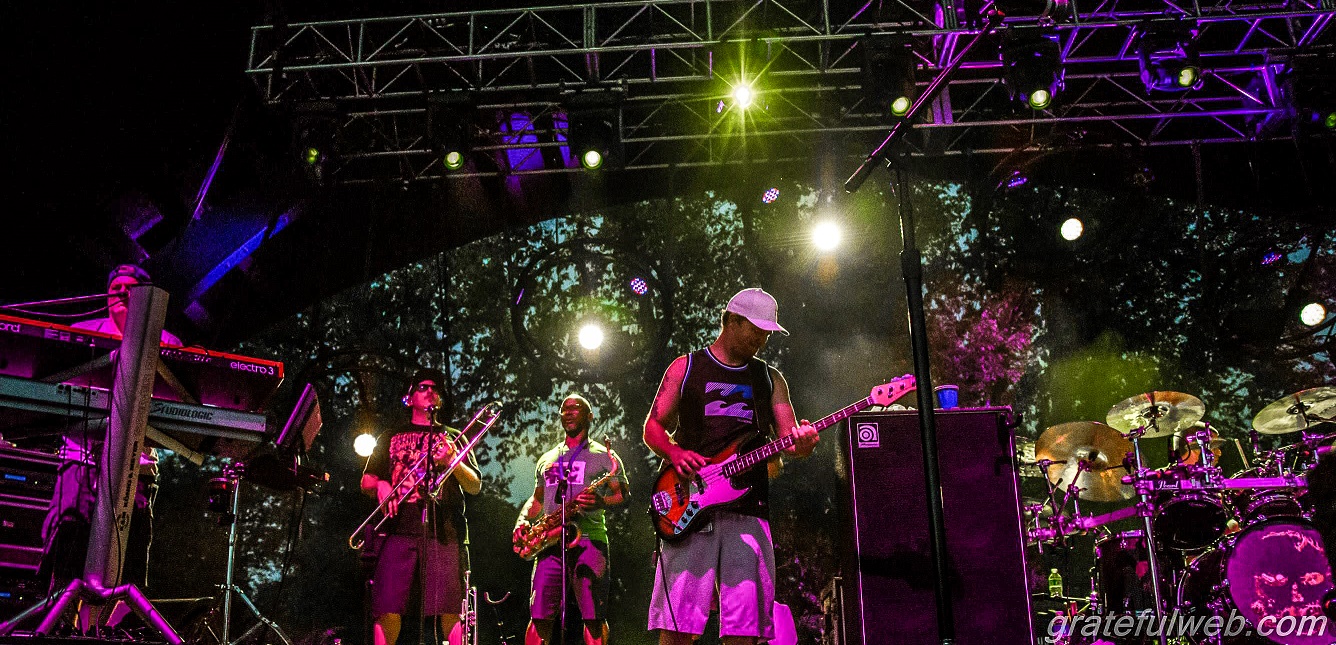 Using their comprehensive understanding of reggae traditions as a springboard for adventurous cross-pollination experiments, Slightly Stoopid made like mad scientists and delivered a monster set in Eugene. They're a tight, mature, road-tested unit, currently enjoying top form and they shouldn't be missed. Future dates will also be featuring NOFX and Cypress Hill. The Summer Sessions Tour is officially smoking.