It was a clash of the bass guitar titans Saturday night at the Boulder Theater. A double bill of the Victor Wooten Band and the Stanley Clarke Band was a jazz extravaganza showcasing two generations of innovative bass masters together under one roof.
From his early days with Bela Fleck and the Flecktones, Victor Wooten cemented his name in the psyches of bass guitar fans. Over 30 years, five Grammy Awards, and three consecutive "Bass Player of the Year" awards (from Bass Player magazine) later, he has yet to quit gaining momentum.
Joined by brothers Regi and Joseph on guitar and keyboards, respectively, Derico Watson on drums, and with highlights from Bob Hemenger on saxophone, Wooten got the evening's ball rolling, or more appropriately, barreling.
"Pentagon Square" had Victor plucking and strumming, demonstrating amazing ability and speed, and passing the torch around through his equally adept band mates for their individual showcases. His lyrical spoken word talent came out on the moral song-story "I Saw God the Other Day."
Regi treated his guitar like a percussion instrument during a solo that culminated in a funky "Love Rollercoaster" before a Jacksons tribute consisting of the most technically amazing rendition of "I Want You Back" perhaps ever played, and a version of "Shake Your Body (Down to the Ground)" with a keyboard solo worked in by Joseph.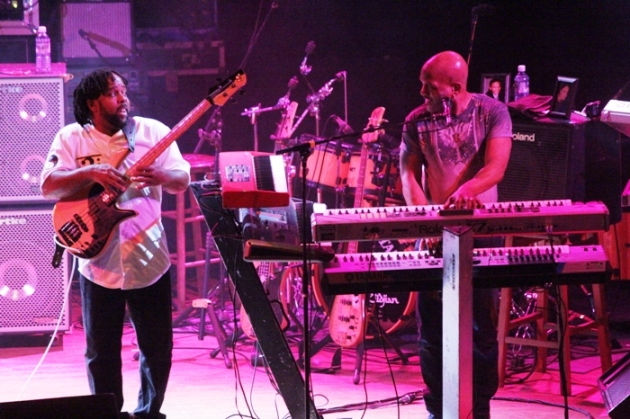 Victor's bass solo started off with a little bit of beat-boxing, and began stacking loops of tracks, one on top of the other, making the lone bassist sound more like three or four musicians up on stage. A true family man, Wooten played a delicate, calming "Ari's Eyes," for his daughter, and closed the set with a funky "Hali Baba," honoring his wife.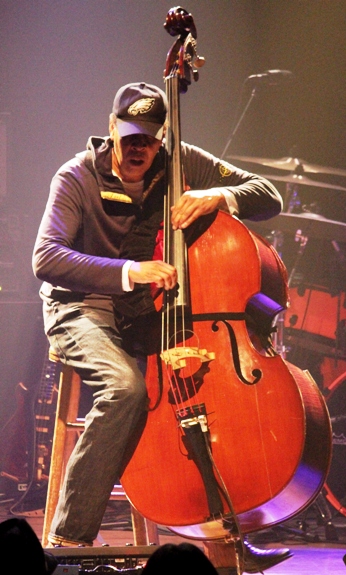 Philadelphia born bass prodigy Stanley Clarke, a virtual household name among jazz aficionados, has played with many key names in the jazz world, done considerable time in the music production seat, and also given his creativity to a number of film and television scores. A veteran of projects with Jean-Luc Ponty, Chic Corea, Billy Cobham, Jeff Beck, George Duke, Al Di Meola, Stewart Copeland, Art Blakey, and Stan Getz, Clarke continues his rich legacy of music with his current outfit, The Stanley Clark Band.
It's amazing how well jazz musicians age compared to rock and roll musicians, both physically and musically. Sixty year old Clarke didn't miss a beat as he treated the mostly seated audience to "Here's Why Tears Dry," and "Soldier," from 2010's The Stanley Clarke Band, and a reworked version of "No Mystery," a tune originally written by Chick Corea back in the Return to Forever fusion days. Whether on electric bass or acoustic upright, Clarke's technical ability was simply mesmerizing. A solo that lasted well past the ten minute mark had the bass man lurched over his upright and going for broke.
The end of the set saw a considerable amount of the front reserved seats getting vacated and folks in the general admission section upgrading accordingly for the encore. Wooten came out and joined the Clarke band for a nostalgic ride through 1976's "School Days," capping the evening with the title track to one of fusion jazz's most influential solo bass records.
Check out some video snippets of both the Victor Wooten Band & the Stanley Clarke Band from their show in Boulder
And don't forget to check out more photos of the Victor Wooten Band and the Stanley Clarke Band.