"One of my favorite quotes by Igor Stravinsky, is 'My music is best understood by children and animals,'" says Joel Cummins, the keyboard player for Umphrey's McGee." I thought that was kind of cool because on some level he's kind of saying, 'Don't think about it too hard. Just try to experience it.'
That's exactly what you have to do when you listen to anything that Umphrey's McGee puts out–whether it's any of their latest albums, including their latest Safety in Numbers, or see them live.
An Umphrey's McGee show is a musical extravaganza as the band members trip in and out of musical genres.  This band is unique even in the jam scene because of the musical diversity, not only within each set, but within each song. Audiences can hear jazz, rock, ambient space music, Primus-edged metal, and even country wedged up against each other. They trip out and explore worlds where no one has gone before and always manage to find their way back to the melody line.
Cummins says that that musical diversity was intentional just because the band members are who they are. "We've all come from very different musical backgrounds and have had lots of different influences from the Beatles to Miles Davis to Stravinsky...The challenge we knew right way was how to put all of these things that we bring to the table together and not make it sound too disjointed. To a lot of people, it is our double edged sword: our biggest strength and weakness. Sometimes still, I feel like the diversity works really well live, and sometimes it can be a little overwhelming."
The musical layering of Umphrey's McGee comes from their individual versatility. "We've already been these chameleon-like players," Cummings adds. For example, Jake Cinninger, one of the band's guitarists and singers, was also the drummer for pop rocker Ben Folds. "Jake's done some double bass stuff, and he's been the lead guitarist in a country band from Nashville," Cummings says. Along with guitar, Cinninger plays Moog and synthesizers.
But he isn't the only multi-instrumentalist nor multi-genred musician in the band. Kris Myers has a masters degree in jazz drumming from DePaul University but also did time with the Chicago jazz-fusion band Kick the Cat. Andy Farag carts out a wagonload of percussion instruments and drum machines to every gig. He lays down multi-ethnic polyrhythms.  Bassist Ryan Stasik also plays keys and guitar, and Brendan Bayliss is an extremely versatile guitarist. They all sing, except Stasik and Faraq.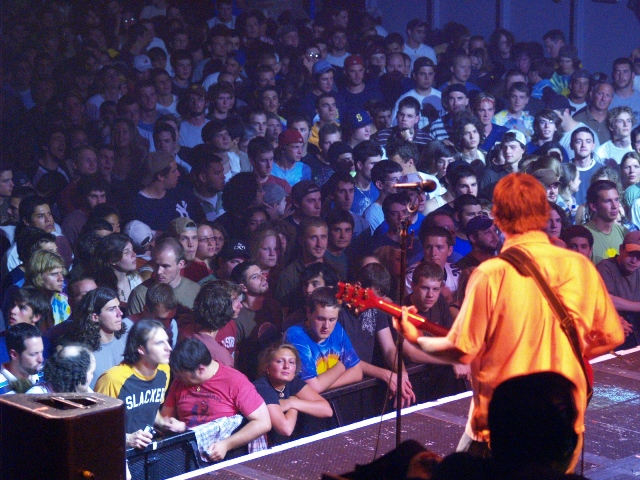 Even Cummins, who is classically trained, wandered into jam and other genres quite by accident. "I kind of started noodling stuff, when I should have been practicing and started improvising.  That's really how I found a love for jazz and others' styles of music at an early age." But it is more than just playing different styles of music on an instrument they they've become well versed in. "One thing that we're into is trying to understand music that doesn't necessarily pertain to the instrument that we typically play. There's always something to be learned," Cummins says. "I grew up loving Metallica. Metallica doesn't have a keyboard player. When somebody puts their heart and minds into music, I don't know if it really matters what the instrument is. You either get it or you don't. We just always try to keep open to that experience."
And even today Cummins still explores those open spaces in other people's music. "I do a lot of things to practice," he says. "One of the things I do is to play along with albums where they are my favorite artists, somebody like the Charlie Hunter trio. It's a lot of fun because there's less keyboards in there, and I kind of fill things in. I love doing that in my home here. Last night, I played along with [Herbie Hancock's] 'Man Child.' You learn so much, at least for me, when you can listen and actively play along and say, 'Ah, that's what he's doing here.' Unbelievable. All the way from his early stuff with Miles to the stuff when he broke off and he started getting funky and crazy on his own."
Yet, with all of this experimentation, Cummings and Umphrey's McGee keeps analyzing, trying to identify their unique style. "We don't really know. We're not trying to force anything. We'll all go home and write music and work on stuff separately and work on stuff together....We keep bringing everything back to the table and trying to be honest and ego-less about it and say, 'This might work together. This section that you have is really good. We'll put the guitar there....' That's one of the ways we've been doing stuff. I really like that. I like the unpredictability about it. We're not really sure in what direction it's going to be and how it's going to sound. We just have faith in each other that we'll be honest and pull out the worst."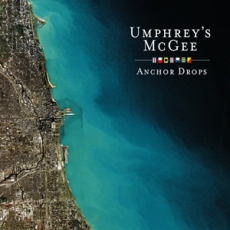 That honesty to their craft and an unpretentiousness was evident early on when Umphrey's McGee played their first show way back in 1998 and then released their first CD. They called it Greatest Hits Volume III.  Four other albums followed with equally odd names: Songs for Older Women, One Fat Sucka, Local Band Does OK, and Local Band Does Oklahoma. By the time Anchor Drops, a stellar studio album, the band was in a groove and critics were noticing. This year's Safety in Numbers is a more controlled, radio-friendly album that is reaching a broader audience.
Umphrey's McGee tours out of Chicago for six months of the year, visiting major cities all across the US, Europe, and Japan. "We did it about five years in a van and trailer," Cummings says of touring in the US. "We just tried to get from point a to point b. We'd be so unrested we can't play. Now, we tour with a bus. We can just focus on the music."
In order to keep on top of all of this musical layering, the band tours with a tech and management team: sound man Kevin Browning, monitor engineer Bob Ston, stage manager Robbie Williams, lighting designer Adam Budney, road manager Don Richards, and manager Vince Iwinski. Browning is critical because he's the front of the house manager and his ear is golden. He makes sure that all of the variables fall into place.
In addition to touring and recording, guitarist and founding member Brendan Bayliss recently founded USTORM (United So Together Our Reach Multiplies), a non-profit organization that raises money for scholarships for young people to attend art and music education programs.
Catch Umphrey's McGee this week at the 10,000 Lakes Festival in Minnesota.