I almost didn't go to Wakarusa this year.  I had sworn never to go to Bonnaroo, the venue just being too large in my opinion, but the scheduled acts were just too sick to turn down.  Not thinking that I could swing both weekends, I made a hard decision based mostly on financial reasons. Not being about to miss up an opportunity for a cheap ticket, I scanned Craigslist at the last minute and turned up a request for a certain qualified someone to work press for Wakarusa. Honestly, that's my dream job.
I graduated from the University of Missouri, Columbia and then went on to obtain an assistant city editor's position at the Columbia Missourian while working on my Master's in Education.  While most of my journalist friends dream of working for a large publication in a big city, I dream of working with people that actually know me, covering events I'm excited about with the hope of conveying some of my passions to others who are passionate about the same things. For me, there's nothing much more important to me than my music. Okay so there's my family and friends and, make fun all you want, my pets. My Ipod is constantly getting fuller. If I could permanently implant it, tapping maybe a spot on my wrist to change songs, I would.
Having said all that, working this festival was hard…much more difficult than it usually is to make the choices as a spectator. Obviously with festivals with this much variety and scheduled acts, there are crucial decisions that must be made. Who do you go see? And probably more importantly, who do you give up? Having to both shoot and review the festival ups the ante greatly. What if I totally miss someone great that I should have covered?! So I took a ton of pictures and tried to listen as I went along, but I have to admit my analysis of the bands might have suffered a bit because I was worried about getting great shots. Therefore, feel free to add your comments and opinions and especially if you were there…chime in and add to the reviews! Enjoy.  I know I did and look forward to getting better and giving you more of what you want each time I get the opportunity to cover these great weekends for you.
Cheers,
ps. I'll try and focus on some of the smaller/lesser-known artists I saw since we all probably love to add new music to our collections.  And c'mon, you've gotta admit that's one of the best parts of festivals like this…getting to see some kicking new acts!
Thursday
3 Peas, a funk trio based out of Fort Collins, Colorado, opened my Wakarusa weekend at the Homegrown stage. I caught the last part of their hour set and was pleasantly surprised.  I had never heard them before and enjoyed their last few songs.  People were quite obviously just arriving and setting up camp, so the crowd was small and still getting into the groove of beginning their weekend festivities.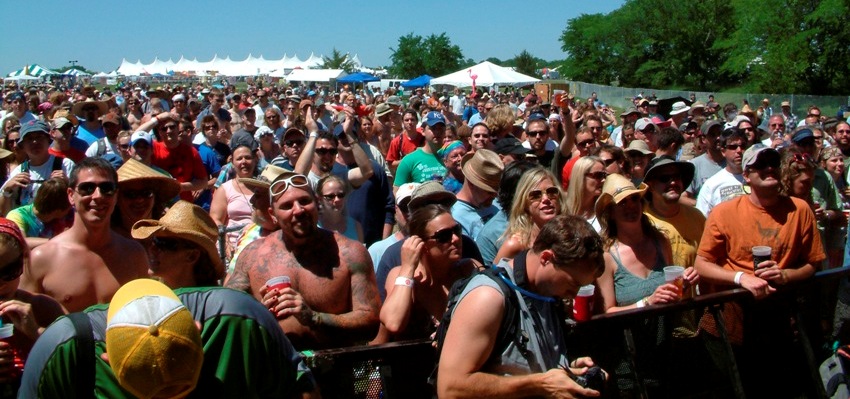 One of my all-time favorite things must be watching those create and paint during shows and Dan Kudreyko from Huntington Village, New York stood at the front while creating a new painting during this show.
Preston Girard must have been a last-minute addition to the schedule as I couldn't find him included in the artist's lists.  After doing a little research, I found that Girard began writing music in 1997 which he set to his father's poetry (suspense novelist James Preston Girard) though later he began writing his own lyrics, releasing "Simple Life" in 2002.  The crowd just had to turn around after the 3 Peas to catch this one-man, mellow, acoustic set at the Porch end of the Homegrown/Porch tent.
Unfortunately for Preston, most of his potential audience took a detour toward the face painting tent where Kelsey Swartz became the first of her quartet of friends to have her breasts painted that day.
After snapping a few pics of the breast painting, I wandered over to the Revival Tent to catch some Papa Mali.  I thought they sounded great and seemed to be livening things up for the still-small crowd.  I heard a few mentions that the set was similar to what they had done at Mountain Jam the week before but had to believe that most of the crowd wouldn't know that and were really just enjoying the music.  I've been looking forward to seeing the set list from that show but have yet to find it.
Welborne was in true form during his hour set, obviously enjoying himself as much as the ever-growing crowd which, in my opinion, would have welcomed a longer set.
There were a few minutes to run back over to the Homegrown/Porch tent and check out Savoy and then John Statz.  Savoy calls Boulder, Colorado home.  At first they reminded me a lot of Sound Tribe, but their sound was much more mellow and ethereal…at least the show I saw.  It was really beautiful.  I would recommend seeing them if you get a chance but at the very least heading over to their myspace to have a listen for yourself.
Again, the crowd only had to turn around to hear John Statz, an extremely young-looking folk singer from Madison, Wisconsin.  Statz, 23, seemed more than ready to get going after a short sound check, telling his sound man "Sounds good bro. Let'er rip!" He had a suitcase sitting at the front of his stage with a small collection of merchandise.  Even though his mellower, subdued sound isn't quite my thing, I would have stuck around a bit longer had Dubconscious not started.
I have to admit that I almost always think the boys of Dubconscious put on a great show.  It's apparent that these guys love making music together and entertaining the crowd.  They started off a little more reggae than I'm used to or prefer but soon seemed to get into a more tribal sound. They soon got warmed up and fell into a cohesive groove. Even though the grounds were still pretty empty at the end of their set, the Revival tent itself was pretty packed with hula hoopers and a thoroughly happy crowd bouncing beach balls off each other.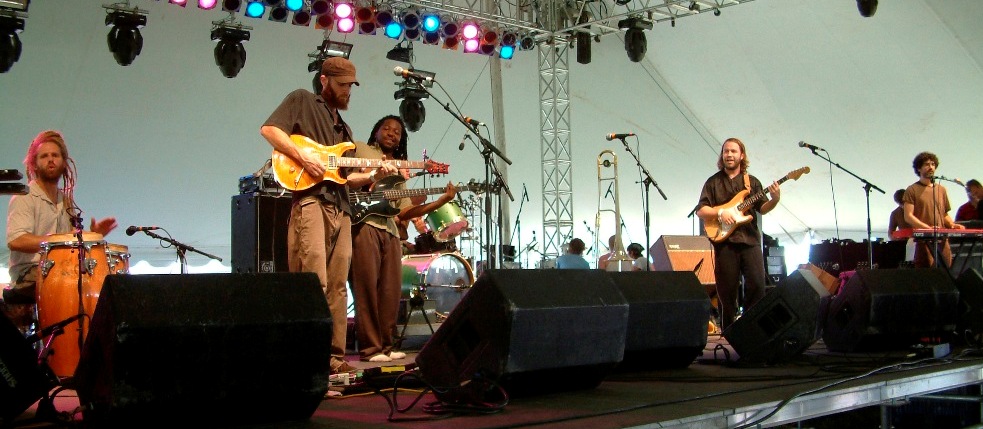 After Dubconscious, I wandered out into the grounds a bit. Even at 6 p.m. on opening day the venue was still surprisingly empty compared to years past.  Deciding to ride the shuttle back to camp and just check out how many people were coming and going at the time, I engaged one of the bus drivers who told me that I was right. It was still dead. "You know why? Don't you?" he asked. "They just killed themselves last year with how strict they were. It's going to take a couple of years for them to redeem themselves and for people to trust that they can come back"
Outformation is clearly a spin-off of Widespread Panic.  No one even seems to dispute that, though it seems fans might be getting a little disillusioned with the "lack of originality".  There was a lot of talk in the tent and afterwards on the grounds about this particular group.
Here's the short version.  In 2002, Panic guitarist Michael Houser died and Sam Holt, who was Houser's guitar tech, decided to follow his mentor's advice and branch out on his own.  I'm not in any way saying this was a mistake, and neither are the people I talked to and/or overheard.  We're just saying that Outformation sounds just a tad too much like Panic.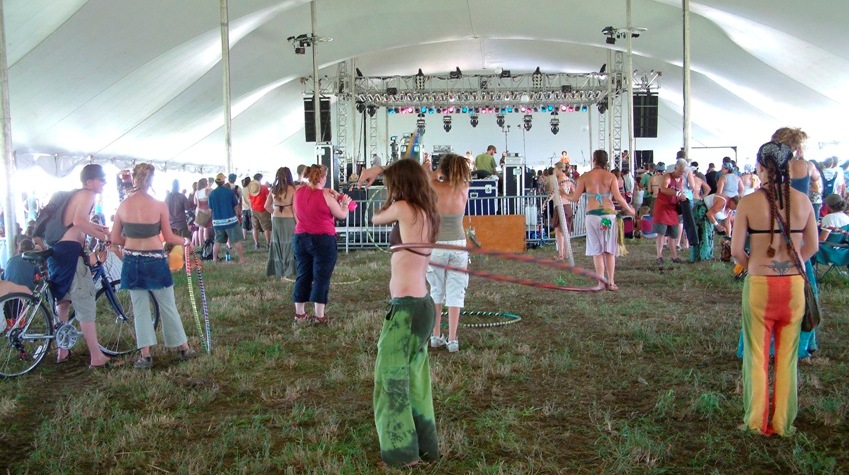 I'll admit to eavesdropping on some conversations, one of which consisted of an older gentleman telling his friends his opinion and story of Outformation.  "Sooner or later someone needs to tell them to find their own sound." He also explained that Holt was a "spot-on tech" but "was basically just taking Widespread Panic's music and stretching it a bit."
That said, there was a great feel to this show.  They seemed at their best when they were just jamming and going with the sound rather than during the vocal sections when they just seemed as if they weren't into it. The crowd loved it regardless, which doesn't come as a huge surprise to me seeing as widespread draws a huge crowd every time and possesses a huge fan base.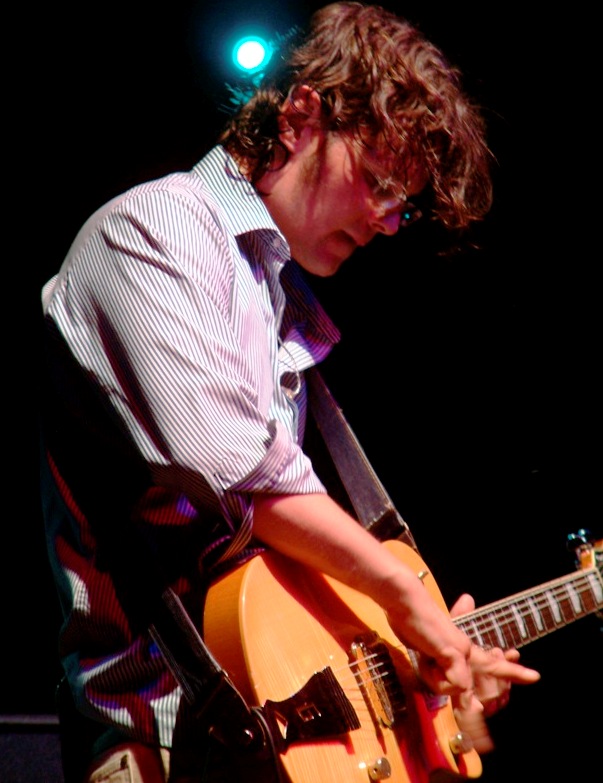 North Mississippi Allstars was THE place to be that night. I'm biased though, so I decided it would be best to let someone from the crowd give their opinions about this one…  It was finally starting to look like the weekend would pick up to what I was accustomed. I stopped to talk to a couple of girls who looked like they were having the time of their lives during the show. I had wandered the crowd looking for someone to interview after the show and these two seemed perfect. They has been dancing together off and on for most of the set and looked elated and just completely joyous to be there.
Lauren and Kelsey miller are sisters from British Columbia. Turns out I had found other biased NMA fans and they admitted it right away.  These two were great, true fans and sisters, completing each others sentences and chiming in when one didn't get it quite right.  "Oh, you do want to talk to us. We'll only give you our biased opinions."  That's fine, I told them and proceeded to ask what they had thought.  They had seem them twice playing with the Dirty Dozen Brass Band and thought that there were a lot more people dancing at those shows, though I didn't think there was a lack of enthusiasm in tonight's crowd at all, but opening day of anything will do that to you.  Lauren and Kelsey completely disagreed about the crowd though, beginning to argue between the two of them as if I wasn't there.
I never did get a clear winner as to whether they thought the shows with the Dirty dozen had been better than the Kansas city show they had caught when NMA played with Split lip Rayfield and Son Volt several months after 2005's Wakarusa. One thing was quite clear though, "All of their shows have just been absolutely amazing!"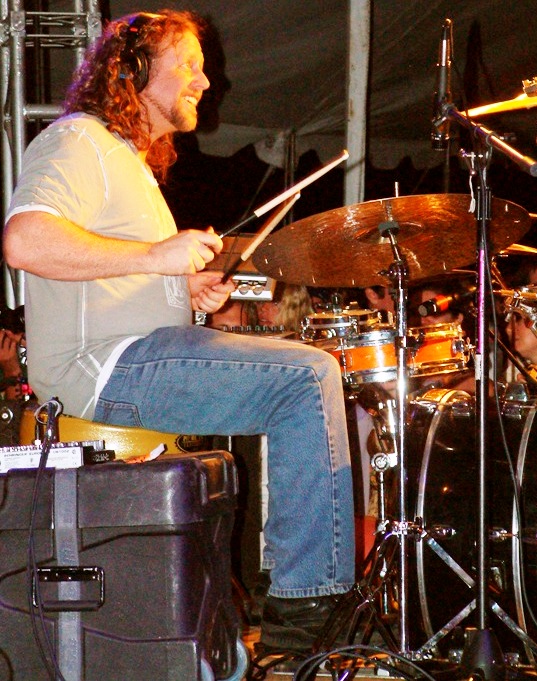 EOTO also had some great fans. First person I talked to upon entering the tent assured me that this show was going to be "tight as f*@#," and he was right.  Despite a slow start with Michael Travis of String Cheese Incident assuring the crowd that they were almost done with "the million cables" that needed to find the proper homes and the sound board having some trouble with the speakers, this show was as "tight" as promised.  Wish I had had the camera up to catch the looks on Travis' and the audiences' faces when the speakers finally kicked in properly.  The energy was great and there were no slow moments the entire set!
Jason Hann and Michael Travis create a fresh show each time, so there's always a new experience.  All the music is created then and there, recorded and mixed as they perform. The spontaneity has to be one of the things I love best about EOTO.  This is some of late night music at its finest.
Earlier in the evening I'd met Dave Smith, whom everyone calls Smitty, from Colorado.  Upon his emphatic suggestion I had decided to make sure I made it to the late night Kan'nal show.  I'd never heard of this group, but even if Smitty hadn't talked them up so much, I would have heard of them by the end of the weekend, though it would have been too late.  This was an amazing show! Smitty and I had talked about Xavier Rudd so he told me that one of the band members played the didgeridoo.  He also promised some crazy beautiful dancers and Kan'nal delivered. I have to admit that Smitty promised fire and I didn't see any during that night's show but it was still phenomenal.

The seven current members of Kan'nal give an explosive performance. They all look so intense but at the same time filled with joy while they are onstage. They call their sound tribal psychedelic rock. I'll completely agree with that description but with the dancing and costumes, it becomes much more than the music and becomes an entire experience.
First night recap
Overall, the whole night seemed kind of subdued.  Sundown stage wasn't open the first night and we were without the Sunup stage entirely this year.  People seem to be migrating back and forth between the campground venues and the main field stages a lot more than normal, but talking to people throughout the evening made me decide that the motivating factor of that seemed to be that there were a lot of bands that festival goers have never heard of before so people were seeking new music to love.  All of the excitement I'm used to started happening in the smaller tents late that night and the artists didn't seem any less energized regardless.  In my experience most artists feed off  the crowd anyway, so there were times where the more subdued feel of the night brought about so lower-energy performance, but most seemed to get the crowd going and pull everyone out of the slump starting a great cycle of give and take energy between the artists and the audiences.