Musical siblings, the Wood Brothers, will be returning to the 10,000 Lakes Festival this year, touting their latest CD, Loaded.  Two years ago, in 90+ heat, festival fans packed the Barn Stage to see this  mix of southern backroads and big city boulevards. In their own version of country mouse and city mouse, Oliver Wood, who had been saturated with Georgia blues and rock, and his brother Chris, the standup bass player with the jazz trio Medeski Martin & Wood, showed the world that they could carve out something totally unique from what either of them had been known for.
The Wood boys grew up around music.  Bill Wood, their father was a Harvard-trained microbiologist, who found another love besides science in the 50s. He was involved in the Boston-Cambridge folk revival scene as a guitarist and singer. He sat in with many rising folk stars of the period, including his good friend, Joan Baez. He recorded three duets with her on Folksingers 'Round Harvard Square, a record that also included a few solo tracks from Bill himself. That album was Joan Baez's first commercial recording.
Bill Wood moved to the West Coast where Oliver and Chris were born and then on to Denver where the elder Wood continued singing in local folk groups. "Our father, for the most part, was the musician in the family," Oliver said in a phone interview. "He definitely was a huge influence and our earliest influence." Oliver recalled the first time he'd seen his father play before an audience. "He was a real entertainer. He'd sit down at any family function, and he'd put on a show of all this folk music in his  repertoire. That was the first person I saw play guitar and the first person I heard sing."
The folk idiom was an ideal training ground for the Wood Brothers, especially Oliver.  "It's totally lyric based," Oliver said, about folk music. "It's so neat because I'm just now becoming a huge fan of Dylan and Paul Simon and those people who started out in the folk world." He also was beginning to understand the complex harmonies of acoustic instruments and naked voices and most especially how songs got passed along and embellished upon. This was improvisation at its most basic.
Though both brothers had this foundation, Chris and Oliver went their separate ways musically and geographically. Chris went North to study jazz among the intellectuals and eventually found musicians of similar inclination and formed the jazz heavy jam group Medeski Martin and Wood. Oliver chose to explore the university system in California before settling in Atlanta and absorbing the local blues scene. Oliver's first full-time music gig was playing with Tinsley Ellis. Later, he formed what became a six-piece New Orleans funk and blues band called King Johnson.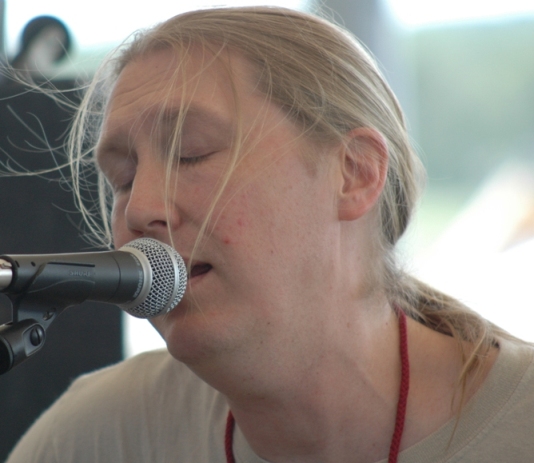 "Chris and I have been doing all kinds of different music, but we've never done anything like my dad used to do which is acoustic singing, sort of folky-based stuff," Oliver said. "We lived so far apart and grew apart social, but grew closer musically. We both learned how to play, how to listen, how to improvise. We've come along way around, playing rock bands and jazz groups, to something that's kind of naked and bare."
That chemistry happened in 2003, when both brothers' bands were booked on a double bill in Winston-Salem, North Carolina, and Oliver sat in with his guitar in Chris' band. That sparked a collaboration that had them working up some old King Johnson songs together. But it didn't end there.
Oliver had inherited his father's love of lyrics and singing, but not just other people's music. "I've written songs for several years, and I've always played them with King Johnson," Oliver said. "It's been great because it's where I learned to write songs and it gave me the motivation to write songs. But the songs got overshadowed by the force of the music, having a full band and having drums and a horn section and all this stuff which is awesome fun." But sometimes when he would write a song that had subtle lyrics or vocal nuances, it just got lost in the big sound of a big band. "With the format that Chris and I are approaching it with, it really allows the songs to be featured. Of course there's great musicianship. Chris is a world class bass player with all the subtle things that you can do with an upright bass. I'm hoping that people can hear that. The same goes for my songs and songwriting."
After cutting a demo, they started touring together early last year in between gigs with each of their bands. Then, in 2005, the Wood Brothers entered Allaire Studios and emerged with their first collaboration, Ways Not To Lose, released on Blue Note Records. It was a blend of the complexities of jazz bass and the gutsyness of roots blues.  Oliver's songs, which he delivers with a plain honesty, are fresh yet capture the road-weariness of the Delta and are enhanced by Chris' vocal backup. The instrumentation is minimalist but organic and is shown in Oliver's clean guitar work, whether on resonator, acoustic, or electric guitars, and on Chris' intricate standup bass riffs that are embellished with calculated slaps or bow.  Restrained drums and percussion by Kenny Wollesen complement without intruding.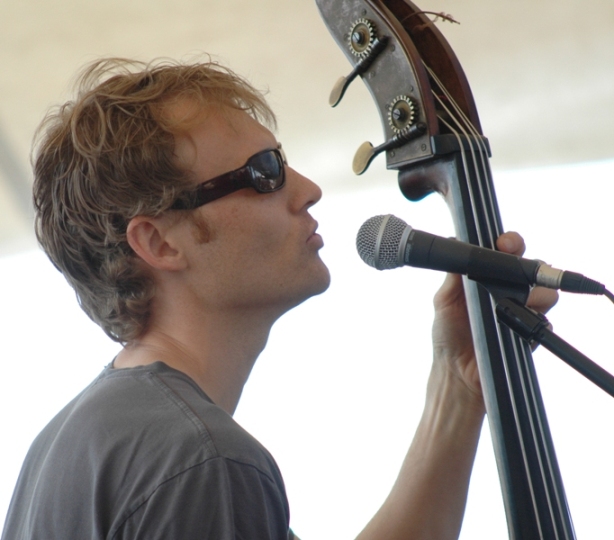 There are few times when you put something in the machine, and it's instant. It just connects. I found their debut CD to be raw and rootsy and naked. There are echoes of blues and gospel but with something more contemporary and modern.
"I've always loved blues. I've always loved people from Lightening Hopkins to BB King and Albert King. In fact, when I named King Johnson, it's named after all the Kings and Johnsons you hear in the blues: Freddy King, Albert King, BB King, Willy Johnson, Robert Johnson," Oliver said. "That's always been my passion. When I got a little more interested in folk and singer/songwriter sorts of stuff, I've kind of gone back and listened to acoustic-based blues, people like Mississippi John Hurt and the Rev. Gary Davis....And over the last few years, I've really gotten into gospel music. I really love the great classic Chicago kind of gospel stuff. All of that gets mixed together. Of course, lots of people have done it. We all mix it together in our own way, and there are so many ways you can do that."
That first album has some stunning songs. Of particular note is the blues of "Chocolate on My Tongue," with its bar room feel and the unexpected line about ice cream, "If I die young, at least I got some chocolate on my tongue." And "Spirit" is more about wanting to find it: "If the spirit moves you/please won't you send him/to me." The only cover is their version of the Stanley Brothers standard "Angel Band." It's naked, without elaborate harmonies (except for Chris's pleasant backup) or intense instrumentation. Yet, it sounds like something you could still hear sung in some tiny little church along the Mississippi.
The Wood Brothers gifted the 10,000 Lakes Festival audience with all of those gems the last time they were in the region. They even stunned the crowd with Chris taking the lead singing role on one tune, which he wrote himself. "I've been in an instrumental band for 15 years," Chris said after that show. "I sung when I was a kid in school in choirs. And our father was a folky, played with Joan Baez, and he had a radio show. He sang to us growing up. So, it's like going back to my roots in a certain way." But Chris added reluctantly, "I have to admit for a long time that I didn't pay attention to the lyrics on a record. I grew up with all kinds of music with lyrics, music from the 60s to blues that Oliver was listening to.... I was really enthused by jazz. I was actually schooled in jazz. I studied at a day college and a conservatory.  Now, I've really come full circle and come back to that stuff and realized how big an influence it really is. Now, I'm listening to all kinds of things, Dylan—I'm really getting into what he's saying and being blown away by it."
This year, the Wood Brothers will bring new offerings. This time from their sophomore album, Loaded. And, it really is! The album is produced by John Medeski and features guitarist Amos Lee and the luscious voice of Frazey Ford of the BeGood Tanyas. There is also a bit more instrumentation with the addition of organ and other musical touches.   The collaboration of the two Wood brothers into a musical entity is certainly a gift to music fans everywhere. To be sure, it has been a gift for both Chris and Oliver. "We're both accomplished musicians," Oliver said. "Now, we can grow close again as brothers."