Achilles Wheel's fourth album Sanctuary, released on February 28th, is a collection of originals that is authentically how they sound in performance. If that's a plain proclamation, it's meant as a sturdy compliment. These Sierra Mountain improvisational-spirited rockers never paid much mind as to how other "jam-bands" do it, nor do they let their influences determine their sound. These thirteen diverse tracks mark an astounding shift from previous efforts, which saw the tight quintet developing the balance between two strong songwriters/guitarists in Paul Kamm and Jonny "Mojo" Flores. The guitarists naturally gelled with their brazen bassist counterpart Shelby Snow and drummers Gary Campus and Mark McCartney, together rolling their sprawling rock into territories unpredictable.
As the quintet welcomed talented keyboardist and accordionist Ben Jacobs to their live ensemble, they were becoming the band that headlined Phil Lesh's Terrapin Crossroads and the legendary Sweetwater Music Hall in Mill Valley.  The well-deserved following came as they began to explore their individual songwriting backgrounds (all the members of Achilles Wheel had remarkable individual musical backgrounds preceding.) Carrying that voice comfortably into a collective sound is the true achievement that Sanctuary documents. From the album's title tune, which exhibits Mojo's sultry dynamics to the playfully Calypso-coated closing track  "Turn the Worm," it's clear Achilles Wheel has discovered its potential. Kamm's knack for crafting lyrics that carry the listener to that time and place is prevalent on "Across the River's" journeyed essence.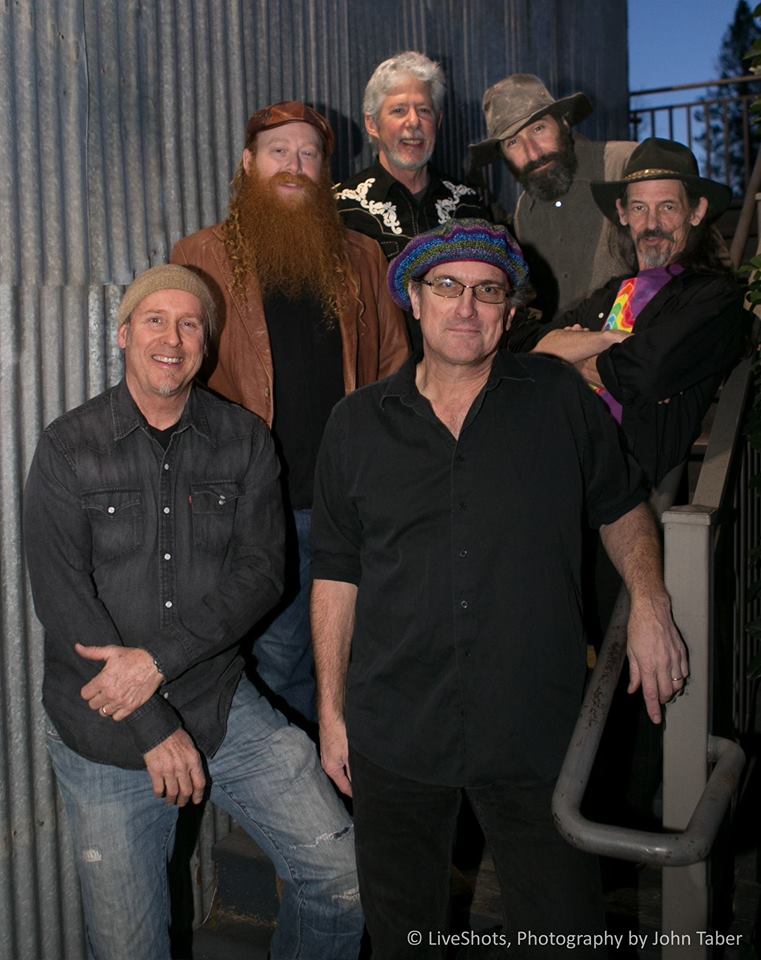 Other tunes reveal the band's Reggae character. "Cross the Bridge," is a signature Mojo song with plenty of chutzpah, while Kamm's "Babylon By Morning," fuses that Reggae vibe with eastern-sounding guitar licks. These songs are more conscious of space for dynamics and storytelling. This spirit is propelling Achilles Wheel forward, mindfully expanding their repertoire. The ponderous poetics of "Oak Tree," showcase Jacobs' piano & organ fusing well with the acoustics of mandolin. Strong harmonies show a collaborative temperament throughout, as each individual is bringing their own tunes into Achilles Wheel rather than to Achilles Wheel. A stunning surprise stacked right in the middle of Sanctuary comes along with "Shadow of a Doubt," which is indeed the essence of the album. Striking interplay between all, the elusive pulsation of Snow's electric bass backs a particularly poignant electrified Mojo finale solo. With Kamm's lead vocals never sounding more poised and powerful, this is the chart-topping potential that Achilles Wheel has unlocked.
Those who haven't seen the group in a year or two need to get out and check out how Achilles Wheel's groove has evolved. There are plenty of opportunities to see the group rocking tracks off Sanctuary and other classics live. Upcoming appearances at Sweetwater Music Hall and Sierra Nevada Brewing proceeding some ambitious summer music festival shows find Achilles Wheel turning with the momentum that they've built all these years. Visit achilleswheel.com/shop for discs or downloads of Sanctuary