An unlikely collaboration between two roots music legends needed a proper introduction. Multi-instrumentalist, bandleader, and vocalist Sam Bush is second only to John Hartford the most influential player in creating the style of newgrass music. A progressive take on bluegrass that fused elements of rock, psychedelia, and reggae was developed in the late 1960s and became incredibly influential on generations of successors to come. Del McCoury is a national treasure in the bluegrass community. After establishing his talents to renown and recognition, he joined Bill Monroe's Bluegrass Boys in 1964 as his lead vocalist and rhythm guitar player. McCoury, a banjo-man at the time, was asked by Monroe to don the guitar instead. A few years later he would go on to form his own Del McCoury Band, which has over the years rotated its musical duties before falling into place as a family affair. Del's band consists of his son's and nephews. Mr. McCoury himself is a true mench, a remnant of the original Nashville and Virginia country scenes that have been so obscured in modern day. Though they both admired each other's work, the two bluegrass icons had never toured together previous and rarely collaborated. Hot Rize bassist and co-founder of E-Town Nick Forster compared the collaboration to the famous one-time billing of a Doc Watson and Bill Monroe concert from decades earlier. He described the collaboration as fruitful and a truly combined creation from distinctly different artists. Forster's introduction was a perfect illustration of what we were about to witness.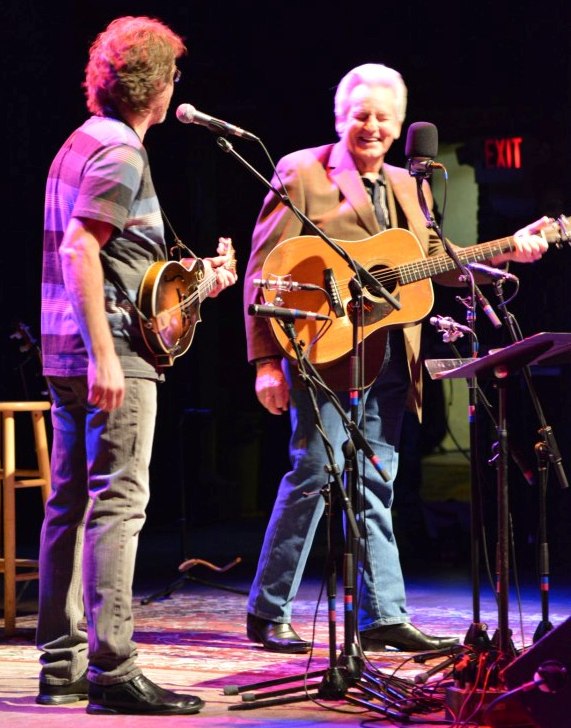 Sam & Del's chemistry was immediately apparent. Del developed his rhythm guitar method from Lester Flatt's method of playing rhythm and runs. Sam Bush is the fastest shredding mandolin picker and fiddle player on the face of the earth. His playing is fluidly fused with jazz sensibility and his dexterity is unmatched. He has only gotten stronger musically and vocally since he founded Newgrass Revival in 1972. The two truly played off of each other, with Bush respectfully taking moments to let his elder co-pilot reveal his truly supple style of strumming. I have never heard Del's guitar playing more clearly than last Sunday night, and Sam took the back seat at just the right moments. The duet was greeted by a standing ovation from a crowd of true appreciators. Forster used the Boulder Theatre for his E-Town live radio recording sessions for decades and the crowd felt plugged in and right at home with Sam & Del. The two broke into the instrumental "Heavy Traffic Ahead," wasting no time showing that the two had come to play, not talk. Next they took on a masterful version of Jim and Jesse's "Slewfoot," a now standard covered by both Sam & Del separately for years. When they did get down to a little talking, Sam praised Del for preserving the blues side of bluegrass. He also told an anecdote about the first time he saw Del and hearing a thick-accented promoter introduce him as "Delma Curry." He thought that was his name until he got some records and got it right. The two seemed that in their short time rehearsing and touring so far that their ability to open up their hearts and their past would be another key element to the project's success.
Del did take the lead on quite a few blues numbers including "I Know What It Means to Be Lonesome" and "I'm Blue". Sam introduced his and Del's favorite Bill Monroe romper "The Bluegrass Stomp" to cheers and approval from the crowd. The instrumental workout made the seated show want to stand. Sam let it all loose for this one and Del couldn't have been happier. As the two continued talking about Monroe and the bluegrass catalogue something occurred to me, Sam Bush is really the antithesis of Monroe's sensibilities. He defied Monroe's strict set of musical boundaries and took bluegrass to a whole different plane of possibilities. Del acknowledged Sam's bending of bluegrass as a progression in the genre not a detractor. The Monroe classic "Roll On Buddy" was another crowd favorite. Del brought fans of his band back to the basics with his common cover of "High on a Mountain" a staple of the McCoury Band.
Sam & Del really created a loose, audience participation encouraged vibe. They even asked if anyone had any real questions. The Boulder Theater crowd wasn't ready for the open forum and surprisingly nobody within shouting distance seemed to want to ask anything worthwhile. A truly special moment was when Sam insisted that Del play banjo, an extreme rarirty. Del honored the request as the two worked out an instrumental I wasn't familiar with. This was the only time out of the many McCoury shows I have seen that Del play the banjo. The duo poked a little fun at Monroe with "'Cept Old Bill" before launching into an instrumental from his later days. Progressive in it's tuning and fingering as Sam explained to the audience "My Last Days On Earth" was a rarity that a few enthusiasts seemed to know about. I had never heard of it personally and thought it was a great contrast to his more familiar standards.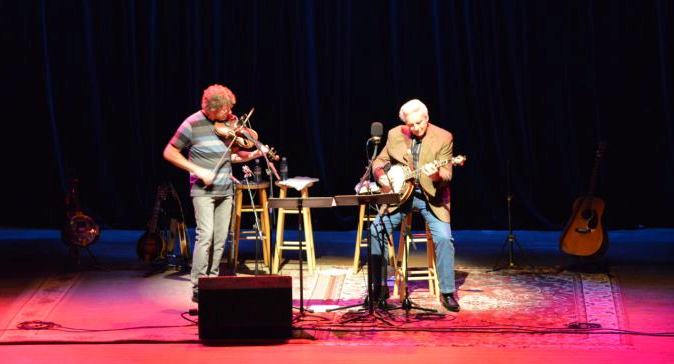 As the two thanked the audience and gave a real big hug the encore call was strong from a crowd who started off with a standing ovation. One of my personal favorite standards "Nine Pound Hammer" closed the evening's performance. I was so pleased to see the collaboration flow naturally and Sam & Del having a great time with their crowd. These two are legends in their own right and seeing them share like that this far into their careers is a special engagement that some lucky crowds have been witness to. This show has us Coloradoans pumped up for the 40th Telluride Bluegrass Festival that both Sam & Del will be present and performing at. Hopefully we'll see you all there. If not, at least we all got a taste of that collaborative Telluride spirit right here in Boulder. Thanks to the fellas for that.