Grateful Web recently caught up with Ivan Neville while he was in Maryland. The phone interview had to be postponed for two hours while Neville enjoyed some crab cakes, reputed to be the best in the country. "I'm in Baltimore " he said. "You've got to have crab cakes, and I want to give them my full attention." While his meal was digesting, he spoke about his new band, Dumpstaphunk......
"I had an opportunity to play at the New Orleans Jazz Festival in 2003," Neville said. "I had an idea of doing a different kind of band." Instead of turning out his soft-selling,  solo performance, he decided to build what he would consider his fantasy band.  "I just grabbed a group of musicians I've known for a long time, pretty much the best that New Orleans has to offer. We played that one gig ,and it turned into playing again. We kind of played seasonally in New Orleans. We'd play the Jazz Festival and do Mardi Gras and stuff like that. It just took on a life of its own."
What he created was a powerhouse band that is strong on lyrics but also has the best funk players around.  The band is unique because it has two bass players, Nick Daniels and Tony Hall. Though they are much older than young Neville, who is the son of Aaron Neville, one of the founding Neville Brothers, these bassists add the flair and the grounding Ivan Neville wanted in this band.  "They played with Nevilles and many other artists," Neville said. "Tony also plays guitar. We've got a lot of stuff where we use two basses and on a lot of songs where Tony switches over to guitar." This lets the bassists play off each other and fill in the licks that the other isn't doing.  "It makes the funk a little deeper in the dumpster."
Other band members are Raymond Weber on drums and Ian Neville, Ivan's cousin, plays guitar. Ivan Neville plays Hammond organ and the V6 Clavinet.  "Between all these guys and myself, we've played with Trey Anastasio, Dave Mathews, Rolling Stones, Keith Richards and the Expensive Winos, Funky Meters, Etta James, and Harry Connick, Jr."
In addition, everybody in the band sings. In most bands, the bass player or the drummer is mum. In Dumpstaphunk, everybody contributes vocally. And, these are sweet, sweet voices with the energy of Sly Stone and folks of his era that inspired  a whole generation.  "We're heavily influenced by Sly and the Family Stone," admitted Neville, "and also the Meters. That's my uncle, our guitar player's dad, Art Neville, who was one of the founding members of the Meters."
Neville added, "We do some cover stuff, songs that we like to play." But mostly, the whole band writes. When they do, there is something more than just a good time feel. "If you can say something, why not say something. That's pretty much it. It's not intentional. It's not like we just sit around and write songs that may be called social commentary. But a lot of it is in subtle ways. We try to say a little something when we can. I like being able to do that." That's clearly evident in their live shows and their new five-song EP called, Listen Hear, which will be available online soon and at all of their live shows. "A lot of it's fun music to move your body to, but if you listen to the words, it might get you to thinking a little bit."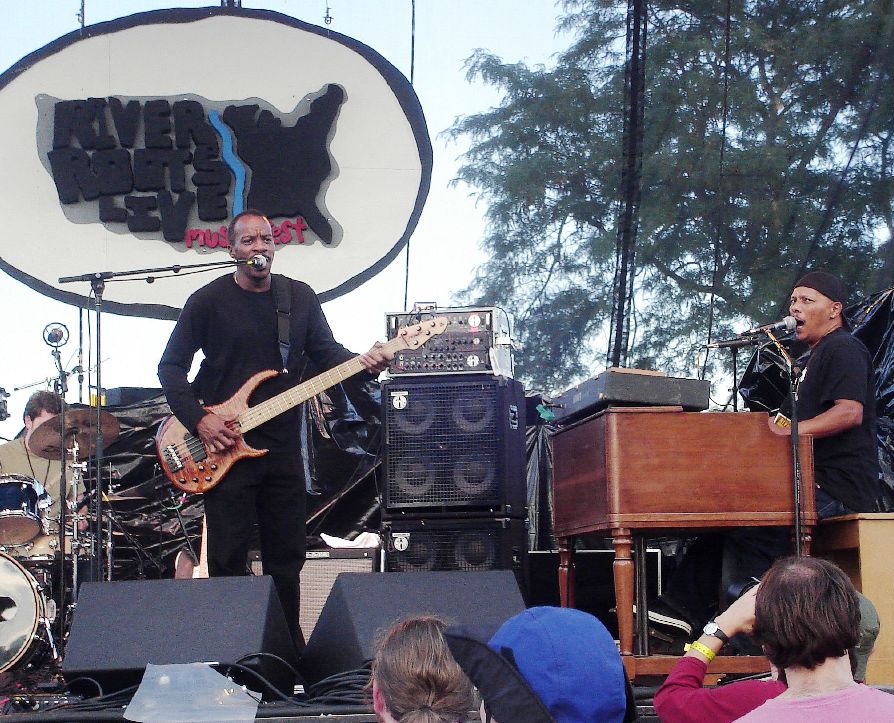 To help create that warm vintage sound, Neville lugs around a Hammond organ and aV6 Clavinet. "There's something about those instruments, about the way they feel playing them and they way they sound. It's large, pure," Neville says. "I like synthesizers and stuff like that, but I try to stay away from the digital sounds. I just fits what we do - the organ and the clavinet.  It just stays true to what we're doing, to the type of music that we're trying to put out there. It's obviously influenced by a lot of old school funk music, rock, and soul....That music lends itself to more vintage sound, especially in the keyboard area."
In order to keep his vintage keys in top form, Neville brings along Trevor Brooks, a keyboard tech extraordinaire. "He builds and restores Hammond organs. He can fix anything that needs to be fixed, especially in the keyboard or organ area or clavinet area or even amplifiers. He can pretty much fix anything. He's absolutely invaluable to our crew." Brooks is critical when they tour. "Those instruments are very temperamental, especially when you're traveling on the road," Neville said. "Something's always going to need a little fixing. When the venue or the promoters provide back line equipment for you to play on, sometimes they're not always in perfect shape. It's great to have somebody who can go in and know what's wrong with something by just a first glance or hearing." And, Brooks is also a great keys player himself!
All of the technical tweaking and the band's incredible talent has helped create a whole new thing, coming out of New Orleans. "The response has been very good," Neville said. "People who come out and see this band, they get it.  It's somewhat familiar in a way, but it's a whole 'nother level of funk....But when they hear this band, they say, 'Oh, that's what funk supposed to sound like!'"
You can catch the deep funkiness of Ivan Neville and Dumpstaphunk at the 10,000 Lakes Festival in Detroit Lakes, MN.  "We're playing at the same time a friend of ours, Derek Trucks, is playing. I would love to see him. He's got a great band," said Neville. "Derek Trucks is a happening deal. He's the best guitar player I've heard in years." Dumpstaphunk takes the stage on Saturday night, July 21, 2007, at 11:45 pm at the Barn Stage.