Grateful Web recently spoke with Deborah Grabien of The Sound Field. Their new album The Bucket List is an astounding collaborative effort between stalwart Bay Area rockers and a trio that's been performing for a decade. Deborah opened up about the inspiration behind her reuniting with songs from decades past and how songwriting and strong musicality brought art back into the album.
GW: Before we dive into The Sound Field's new record The Bucket List I wanted to ask about your background as a musician. When did you first pick up guitar? Who were some musicians that inspired you early on?
DG: I started playing guitar at around age ten. I picked up acoustic and figured out how things went. I watched people's fingers and watched my father play. I had to figure it out on my own. Melodically it made sense; I noodled and figured out riffs. This tied into whom I was listening to through my father. In our house we had lots of stuff playing; show music, jazz, all kinds of styles. One of the first albums I actually remember listening to was from Joan Baez and another from Davey Graham. They blew my mind. I know Jimmy Page took Davey Graham's version of "She Moved Through the Fair," live with the bow on electric guitar. I got interested really early on with European guitar players. I liked Jimi Hendrix too. I started listening to Pentangle, John Renbourn, and Burt Jansch. I'm a huge fan of Richard Thompson.
Then I got turned on to the Bay Area sound. There was Grateful Dead, who I was a big fan of, and Jorma [Kaukonen] and Jack [Casady]. I moved from New York to the Bay Area in 1971, so my influences came from traditional English music that had been updated, explored and electrified. People like Steeleye Span and Martin Carthy. Those were really the people I listened to back in the day.
GW: The Sound Field is new, and it's not new. You've had a longstanding personal and musical relationship with Nic Grabian (bass), and you've been working with Larry Luthi for a while too. Can you talk about these relationships and where the music finds you now?
DG: Absolutely. Nic and I met at the end of 1976, which until then was possibly the worst year of my life. Bad things had happened, and sometime during that year I wrote the oldest song on this album, "Ghost." I walked into SRI (Studio Instrument Rentals) in San Francisco, having written a few songs, I had booked a small studio. As Maya Angelou puts it, "there is no greater agony than carrying an untold story inside," if you are a storyteller, which I am. I write books, I write music, I talk about music, I write about music, which I've always done. In 1976, I had my Gibson 330 Electric. I booked an hour so I could record and acknowledge those songs. As I remember Journey was rehearsing right down the hall.
It was about 4:00 when I walked in and there was this guy working and handling the equipment. He looked vaguely familiar, it turned out I had seen him at Dead shows at Winterland. He got me set up and plugged in. We were checking levels and I dropped the bottom D on my guitar. He remembers the first thing I started noodling on was, "Ghost" in that D tuning. He just stood in the doorway watching. Finally, I was like, "Dude! What?" I was thinking, "Go away." I just want to hit record and play. He asked me where my bass player was. I told him that I didn't have a bass player, it was just me. He came back with his bass guitar and for the next five hours we just didn't stop. I'd run off on a riff, he'd known immediately what I was doing. He understood that dynamics are a part of storytelling. He knew intuitively where those dynamics were supposed to be. Finally, hours later my fingers were on the verge of bleeding. I looked at him and said, "Who are you and what just happened?" What happened was I found my bass player and my life partner. We were married not too long after.
Years later we had a band and we cut a demo for Swan Song Records in 1981. The finished product didn't sound much like what we had recorded. I took a hiatus after and began to write books. I have nineteen published novels including two series. Around 2005 I realized I was singing a song yet the lyrics and music didn't yet exist. It was called "Cried For Memory," which isn't on The Bucket List but will be on my next album if I live long enough to make it. In the process of creating this song I realized how much I missed it. I had eighty-three cassette tapes from 1978 up through 1983 that I'm slowly converting to MP3. Some were great, others not so great. "Legends and Angels," came from that period. We had friends over listening over the tapes with us. One of those friends was a drummer by the name of Larry Luthi. He had some hand drums and percussion with him and began to play along. He liked what he heard, every time from there on we saw him he'd have input. He really wanted to collaborate on it. I went, OK… and Nic was like, "Maybe we should.." So we did. And that was the birth of The Sound Field.
We booked a rehearsal studio in the East Bay and practiced over there for a year. Then came along my friend Mark Karan. He and I have co-written several songs together, four of which are coming out on his new CD. Mark had gone in on a recording and rehearsal space in San Rafael. Joseph Court Studios had the vibes and boy does it have the sound. 101 Joseph Court has become our recording and rehearsal space. That was where it all came together.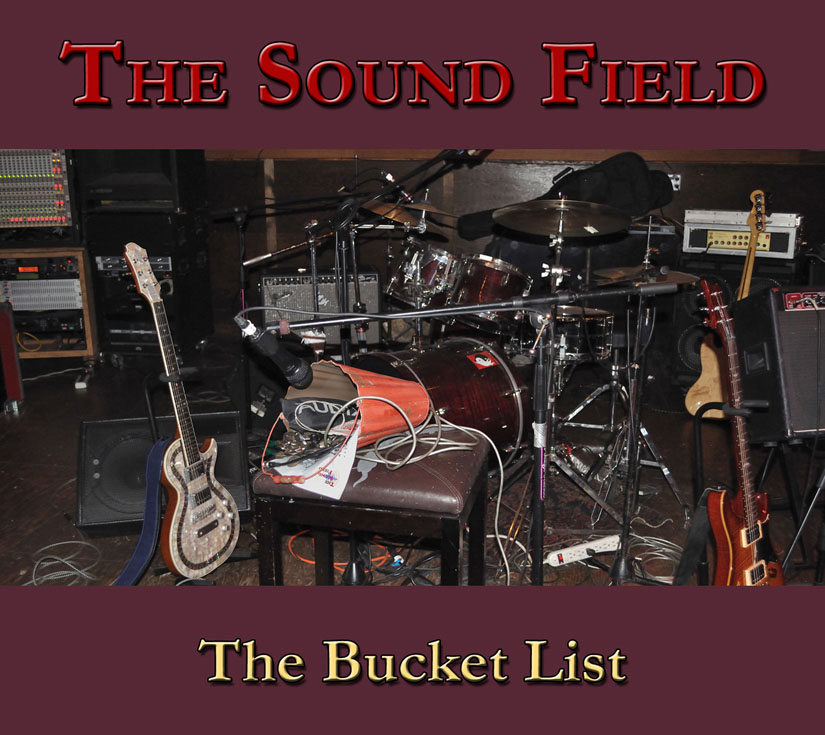 GW: The lyrics are of utmost importance in the creative process. There's this notion out there that the album in general is a dying art. Do you consider The Bucket List, an album in the sense of having a thematic arc?
DG: Definitely. I am primarily a storyteller, some of is fiction and some is fact. I wove the J.P Kinkaid Chronicle series of music mysteries very intricately with both fact and fiction, which I leave up to the reader to figure out what's going on. In a story long-form you have a beginning, a very distinct middle, you have a boom hell-breath and climb down again, then the end. That's the dramatic arc. Without it, a book is generally unreadable. Story is not plot; it's the road, the journey, where you're going. Sometimes you saddle up and let it take you there. I don't think I've ever written anything in the way of song lyric, short story, or long-form novel that did not have that, we are starting at this stage, and there is a journey. These people, being song or short fiction, are on a road and they're going somewhere. As Robert Hunter once put it, "ride the barebacked mare, just go, and let it take you."
Certainly, on The Bucket List, we tracked thirteen original songs when we went into the studio of the final ten that made it. I split this out on the liner notes to the album, which are online for anyone who wants to read them at SoundFieldBand.com, you'll see I went really deep on these. Everything on here is a story. The album is comprised of one cover and ten originals. Five of them are individual stories that are about events or other people. On the song "Fearless," I wrote with strong women in mind. We are the caregivers and providers and expected to be strong. Proceeds from the download of the song "Fearless" will be going straight into my friend Tracey Sheridan's medical fund. She inspired the song. I wrote it in 2013. A lot of women I love we're going through some really bad times that year. Women are all expected to be strong but everyone has their breaking point. That expectation has to be called out, as it damages us. We are all of us human and that expectation of invincibility needs to be acknowledged. The refrain of the song, "I'm not fearless, I'm just human," does just that. In the studio with Mark Karan and Vadim Canby producing and engineering, I said I heard the song as a carousel tune, the build as the painted ponies speed up, a crescendo, and then the end, the slowdown and everyone off the ride now. "Fearless," had become Tracey's song and our friend Shannon's song, a song for all the strong women out there who are somehow expected to be strong all the time. Sorry, universe. It doesn't work that way. We're all fragile, all human, and none of us are completely fearless.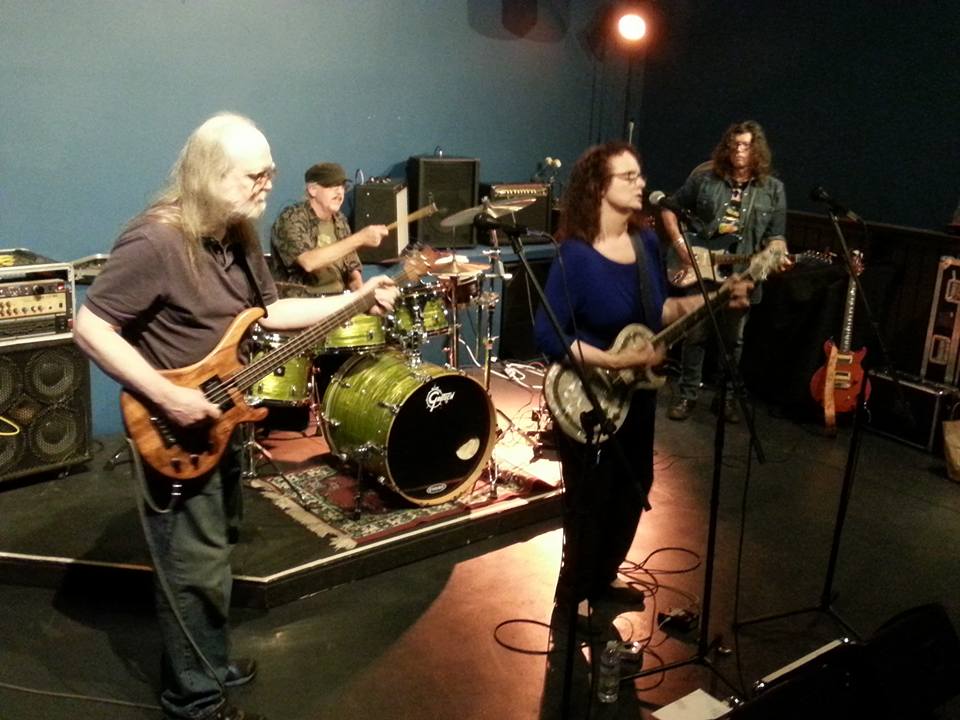 GW: What occurs to me about your songwriting and lyrics is that they're evocative on both a deeply personal level yet universally relatable on a human level.
There's the core trio of The Sound Field, but The Bucket List has a number of exquisitely impressive collaborators. You already mentioned Mark Karan, elsewise David Lindley, Pete Sears, Jason Crosby, Mookie Siegel. In the spontaneity of recording, what did your collaborators bring that you didn't expect? How did they change the recording of The Bucket List?
DG: All of these collaborators brought something unexpected. This took almost two years working with these players busy schedule. Vadim Canby is probably the finest engineer/producer I've ever had the pleasure of working with. And of course, Mark [Karan] in particular was in on producing this early on and became part of the multi-headed creature and was a guiding light on this. It truly sounds the way it sounds because of his input. He brought so much to it. I've known him since 2006. I lend my ears to all of his input, he's got amazing ears and he knows. He plays different guitars in different places all over this CD. He doubled himself on "Legends and Angels." That howling, screaming guitar, that's Mark. Also, the organ on that track, I would have never thought it. I'm usually a piano girl. But Mark asked Mookie to try something. "Do this Deep Purpley," and I was like, "Okay…." And boy did it work! It was brilliant.
Mookie came in for a total of five songs and was not afraid to experiment. Everything he contributed to this album was different. That plug in on his keyboard in "Fearless," which made it sound like seventeenth century May Day in Cornwall, is the feel I got from it. On, "Better Duck," that Johnnie Johnson-esque piano riff was his idea. What he did on "Somewhere in Time," the first time I heard it, it broke me. The song wanted that grand piano, it's about a piano player, and I chose it as the album closer as a reason. He completely nailed it; I have no words for what he does. Every piece of piano and keyboard he plays are all completely different.
GW: That sort of collaboration is the sign of something being born.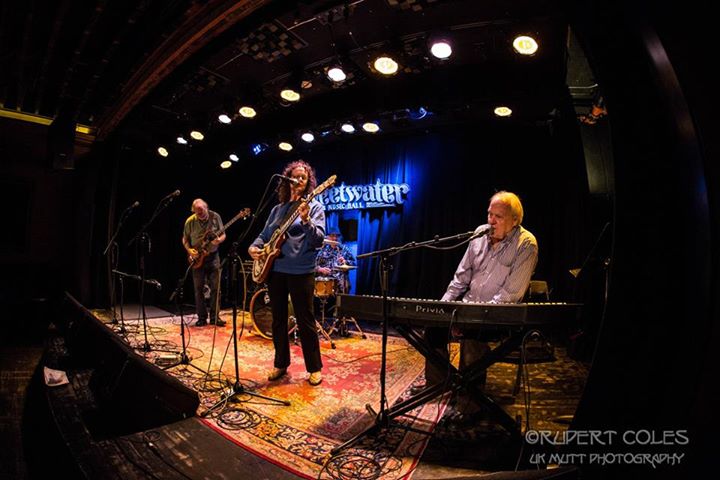 DG: It was a synergy. The day we spent in the studio when David Lindley drove up from L.A was in the middle of those January howling-rain storms. He pulled into a hotel in San Rafael where we were recording and brought in two bouzouki guitars. He plays this Irish electric one and the acoustic Greek one. The later isn't amplified so it's only suitable for studio recording. He was going to play on two songs. He's the only other player on "This Road." The song was a tribute to my friend's daughter. I wrote it before she passed away, performing it became an entirely different animal and it became a dedication. David's bouzouki work on that was astounding. I also wanted him on "Ghost," there was another song I wanted him on. I sent him the lyrics to "You Better Duck," and knowing his hearing damage I was reserved because the song really needed a screaming electric, like punk screaming electric. He brought up two electric lap steels that he used on the Blind Boys tour, as well as a monster amp. Yes, he brought bouzoukis (Greek and Irish), but for "You Better Duck", he went electric. The only cover on the album, "Fable of the Wings," by Keith Christmas, was strongly influenced with David's input. Lindley plays two bouzoukis on that. We spent eight hours in the studio with David, and Mark recorded.
GW: They clearly brought a breadth of guidance to The Bucket List. You've noted that yourself, Larry Luthi and Nic Grabien have alone and together playing for quite a while. Does The Sound Field gig regularly?
DG: Absolutely. Once a month we play a song or two with what has come to be known as "the jam." This is one of the best evenings in San Francisco every month.  At El Rio in Outer Mission. On the second Tuesday of every month, the band Los Train Wreck plays, which was founded by my beloved friend Kathi Kamen Goldmark. I'm furious at the universe for taking her away from us because we could not spare her. Occasionally Larry Luthi becomes the house drummer for the night, David Phillips who's a phenomenal Pedal Steel guitarist, also on The Bucket List, is part of it. It's free. And these musicians support one and other. The Sound Field comes out during the second set. The jam just rocks, every time. It's a great great time, and complete fun.
We play local in San Francisco and Marin County regularly. We had a residency at Second Act on Haight Street. Really though, producing The Bucket List was our focus for this year, and we spent much of our time in the studio, it's really a different environment from playing live. We're in the process of arranging for the CD release party, which we're really excited about. We've got some guests that are going to play with us, like Mark Karan, which we're also excited about. We're doing a couple of songs in the studio at The Krush 95.9 Radio up in Santa Rosa this Wednesday at 10AM. We'll be doing "Little Umbrellas," and "Fearless." It's exciting to get out there and play these songs in different settings. We can't wait to get the details out there about the album release.