The electro fusion jammers and livetronica pioneers known as The Disco Biscuits are currently in the midst of their most extensive and exciting tour to date.  We're talking sold-out shows, guest appearances, multi-night headlining extravaganzas, the works.  On Friday and Saturday nights, The Disco Biscuits will bring their signature sonic tidal wave to the Ogden Theater in Denver, CO, ready to unleash three full sets of musical goodness each night.  Not a bad way at all to spend your Valentine's Day!  If you don't live in Denver, fear not - the band heads east from Denver, with stops in Kansas, Maine, Vermont, Massachusetts, Maryland, Virginia, and South Carolina, then back west for dates in California and Nevada.
Before their arrival in the Mile High City, the Grateful Web's Sam Holloway had the chance to catch up with Biscuit Bassist Marc Brownstein about the band's new album in the works, Camp Bisco, the high points of the current tour.
Grateful Web:  The Biscuits are in the midst of a pretty extensive tour, and teaming up some pretty exciting acts along the way.  How has the tour been so far?
Marc Brownstein:  This tour has been like nothing we've ever done. We have sold out the show almost every night, and when we haven't, it has been in a HUGE venue where we've done 3x better than we have previously in that city. It's been great...I've loved it all. We have really been feeding off of the energy in the rooms, and off of each other's excitement and abilities, which is an amazing way to play live. Jon (Gutwillig) has been on FIRE lately. We were in Milwaukee, I think it was...I was just staring at Jon all night with my jaw on the floor. Just in awe. This kid in the front row was doing the same thing and at one point in the 2nd set, we just looked at each other and mouthed, "I KNOW!" This has been an amazing breakout tour for us and a whole lot of fun for everyone involved.
GW:  Tell us about your five-night New Years Eve extravaganza in New York City.
MB:  Five nights at the Nokia Theatre! It was unreal. It was great to get a chance to be in New York for 5 shows over 6 nights...with our own latenight shows just about every night, we were really making the most of the scene. Over 10,000 people came to The Disco Biscuits shows. Only NYC is like that. I grew up there, so to be able to spend time with those friends, our friends who would be there no matter where we played, and just being surrounded by NYC during the holidays and New Years Eve...all topped off by ringing in the New Year under Times Square, the center of the New Years universe...it was a special experience all-in-all. I hope we get to do more stands like that in NYC.
GW:  Is there anything coming up on the tour that you're particularly looking forward to?
MB:  We've been to a lot of great spots - Tuscaloosa is really becoming a nice spot for tDB. We played the Tabernacle in Atlanta for the first time. The Congress in Chicago with RJD2 and Prefuse 73. Texas! Texas got 3 shows, 2 sold out, with Gov't Mule. It was so great. 6 sets in Denver is going to make for a terrific weekend coming up. I've been riding in CO this week and really enjoying the time off, but I'm ready to throw down on stage again. I am excited to go to Burlington for Magic Hat Mardi Gras...then we're practically opening the new House of Blues in Boston. In April, we'll hit Cali and so many people are pumped about that. Just totally pumped. It'll be cool to go back to Santa Cruz, and we'll also get to some great spots like Eureka and Lake Tahoe before San Diego and 2 nights in LA. We are going to tour so much more in 2009 too so it's really just the start. Also, I am just bursting to get out the announcement I have for Denver this Friday!
GW:  You guys don't ever seem to come up short on the musical collaborations front, is there anyone in particular who you haven't worked with but who you would like to?
MB:  We've done some amazing collaborations. Over NYE we performed with Philly hip-hop phenom Tu Phace. That was cool. In Texas, Jon played with Gov't Mule, and both bands played the final encore together - Nirvana's Lithium - a song we've both covered as of late. Then there was the HeadCount Election-Eve party where I played with Joss Stone! Phil Lesh and Warren Haynes played there that night too. So did ?uestlove and so many others I am leaving out...Scott Metzger, Tommy Hamilton, Joe Russo...Chris Barron from Spin Doctors covered Have a Cigar with us. Matisyahu has been a great sit in more than once! I dunno..I am really lucky to get to play with such amazing artists. Y'know people think the world of The Disco Biscuits is its own little universe. Sometimes I get that, but it doesn't explain all of the people I have been able to come into contact with on stage. Now that we're working more closely with hip hop producers, and of course with our long time friends at Twisted Records, even more doors are opening for us. I am sure we'll play with many many more amazing folks. Come to the shows! haha
GW:  What if you could collaborate with anyone from any point in history, who would it be?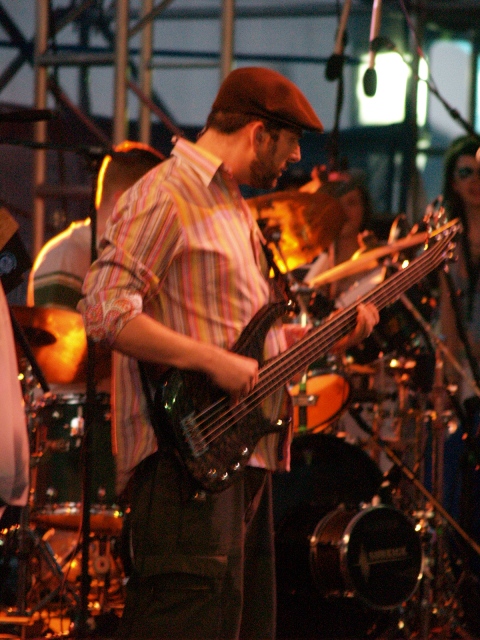 MB:  Oh wow. Well, I perform in the Beatles/Pink Floyd cover band - so does Aron - with some of our good friends from Umphreys McGee. We hang out so much, have done tours and festivals together...it is just something we do at special times as a treat for the fans...and ourselves. Well, it stemmed out of the inspiration we took from those bands and our extreme admiration for them. I guess after performing their songs on stage as often as I have, it would put a smile on my face from ear to ear to throw down with some of those guys.
GW:  After the winter tour is over, what's next?
MB:  We of course have Camp Bisco coming up July 16-18 at Indian Lookout Country Club 20 min outside of Albany, NY. We all expect to put out the new album in 2009. We are in a unique spot..a huge growth spurt for the band...and 2009 is going to be huge in more ways than one. It is going to be a whirlwind until at least January 1, 2010. Maybe we can catch our breath for a minute after that. We'll see.
GW:  Tell us more about Camp Bisco, how did that whole scene get started?
MB:  Camp Bisco...man it is our 8th Camp Bisco since the first one in 1999. We were getting invited to festivals, but y'know, we were getting short day spots or at best getting the headlining spot for a couple hours one of the nights. We knew that we needed to set out on our own if we wanted to accomplish what we could as a band, at a festival. We get to play multiple sets, multiple days and as late into the night as we want. To top it off, we get to bring in the acts we and our fans want to see. We always have new and exciting acts every year, and everyone's Camp favorites. These bands are coming in from around the world to be here. It is a groundbreaking U.S. electronic music festival and always will be.
GW:  Word on the street is that you've got a new album in the mix.  Can you tell us anything about it?
MB:  It is good. haha. No really...it is a mix of our roots and a glimpse of the future. It has some elements of hip hop, rock...everything. And it's all Disco Biscuits. There is just so much finished, mastered material, it can't all make it on. It is like picking which one of your friends you want to bring into the lifeboat and which one you're going to leave behind, yknow? haha Coming up with the final, final track listing has been fun and daunting! We have the name. We have the art work. You'll hear it soon.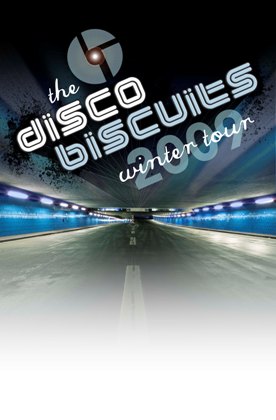 GW:  In what ways is this album going to be an expansion of the Disco Biscuits sound, or a departure from business as usual?
MB:  We've always been, "The Disco Biscuits" and we always will. We have been playing together as a band for 13 years. 13 years. Over that time you are going to change as a person and as an artist. You are going to pick up influences and experiences that directly affect your playing. One night you might be into trying something totally different than the last show. And I am just talking night to night! Well, imagine doing that...4 separate people, but still 4 people together...all experiencing that for 13 years. Things are going to be different. If they weren't I'd be bored, the fans would be bored...it wouldn't be The Disco Biscuits. I have seen fans come and go over the years. Right now we are bigger than we've ever been and yknow what? I have seen some of the older fans..the people that were coming to the gigs when 25 people were there...return to us now and be blown away more now than they ever were before! They tell me this. Some bands are their own nostalgia act. I never wanted to be that and I never want to be. I don't think the other guys do either. We always bring a party, it is always fresh, and it is always us. That will translate on the new album and I hope it always will when it comes to tDB.
GW:  Ultimately, where do the Disco Biscuits go from here?
MB:  It's been a wild ride for tDB so far, and it's just going to keep going. We're bigger than we've ever been. More opportunities, good career changing opportunities, have come our way and because of them even more. We're just going to keep on going.
Stay tuned to the Grateful Web for photos and coverage of the Denver Biscuits shows!