Festival season started early this year.  Well, early for Colorado.  Last Saturday The Disco Biscuits and a cavalcade of friends and like-minded musicians brought the ruckus to Red Rocks Amphitheater for an all-night non-stop mini-festival of epic proportions.  If that sounds like an overstatement, perhaps it is.  Although technically not a festival – the word is honestly a little big for what went down – being outside and seeing no fewer than seven bands in a row made it feel a lot like a festival.  I guess I wouldn't know what else to call it.
Orchard Lounge was on and off stage long before the sun went down, and for a musician at Red Rocks that's usually a painful experience.  The sun points directly at the stage … on a lot of days.  Fortunately for Orchard Lounge and those to follow, it was overcast and beautifully cool outside, which must have been especially welcome to the guys and girls dressed in fluorescent fur coats and boots.  Despite the lack of sunshine, the giant sunglasses were omnipresent.  Not just trendy college freshman big either, I'm talking like clown glasses.  It would only be a matter of time before the glow sticks came out.
People were filling in the empty seats pretty quickly, and the energy was high, even frantic.  The first several rows were already full of revelers by the time I arrived, and people were setting up little encampments of debauchery under the large trees just outside the wooden benches. The music flowed smoothly, from act to act with only very short breaks in between, good for the short attention spans possessed by the type of sensory junkies in attendance.  Only a few minutes after Orchard Lounge left the stage, The New Deal was back on it, rockin' and rollin' like a cyborg.
The New Deal put on a fast-moving dance fever frantic enough to keep up with the crowd.  Though lacking the fun lighting tricks that are omnipresent at New Deal club shows, the drama of the venue, with its towering sandstone cliffs, proved an interesting match for the sort of music usually only played live long after dark.  When you're under the sky instead of the ceiling, the bass fades back a little and the electronics pick up speed.  Thus The New Deal's brand of progressive House music was made slightly less "Housey," although still driven largely by a low, fast rumble of bass drum and guitar.  The result was almost like a redux of the classic New Deal style – a pleasant new dimension to be sure.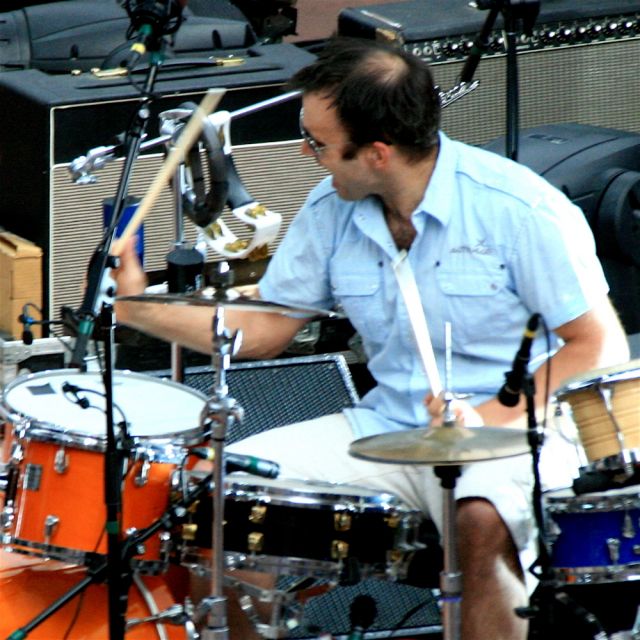 Before the curtain closed on The New Deal, they made a pretty exciting announcement: a three-night run at the Fox Theater in Boulder this coming September.  These will be good for certain, The New Deal kill when they are in the clubs.
One does tend to notice the unavoidable absence of a light show during the daylight hours, however, and I was reminded explicitly of the extent to which the visual aspect of the club scene is part of the reason that the scene is so vibrant and attractive to many.  Whereas rock and roll harnesses the power of the human spirit, electronica brings out our inner machine, and visual enhancement technology (i.e. bright, flashing, and colorful lights) is a key ingredient in the stimulation of the cyborg that dwells within the modern human soul.  Truth be told, sunlight takes nothing away from the music itself, and The New Deal managed to successfully fill a venue twice their size with sound enough to get everyone on their feet and moving, but since part of the human condition is also to want what we cannot have I couldn't help but wish that the whole business was taking place after dark where an visualphile like myself could be tickled on all fronts.
The next transition was smooth as well.  RJD2 was out and spinning records in only a few minutes, set up to one side of the stage while the Lotus people simultaneously set up for the next act, more towards center-stage.  Sample-heavy, and leaning more towards funk beats than straight-up electro beats, RJD2 was a fun interlude, but clearly a time-filler more than anything.  The roadies setting up for Lotus couldn't help but draw the eye away from the real thing, and once again without responsive lighting to create the proper atmosphere, RJD2 himself came off as more like the guy who controls the tunes at a party than as a musician in his own right.  I suppose this is ultimately the down-side of the non-stop show – there is almost always something going on besides the music, to the point where artists like RJD2 cease to be the center of attention for their scheduled moment in time.  But, at least there was music to listen to, and to keep the extremities moving.  Heaven forbid I should have to talk to the drunken chicas dancing ever further into my personal space (and not in a happy sort of way).
For the last couple of tracks, RJD2 brought out DJ Z-Trip for some old-school beat-making, adding a little extra spice to the mix.  As it would turn out later, Z-Trip ended up being the guy at the party who just wouldn't leave.
Lotus came on quickly after RJD2, during the transition from day to night, when the sun is down, but the sky is too bright to do anything extraordinary with the lights.  It wouldn't matter, Lotus was far more rock and roll than anyone else at the Inferno, and was able to create an enormous amount of atmosphere with "only" their lush sound and dynamic energy.  At times channeling the spirits of artists like Joe Satriani and Eric Johnson, and at others reviving the styles of classic metalists like Black Sabbath or Foghat, skipped back and forth between the high peaks and dark troughs of musical equilibrium, from classic rock to modern electro-fusion and tons in between, their ever-changing energy dynamic filling the air between Lotus and Red Rocks' massive sandstone pillars with the happy feel-goods and more than a few "wows".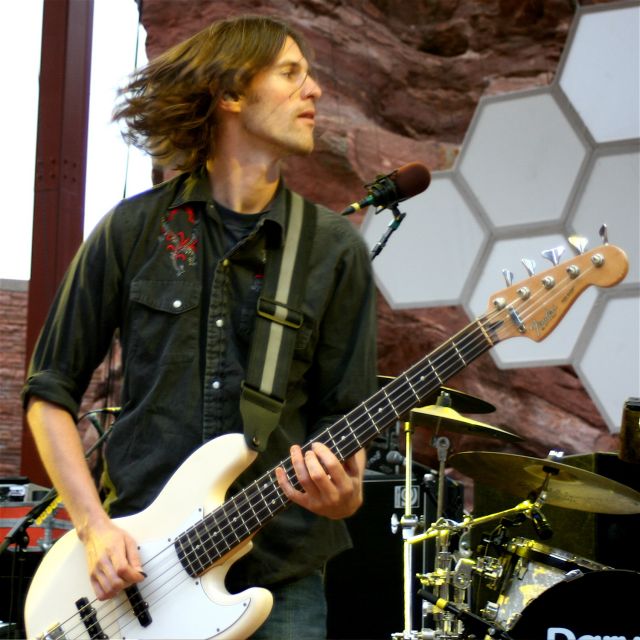 Lotus' newest album, Hammerstrike, has been touted in the jam-fusion circles as something of an opus for the band.  With few exceptions Lotus broke out track after track from the disc, adding a few oldies in for flavor.  They even sang a few lyrics – not uncommon for Lotus, but lyricism is definitely not their main focus as a performance act.  Mike Rempel's cosmic guitar work was augmented from time to time by Luke Miller's who switched back and forth between guitar and keys/synth, and who's keys/synth was from time to time supplemented by Jesse Miller and his samplers, who did double duty on the bass as well.  Talented musicians all, and clearly capable in any venue, Lotus was a hit, and definitely one of the highlights of Bisco Inferno.
But then Z-trip came back out.
Lotus wrapped up late into the dusky period of the evening, and the sky was dark by the time Z-Trip took his place.  A single bright white light shown behind him, silhouetting his big head against a mountain of Disco Biscuit gear.  The kids in the crowd were stoked.  "Z-Trip is the shit," was uttered on more than one occasion as I passed by, suitably spoken in the dumbed-down parlance of young people still in the midst of finding themselves.  For my part, Z-Trip was more the icon of a philosophical debate I have with myself than he was "the shit," and I found that what he lacked in any actual musical ability he made up for in fodder for my upcoming rant, entitled "what is music, anyway?"
Here it is:
What is music anyway?  Literally it could be almost anything involving sound… almost.  But there are limits, and Z-Trip is well beyond them.  Sample-heavy is an understatement – Z-Trip's whole act relies on samples to the point where one might legitimately wonder whether there is anything but.  He does what we now call mash-ups, taking two or more songs written by someone else entirely, and mixing them together so that they sound like a single sonic unit, and occasionally adding some "waka-waka" by scratching an LP back and forth on a turn table.  Unless you count "waka-waka" as an artistic expression on par with, say, actually writing a song from nothing but feelings and experiences, than what Z-Trip does is not music so much as it is the live equivalent of working at college radio station without the patience to actually make it all the way through any given song before you remove the disc and move on to the next thing.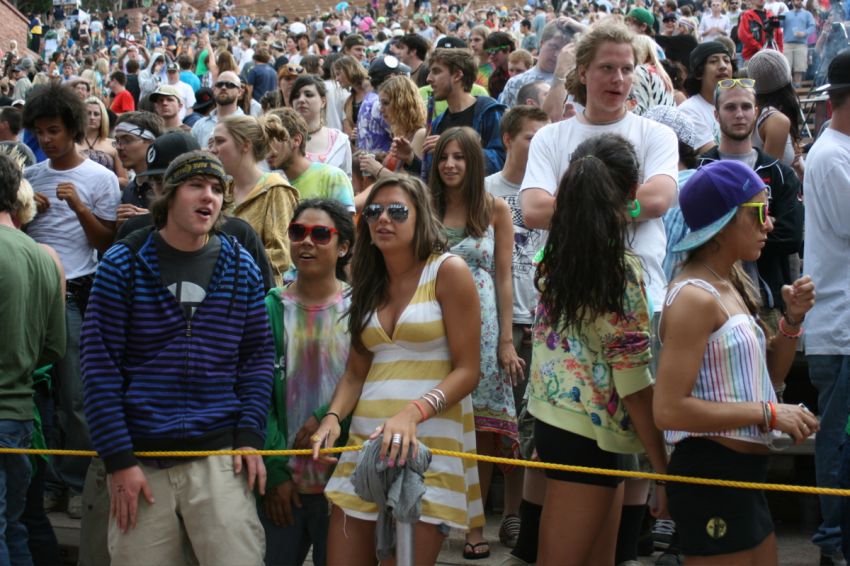 That's all well and good I suppose – lets just call Z-Trip a performance artist, not a musician, because a performance artists is something that he surely is, especially if you like guys with low self-esteem who hide it by acting egotistical.  Blatantly egotistical.  Now, I'm all for bantering with the audience, but every other phrase out of Z-Trip's mouth was a plea for the audience to tell him how much they liked him.  What he said was: "let me know you feel what I'm laying down."  What I heard was: "please, please, please tell me I'm good!"  The only other thing he ever said was "Coloradooooooooooo!" Oh, and something about how he was the 4th greatest DJ in the known world.  Who gives a shit?
For my money, I'd rather give the credit Z-Trip wanted to artists like AC/DC, the Grateful Dead, Daft Punk, Rush, and Led Zeppelin – just a few of the real artists sampled during Z-Trip's performance.  The rant is over, you can go home now…
The Disco Biscuits were up next for their first set.  Finally it was dark, and finally the light show began.  During the day, Red Rocks is a beautiful place to see a show, nothing I've said changes that, but at night, with the right sort of act, and the right visual aesthetic, Red Rocks becomes something more.  Under the right conditions, lights, colors, sound, and the physical landscape merge to form a single whole, a full out experience that goes beyond anything that any other venue could boast of even on its best day.  Needless to say, my hopes were quite high.
While not the most spectacular show I've ever seen at Red Rocks, The Disco Biscuits did not disappoint.  Except when they tried to sing.  Lyrics are not the band's strong point, and the quasi free-form nature of their lyrics comes off sometimes as tacked-on more than experimental, baggage rather than enhancement, especially when it springs up out of nowhere in the middle of a good bit of instrumentation.  Additionally, there were a few brief moments when the improvisation seemed to break down - suddenly there was dissonance and offbeat rhythms that sounded close to the classic jazz style, but not close enough to actually be considered groovy.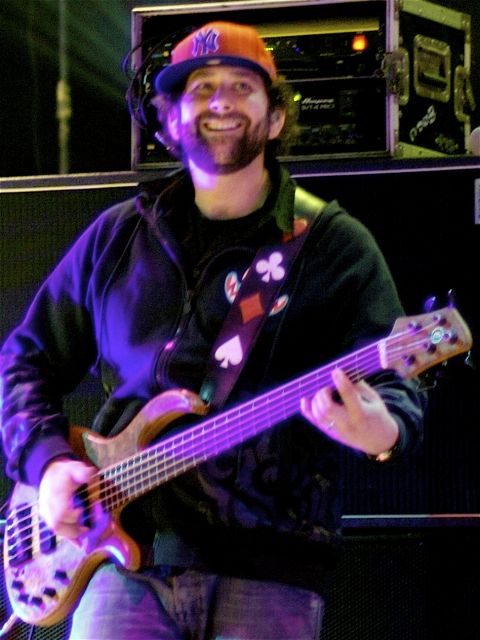 Now the good stuff.  The instrumentals, when they worked (which was most of the time) were spot on, dynamic and rich with a storyline all their own.  A supernova of lights danced on the stone backdrop to the stage, while trippy images were projected onto two giant honeycombs suspended from the rafters.  Add the pulsing beats and a flurry of electronics and guitar and the whole scene seemed quite surreal, like something Andy Warhol might have done if he had been alive and an aficionado of dance music.  The best bits were the heavily psychedelic stuff, especially near the end of the first set when the Biscuits busted out Uber Glue while dancers wearing glow-in-the-dark feathers paraded around on the raised platform behind the band.  As the dancers slunk off stage, the Biscuits launched into a comical rendition of Sabre Dance, a movement from an Armenian ballet (by Aram Khachaturian) often used in slapsticky chase scenes in cartoons, and in the circus during acrobatic acts.
"This is absolutely sick!" proclaimed bassist Marc Brownstein before the final few tracks of the first set. "We've been wanting to do this ever since the first Bisco Inferno up in the Poudre [Canyon] at Mishawaka several years ago."  I can see why the guys would be stoked, from the stage it was a truly remarkable view – the amphitheater was filled except for the back few rows, seething like mass of snakes in heat against the sandstone pillars which glowed semi-ominously from the set of spotlights trained on each.
Paul Oakenfold broke the silence between Biscuits' sets, as an act in his own right, not simply a time-filler.  Unlike Z-Trip, Paul Oakenfold is a real musician – his beats and sounds may be digital and largely prerecorded and looped, but they are also largely original, not completely free of samples but mostly so.  His work tells his stories, display his emotions and state of mind, and certainly do not make it seem as though he is riding a wave of fame established by others (i.e. unlike Z-Trip).  And when there are samples, they are somewhat distinct from the real thing.  When he sampled the Red Hot Chili Peppers' "Other Side" a real, living singer came out on stage to belt out a few lines of the song.  The crowd went wild, and rightly so.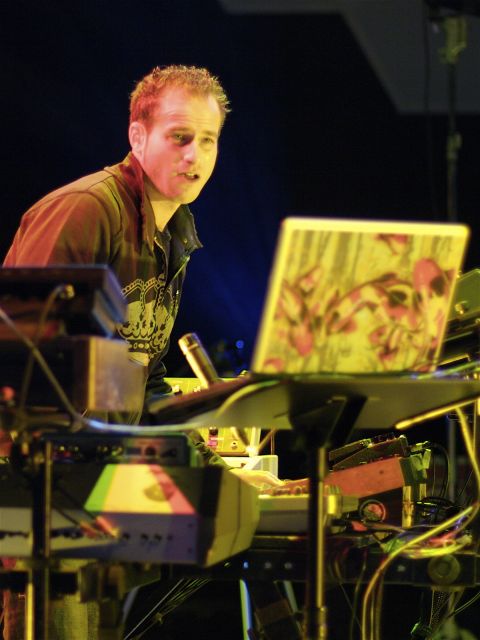 The Disco Biscuits came back out around midnight for their second set, turning up the energy knob just enough to keep the kids hooked.  It was quite late by the time the thing was done, wrapping up after a three-song encore set by the Biscuits which included the first-time-played "White Chicks and Gang Signs" by Billy Reid (find the original on YouTube).  For the end I hiked up to the top of the amphitheater to survey the scene.  Indeed, it was absolutely sick.
To see more photos from this show, including yours, please visit the Gallery.