On June 10th, Truth and Salvage Co. played their "first headliner show at the Fox Theatre" in Boulder.  Truth and Salvage Co. co-mingles Bluegrass, Anti-Nashville Country, with 70's era rock, exceeding expectations and leaving you wanting to hear more.
Some bands should be listened to by way of studio edits – others, well - are best heard in the flesh—T&S Co. definitely falls into the former camp.   While their self-entitled debut album, produced by Chris Robinson of the Black Crowes, continues to receive high marks, the constant interaction between the band's musicians – an essential part of what distinguishes their sound from other bluegrass rock bands - can only be fully appreciated live.
As I swayed to "Hail Hail" and "Welcome to L.A.," while watching the T&S Co. members smirk and laugh like old friends, I couldn't help but smile right along with them.  Comradery, however, is only a part of what invigorated their live-performance.
Their jam-band approach, completed by the dueling guitars of Scott Kinnebrew and Tim Jones, electrified their sound; and, the shifting between the four lead vocalists kept that sound intriguing.  After witnessing Bill "Smitty" Smith, the singing drummer/drumming singer, give an out-of-this-world drum solo, it became clear that there are multiple reasons to throw your panties on stage— not just for Walker Young, and his dreamy smile, at the keyboard.
There were a couple of instances, particularly during tracks, "Heart Like a Wheel" and "Jump The Ship," when their musical talent was drowned out by painfully lame lyrics, better suited for a primetime teen-drama soundtrack than a rock concert.  Thankfully, these moments were few and far between.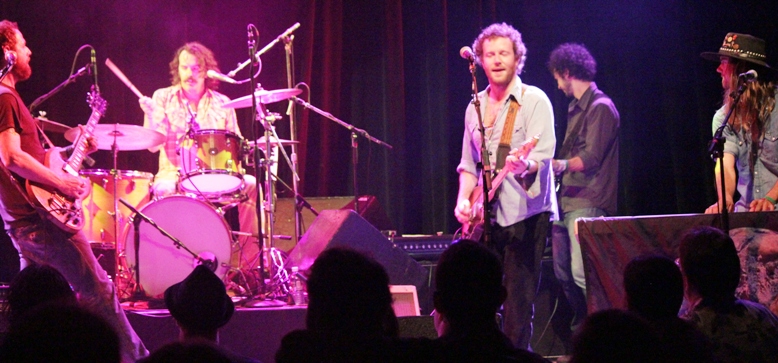 In summary – If you have the chance to see this band live, I recommend you do so.  It's only a matter of time, before venues like the Fox are packed to the gills.  Enjoy them while you still have room to jam to their good Southern Grass mixed with West-Coast Rock.
Read Grateful Web's interview with Scott Kinnebrew here.