The Avett Brothers played a pair of sold out shows at the Boulder Theater this week, and they brought fellow North Carolina country rockers Truth and Salvage Co. with them.  The Tuesday show, on the 20th day of the 4th month, was a happy little accident for our fair city, who likes to get extremely baked on one day of the year – this day.  That's opposed, of course, to the other 364 days of the year when Boulder folk like to get only moderately baked.
Although one might expect a locale like a music club to be a pit of acrid weed smoke on a day like 4/20, the fact that the Avett Brothers are branching out, and grabbing a wider audience than they used to means that the crowd at this particular show was composed of pop-radio listening soccer moms as well as the traditional assortment of sometimes, often, and everyday tokers.  But since we all know soccer moms smell and behave better, that's not really such a bad thing.  Contrary to what the TV would have us all believe, soccer moms aren't so bad!
When Truth and Salvage Co. came on, the place was already packed.  The shows had been sold out for months, and a whole extra crowd had turned up early to snag the few spare tickets floating around.  It was good news for Truth and Salvage, and for the attendees – neither was disappointed by what the other was dishing out.
Picture a 6-piece band, with two guitar players, two keyboard players, a bass, and drums.  Four of these guys also sing, too.  Their sound, as a result, is rich and varied, with definitively southern and Appalachian roots.  The sound reminded me at first of a country-fried version of Band of Horses, but as their set moved along, I picked up on a little Black Crowes, a little Crosby, Stills, and Nash, a little Wilco, and a little Tom Petty – all a tribute to the laid-back, saloon style of rock and roll that these guys have made their own.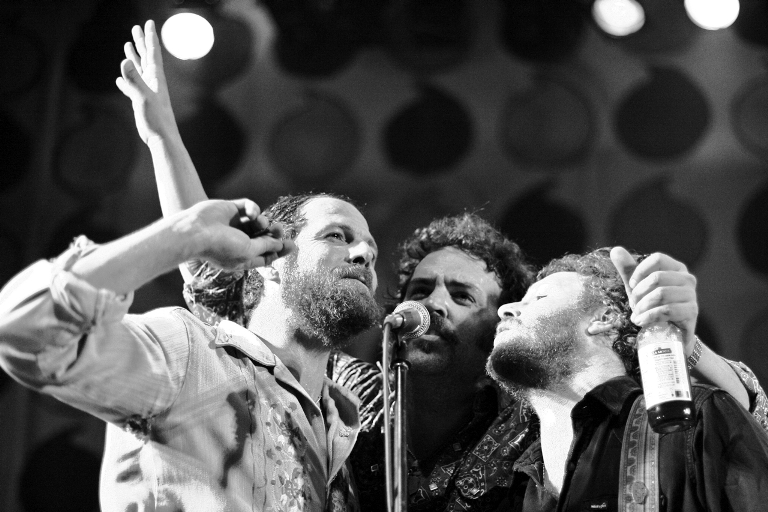 Truth and Salvage set the night out right with a huge opening set that culminated with guitarists Tim Jones and Scott Kinnebrew and drummer Bill Smith all crooning into the same microphone while keys player Walker Young strutted about and sang lead with his wide-brim hat pulled down low over his eyes.  Beer was also involved.
Growing up, I remember thinking country music could never be cool, but Truth and Salvage, as the antithesis to that crap we call country on the FM radio, are yet more proof that it can be.  To be fair, though, Truth and Salvage are more of a rock band, but the roots-y-ness, and the southern twang make up enough of their sound that country just has to fit as a descriptor too.
The band is currently on tour in support of their forthcoming debut album, due out this May.  If you want to check them out in advance, I strongly recommend the songs "Heart Like a Wheel," and "Jump the Ship," both available for your listening pleasure on MySpace.  Dig the harmonies!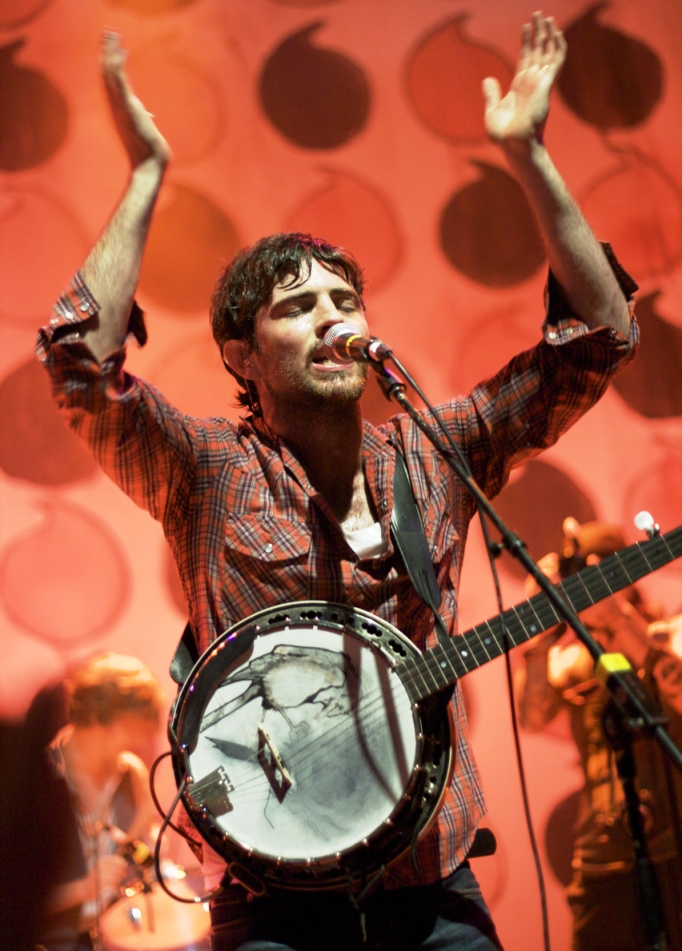 The Avett Brothers followed with their own version of rootsy southern charm, with a little punk rock screaming thrown in for flavor.  Following the hugely acclaimed release of their major label, Rick Rubin produced, debut I and Love and You, the Avett Brothers soared almost immediately to something resembling mainstream success (hence the soccer moms).  What is perhaps more amazing is how, despite mainstream acceptance, the Avett Brothers have kept their devoted Indie Rock fans happy at the same time.  The combination of guitar, piano, banjo, love songs, and of course, the occasional punk-rock screaming, is just interesting enough to do that.
With genuine heart and soul, and a silly side to match, the Avett Brothers always put on a good show – lively, entertaining, and a little different every time.  On Tuesday night, they strutted, strummed, and screamed through 20 songs, including crowd favorites like Colorshow, January Wedding, Kick Drum Heart, Love Like the Movies, and of course, the recent radio favorite and title track of the new album, I and Love and You.
This time, the Avett Brothers even brought along a full time drummer, although Scott and Seth still kept their kick drum (Scott's) and hihat (Seth's) up front with them.  It was not so long ago that these brothers were still pulling alternating shifts on the full drum kit.  Of course, it also wasn't so long ago that they promoted Joe Kwan to fully-fledged Avett Brother, keeping his cello in the mix full-time.  The result is an increasingly richer, fuller, and tighter sound for the Avett Brothers.  This particular show was a little more rockin' than their last in Boulder, which trended more towards the folksy.  Bassist Bob Crawford made liberal use of the electric bass, giving the show the deep, crunchy lows that the stand-up Crawford usually plays can't quite muster.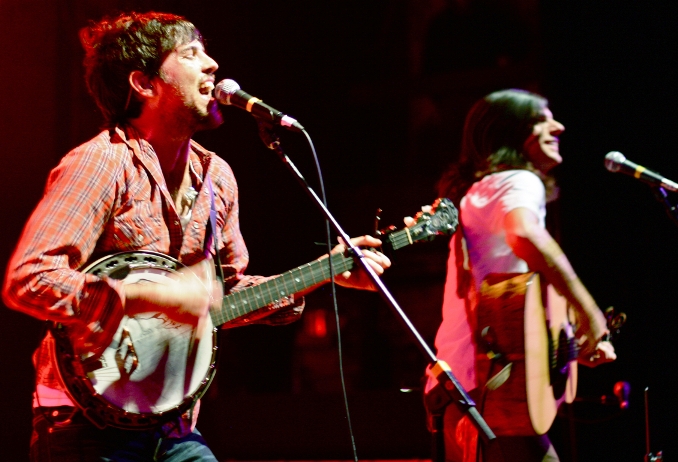 When Scott Avett starting jumping up and down on the kick drum about midway through the set, the crowd knew it was on.  And the energy in the room kept up to the end.  When the Avetts left the stage before the encore, the stomping and pounding to bring them back was deafening.  Talking to people in the crowd, I met folks who had journeyed from far and wide to see this show – South Dakota, Oregon, and Texas.  Apparently word gets around, and the word is that the Avett Brothers have got something good going on!
The current tour will be rolling along for a while, and the Avett Brothers will be back to Colorado again before too long.  This September 4th, they will open for Gov't Mule at Red Rocks Amphitheater in Morrison, CO.  Before then and now, they will be hitting the summer music festivals, from Bonnaroo to Glastonbury and the Newport Folk's Fest.  Check out their website for more details, and see 'em if you can!
To see more pictures from this show, including yours, please visit the gallery.