Summer is officially over.  According to the calendar, it happened several weeks ago, but in my mind it happened last weekend - the day Red Rocks Amphitheater finished their concert season.  At this point in the year, the weather becomes too unpredictable, and more importantly too cold, to continue sitting outside late in to the night, even for the noble cause of seeing live music.  This year, Flogging Molly closed out the concert season, bringing So Cal acts Hepcat, and Fitz and the Tantrums along for the ride.
It should be no surprise to anyone who has seen them before that Flogging Molly rocked the house that night.  They played classics like Drunken Lullabies and Devil's Dance Floor, as well as never-played-live-before tracks like You Won't Make a Fool Out of Me.  The crowd pumped their fists, danced, and shouted along with the band, in a rebel yell of epic proportions.
Hepcat, too, put on a rockin' good time.  Unlike the bar-band energy put out by Flogging Molly, Hepcat dosed the audience with cool ska grooves, reminiscent of 60's era Bob Marley and the Wailers.  With two lead singers, and 5 other musicians on stage, Hepcat's big sound got more than a few people on their feet, even some who could've cared less about anyone but the headliners only moments before.  To set the tone, both singers, and much of the rest of the band for that matter, danced about the stage, their old-school footwork inspiring laughs, cheers, and smiles from the crowd.  Even the security guards started dancing a bit!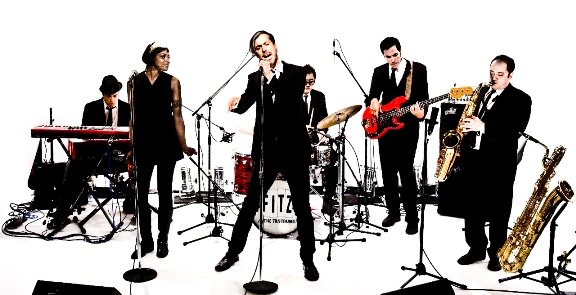 Some of the best surprises, though, are the opening acts – the ones you've never heard of, but who tickle your ears in a way you'll remember for a while.  This was the case for me with Fitz and the Tantrums, a high energy six-piece with a modern, Indie Rock take on the Motown Sound.  The band also has two singers, one male and one female in this case, features keys instead of guitar, and has a baritone sax thrown in for good measure and classic soul cred.  Fitz and the Tantrums remind us that retro isn't always cheesy, and in fact can be just as good today as it was back in the day, during the heyday of Detroit rhythm and blues.  Lead singer Fitz strutted around and sang with passion, leaning hard on the mic stand when he wasn't dancing with it.
For reasons unknown, the crowd stayed in their seats for much of the opening act.  It was hard to believe, actually – this band felt less like an opener than most, and had the hallmarks of a band who deserves an audience who was into the show.  They were catchy, they were dramatic, they were soulful, and they were energetic.  More than that, they were fun, and with winter coming on, and summer behind us for real, that was exactly what I needed to finish out my summer.  Thanks Fitz!