It was the Friday before school started at the University of Colorado, and downtown Boulder was alive with activity.  For months the town had enjoyed the relative tranquility of student-free summer – parking spaces were abundant, tables were available, the Hill wasn't littered with Key Lite cans and the omni-present red plastic cups that represent frat life at universities nationwide.  Boulder is a different place in the summer, and when school begins again in the fall our little town starts to feel a bit more big city.  But there was still one more weekend before classes started, and people were out to celebrate.
The main event, by chance or by fate, was the Avett Brothers show at the Boulder Theater.  The show had been sold out for a couple days now, and there was a trolling gang of no luck ticket seekers pleading their case in front of the venue.  These days, the Avett Brothers are kind of a big deal, having just released their Rick Rubin-produced major label debut, I and Love and You, which has been featured in the pages of just about every music magazine you can think of.  I can tell you from experience, these guys deserve all the attention they can get.
I first saw the Avetts open Day 2 of the Jackson Hole Music Festival last summer, then again at the Monolith Festival in Morrison, CO a few weeks later.  In between I listened to pretty much everything they ever recorded, and talked them up at social events.  In so doing, I've been trying to peg them so I can describe them effectively, but it has proved a difficult task.  I've referred to them as a blue-country-punk band and as a screamin' folk band, but nothing quite fits.  As it turned out, I hadn't even seen the whole deal yet.  Headlining a show is a different thing than playing a mid-day slot at a festival, and the Avetts made the most of it.
Before the opening act, I found a spot in the second row next to a group of people who had been touring around Colorado with the Avett Brothers, hitting shows in Telluride, Steamboat, Boulder, and then Denver on Saturday night.  Originally from North Carolina, the same neck of the woods from which the Avett Brothers hail, these guys represent the avid following the Avetts have assimilated over the years, from small-time bar band to on-the-verge Indie Rock icons.
Sallie Ford and the Sound Outside opened the show.  Opening acts are always pretty hit and miss, but Sallie Ford did not disappoint.  Looking like the biggest bunch of geeks you ever knew from high school, Sallie and the gang take nerd rock to whole new level.  With an underground jazz club vibe, interlaced with surf rock hooks and some Jefferson Airplane-esque lead guitar, Sallie Ford and the Sound Outside dished out an eclectic mix of sounds and styles, and proved to me once again that its worth it to show up to the gig early.
Sallie Ford, in spite of their quality set, was clearly having a hard time.  After their first song, she told us how glad she was to finally be in town after a harrowing journey on a perpetually over-heating tour bus.  Then the pick-up in her acoustic guitar broke.  After that Sallie picked up the electric, which sounded pretty good still (not that I have a real frame of reference, having never seen or heard The Sound Outside before).  Later, she spaced on a lyric and had to hum her way through until it came back.  It was kind of cute, in a way, and the crowd was incredibly supportive, shouting "don't worry about it, Sallie!" at the nerd girl on stage, and cheering her on.  Soon, she and the band was back on track and cookin'.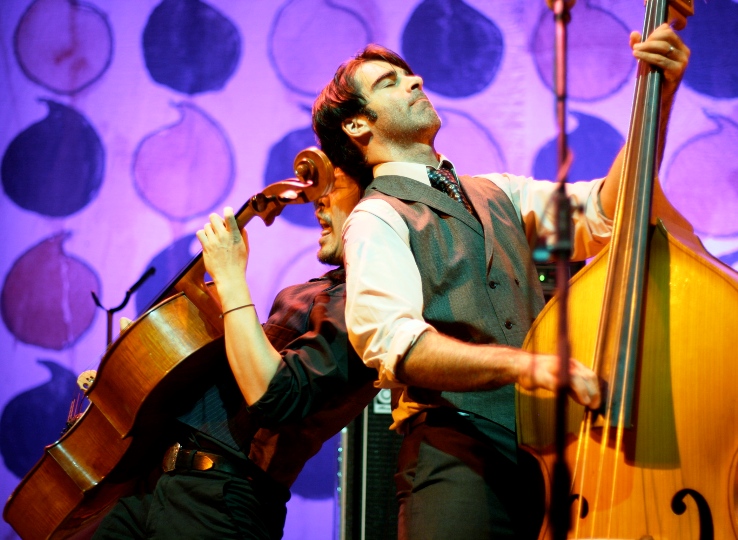 The Avett Brothers came on strong with "Shame" and "At the Beach."  Other highlights from the show included "I and Love and You" off the Avett's new album of the same name, "The Ballad of Love and Hate," a Seth Avett solo song ripe with poetry, symbolism, and beauty, "Kickdrum Heart" a kind of poppy rocker with a really heavy drum beat, and the encore of "Pretty Girl from Matthews," and "If it's the Beaches."
The crowd was in a singing mood, and the back and forth exchange of energy between the exuberant audience and the hyperdynamic Avett Brothers made the whole theater feel electric.  Over the course of the night, the brothers would break a grand total of 5 strings – both banjo and guitar.  At one point, Seth Avett, who seemed momentarily unable to control the music running through him, jumped up from the piano and danced around behind the drum kit.  That's how hard they rock, and I don't think they know how to do it any other way.
They've got a softer side, too, writing poetic, folksy love songs and confessionals that are elegant in their simplicity and respectable in their honesty.  Some of these begin to sound a little similar one to the next, touching on only a handful of similar themes, like regret and self-loathing, heartbreak and lost love, and the determination to not look back.  But in many ways, the word craft, unique to each song, makes up for the redundancy in thematic material.
Lyrically profound, and emotionally candid, the Avett Brothers have more than enough songwriting skill to back up their tremendous physical energy and soulful passion.  Both brothers rotate through an ensemble of instruments, each one hitting the drums, guitar, and piano.  Scott, the older of the Avetts, also plays banjo, and the duo is backed by Bob Crawford on standup and electric bass, and Joe Kwon on cello, both of whom seem an excellent match to the brothers both in terms of skill and energy.  Firing on all cylinders, The Avett Brothers are one of the most interesting bands you'll be likely to see in the coming year.
Who knows what fame will have in store for The Avett Brothers?  They've been at it a while now, and seem unlikely to crack up like younger, faster moving stars.  Perhaps as a result of their long haul, it feels like they deserve the attention more too.  They'll never be stadium rockers, but they're going to be big.  And they're selling out shows these days, so you better buy your tickets early.