Borrowing a thought from another Grateful Web writer, I'd say that you can tell a lot about a festival by how it handles its second year.  No festival is ever perfect, and the first year is definitely the experimental year.  In the second year, you get to see how the festival responds to the demands placed upon it by its patrons.  Do things get better or worse, smoother or more of a hassle?  Last weekend, July 18th and 19th, I boogied on down to the second annual Mile High Music Festival just outside Denver, Colorado.  Having rocked the first annual Mile High fest too, I was looking forward to seeing what year 2 would hold in store for me.
I was slightly apprehensive going in.  I'd looked over the schedule of performers many times over the previous weeks, and was dreading the long trudge back and forth across the sun-parched futból fields of Dick's Sporting Goods Park.  Last year, it had been a killer, a 20 minute trek at least, more even when you're hot, dehydrated, and wobbly in the legs.  And naturally, all the big names I wanted to see where located at the big stages located on opposite ends of the grounds.  Not so bad for most people, but if your bound and determined to shoot as many bands as possible, its ends up being quite the hot, sweaty journey.
You can imagine how stoked I was when I found out upon entering that the grounds where about half the size they were the year before.  What had last year been the midpoint was this year the far eastern edge of the festivities, putting the East Main and West Main stages within easy jogging distance of one another.  Good thing too, there were too many good bands playing to spend time dallying in the vast wasteland of vendors, dying grass, beer tents, recycling centers and the waterworks fountain.  Amazingly enough, even with only half the space, they'd managed to squeeze in five total stages, and even more amazingly, there were only a few places around the fringes of the festival where the sound from different stages intermingled and got mixed up together.  Less walking, more time for bands – that's my kind of festival!
First on my list was The Duke Spirit, a bluesy, punky, female-fronted band from the UK.  It was still early in the day, and the tent was only about half full, but thanks to frontwoman Liela Moss's tremendous energy, the tent was a-rockin' like it was much later in the day.  It was just what I needed to wake up.  With heavy distortion, catchy hooks, and some classic blues harmonica thrown in for flavor (also care of Liela Moss), the band's sound is somewhat heavier and darker than what I normally think of as the Brit Pop sound, more like My Bloody Valentine or The Kills and less like The Charlatans, but still with that distinctively British quality to their rock and roll.  I don't know if I can explain it, its just different than American pop, not so frilly with all the bonus "features" (like auto-tune, and other special effects), often grittier, sexy in a dirty sort of way rather than a glamour kind of way and, well, just different.  Whatever it is, The Duke Spirit do it well, and do it hard – an excellent way to begin a music festival.
At the stage next door, Rocco DeLuca was cranking out some heavy blues (Ben Harper would have been proud!), and I stopped to listen for a moment before heading on to see Gomez at the East Main Stage.  The Brit Pop, as fate would have it, just kept on coming.  Gomez occupies the opposite end of the Brit Pop spectrum from The Duke Spirit, still sans the frills of American Pop, but far more radio ready, mellower, and cleaner – the sort of band you would take home to meet your parents before sneaking off to smoke cigarettes and drink whiskey with The Duke Spirit behind the bowling alley.  With three singers and three guitarists (the same three guys), Gomez has a rich sound, and enough variety of personal styles, both vocal and guitar, to keep even a short attention span occupied.  They played several of their radio hits, including How We Operate, and See The World, as well as a bunch of songs I'd never heard before, including some rockers which were in pretty dramatic contrast to the stuff that gets played on the radio.  If you didn't know that Gomez had it in 'em, now you do.
The sun was starting to feel really hot by this point in the day, and bodies of all shapes and sizes were out on display, soaking up the sun, or trying in vain to stay cool.  Big groups of people were spread out under the shade tents placed out in some of the open field areas between stages, and many others were walking through the fountain to cool off.  The rumor swirling around the streets was that the Festival would be charging for all water this year, a rumor which had been confused with an announcement that the festival would have freely-refillable plastic water bottles for sale (in an attempt to keep the disposable water bottle litter to a minimum), and would fill anyone else's bottle with fresh, cool, spring water for only a dollar.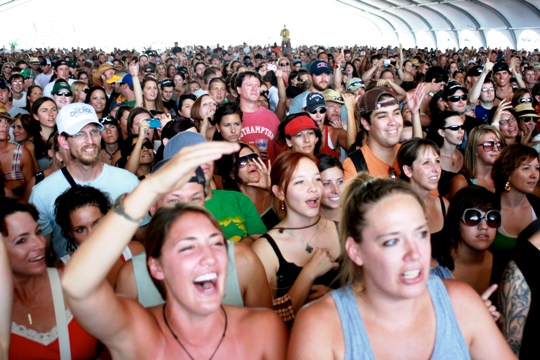 In fact the festival did have plenty of free tap water available, so that wasn't really an issue, but I found it odd that the water bottles the festival was selling were plastic (and not even nice Nalgene plastic) since the current trend among the green people is away from plastic water bottles altogether.  Plastic bottles, in case you haven't heard, are soooo last year, completely passé.  Now, if the festival had been selling the metal canteens that are so popular these days with food and water purists, that would have been pretty keen, and even more of an incentive not to throw away the bottle at the end of the festival.  Maybe next year, but by then, we'll have found a problem with metal canteens too.
In any case, I was glad to be going back under a tent for the next act, out of the sun and into the shade.  In the nearest tent, Ani DiFranco came out with a small cadre of supporting musicians, a drummer and a bass player, to great applause from the female-heavy crowd.  Apparently some dudes feel uncomfortable around such a strong female character like Ani, but come on, she's only like 5 feet tall maximum, what is there to worry about?!  I mean she'd probably still kick your ass, but it would be like having your ass kicked by your little niece.  And anyway, she can really pump up a crowd and get loud and mean with the best of them, not like the cutesy pop lady singers we get on the radio.  Those cutesy pop women are the one's who make me uncomfortable.
After a short set, I procured a "traditional" gyro slathered in "traditional" cesar salad dressing (totally being sarcastic here…) and plodded back out into the sun to see the one-time Boulder, CO natives Big Head Todd and The Monsters.  Another Boulder mainstay, Hazel Miller, introduced the band, and came out after a few songs to sing along in harmony with the band.  Playing old favorites like Bittersweet, Don't Tell Her, and their excellent cover of John Lee Hooker's Boom Boom, as well as a rousing rendition of Black Betty (originally by Ram Jam), Todd Park Mohr and the gang kept the audience up, on their feet and singing for the entire set.  They got a little quite in the middle, but then the horn section came out, and it was all good again.  Even the young folks seemed to be into it.  "I heard these songs, and I was like 'hey, I know this song!' but I didn't know it was by these guys," one young woman nearby was saying to a friend.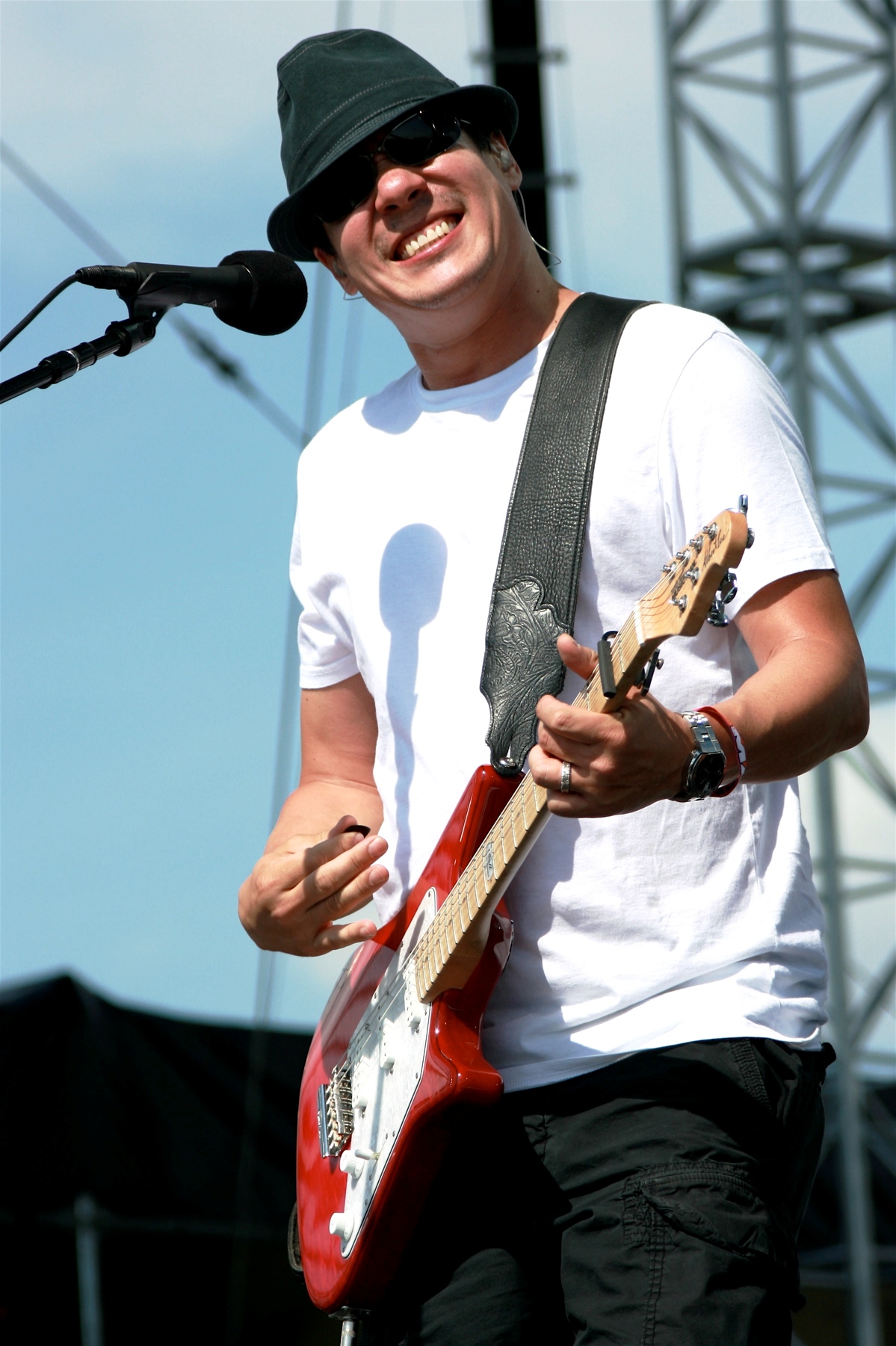 Having been around the Front Range for quite some time, Big Head Todd has built up a fairly sizeable following in the area, and those enthusiastic crowds make for the best festival crowds. They're friendly, high energy, often goofy, and just love what they're seeing.  When the crowd is into it, the band is into it, and everything is gold.
Once again I set out across the grounds, this time to the West Main Stage to see Incubus.  Although they conjure up found memories of the upper part of high school, the part where I stayed out late driving my shitty car around avoiding all contact with adults over 30, Incubus kind of fell off my radar shortly after I went to college.  They had mainstreamed, and didn't seem to be growing so much as cramming themselves into their own mold, and I guess I just lost interest.  You can imagine my surprise when I saw them on the bill for this year's festival, and I'd been wondering what kind of stuff they would play ever since.  Fortunately for me, they played quite a bit of the older stuff that I am familiar with, their best stuff, if I may be so bold as to say so.
Incubus, for a while, was pretty individual.  Not quite hip hop, but with good DJ scratch and lyrics that often flow fast a free, and not quite punk, but with a funky rock swagger and an audible distain for the "the man."  Songs like Stellar, Pardon Me, Nice to Know You, Drive, and the more recent but still true to form Megalomaniac all made the set list.  Lead singer Brandon Boyd had cut his hair since I'd last seen him some seven years ago (good thing too, it would have been terribly long if I hadn't), but he still looked and acted for all the world like an angst-ridden, irreverently carefree young punk – just how I do remember him from my day.  Covered in tattoos and a "make believe not war" t-shirt, jumping around the stage like mad, and occasionally breaking out in a huge silly grin, Boyd put his whole self into the energy of the act.
After my time in the photo pit was up, I stuck around to watch for a while, and the general consensus seemed to be that, hey, these guys are okay!  That was my impression too, for the most part.  Of course, everyone likes to hear the songs they like, and that helped a lot.  There were a few newer songs in the mix that I didn't recognize, not bad ones, but in the same vain as their song Wish You Were Here (also on the set list) – slightly generic, like Incubus had taken a song they'd already written and dressed it up for Top 40 radio.  But to balance it out, there was also a tune off of the band's pre-big label album, Fungus Amongus.
Now came the hard choices.  In every festival with multiple stages there is the unavoidable time when two bands you'd like very much to see are playing simultaneously on different stages.  For me, that time had come.  On one stage there was Ben Harper and his new band Relentless7.  On another stage The Black Keys were about to play.  What to do, what to do?  Both bands I'd seen before.  I'd even photographed Ben Harper last summer at Jackson Hole, but I'd never taken any pictures of The Black Keys, or of Relentless7.  In the end, I opted for The Black Keys.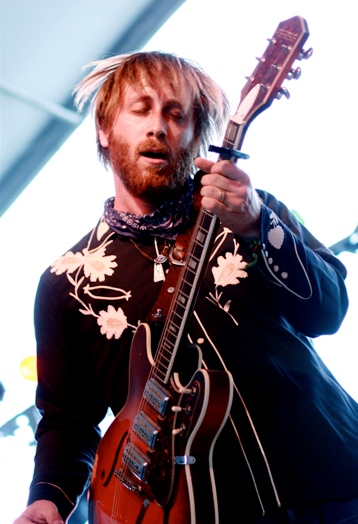 The tendency when talking about a two-person band is to say how much sound they put out even though there are only two people.  But with The Black Keys, I would say that they put out just enough sound and no more.  Their style is very basic, down home blues with no frills at all, just a rhythm, a riff, and a story to tell.  None of this is to say that The Black Keys don't rock it up, because they rock very hard every time.  Its just that The Black Keys know what they need to do to tell their story, and do nothing more.  Call it minimalist, call it old school, call it whatever you want.
The notable exception to The Black Keys approach has been their most recent album, Attack and Release, produced by DJ/producer extraordinaire Danger Mouse, who essentially takes the roll of a third Black Key on the album.  The electric organ was really the biggest addition to their sound care of Danger Mouse, but despite the deviation from the norm, the new, filled-out sound is pretty good.  Pretty damn good – one of the best albums of last year if you ask me.  But how would the duo do it live, sans Danger on the organ?  Several songs off the Attack and Release made the set list, including Same Old Thing, Psychotic Girl, Strange Times, and I Got Mine. Played as a duo, it was clear that whatever else Danger Mouse had done to The Black Keys, he'd kept their creative independence intact – these were still definitely Black Keys songs in the Black Keys style, and having or not having an electric organ (depending on how you listen to the songs) didn't change that.
The Black Keys covered their entire career in this one set, with songs like Stack Shot Billy, Your Touch, No Trust, and Thickfreakness mixed in with the most recent stuff.  The Black Keys ended their set a little early, then came back for an encore, topping their time off with 'Til I Get My Way.  As I left the tent I could hear Ben Harper playing across the grounds, and debated running over to catch a few songs before the night's main event.  However, there were a few words uttered to me earlier in the day that made me want to show up early for the Tool show – "nobody shoots Tool."  When I heard, I was bummed.  Photographing Tool could be a singular experience in the life of a photographer, and I had worried there would be severe restrictions on who gets to take their picture.  The band thrives on mystery and enigma, especially frontman Maynard James Keenan.  So when I heard that nobody would be allowed to photograph Tool (I'm sure there were a few higher-ups who were allowed to, those lucky bastards) I knew that I had to get myself close enough to do it on my own.
Front row was out of the question.  The serious Tool fans had been camped out all day, and hundreds more were packed in behind them like sardines.  With my running crew of equal-status lackeys (i.e. the friends and family I drove in with), I found a spot to plant.  The sun was still up, but getting closer to the horizon by the minute.  I had a feeling Tool wouldn't be out until dark.  I was right.
As soon as the sun went down, the vibration started.  Low and dissonant like a machine boring up at you from underneath your feet, the vibration rattling your chest down to the bones.  The stage was dark, but the faint shadows of people could be seen getting into position.  Then, with a cry like a wild animal, Tool came to life.  The video screens were suddenly covered in bright orange flames, defining the silhouettes of each band member as if the team was burning up in hell.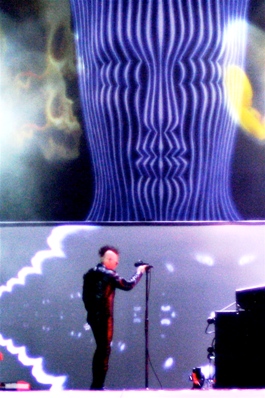 A Tool concert is a full body and mind experience like no other, almost more like a play than a concert.  It is a performance art piece, with sound and sight so well integrated that the two could not possible be separated from one another without losing everything that makes live Tool who they are.  While Maynard's unlit, leather-clad, mohawked silhouette writhed around like a beast in front of colorful video screens, which project some of the most disturbing, fantastical animated imagery you could imagine, the rest of the band create a wall of sound that, like a juggernaut, never stops once it has begun.  Tool is this generation's Pink Floyd - psychedelic, intellectual, experiential, dark, disturbed, and dazzling, occupying the creative space well beyond the pale of what most other bands will ever be capable of producing.  Its not just that Tool uses twisted imagery to reach its fans, its that Tool's twisted imagery is as much a part of what Tool does as is any instrument in the band.  The imagery IS an instrument in the band, as are the lights, the lasers, and the deep, ground-shaking vibrations.  Whatever your feelings about Tool, Maynard, or the rest, there in undeniable creativity and strength of purpose in everything that Tool does, and the mystique of the band's front man just makes the whole Tool experience that much more interesting – we all want to see what we're not allowed to see.
Tool tore through hyper-extended versions of Jambi, Rosetta Stoned, Stinkfist, Vicarious, Schism, and Lateralus, among others, including several musical interludes hanging way down low on the spectrum of audible sound, and driven by rhythms reminiscent of furiously pounding robots.  According to Maynard, the performance was brought to us by boobies.  "Everybody likes boobies," Maynard said, repeating the joke later when introducing a guest appearance by Black Keys drummer Patrick Carney, who was also, apparently, brought to us by boobies.  This is a side of Tool, and Maynard, that I find quite amusing.  The Tool machine is so serious, so shrouded in mystery, and yet, when he talks to the crowd, Maynard seems to be just a normal guy, albeit at the weird end of normal. (I bet he is too, if you were to meet him in real life).  It makes me think of how strange our cultural fascination with celebrities has become.  They're all just people, some of them just choose to dress up in leather, shave most of their hair off except for a thick strip running front to back, and front a band devoted to intellectually challenging, experimental, mechanical, visual, psychedelic, heavy, progressive rock and roll music.  Some of us wear cotton, whatever.
In what I would call the final act of Tool's performance, Maynard came back out on stage in a leather Speedo, and possibly chaps.  I had backed off from my position considerably, fearful that the angry Tool fans I had plodded through to get my shots would turn on me at any minute, so it was hard to tell exactly what he was wearing.  Suffice it to say that Maynard had reverted even further into his inner animal.  Then before anyone knew what to make of any of it, the performance was over.  It was one of their shorter performances, topping off at about an hour and a half, and I think that some people were major-bummed that it hadn't gone on longer.  But then again, we had to make room in our schedules for Widespread Panic to play for almost three-and-a-half hours.
Actually, nothing against Widespread's ability to play virtually forever, but I did resent the fact that the main event, Tool, got only an hour-and-a-half time slot while the extra bonus night show was penciled in for over three hours.  Would it be too much to ask for Tool to borrow a half hour of Widespread's time so they could play a few more songs?  Sigh…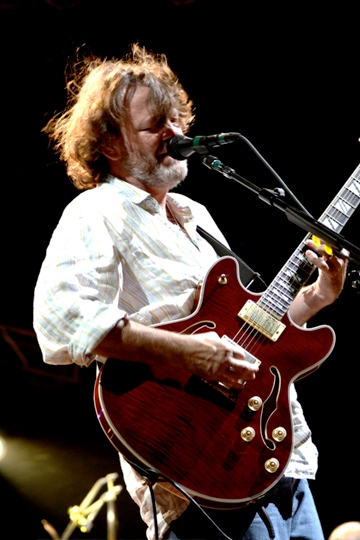 If Tool was the climax, then Widespread Panic was the comedown.  The mass of people that drifted across the grounds dispersed and spread out, laid out their blankets and themselves, and just generally grooved on the music, which was positively soothing compared to the aggressive sounds of Tool.  It was time to kick back and relax, time to doze or time to dance depending on your preference, and Widespread Panic was the drug of choice for those who stayed.  The stage was brightly light, and a breeze picked up, cooling the air and giving the band a dramatic, wind-blown, music video shoot kind of a look.
It was pretty much exactly what you would expect from Widespread – heavy on the instrumental jams, light of spirit and heart, a little bit rumbling, a lot bit Grateful Dead genre rock and roll.  It's good time music, not too much to think about, and certainly nothing too heavy – perfect for the end of a marathon day of music, perfect for the comedown period before the next day when it would start all over again.  Day One was a hit, Mile High was underway and chugging along like a well-oiled machine.
Day two would be similarly kick-ass, but would also turn out to be a whole different animal.  Stay tuned...