For once, you can judge a book by its cover: Truth and Salvage Co. is exactly what the name suggests. A six-member Americana country-rock band, Truth and Salvage was formed (salvaged, if you will) in 2005 from the remains of two LA-based bands. Today the group is Adam Grace (organ), Tim Jones (singer, rhythm guitar), Scott Kinnebrew (singer, lead guitar), Bill "Smitty" Smith (singer, drums), Walker Young (singer, piano), and Frank DiVanna (bass). As vocalist/lead-guitarist Scott Kinnebrew asserts, the band's out to "just make the best sound we can possibly do." Ain't that the 'truth.'
Thrust into popularity by Chris Robinson's (Black Crowes frontman) early championing of the band, Truth and Salvage Co. is smashing through the national consciousness with one self-titled album under their belt and another due next spring.
Now, an interview with Scott Kinnebrew.
GW: Hi, Scott!
SK: Hi, how are you, Jessica?
GW: I am wonderful, thank you. This is Jessica and we're here with Scott Kinnebrew of Truth and Salvage Company. And Scott, you guys are on the road tonight, is that right?
SK: We just arrived to Tulsa, Oklahoma, Jessica.
GW: You have a show there tonight?
SK: Yeah, at a place called The Treehouse. They apparently have the best barbecue in town, too. So we're excited.
GW: Oo that's very exciting, yes! Well I'm excited about your upcoming show on June 10 in Boulder, since that's where I'm from.
SK: We're excited to get back over there. It's been a few months, and it's always one of the shows we love. So we're excited to get back there.
GW: What's been your favorite show this year so far?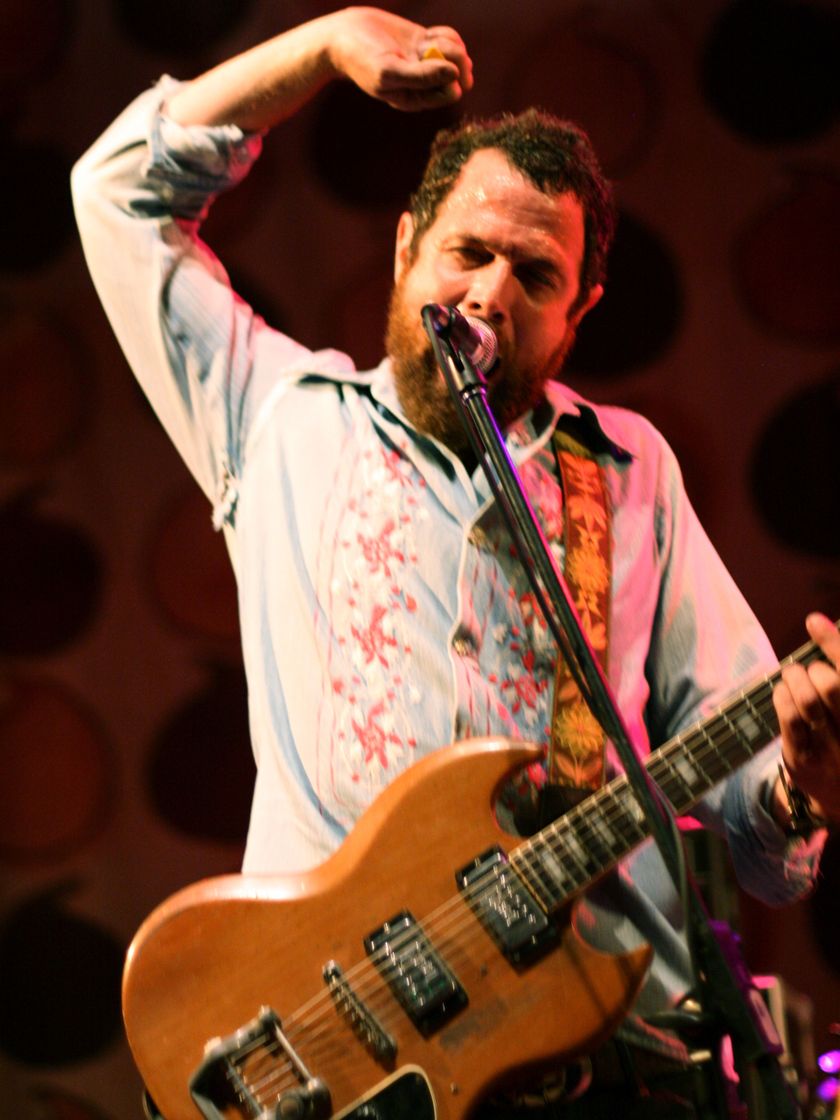 SK: This year--it's hard to narrow it down. In most recent memory I would say that we played Houston a couple weeks back with the Avett Brothers at the Verizon Theater. It was really good to see those guys cause they're all friends of ours, and it was just a real good crowd, all very enthusiastic, eager, and a lot of people singing along. It was really good to see such great response for ourselves. So that was a lot of fun. And then we did Hangout Fest after that; that was really cool too because it was really nice to be part of such an awesome southeastern festival. We had a lot of people travel from all parts of the southeast to come be part of the show. That was a lot of fun, too.
GW: And you're playing a couple more festivals this summer.
SK: Yeah, we're doing some festivals. We're gonna go to Wakarusa here this weekend--that's why we're in Tulsa--so we're looking forward to that. We just did Summer Camp last weekend--that (laughing) was a new experience for us. I've been to a lot of festivals and I've done my time, but there's a whole new different genre of music emerging from the camps it seems. I guess it's called jam-tronica, it was kind of the first time I've gotten turned onto it. Mind-blowing.
GW: Of the five current band members that make up Truth and Salvage--is that correct, five?
SK: Well we have a new bass player here, so there's actually six of us. Bass player; drummer--Smitty, who's also a singer. Then we have two keyboardists--one's named Walker Young, and he plays piano and he's also a singer; and then we have Adam Grace, who plays the trifecta of keyboards. Then there's myself, Scott Kinnebrew, on guitar and vocals; and another guy, Tim Jones, on guitar and vocals; and everybody thinks we're brothers, him and I. We're still wondering if we're gonna get DNA-tested to confirm or deny that.
GW: Good plan, good plan.
SK: (Laughing) I don't know if we want our parents to hear that. What a terrible thing to say (laughing). 'Mom, are you sure?' No, I'm kidding.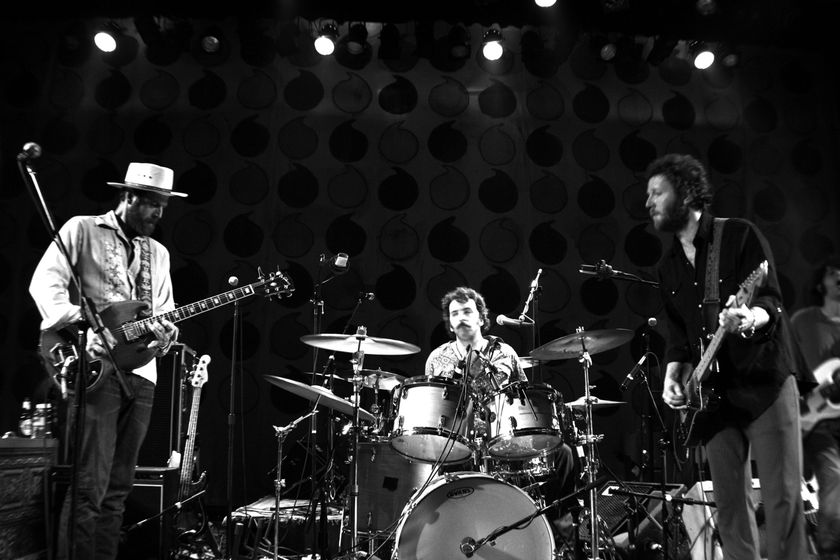 GW: Of the six of you, then, at least four of you collaborate on the song-writing. How does that work?
SK: We've been playing music for a good little while here. We've all been writing songs--myself, definitely my love of music has come from writing songs. The four of us--the four songwriters have been focused for a good long while, and you realize that when you put down your defenses and allow for some critique and other inspiration to come in, then to share that experience--it's pretty neat. It's kind of like allowing someone to finish your sentence, and being good with that. We come to the table with, you know, parts of songs, full songs. The point of writing is to have fun with it and make it sound the best you can. I think we're all pretty open to having each other throw in their inspirations, to just make the best sound we can possibly do. We've been at it for awhile, I've written songs for most of my life, and I know what's it like to have a song written by myself, and I know what it's like to have the influence of other people shaking that song, and it's a really rewarding experience. It's a good practice.
GW: That practice has given Truth and Salvage a very unique sound that has been described as somewhere between country and rock'nroll. How do you identify with your music?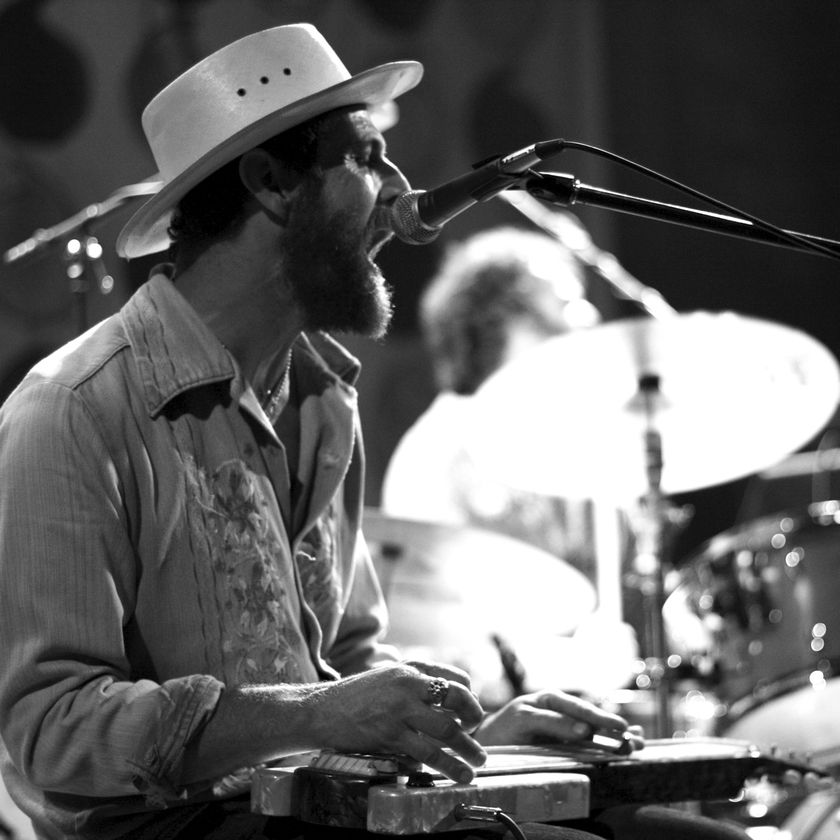 SK: I think that's good. I say psychedelic country-rock'n'roll. I've also been saying vocal-based, harmony-based, country rock'nroll. We've all really been steeped in the inspirations of our pop generation. I was born in the 70s, all of us were born in the 70s, and influenced by the music of the time growing up. We also have a lot of good ol' country influence. But the music of that time, of the 70s, had a lot of country influences. The Grateful Dead had a lot of country influences. And we identify with that, and really kind of consider it to be rock'nroll. There's like this big distinction between what's country and what's rock'nroll, and all the music I hear really falls between the lines, and everybody's comfortable with it. I don't know what I'm trying to say.
I feel that I'm being open about it. I feel that we're a country rock'nroll band; like we're following in the tradition of all the music of The Eagles and the inspiration of old country music and old blues, just following in comfortable footsteps. I think the songs are also a little--we're not striving to sound like something from a certain genre, so I think the songs have the influence and the stamp of maybe a vibe but we're not trying to strive for that. I don't know, there's like a full-on country band and then there's a country song that's played by a garage band. I feel like we've been influenced by everything kinda, not super one way or the other. It's just solid rock'nroll American music. So I'll just sum it up like that.
GW: Can your fans expect any changes on your second album, coming out next spring?
SK: Yeah, we're definitely working on some new material here. Our last show--we've definitely been stretching out a bit, with the record that we put forth for our first effort, we play all those songs, and I think a lot of them are just nice, beautiful masterpieces. We play them live, we stretch em out a little bit more, and with the songs that we've been bringing to the table we're stretching those out a little bit more, maybe having some more instrumental interludes, having different parts, giving place for improvisation, and rest a little bit as well.
I think the fans are going to be real excited about what we're bringing to the table, we're really excited about it for sure. Can't wait to start recording; it's going to be September when we get in the studio. We're going to spend August in pre-production, and we're planning on going on like a little sunrise retreat, to go up in the mountains somewhere in California and spend a week writing songs. We got one gig in Sonora, and another one in Chico, and that's the following week. During that whole week in between we're just gonna hole up in a cabin and flesh out the rest of the songs we need for the record. We're real excited about it, we don't really get a chance to do that too much. It's mostly like the bump and grind of being on the road, showing up to clubs, loading in, changing strings, sound-checking, and moving on. We're gonna be heading to Wakarusa after this show tonight and we'll drive a few hours afterwards. So we don't get too much of a chance to do the really cool part: sitting around writing songs. The part you were asking about, the collaboration with writing--it's gonna be great to get back to that because the last year and a half we've really been pushing our first album. We're psyched, we're really psyched about it.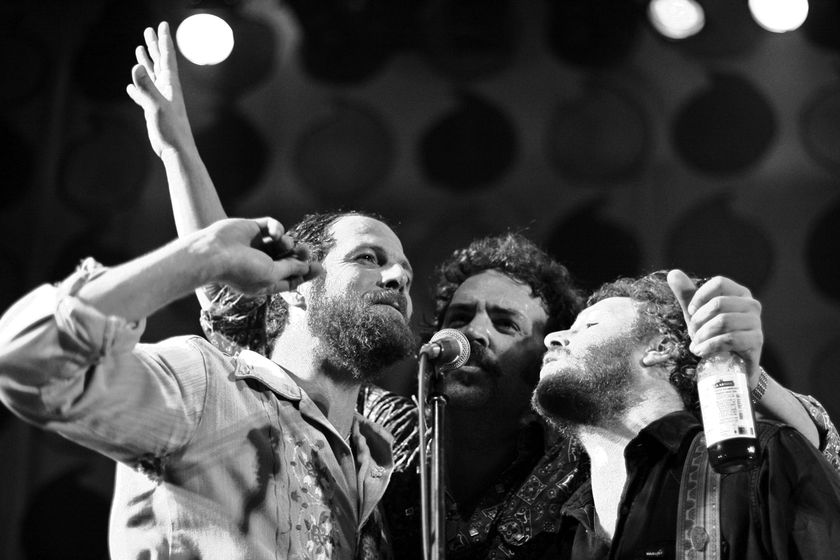 GW: Sounds like that sunrise retreat will be a much-needed bit of relaxation, fun and creativity!
SK: No, for sure. Can't wait, really.
GW: In 2008 Chris Robinson of the Black Crowes signed Truth and Salvage Co. to Silver Arrow Records. What's it like working with Chris?
SK: Chris Robinson is a sweetheart. He's an awesome, genuine human being, and it was really cool to be able to get picked by him to produce this record for us. He started a record label--Silver Arrow Records--with his brother, and they chose us to record a record. It was an incredible experience. He was able to really kind of shape the songs but still allow them to breathe. He had a great amount of stories and banter for every experience. So it was like we'd show up to the studio and it'd be story time: here's some good experiences of The Crowes; and just give us a story for everything. There's just a lot of getting to know each other, and a lot of fun times, as well as work and sitting down and getting a record out, you know? Really fun times on top of doing a record.
Afterwards, we were invited to come tour with them for the better part of 2009, before the record even came out. We recorded in January of 2009, and then put out like a little EP to support the tour. From August we were with the Crowes for like seventy dates throughout all the country. That was really the first time that we as Truth and Salvage Co. had the opportunity to get out and even tour. To be able to do it with the Crowes, you know, it was just such an honor to be able to be under that--well, not under, but to be with that group. To be doing that with them--it was just such an awesome experience. Yeah, man, it was great. Chris Robinson, Rich Robinson, all the Crowes. We had a lot of fun with all of them.
Back to the record--we spent about a month in the studio, about a week in pre-production. And he produced our record, so he gave us his thoughts of what he thought the best songs for the record were. He made a few changes in some of the forms and stuff like that. But for the most part he let us get out what we needed to put on tape. I think the collaboration was a real big success.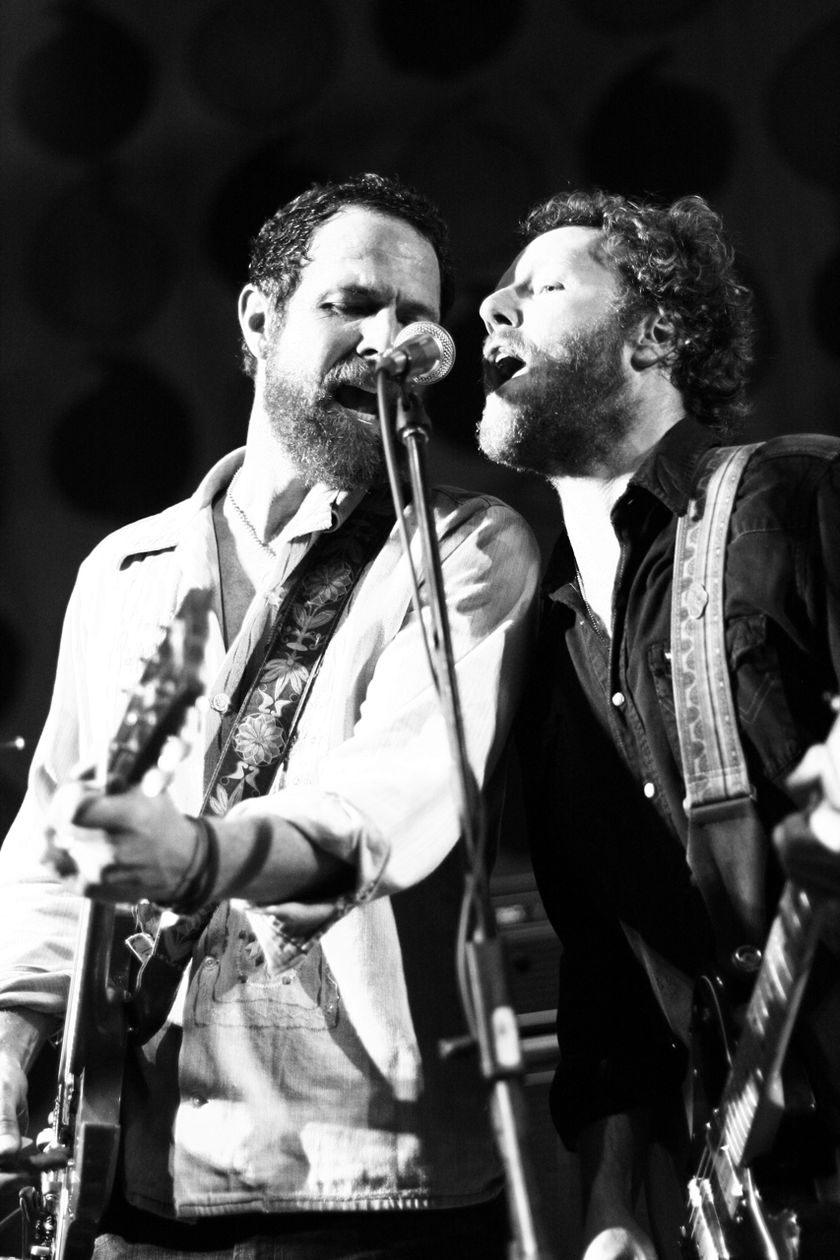 GW: I have one last question here for you, and it's a personal question. I'm wondering if at your show in Boulder you guys will play "Call Back," which is my favorite song.
SK: Of course we'll play "Call Back!" We play it all the time, it's one of our favorites. I'm not the writer; Walker Young wrote that. But of course! It's our first radio single, and we gotta play stuff people like. We like stretching out and doing different, new stuff, but we need to play the stuff that people identify with: that's our job. So of course we'll play it for you. We'd love to play it for you, Jessica.
GW: Thanks, Scott!
SK: Real quick question about the Grateful Web. Thank you so much for letting us be a part of it. I was checking it out online, and it's a real cool thing y'all got goin on there. Thanks for letting us be a part of it.
GW: Well thank you for being a part of it. Anything else you'd like to add?
SK: Look for us online. Find our music, and buy it please! Find it any way you can if you can't. You know, just be part of it. We're gonna be on the road all the time, passing through close to you, so come be a part of it. That's all I can really say. We're dedicated to doing this and it's been pretty awesome having the experience to have some of my best friends be on the road, going around, meeting all sorts of cool people around the country, the fans, all the other bands we've been playing with. Such a great, vibrant scene going on with music right now. The playing field of the music industry has been pretty leveled; there's a lot of chance for people to get together and collaborate. It's been neat being on the road, doing all this...when you can be a part of it, "you" in the great sense of everybody listening to this broadcast, that y'all have a real good time and hear some good quality American rock'nroll music. And that's about that.
Thank you so very much, Jessica.
GW: Thank you, Scott. That was Scott Kinnebrew of Truth and Salvage Co. Have a great evening.
SK: Thank you, take care!