Nothing says Halloween better than vampires.  Except for Zombies maybe.  Never mind the fact that it wasn't actually Halloween, it was Saturday night, and that's close enough for those of us with jobs that keep us from partying it up on a Monday night.  Devotchka's annual Halloween show always draws a crowd of the costumed and enthused, and last Saturday was no exception.  Add to the fact that Boulderites love a costume party more than most people with a killer (or undead?) theme like Vampires vs. Zombies, and your virtually guaranteed to draw a crowd worth looking at.
Most people were in costume for the occasion, but there were far more than just vampires and zombies in the crowd – from Jack Skellington to Steve Jobs, and even a pair of Waldos (where?).  The opening band, Ending People, dressed as a team of caped super heroes.  With a bit of a Massive Attack vibe, Ending People put on a show that was darker than it was rowdy.  It would actually have been a better fit if they had dressed like vampires, but what can you do?  The band members swapped instruments about as many times as they played a song, which was kind of interesting, and the alternate male and female vocals was an cool touch, but otherwise the Ending People didn't make much of an impression.  I blame it on the costuming.
Devotchka was preceded by a short vignette in which a girl dressed in white can wandering out onto the stage, only to be attacked by zombies and dragged away in a cloud of smoke.  The band came out in the middle of this ordeal and took there spots, the theme having split them in half – Tom (violin, piano, and accordion) and Shawn (drums, percussion, and trumpet) played the zombies, while Nick (vocals, guitar, and spookiest of all, the Theremin) and Jeanie (sousaphone and upright bass) took on the vampire role.
Devotchka's got a new album out, titled 100 Other Lovers, the follow-up to their critically acclaimed A Mad and Faithful Telling.  Saturday night was a mix of the new and the old, featuring recent fan favorites like How it Ends, Basso Profundo, and Clockwise Witness, as well as tracks off the new album (sorry, I don't know the names of those songs yet).  It's been a little while since I've been to a Devotchka show with new songs, and that's one thing I was looking forward to most about this Halloween.  Although there weren't quite as many new ones in the set list as I might have thought, I can't say that I was disappointed.
The show was full of all the energy you would hope from a Halloween costume party.  The touch of gypsy punk that underlies the richly elaborate and classically rooted melodies of Devotchka always comes out strongest in a live show – a little more of their rock and roll side shows through the intellectual sheen characteristic of their studio albums.  But even over the extra loudness and electric guitar distortion, Nick Urata's operatic voice filled the Boulder Theater wall to wall in a way that a weaker vocalist never could, and he thrilled the crowd to no end when, after coming back out for an encore, he struck up an amazing rendition of House of the Rising Sun.  Maybe it's just me, I can't recall the last time I saw this band play a cover!  Awesomeness – everyone loves a sing-along, after all.  The guest saxophone solo in the middle was an added bonus.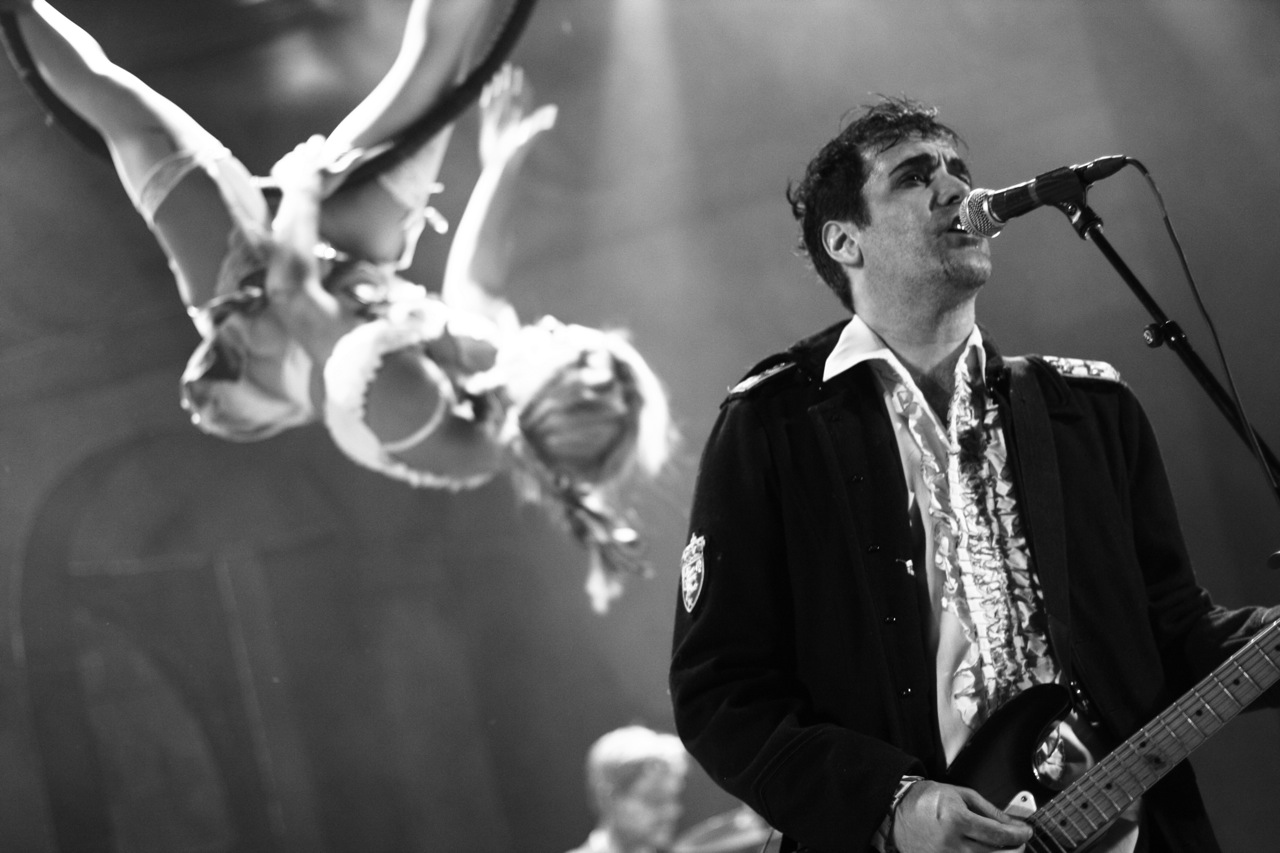 One of the highlights of the Devotchka Halloween show is the aerialists and gymnasts that they feature – suspended from the rafters, spinning and twirling in a graceful frenzy as the band rocks out below.  This year, a whole crew of gymnasts accompanied the band, including a vampire who scaled a set of flowing red curtains like it was the easiest thing in the world, and a pair of women who did a paired act hanging from a single, giant ring.  Needless to say, during these moments almost no one was looking at the band.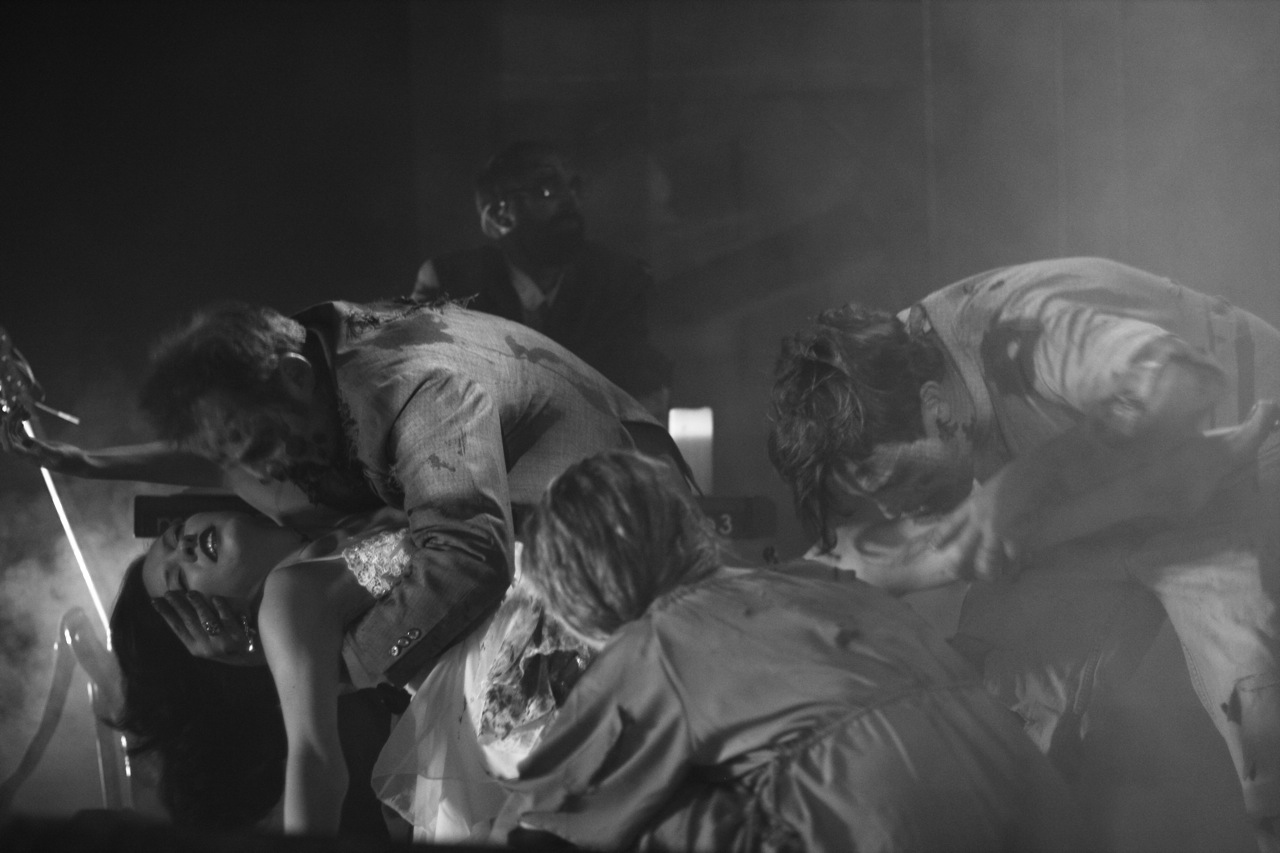 The show ended much as it started – with an undead monster attack!  This time the zombies were accompanied by vampires, who crept out of the mist and fed on the blood and brains of everyone on stage.  All and all it was one of the band's better Halloween shows, all the more so with new songs to hear.  As the lights came on, and the party moved outside, the energy left in the room made it clear – Vampires vs. Zombies was a killer success!