Disreputable Few is four-session players with unique musical voice and distinct backgrounds coming together to play psychedelic blues-rock of its own spirit.
In conversation with guitarist/vocalist Mark Tremaglia and bassist/vocalist Paul Ill, it was fascinating to discover the breadth of influence behind this music, truly inspired by some of the greatest greats from the Allman Brothers Band to the Grateful Dead or Miles Davis. Their debut album, Ain't Who I Was, doesn't feel like a premier, as the music was there all along.
GW: So you two alone are alumni of legendary acts that you've individually been a part of. Could you each speak of an experience that led you to bring what you do to Disreputable Few?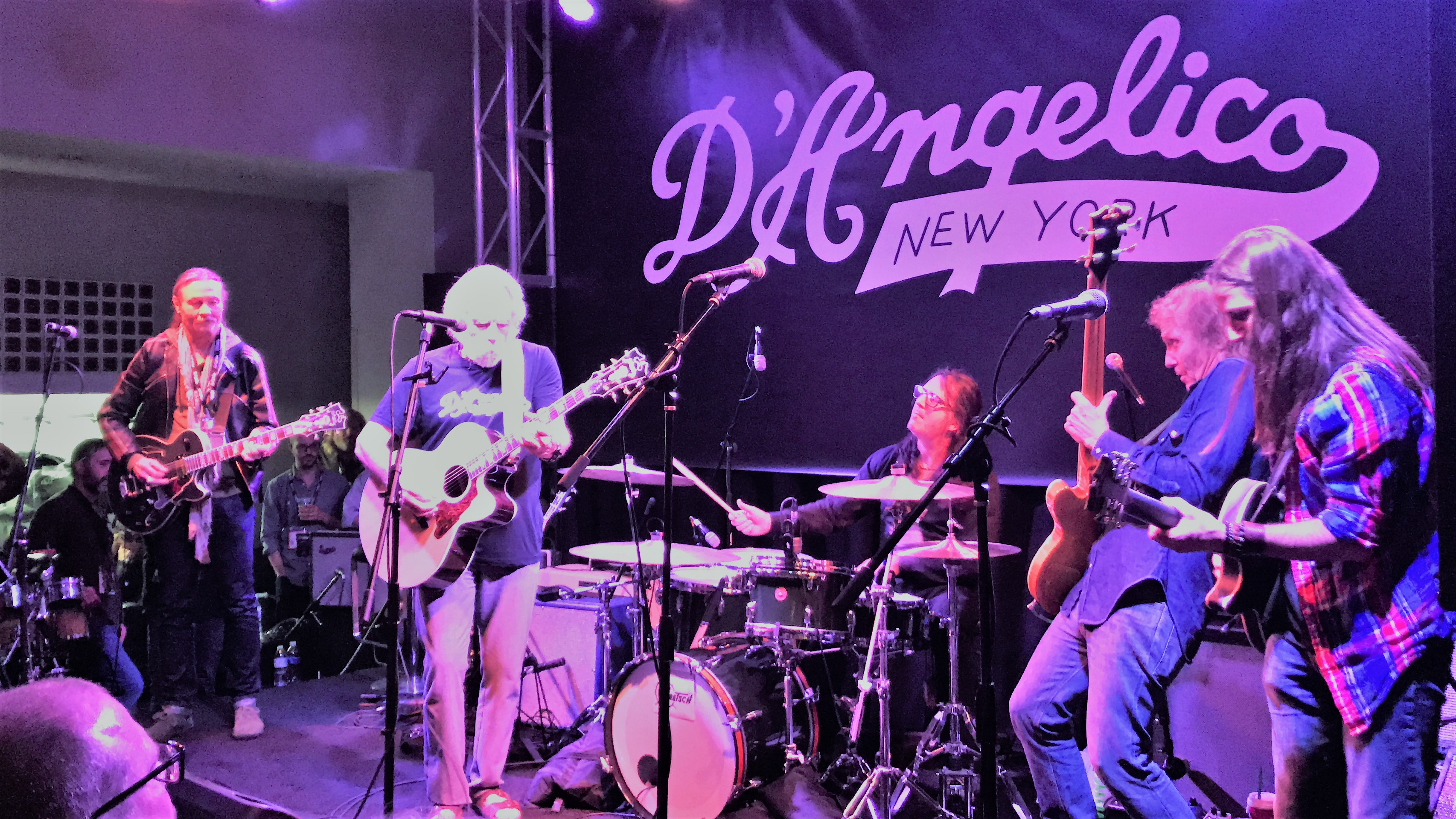 MT: For me, I would say playing with Bob Weir. I don't know if he's from this planet. He's unbelievable. There's something about playing with him onstage when you're trading licks on guitar back and forth. It's almost like he's guiding you through osmosis. He's changed us all as musicians as far as the level of interacting onstage. It's not like he was Bach or even a virtuoso, but his communication skills allowed us to express music the way we want to. It opened up a whole other channel musically not only for me but for the whole band. Would you agree Paul?
PI: I agree. Just to let this be known, the name Disreputable Few was one we got from the Allman Brothers' Live at the Fillmore [East], LP where it's written on the back of the album, "disreputable persons seen with The Allman Brothers Band from time to time-," one of the things about this band is we all wish we would have been at The Fillmore, when The Allmans recorded "Live At The Fillmore," we all could have had a chance to jam with those guys. To answer your question, right up there with Bob [Weir] for all of us, was getting to play a set with the late and great Butch Trucks. I'm getting goose bumps thinking about it. Like with Bob, we didn't have any rehearsals. We had to play those eight songs with him, with just a sound check, in a high-visibility environment. We were very fortunate to have that experience. Butch commanded the stage, but he allowed you to be who you are as a musician and express yourself in that context while definitely vectoring things. We had a lot of heavyweights onstage with us. Slash was there, Matt Sorum from Guns N' Roses and Velvet Revolver who's also a dear friend of ours. Butch really challenged everybody to play their best, but also let everyone be who they wanted to be.
MT: A funny Butch Trucks anecdote on top of that, when we did our sound check with him that very first time. We got to the end of "Statesboro Blues," which was the first song we played, and I raised my guitar up to stop on that same note just like Duane [Allman] did it. Butch picked his sticks up and just as the whole band went to hit that big ending he totally faked us out and started cracking up. He said, "I'll never do that to you again, but I couldn't help mess with you right now." [Laughs]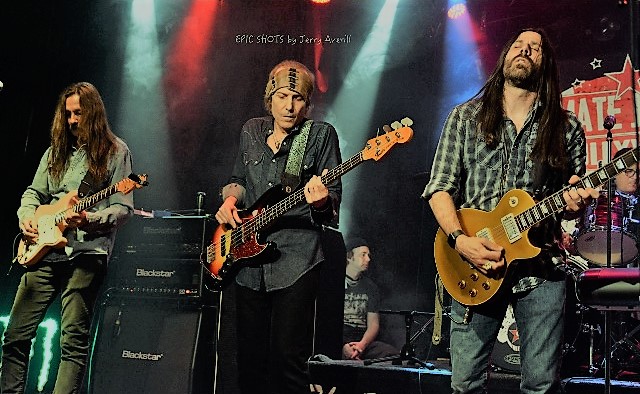 GW: And these are the players who grew up with rock 'n'roll, as did you guys. You two along with Randy Ray Mitchell (guitar/vocals) and Dan Potruch (drums) make up Disreputable Few. How did the four of you get together?
MT: I think the genesis of it was with Paul. Him and Dan had been playing together in Beverly Hills at this restaurant called Crustacean, and I believe Randy Ray Mitchell had gone in there and played with them. They had that experience that they really enjoyed. Paul and I had the experience of going on the road with Matt Abts from Gov't Mule backing an artist named Mark Knight as the Knight/Abts Band. Paul and I got to know each other both onstage and talking lots about music offstage and eventually said, "hey, we've got to play together!" Paul was really the glue who brought the four of us together.
PI: What happened was I was working with Matt Sorum on his charity program, Adopt the Arts Foundation, which puts music programs in Kindergarten through Grade Five in elementary schools through L.A. Unified. We decided that we'd play together as Disreputable Few and play the music of Duane Allman. We'd been doing these Skydog events ever since the band formed where we'd get together and play Duane's music that he played with The Allman Brothers, Derek and the Dominoes, Wilson Pickett, Aretha Franklin, Delaney, and Bonnie. It gives us a chance to play a broad range of music that we all love. This one particular night Michael DeBarge came down and sang, and Carmine Appice played drums. After that gig we had a repertoire, we had eight to ten songs. We came together afterward to write and record some originals. And that's why the name Disreputable Few links us to the Allman Brothers.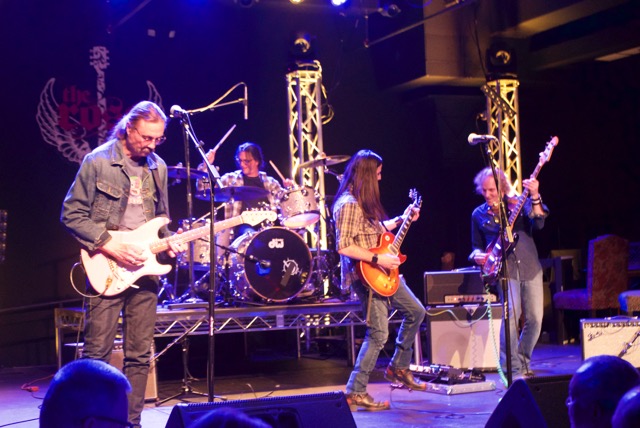 The Allman Brothers links us to the Grateful Dead. It was Fillmore West in June 1970 when the Grateful Dead, The Allman Brothers, and Peter Green-era Fleetwood Mac played one bill.  It blew us away that lineup. It was psychedelic blues-rock. That's who we are and who we want to be. The foundation is the blues; the psychedelic aspect of it allows us to take the music anywhere the audience and us decide it should go. And that's what we have in common with bands like Phish, Moe., or Galactic. The rock side of it is awesome, and all these bands have something in common, that lull, everybody swings. What Butch Trucks has in common with Bob Weir and Billy Gibbons and Linda Perry, all these artists we've gotten to back, is that lull in the blues tradition. The music's gotta swing. A lot of bands rock, not many bands roll. And the bands that roll are the bands that we all love.
GW: Disreputable Few is not only part of these rock roots but also what you were alluding to which is the jamband fold. It's the adventure, it the willingness to bend and stretch, going to bounds that was not necessarily expected or preemptive.
MT: Absolutely. That's probably our favorite thing as musicians, where we can be creative onstage and see where it goes. Take for instance our song, "Farmer Brian," the first time we played it live was definitely different than the second. We let the audience take us there; they are the key and the most important ingredient in that respect. They're like the fifth member of the band.
GW: Let's talk about Disreputable Few's debut album that came out recently, Aint Who I Was. Can you talk about the songs as a whole or individually. Are they new? Have they been with you a while?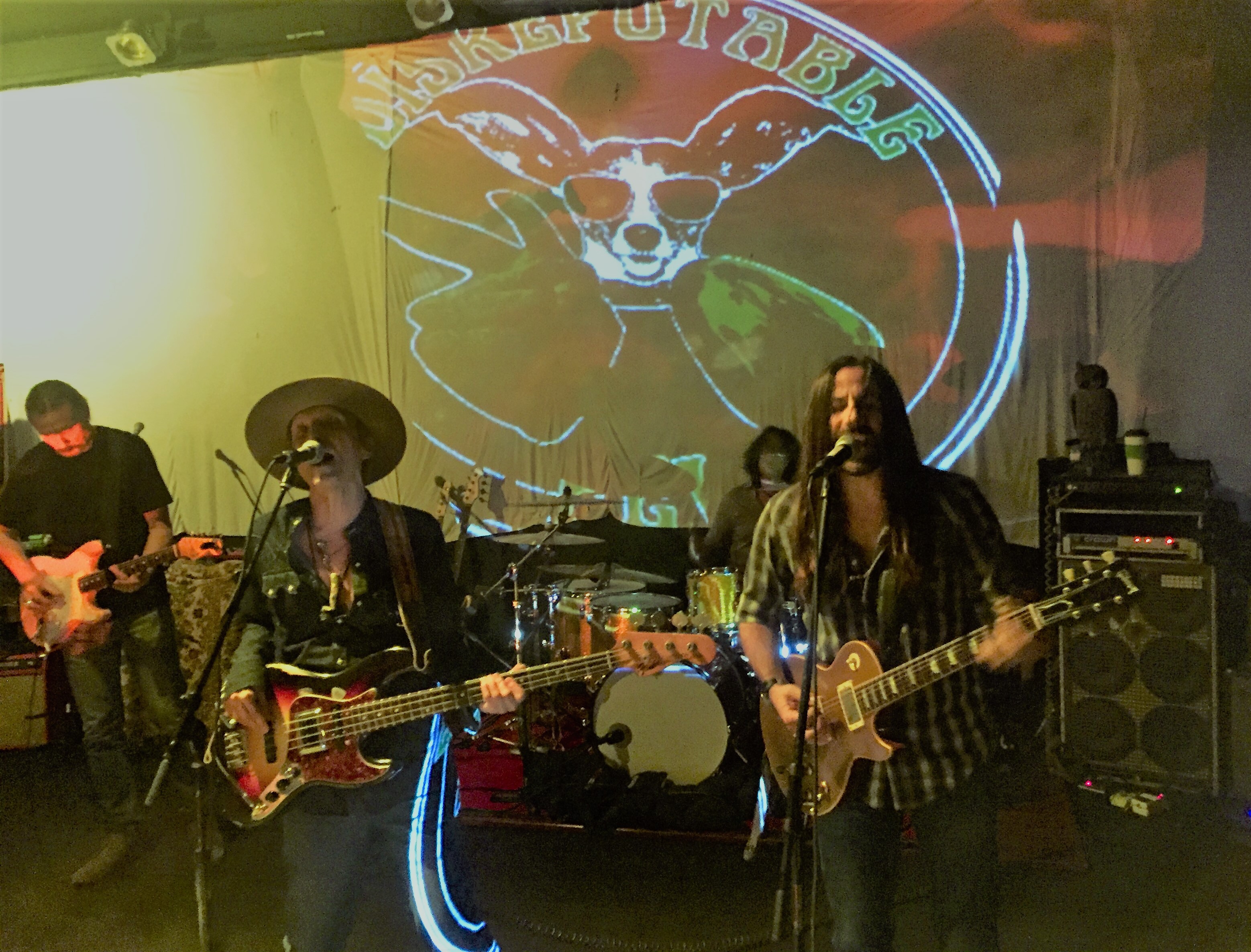 MT: Most of them are new. We have a theme to the record. As we started writing, we noticed that everything was connected in a way. The first track, the title track, was about a metamorphosis. My life was changing. I was in a hotel room, and that song just came out of me.  I brought it to Paul and he added some guitar parts he'd just come up with. This sort of Genesis starts like that. Each song kind of builds its own story and I think it's very connected and cohesive as to what each member is going through. It's real life for us.
PI: For this record was that we decided to take our time and write songs that would not only stand the test of time for us but also that we hoped would fit together cohesively. We did an untitled EP before this, but for Aint Who I Was, we decided it was going to be a statement of intention to the jamband world. We set no deadlines. Some of the songs took a little while; others didn't. We happen to have close personal relationships with the members of Gov't Mule, and some of these relationships go back a long time, like pre-Allman Brothers Band. Matt Abts and I played together in the early 1990s with Mick Taylor from the Rolling Stones.
With Brian Farmer's tragic and totally unexpected passing [in 2014] we were all crushed. He was Warren Haynes guitar tech and before that Johnny Cash's. He was one of the smartest people you'd ever meet. He was such an influential person on the musicians he worked with. He didn't suffer fools gladly. He would let artists know when something was really right, and he would let them know when it wasn't quite there yet. Brian was a big encourager and supporter of the underdog. The first couple of times I sat in with Gov't Mule, Brian was there for me, just like he was there for Warren when he was getting his start in the Allman Brothers. Making sure I was comfortable playing with them. He also really liked The Who. So for "Farmer Brian," there's a little bit of The Who in there, but there are also other elements to it. We're also very influenced by the modal jazz of the 1960s. Like Miles Davis' In A Silent Way period, and Herbie Hancock's "Maiden Voyage." There are influences in songwriting and jamming. There's the well that we all drink from; the blues, the jazz and the rock 'n' roll part, which you just gotta play. We play a combination of all that. I'll call it psychedelic blues roll. [Laughs]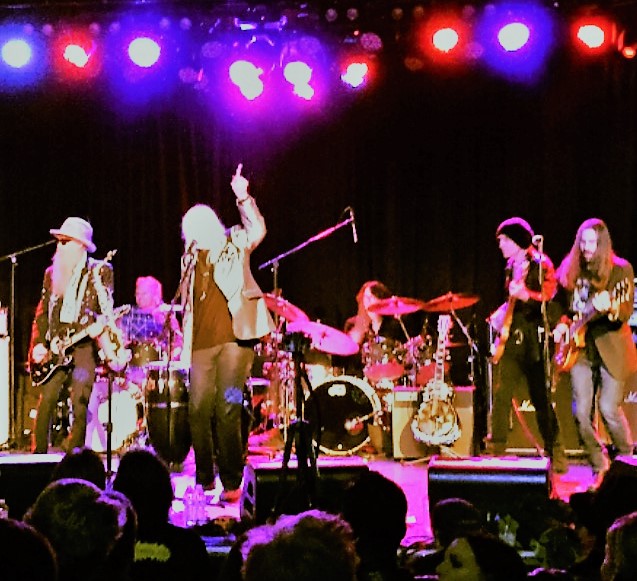 GW:  [Laughs] Well put. I wanted to ask you guys about topical songwriting. In these times that we live in, do you care to include any message socially or politically when you write lyrics?
MT: Our timeliness is not necessarily the news of the world but more about self-improvement and self-awareness, and helping your fellow man. We try to write with empathy, something we'd like to see more of in the exterior world. It should touch you and have feeling or emotion. I don't feel like I'm here to make a political statement, I'm here to help heal people with music. The goal is to make music that will maybe give some hope and feeling. For example, I know the first time I heard "Mountain Jam," or "Whipping Post," it made me feel it spoke to me. That's how music works for me.
PI: It can be dangerous to talk about music like this. I think it's important to note, that it takes a genius lyricist like Robert Hunter or Gregg Allman or John Perry Barlow to come up with something original that can connect with a lot of people. I think "Dark Star," is one of the most direct, easy-to-understand lyrics about merging your consciousness to the universe around you. I first time I heard that song I was in junior-high school, and I thought, "I get this!" Everybody has a different capacity for embracing a lyric. The thing about songwriting is when they get a lyric and a melody to converge with a track, and those three things converge and merge it creates a unique universe unto itself. That's what a good song is. Most people don't really know the chemical formula for why that's working. It's magically elusive. Take Tom Petty; he wrote the soundtrack for three different generation's coming-of-age experiences.
GW: I see that. It's not about being overt; it's about how the music affects the listener.
So, I know there's plans to record soon, how about playing? Touring plans?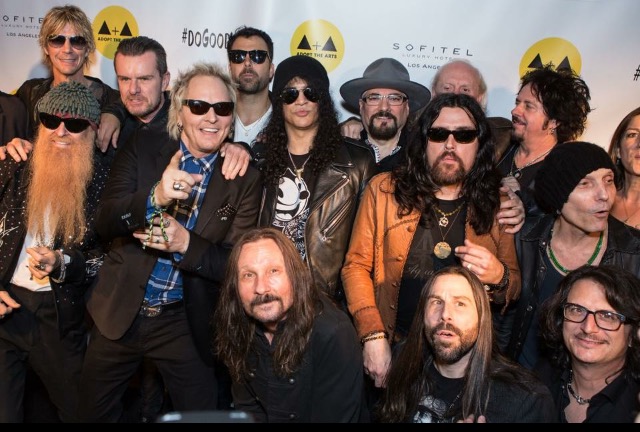 MT: We've got a lot going on. The Disreputable Few has a new release we're about halfway thru recording. We're expecting it around January. We have a pretty big show coming up in December. It's for the Carol Burnett Foundation, a benefit show at Molly Malone's on December 5th. Next year we have plans to get on a tour and keep working as much as we can.
PI: There's a tentative date for Disreputable Few at Terrapin Crossroads in San Rafael, California. We're working on that for January. We also have an opportunity to back Leo Nocentelli next year that we're talking about. Mark is going to Europe this year with Little Caeser as their hired guitar gunman. Our other guitarist and record producer Randy Ray Mitchell is currently playing with Edgar Winter. We plan on getting our next record, Fountain of Forgiveness, out in January or February. We're gonna hit it really hard this coming year.