One of the finest tribute projects honoring the work of Grateful Dead is the instrumental ensemble of Jazz is Dead. Formed in the late 1990s after the passing of Dead guitarist and bandleader Jerry Garcia, Jazz is Dead featured the best cats out there including drummer Billy Cobham and the late keyboardist T. Lavitz. As the project evolved other tremendously talented players entered the picture to continue this strikingly singular idea. Instead of jamming like the Dead did, they cleverly interjected new musical ideas and rode with those themes. While the music went amazing places, a variety of factors led to the project being on-hold for many years.
Longtime Jazz is Dead guitarist Jeff Pevar composed brilliant rearrangements of Dead classics with the vision of bringing the band back together and releasing a long awaited studio album. With 2015 being the 50th Anniversary of Grateful Dead, Jazz is Dead has reunited to fan and critical acclaim. The tour has been affectionately received and the album Grateful Jazz has finally been released. Grateful Web recently spoke with Jeff Pevar about touring, the album, and the successful revival of Jazz is Dead.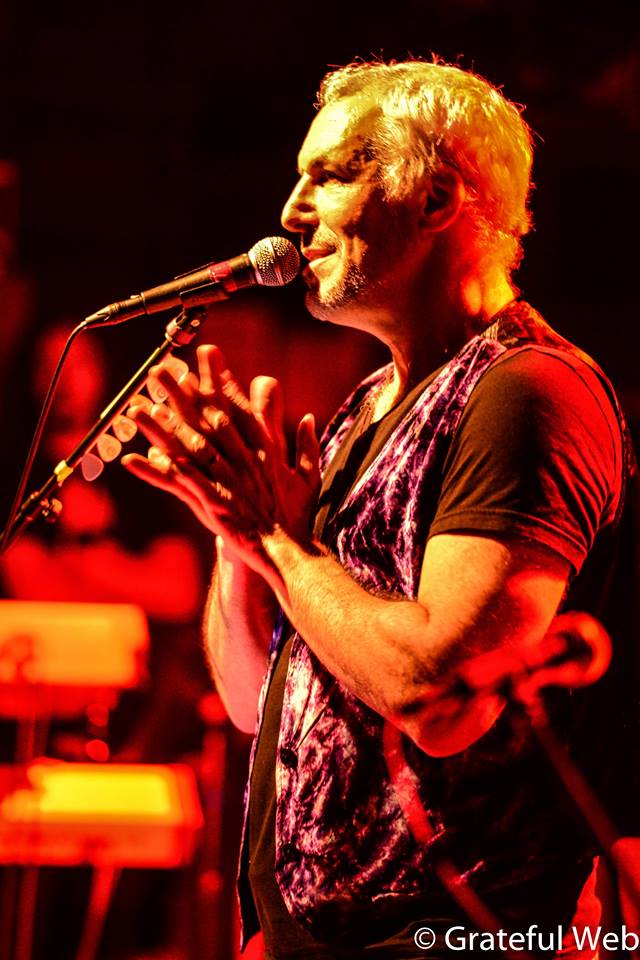 GW: Dylan Muhlberg of Grateful Web here. I am joined by jazz guitar icon Jeff Pevar. As 2015 marked the 50th Anniversary of the American Rock Institution Grateful Dead, the guitarist revived Jazz is Dead, a legendary project lying dormant for a decade. The ever-evolving instrumentally driven tribute to the Dead has seen many brilliant players with groundbreaking compositions and interpretations.  Today we are here to talk about the 2015 revival and what's different this time around. Thank so much for joining me Jeff.
JP: It's an honor to be here Dylan. We appreciate all the work you're doing to spread the music and love. It's more than just music. It's community and a chance for the tribe to celebrate this legacy.
GW: Beautifully put. I think it's notable that there's so much more [musical] activity happening other than Fare Thee Well or Dead and Company.
JP: Yeah, it's great to be a part of it.
GW: So you're on tour with the band out East right now. How is the band gelling? Who else is part of the band this time?
JP: This is such a labor of love. I could not be happier that this is happening in this space and time, a divine intervention of sorts. We have an incredible lineup of musicians, including two players that were part of Jazz is Dead back in 2000 when I first joined the band fresh off of my tenure with Phil Lesh and Friends. This has always been a collaboration of jazz-fusion musicians who were equally improvisational at their core.  This is less of a tribute than an interpretive ensemble where we honor the iconic compositions of Grateful Dead. We utilize the melodies and interpret different forms to celebrate the music by playing new types of grooves, pulses and feelings.
Jazz is Dead was conceptualized by Rod Morgenstein and Alphonso Johnson, both who are on tour with us. T. Lavitz was the other founder and he passed away five years ago. We miss him dearly and he was such an important part of the direction of this band. I first heard Rod's music through his band the Dixie Dregs that T. Lavitz was also a member of. And him and Alphonso welcomed me into this. Of course Alphonso was in Weather Report and Bobby [Weir] and the Midnights. I was entirely beside myself with joy for the opportunity.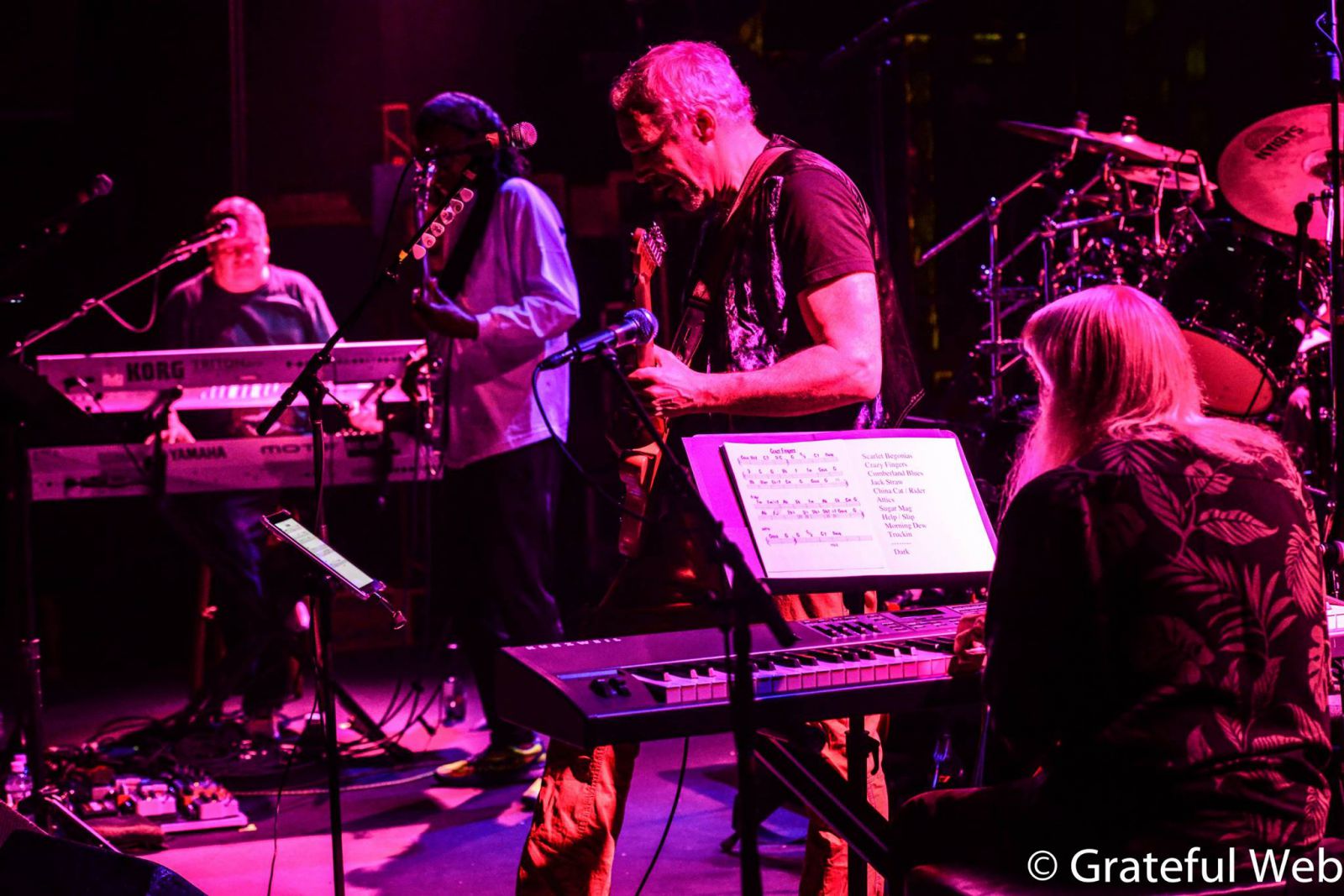 This time around we also have Tom Constanten, who was of course a member of Grateful Dead in the late 1960s and recorded on their second, third, and fourth albums with them. Tom is just playing his heart out and adds his legacy and history to the band. We have another keyboard player, Chris Smith who has been playing with Jefferson Starship for twelve years or so. It's really beautiful to hear the interweaving between the two keyboards. From the first performance with this lineup it really gelled. The combination of musical personalities has been stellar. Every gig thus far with this ensemble has been amazing.
GW: That's awesome Jeff. I'm sure a lot of fans thought this project would never see the light of day again. But here it is again with this new/old ensemble. My favorite quality of Jazz is Dead is that they don't parrot the melodies of Grateful Dead note-for-note.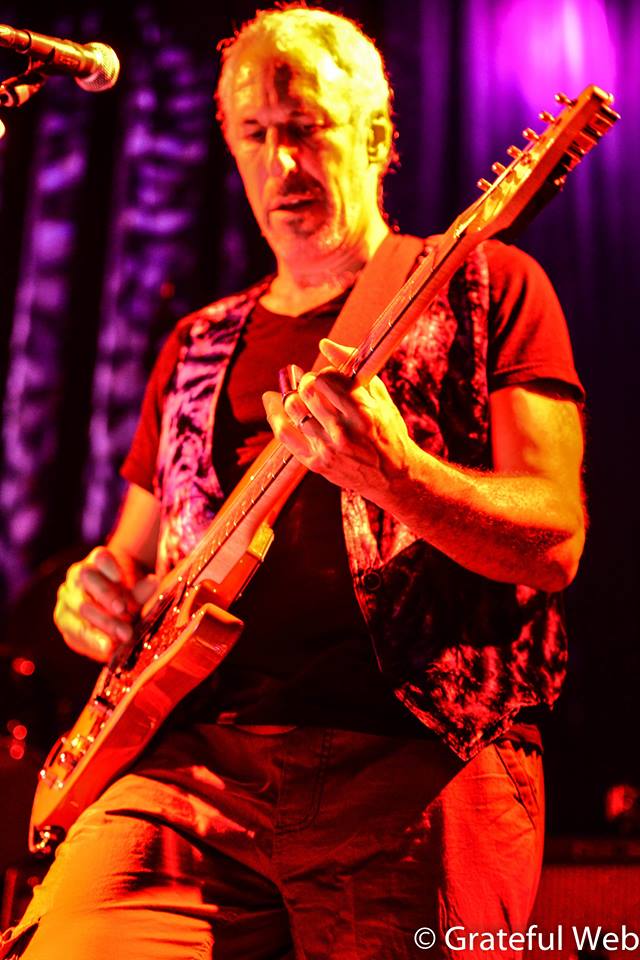 JP: Thank you.
GW: Do you feel that there's an elitism factor or stigma in the straighter jazz community regarding the music of Grateful Dead or jam bands more generally?
JP: There are so many monikers and titles. Is Jazz is Dead or isn't it a "jam band?" Really, how do you label music? Music should be beyond labels and titles. There are so many facets to this music. You're combining all of these profound musicians with diverse backgrounds. It's as of you were making a bouillon base and all the spices influence the final dish. Labels are always limiting.
GW: I like the analogy. Let's talk about your history with Jazz is Dead.
JP: I got invited into this band knowing full well the abilities and familiarity with the music that these guys had. I had my prowess in the way of melody and lyricism. One of my concerns were the countless arrangements I had to master in order to serve this music to the fullest. When I was invited to rehearse arrangements back in 2000 on my first Jazz is Dead tour, I came in with a lot of work done. I came up with a lot of rearrangements. Like in my reworking of Sugar Magnolia, I found myself quoting Little Feat. I decided to bring in a slide guitar and made it swampy. It's been such a great opportunity as an arranger and composer to utilize this world-class ensemble to fantasize about the musical possibilities and then bring it all to life.
The combination of everyone ended up being so compassionate. And our new album, Grateful Jazz is comprised of these arrangements that have been played for a number of years. It was my interest over a decade ago when I brought the band into the studio to catalogue these arrangements. So Grateful Jazz is document of these arrangements and was long in the making. We have some really stellar guests on the record including Jerry Goodman (fiddle; Mahavishnu Orchestra), Howard Levy (harmonica; The Flecktones), Bill Evans (saxophone) and others. We used minimal overdubs mostly involving guest appearances. I couldn't be more thrilled with the outcome of this record.
GW: I think a lot of fans are ready for this. It's the bands first studio album since Great Sky River (2001). It really does stray away from any sing-songy familiarity. There truly is this interpretive edge with reworking the melodies as you have already mentioned.
Was there a stylistic intent going into the studio? The track selection is kind of a musical schmorgesborg of the Dead.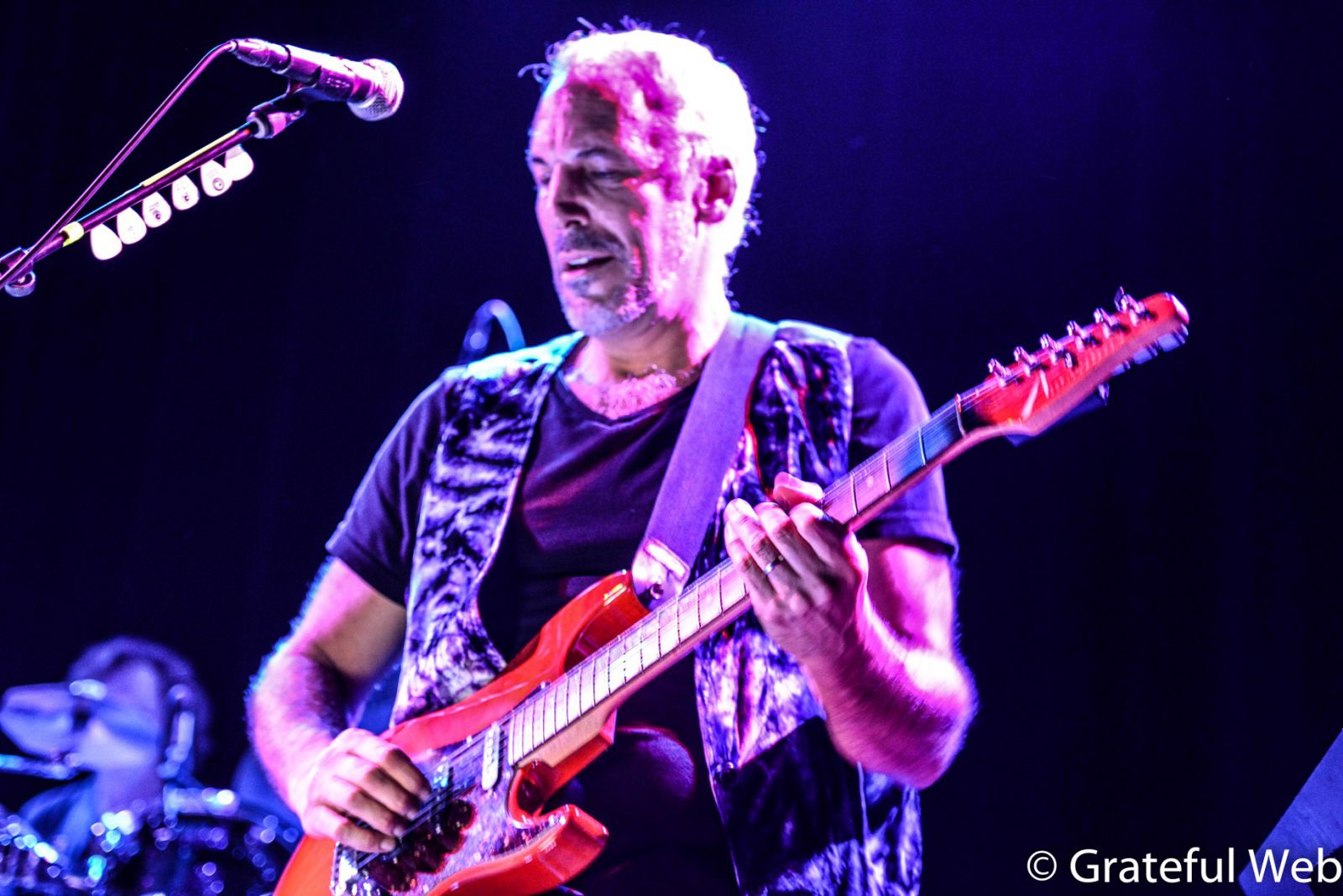 JP: First off we didn't want to record any songs we had previously put out on other albums. We wanted to honor Grateful Dead songs that were strongly immortalized in the catalogue. You go into the studio and it can be luck of the draw. I am proud of our work on this record. I'm proud to say it's some of my best-recorded work. There's something that happens when you surround yourself with musicians who inspire you to play over your head, to attempt things you would never attempt otherwise. An environment of playfulness, experimentation and exuberance created this certain synergy. We're all in it for the same reason. We love this music. Then the music starts to play you. You're just a conduit for a greater energy that is bigger than any individual part.
The tracks on this record captured this moment in time, which was eleven years ago when we went into the studio. We did a version of "Dark Star" in one eleven-minute take. It was just ridiculous! We brought it Luis Conte, one of my favorite percussionists to add some conga and shakers. The song choices were pieces we felt inspired by. We went in and knocked it out of the park.
GW: And now you're taking these tunes out on an ambitious tour. Right now you're out East. You've already made stops in my home state of Colorado in both Boulder and Denver. You're ending up in the Bay Area for the Sausalito Music & Arts Festival too. Select gigs all over the place.
I think it's incredible that you have Tom Constanten in the band this go-around. He's such a key element of Primal Dead.
JP: I couldn't agree more. We are honored to have him and the shows have been amazing with his contributions.
GW: Anything else you'd care to share about Jazz is Dead in 2015?
JP: I'm in such gratitude for having the opportunity to celebrate this music. It's been so fortunate as a self-taught musician to be able to honor this iconic music. For many years I worked with David Crosby and his son in a band we called CPR. I really think he had a lot to do with Phil Lesh offering me an audition to play in his band. We hit it off and I ended up doing the tour in 2000. Kind of like the domino effect it landed me into Jazz is Dead. With Phil and Friends I had to learn seventy songs for one single run at the Beacon Theatre in New York City. We didn't repeat a single song in six nights. It's so interesting how things unfold in life.
I can't express how great it's been to reconnect with Al and Rod after all these years and to have Tom onboard this time. It's the icing on the cake to hear the legacy of what comes through in his playing. His solo work is incredible too; beautiful piano and harpsichord records that everyone should hear.
We are selling our brand new CD and happy that's going well. Admittedly after T. Lavitz passed the project was kind of lying dormant. We were all so dumbstruck by this sad event. T. Lavitz plays his heart out all over this record and this music needed to get into the hands of fans. Earlier this year I got invited to tour with Bette Midler that yielded some steady income for me to finally get this record out there. We mixed it and finished the record and they arrived one day before the tour. It's so exciting to not only play this music but also have this almost-lost wondrous recording for fans that are getting to experience this music once again. It's a thrill to be part of this musical legacy.
GW: I think your journey with this music is a beautiful story. Your collaborations with Jimmy Herring, Rob Barraco, John Molo and Phil Lesh were only the beginning of your journey with the music of Grateful Dead. The next chapter is here and we are thrilled.
I want to encourage our readers to catch Jazz is Dead on tour and also to get their copy of Grateful Jazz. At the moment the only online outlet to purchase the album is from Jeff's official site: http://pevar.com/music/jazzisdead-gratefuljazz Please support this independently produced recording that documents the Jazz is Dead legacy.
Thanks so much for sharing your stories so openly Jeff. I look forward to seeing you in Sausalito!
JP: Thank you Dylan. We're selling the album on the road and eventually on the Jazz is Dead website. We're not putting it on ITunes or anything like that yet. I can't thank you enough for spreading this news. People like you keep this music alive.
GW: It's my pleasure Jeff.