Grateful Web recently had an opportunity to speak with the multifarious Jeremy Garrett. The gifted multi-instrumentalist is best known as fiddler, singer, and co-songwriter of acclaimed progressive grass quintet the Infamous Stringdusters. On September 27th, Jeremy will release his anticipated newest solo release. The R.V. Sessions Volume 2 features Garrett slinging multiple acoustic instruments recorded in his R.V home studio. Garrett opened up about the new album, his life as a bluegrass musician, his continued joy of playing with the Dusters, and exciting collaborations with Grateful Dead bassist Phil Lesh in both intimate confides and as festival headliners.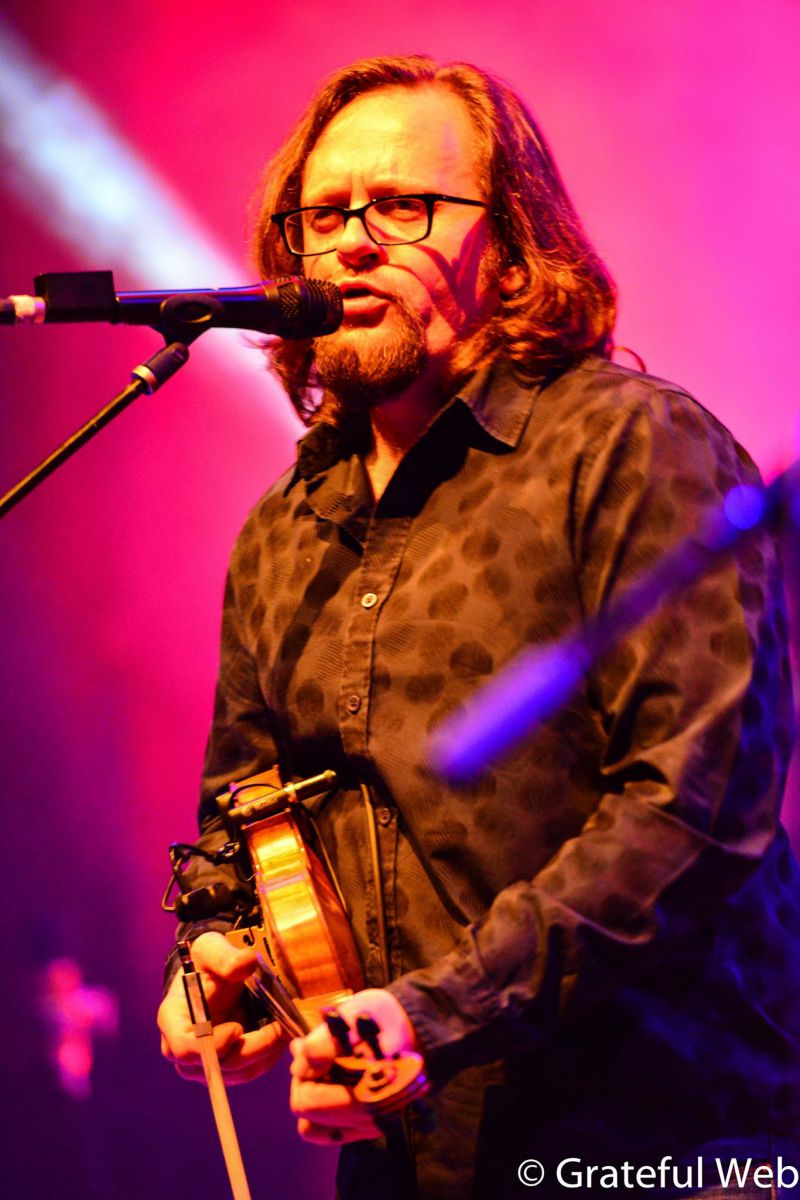 JG: Thanks for having me.
GW: Of course, I've been a long time fan. I've seen the band progress and change. It's been a beautiful thing to witness as an audience member.
Since the beginning you've had music in your blood.  You grew up with a musical family. Let's talk about your roots.
JG: Sure. I started playing violin at around three years old in a classical method. My dad was a bluegrass musician who played guitar. He also carried around this old fiddle that he got when he was just a teenager and never really played it. It sat in the corner, until he had me. He got me into it pretty young and I was singing pretty young too. I was big enough to play at age eleven or twelve, but I guess you could say I had my fiddle before I was born. It's always been around in my family, my grandpa was a bluegrass musician as well. Steeped in traditional bluegrass music. I played in some country bands when I moved to Nashville in my early twenties and did about thirteen years there. That's basically where we all met and put together the Stringdusters.
I met a lot of other heavy cats through the years and got into songwriting. I spent a lot of time doing that especially in the later years of my stint there. Eventually it became time for my wife and I to move on. We loved the West and both of us were high school sweethearts originally from Idaho. So we decided we wanted to head back out West because we love it out here. We didn't know exactly where. When we sold our house we couldn't wrap our heads around buying our next house somewhere we'd never seen. So we decided to buy an R.V. instead and travel around to see what places we liked. That was over two years ago now [laughs]. We've been all around the United States all the way one time. National and State Parks, spent the last winter in Phoenix and back into Colorado over the summer. It was an incredible experience and really inspired me record a lot of stuff. Instrumental music would come to my head because of the landscapes that I see. I'm a very visual person like that.
GW: Hence these R.V. Sessions, now in its second volume. Were any of these tracks previously contrived or written? Can you talk about the altered creative process of traveling in the R.V. on the road?
JG: I went into it thinking that everything I played needed to be recorded. I carry around decent recording gear in my rig wherever we go. If I can find a quiet place to park my rig I can fire up everything. I play guitar, mandolin, fiddle and other instruments as well and sing all of the parts without guests. The first volume featured vocals with co-written lyrics whereas this new volume is all instrumental. I've never done an instrumental record before. It stems from inspiration I have from other people I highly respect in our industry like Jerry Douglas, Sam Bush, and Béla Fleck. All these guys that we admire in our industry have pursued instrumental music.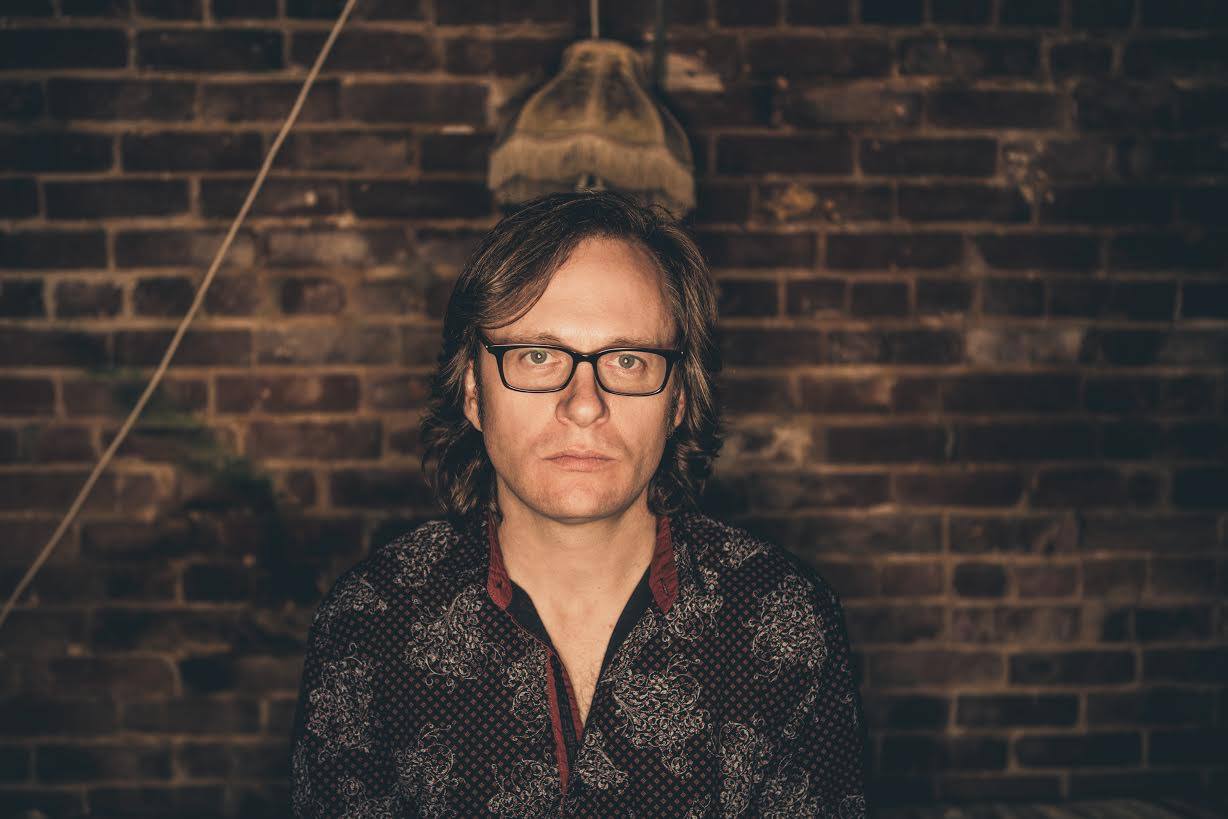 I was still longing for that and I have all these melodies floating around. It comes in different flows. It might come to my mind as I'm driving down the road and I'll record it in my voice memo, then later I'd have the chance to sit with guitar and mandolin to figure it out. I just build my tracks while trying to keep everything natural, raw, and less produced.
In the Stringdusters for all five of us we share the stage and everything in the decision making process. I love it. It's amazing. If you're an artist like I am you still feel a longing for a little bit more. I've played guitar and mandolin my entire life and there's not really a currently a chance for me to incorporate that into our Dusters shows. I don't want to loose those skills and I also have a love for those things.
GW: Just to clarify, you tracked and recorded every instrumental solo. No other accompaniment? It's only you?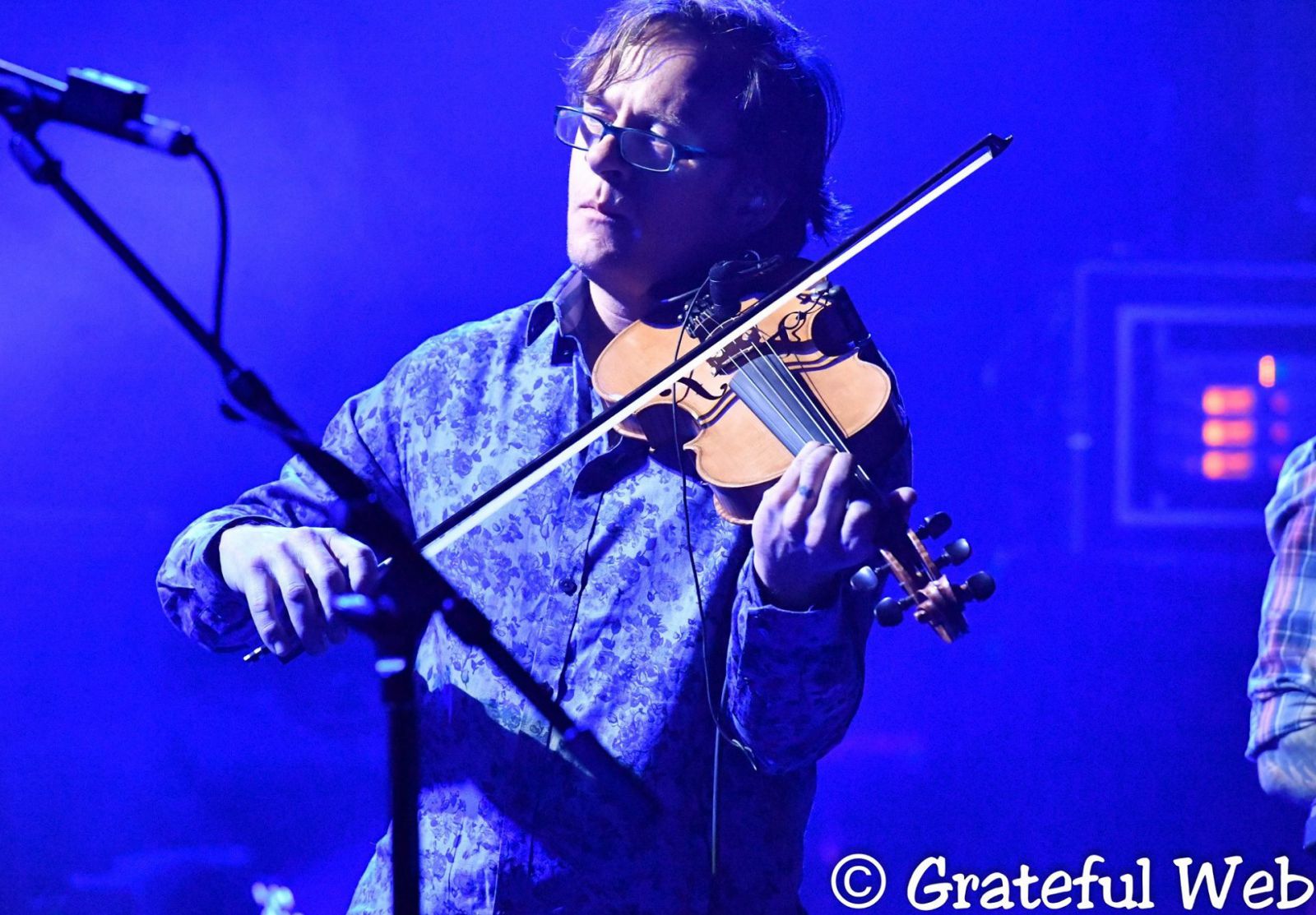 JG: It's all me baby [laughs.]
GW: [laughs] That's wild. When listening I didn't distinctly recognize that guitar or mandolin player accompanying. All you. That takes it to a new level. Making this organic sound all on your own, evoking music like Marc O'Connor, New Grass Revival, and Strength in Numbers, without sounding like it's all tracked in some studio.
JG: Thank you.
GW: You just expressed a longing for alternative musical outlets beyond the Dusters. Obviously Infamous Stringdusters have progressed and evolved. The newer albums aren't exactly Newgrass. How do you feel about the direction of the band, the songwriting and the stretches from where it all began?
JG: It's art. What I mean is that there's some bluegrass bands that carry more of a preservationist vibe. They want to preserve that original bluegrass type sound. We've always tried to tap into the creative and artistic role of the music by pushing the boundaries of that. Not necessarily trying to get so far out that we're trying to be abstract artists, but growing and continuing to evolve into our strengths. Each individual guy is progressing in what they do all the time. I feel proud to say that we're in the absolute prime of what we're doing right now. I feel like every guy is playing his absolute best stuff and writing their best songs right now.
We did a bunch of Dusters records and have grown the whole way. For the last record [Ladies and Gentlemen] earlier this year we wrote all the songs then put more of a spin on it with lady guest artists. Some of those songs were more artistic in that way, perhaps more on the feminine side compared to what we might have historically done at our shows. But now we're beginning another new record that we're about to go into the studio to start on this Saturday actually. We have around fifteen really great songs that we're exciting about trying to record and seeing how they turn out. This one is going to be the quintessential Dusters project for me. I've been looking forward to the shows and recording with the guys.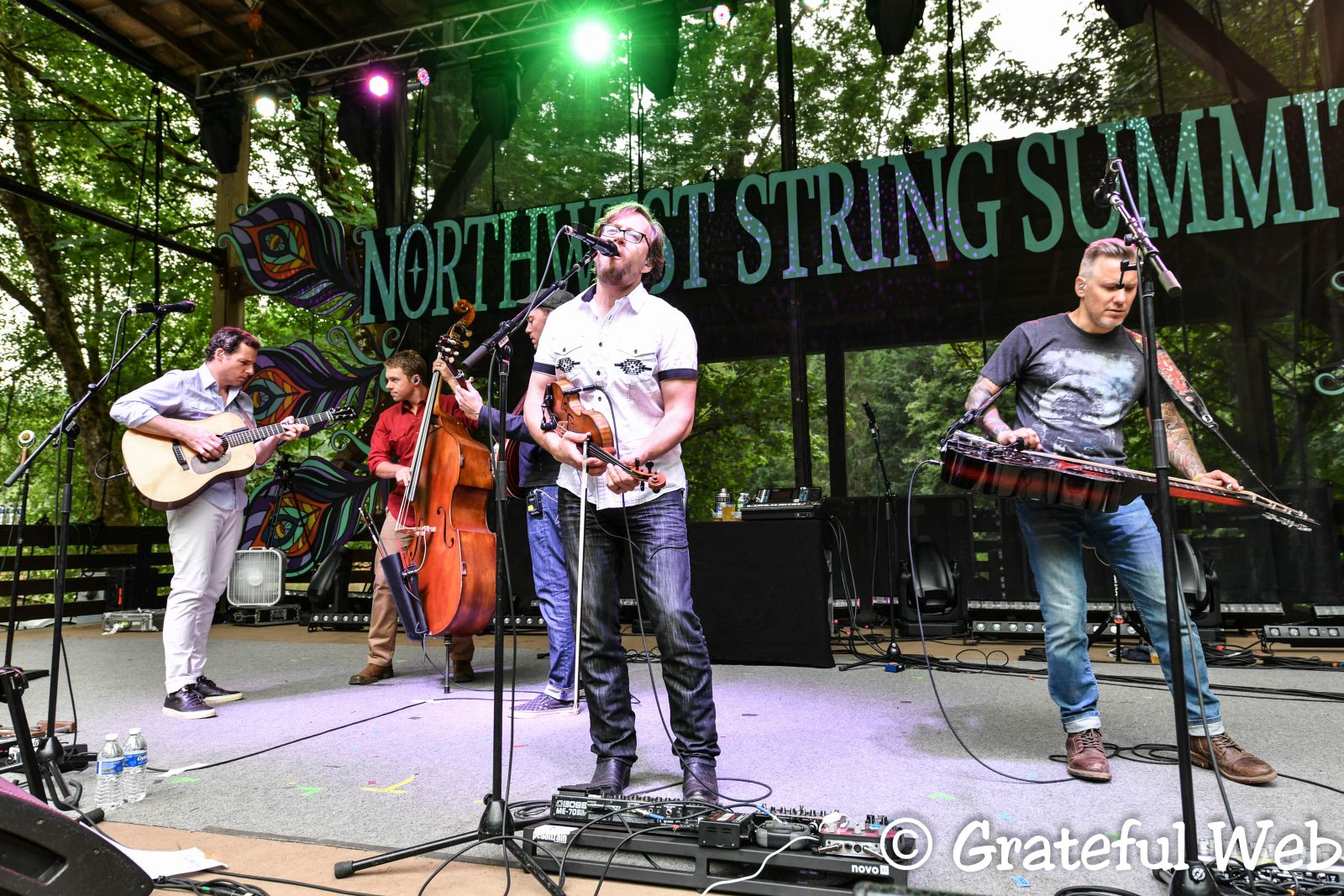 GW: It's really been a journey for you guys. To have the membership switch (guitarist Chris Eldridge for Andy Falco) in the 2000's, and scaling the Dusters down to the quintet that you've been now for years.
It sounds like you guys are at a healthy moment as far as individual voices being heard. Do you feel like the Stringdusters function diplomatically like that?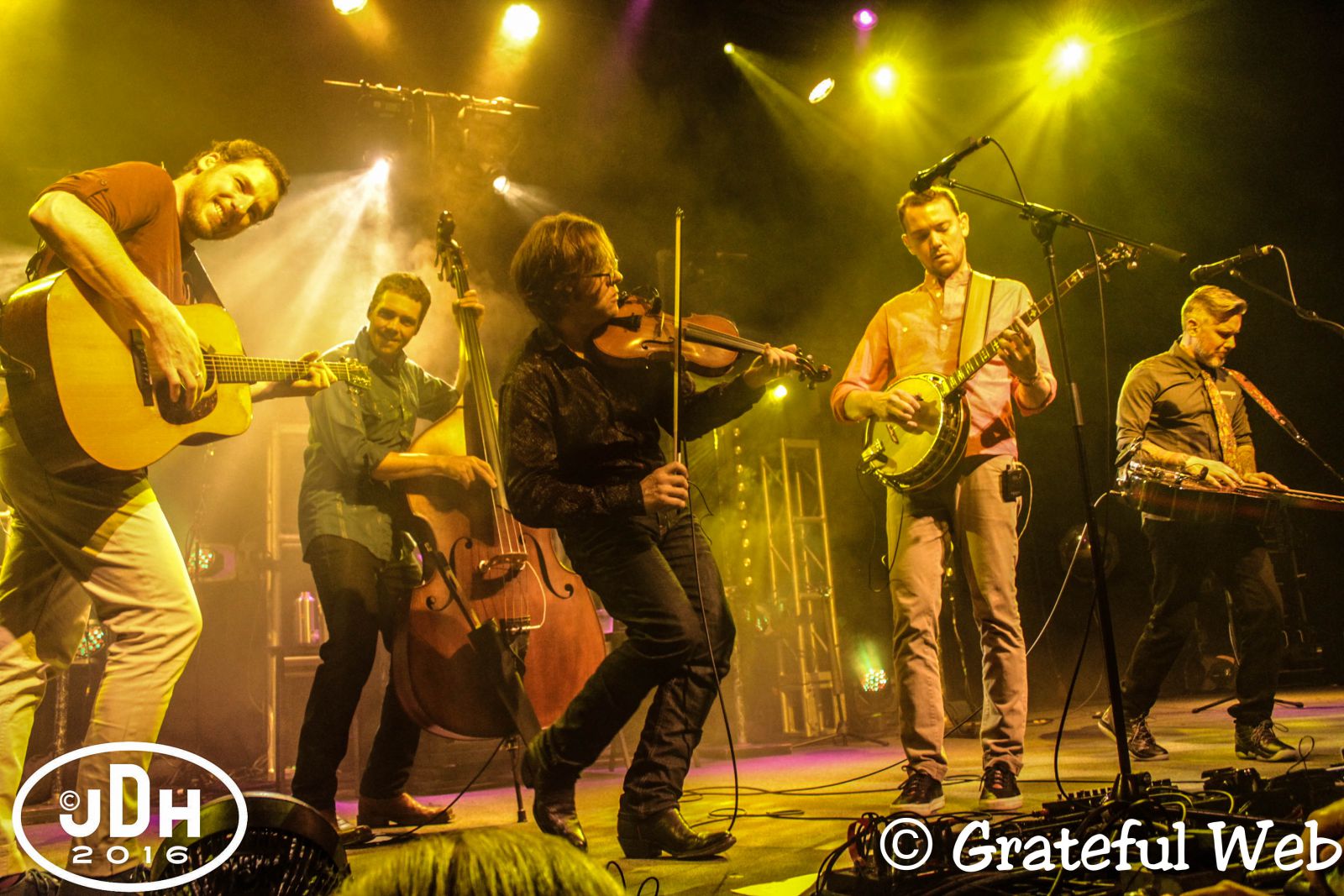 JG: Absolutely, we are a full-on democracy. I've always tried to be part of something like that in bands past. This is probably the truest of that I've ever been involved with. I think we're all great at playing to our strengths and not just watering everything down simply for the sake of sharing. I feel like everybody is strong enough individually that we all know that we share this thing because that is our strength. Though we are all individually good we are collectively better. Strength in numbers as you mentioned earlier. We are definitely a team. We've done so much music, hung out so much, and know so much about each other that it's very family-like. With that can sometimes come that sort of funny dynamic. Also, from that is some of the best music all of us will make. Hopefully we continue down that path. On some of these songs it feels like we're able read each other's minds [laughs].
GW: No hyperbole, a few years back at Telluride Bluegrass a bunch of my friends and I collectively recall your late night show at the high school as the highlight of our collective experiences at Telluride Festival.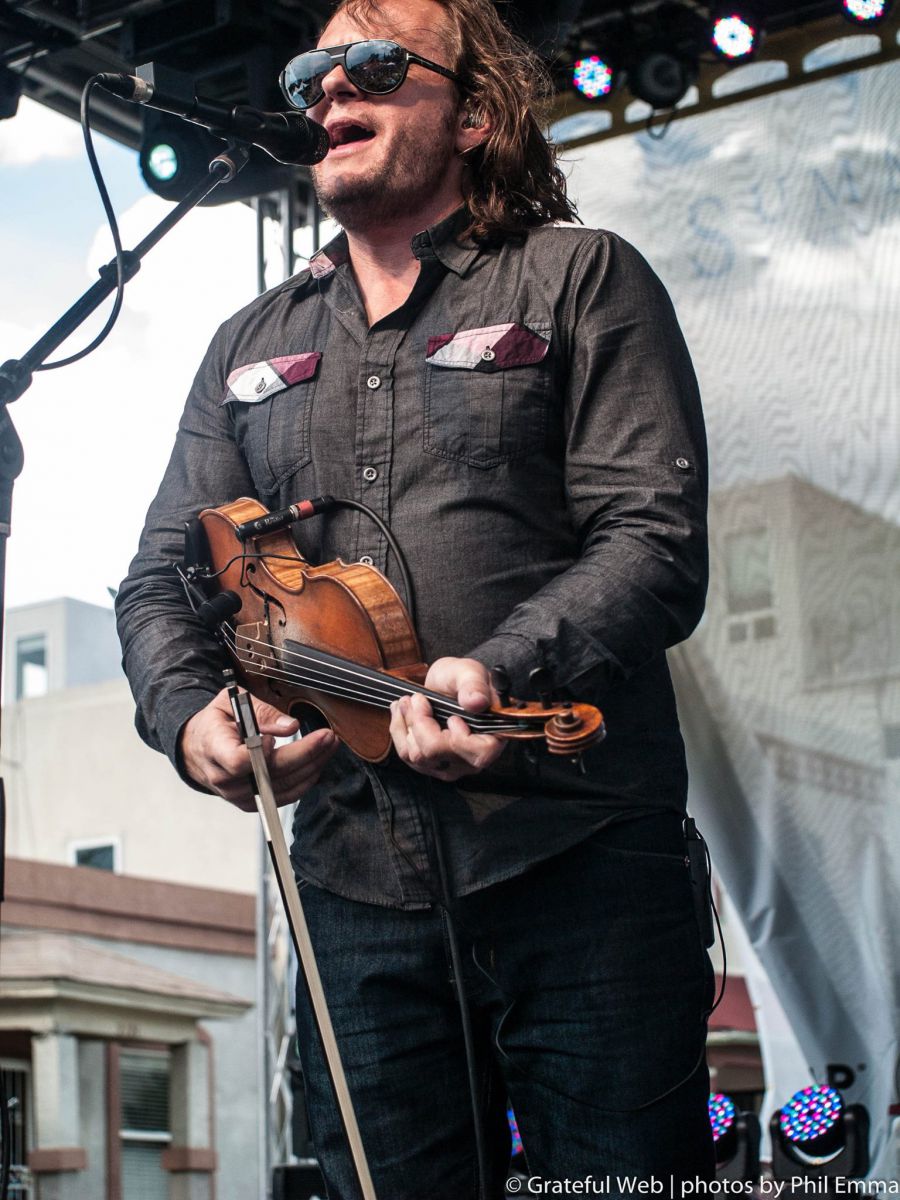 JG: Thank you.
GW: I truly believe you guys don't fit into that "jam grass" thing. You do your own thing and it's really great that you each have your own voice in the band.
Back to R.V. Sessions, you excel at songwriting and singing. Some of the best songs off [Infamous Stringdusters albums] Silver Sky and Let it Go are yours. It's all instrumental this time around. What was the thought behind recording a mostly instrumental record from someone with those other strong attributes?
JG: I studied fiddle playing, especially bluegrass fiddle, in my younger years. I've known all about the contest-fiddling world and have known fantastic fiddlers. In bluegrass, individual instrumentalists will bust out their featured solo record. Maybe they'll do a series. I'd never done that and I felt a call for that. I've tried to be smart about my branding myself not only as a fiddle player. I've tried to be careful about that over the years and I wanted to feature my fiddle playing on this instrumental record. It's almost like a fiddle record, with the other instruments accompanying. It's not a fiddle record in the traditional sense as far as to say that these are not necessarily compositions either. It's somewhere in the middle of that.
GW: When you look at the legendary mandolin/fiddlers of progressive grass, who play at a certain level of musical understanding, of course they cross over and play other instruments. It's helpful to show your fans or even yourself your capacity to record with full instrumentation of more than what you're ordinarily able to share onstage. It's a milestone.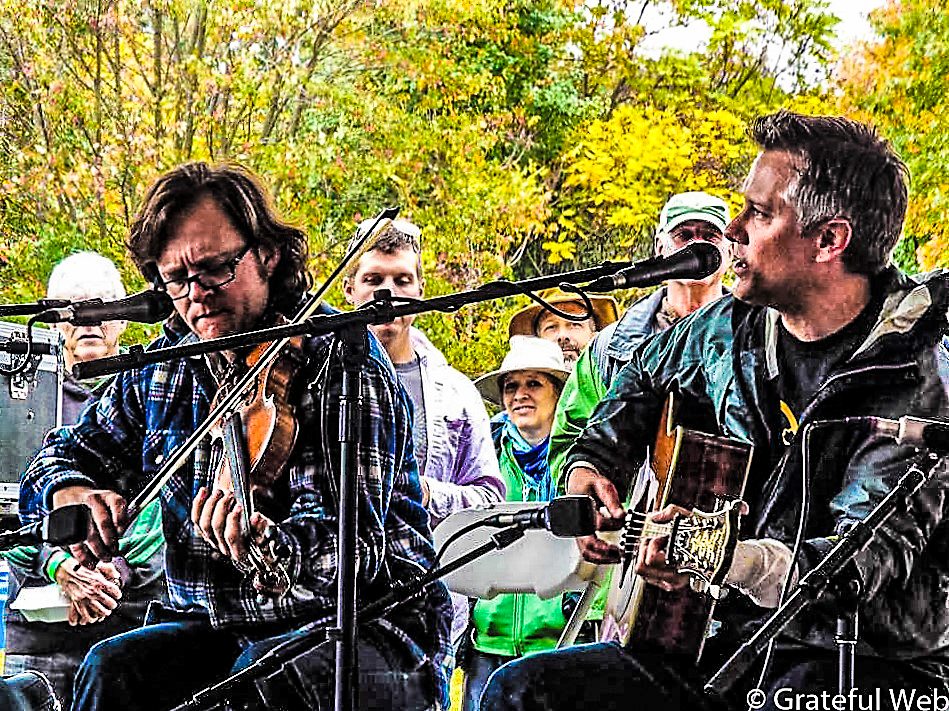 I hope you don't mind if we shift gears for another exciting current topic. As somebody who lives in the Bay Area, and being a big Grateful Dead and Infamous Stringdusters fan, it's obvious that Phil Lesh is fond of your guys. You guys at Lockn' Festival earlier this month with Phil and Anders Osborne and the special drummers [Joe Russo and Jon Fishman] played as the entire stringed accompaniment for Phil. Quite an interesting set of music.
JG: [Laughs]
GW: This isn't something Phil normally does, playing with a fully acoustic band. You played acoustic arrangements of classic electrified Dead tunes like, "Terrapin Station" and "Scarlet Begonias." How did these two different musical paths merge so successfully?
JG: It's been an amazing acquaintanceship, maybe more than that by now. He's been so kind to us, sharing his stage and letting us play at Terrapin Crossroads. Our guitar player Andy Falco is probably the biggest Grateful Dead fan having seen the band fifty-plus times. I think he knows every Jerry Garcia break and jam, all the chords and different parts. Out of Andy Hall, Travis [Book], and [Chris] Pandolfi I am probably the least familiar with the Dead's material. I came from the whole traditional bluegrass side so naturally I was aware of Old & In The Way and that bridge we talk about sometimes. If I'm at a percentage I'm nearing 70% on the Dead material [laughs], I'm getting there! I've had such a blast being part of it and Phil's been so kind to us. His whole crew and family is so great and genuinely kind people.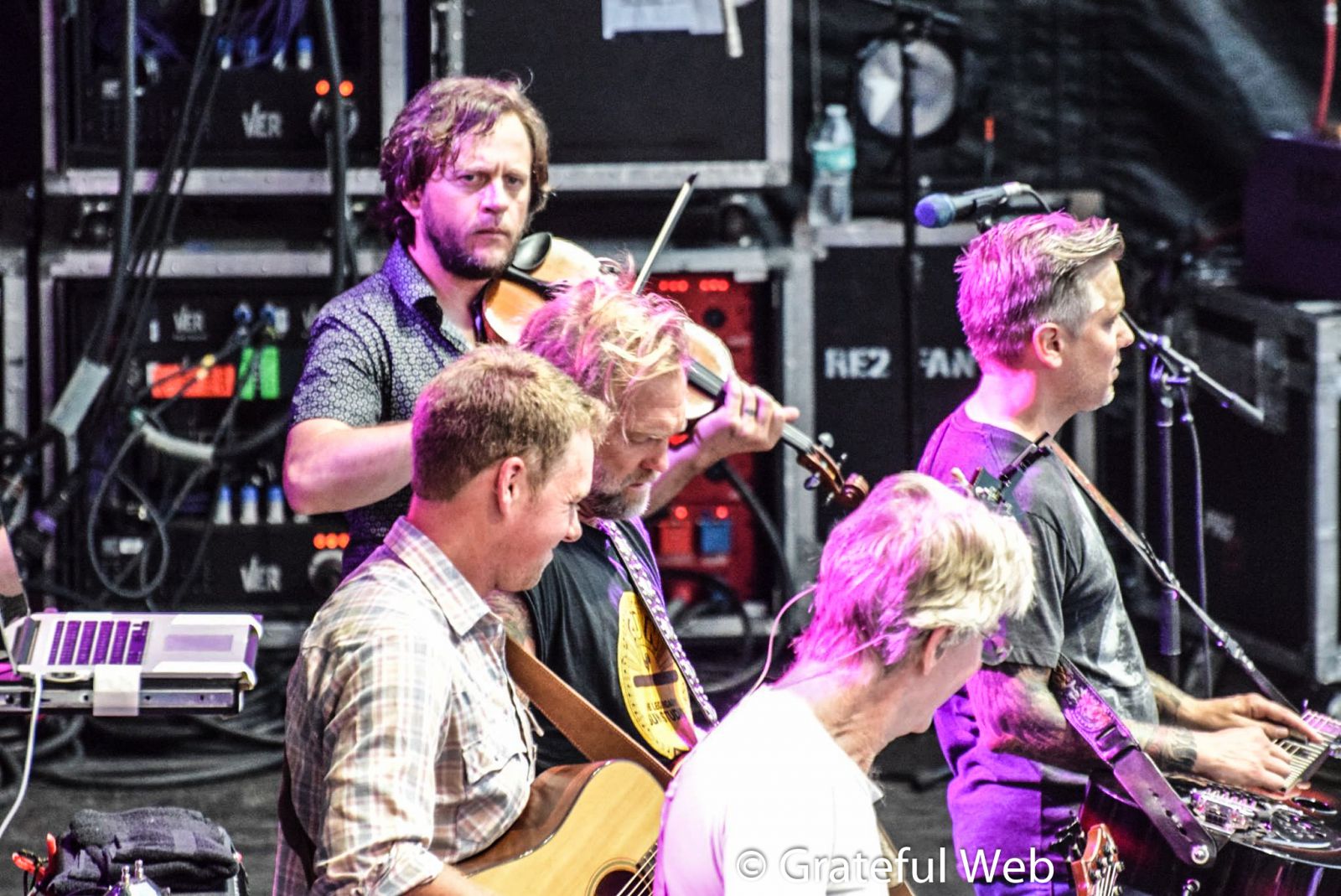 But a funny story about the Lockn' set was that Phil was on his way in a charter plane and the door jammed. So it made him super late. He was so late he needed a police escort to get to the festival on time! We were on a rotating stage, just waiting there. As soon as he got there he walked in, strapped on the bass, and the stage started turning around and we started playing music. We didn't even get to say hi before the show [laughs]. He was such a pro and we had rehearsed earlier that day so the music went great. It was really fun.
GW: It's testament to your collective virtuosity. Not only on tunes like "Rosa Lee McFall" or "Dire Wolf." Those acoustic tunes are more typically suited for your instrumentation. This time around you guys tackled those big electric tunes.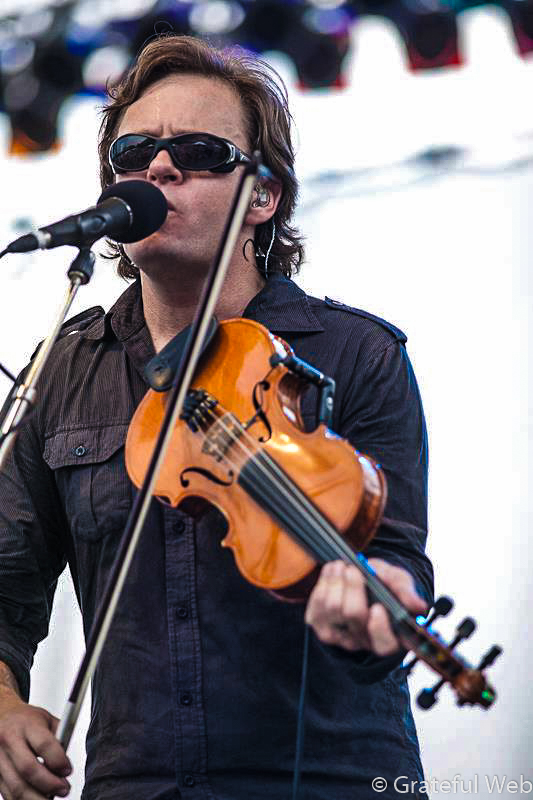 JG: It's really amazing how those tunes go on. It is fun to try to pick them out on acoustic instruments for sure.
GW: Keep up those collaborations. I look forward to seeing Infamous Stringdusters at Terrapin Crossroads on October 1st.
Your music sits nicely in both the progressive and traditional canons. A live setting is where the fire happens of course. Has your popularity in the festival scene aided and motivated in evolving the music you play? Is it possible to balance the expectations of others while also fulfilling you own vision?
JG: That's a really great question. I'm probably more so like this than some musicians, but I do best with my own originals. I struggle more with covers. It's more challenging and takes more artistic energy for some reason. I get more satisfaction out of my own material. As long as that's happening, I'm happy. Other band mates of mine have differing opinions on this. Sometimes you want to play these cover songs. People want to hear things they recognize. Sometimes that's a gauge for people to know if you're good or not. Can you play songs that they know? What is it that you do? Where is your talent? It's also just good fun sometimes to play songs everybody knows.
It's hard to gauge those opinions. I feel like we had some mixed opinions on our latest Ladies and Gentlemen album. We gained a lot of new fans but some of our others fans expressed to us that though they thought it was cool and were excited for us, that they wanted to go back to the way things were a little bit more. As artists, while we want to give our fans what they want we still have to choose where our heart is. And I think we are headed back toward that direction that so many of our fans have expressed adoration about.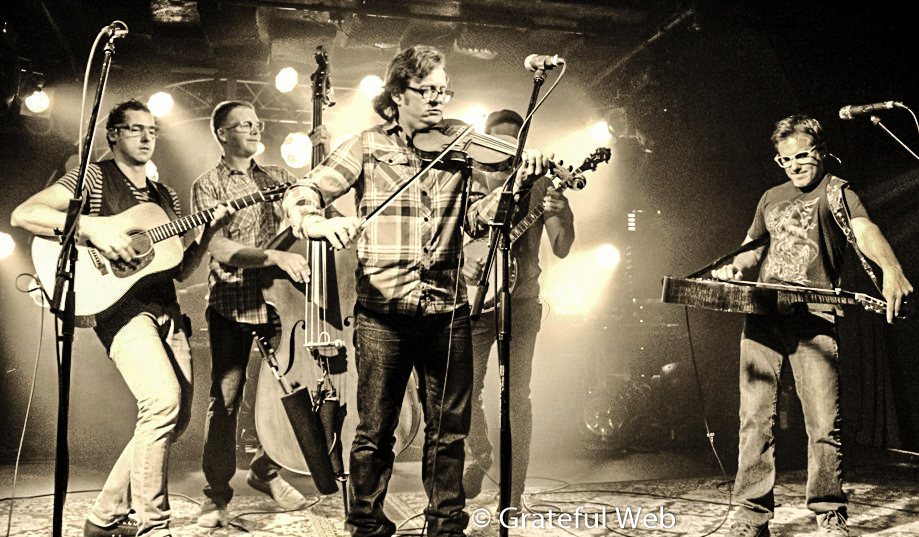 The whole reason we put the Stringdusters together is because we all wanted to play in our own band. We'd all played in previous bands paying our dues. And like we previously touched on it was a democracy with no "front man." When we put this band together it was about continuing to explore our own creative desires in that way. Since that was our founding principal I feel like hopefully we'll follow our own path mostly, but definitely listen to our fans and hear about what they like. We respect that. We have some very amazing and supporting fans. It's not unlike the Grateful Dead whose business model I deeply respect and have learned so much from.
GW: You're in a good position because you have core fans that I believe really respect your artistic direction. Hopefully you guys can find that balance. Whenever I see you guys regardless of whether it's the newest or lesser-recognized songs it's always you guys, it's always The Dusters.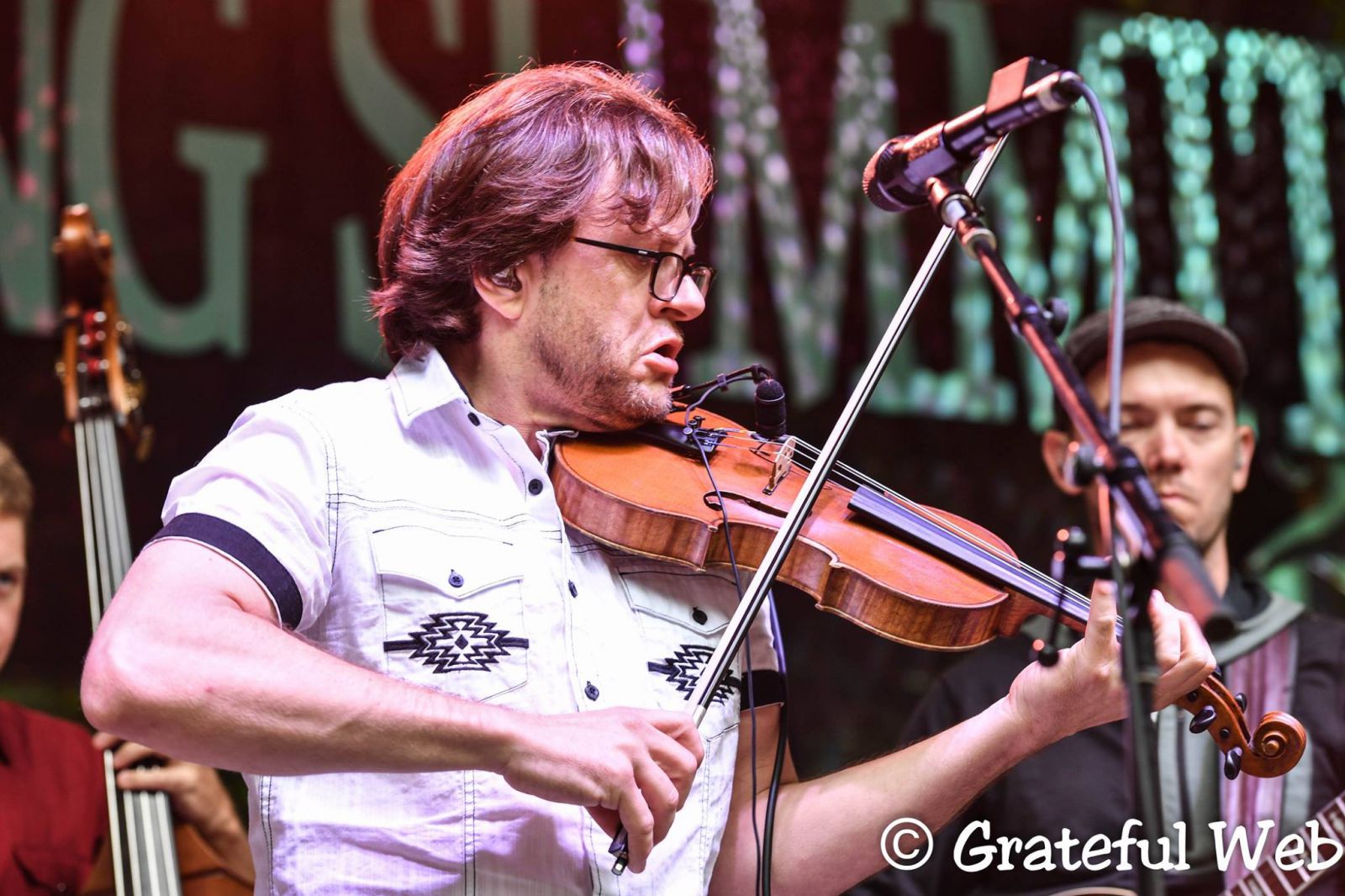 Jeremy Garrett continues to tour regularly with Infamous Stringdusters. Go to Jeremy's solo site for info on the upcoming release of The R.V. Sessions: Volume 2 that's out September 27th. We thank Jeremy for an insightful chat and know the Duster's will stay true to their fans and their own hearts.