Grateful Web recently had a chance to speak to lead guitarist for Widespread Panic, Jimmy Herring.  Jimmy talked about playing in numerous bands, getting ready to do a solo tour and Jimmy's brand new studio album, his brand new studio album, Subject for Change Without Notice, due out August 28th.
GW: Today I have the privilege of interviewing one of the world's great guitar players. Jimmy Herring has colored so many musical textures in American Jazz and Rock music with his trademark style and fluid playing. He's the current lead guitar player of Widespread Panic, and brought the band back to new creative heights after the loss of their original guitar player Michael Houser. Now with Panic taking a break from touring, Jimmy has assembled a solo tour as well as a brand new studio album. Thanks so much for taking time with us today Jimmy.
Jimmy Herring: Oh it's my pleasure thanks for having me.
GW: Likewise our pleasure Jimmy. So, you've graced the stage with Panic, Phil Lesh, The Dead, and the Allman Brothers. Your playing always shines through as distinct and identifiable. How do you manage to preserve you own style while having taken the lead in so many other projects and bands?
JH: I don't know [laughs]. I don't know that I did. I just know it's an incredible gift to get to play with the people you mentioned. It freaks me out to hear you list them. For many of us those people are icons and it's been just a joy to play with them. When you go into a gig where you know somebody like those icons, I want to come in at least having an idea of their approach. It's hard to walk that line and know where to play how they play and where to play how you play. It's something I've struggled with. At least it's something I've thought about a lot. Like playing in Panic; Mike had such a distinct sound and its tough to know where you draw that line and where you play like you or where you play like the original. To me its important to know something about the original and where it was coming from, and even if you don't copy it, you certainly need to tip your hat to it. That's kind of the way I approach.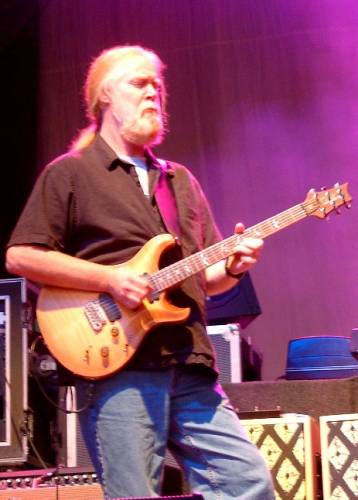 GW: Absolutely, and that was one of the most charming things about the Phil Lesh Quintet, when I first saw you perform. That was so awesome to see Lesh challenged and playing fast with you and Barraco, and Warren Haynes.
It's obvious that you were inspired by the Jazz Fusion greats of the 1970s. You've played alongside Billy Cobham, Alfonso Johnson, John McLaughlin. How has the style of jazz influenced your playing?
JH: It's a deep influence that started around when I was in high school. It's influenced me in many ways. One would be that jazz harmony is very evolved; it grabbed my ear when I would hear these people playing. I could tell the chords they were playing weren't the same as the classic rock of my youth. I would hear things and be like "What is that? That's strange!" It grabbed me. It exposed me to some technical players that were doing things that were very difficult to do and that influenced me in a big way. But as I've gotten older what I've realized is that music is just music and it's not always necessary to put label on things. "This is funk, this is rock, this is jazz, this is fusion, this is bluegrass." To me, music is music and I want to keep going in that direction and try to get to a point where the music has elements of all these things in it without sounding unnatural. All the great American music forms, you know, bluegrass, jazz, blues, funk. I want to try to draw from all of it.
GW: And your brand new album, "Subject to Change Without Notice", certainly does that. It has so many different styles of popular music woven in. Could you please describe the process of bringing together all these musical sensibilities, with the originals you composed and the songs you chose to cover?
JH: Yeah. In some ways I wish I could write enough music to not do a cover but at the same time, I do love a lot of different music. The covers we chose to do, hopefully haven't been done by a bunch of different people. I was really drawn to "Within You, Without You"; It's off Sgt. Peppers, which was such a groundbreaking record. I wasn't listening to it when it first came out, I was too young. I discovered it several years after it was recorded.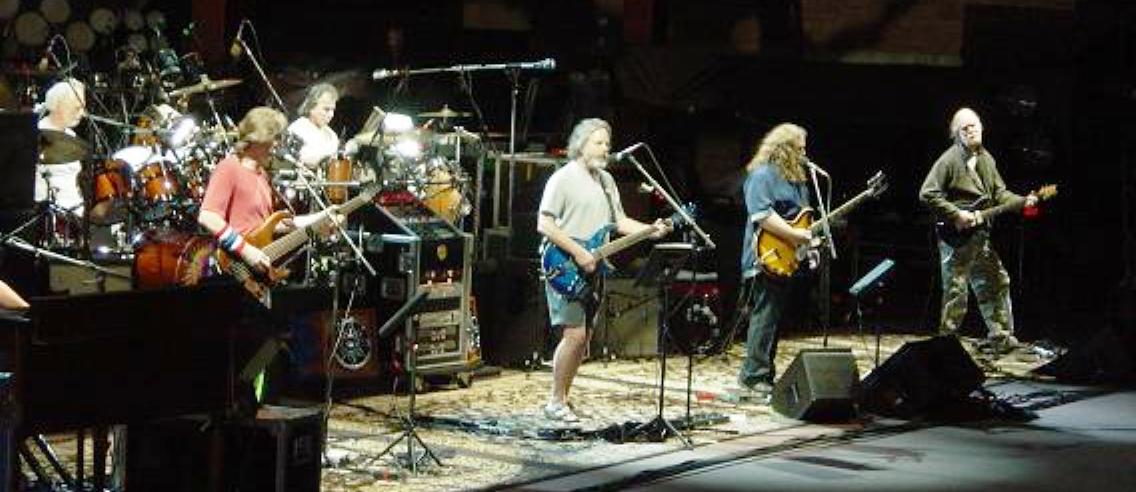 Anyways, that song was one that always spoke it me, and when I got older and started getting into Indian classical music. And "Oh, That's Alla Rakha, the greatest Tabla player ever." You know him and his son Zakir are about as great as anybody could ever get on the Tabla. As a young kid I never really attempted to play it, and of course later in my life I got into Indian classical music and started to see where some of the influences that George [Harrison] was drawing from. You know, you've got Ravi Shankar, and L. Shankar these are legendary Indian classical musicians who took improvising to a whole new level. The tune cropped up in my mind and I thought If I could somehow play the vocal melody and then we could have a groove behind it. And we don't have a Tabla player but Jeff Sipe is well versed in Indian music, he loves it. He came up with the great idea to put behind the vocal melody and we just ran with it. When we do a cover we want to try to do something with it, instead of copying the original to a tee, I am definitely a detailed oriented person when it comes to arrangements and such but I wanted to have a free section in there where we could improvise. So basically we played the song like it is on the record but we played a section in the middle where we could play free.
We tried to do a similar thing with the other covers. Another one was John McLaughlin's "Hope" off of the "Birds of Fire" album, which was also heavily influenced by the rhythms of Indian classic music. John McLaughlin is obviously in a class by himself. He's recreated himself with just about every record he makes and doing it for 40 years plus. I've been a big fan of his since my late teens. Through him I went back and started listening to the things he was influenced by and that lead me to a whole new development in listening to music. Of course there was Coltrane and Miles Davis, and it goes without saying, all the other great musicians he played with and admired, which again leads you back into Indian music. So the song "Hope" was somewhat of a mantra. I've been listening to it for many years now, and always loved it. But no one took a solo on it. It was a unique tune in the Mahavishnu Orchestra catalogue because no one took a solo on it. It was a mantra; there was no B section. In my mind I always wanted to do the tune someday. I was looking for the B section and then I wanted to solo over it too. So I tried that and basically re-harmonized the progression. It's not that complicated what I'm talking about either. I took the chords to the original tune and basically came up with the intro progression. Then going into the actual tune on the "Birds of Fire" record we had a B section, and we got Bill Evans, the great horn player to play on it. And I also took a solo off of the original chord sequence and melody. It was just something we wanted to do and had a blast doing it.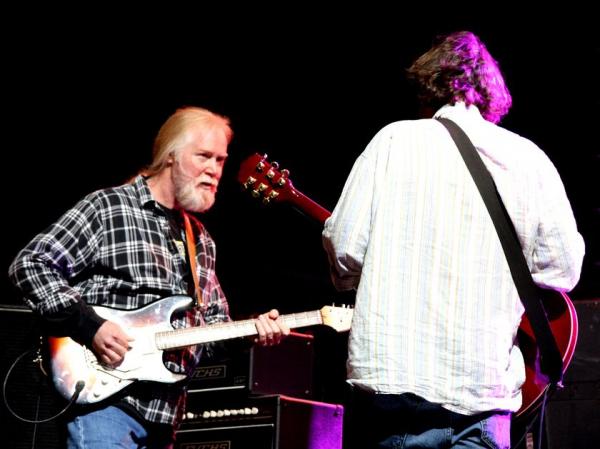 And then the other tune was a cover of Jimmy McGriff song "Ms. Poopie", off of a record called "Electric Funk" from the 70s.  Again, these are pretty diverse styles of music. But to me it's just a great tune. Some of the music is more challenging than others. To me a great tune is a great tune. Whether it's a punk tune or a beautiful melody or set of chords, or some sort of a fusion jazz thing. To me it's all the same thing, its great music. And that's where the covers came from just from us searching through different things that we love and we found these tunes we wanted to play.
GW: You definitely brought all of the above covers new life and flavor. Now, some of my favorite originals off of the album, the opening track "Red Wing Special" with, I assume that's fiddle player Nicky Saunders [of Steep Canyon Rangers] accompanying?
JH: Yes. It is.
GW: And then "Curfew" with Bela Fleck accompanying. You were talking before about how you wanted this record to transcend the idea of genre. What made you bring it the acoustic element more particularly on this record?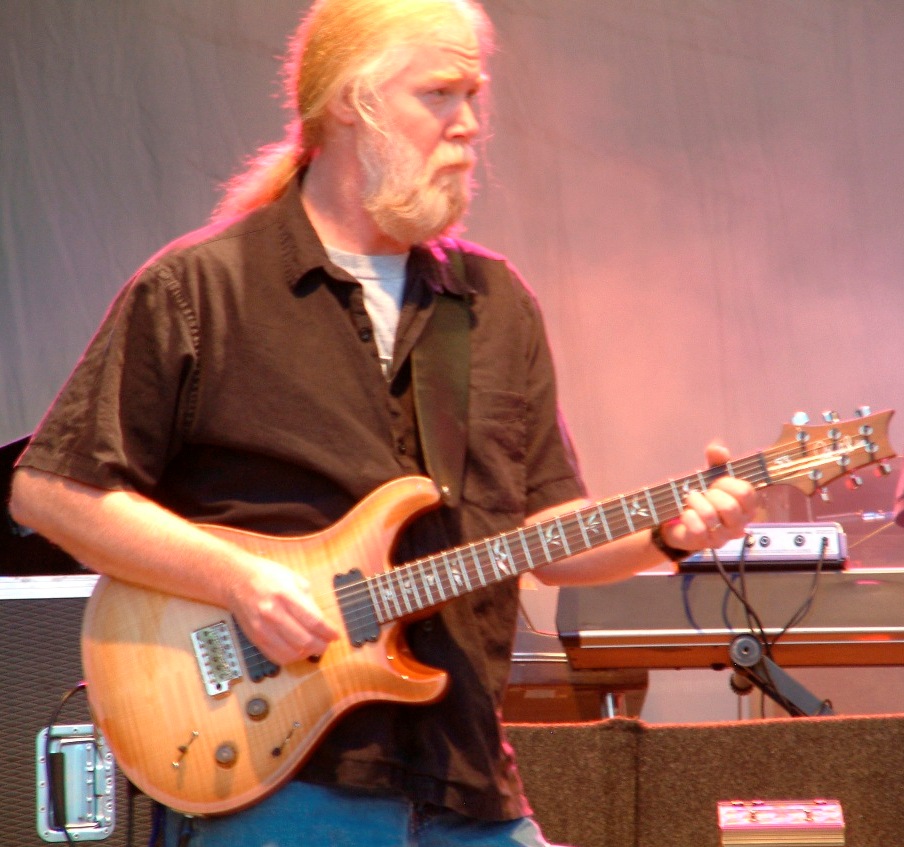 JH: Well we all know about Bela Fleck that he can play pretty much anything, we know this. Somebody I've admired since the first time I heard him play. Then I had the good fortune to meet him and play with him when we were playing with Bruce Hampton in the early 90s on the "Mirrors of Embarrassment" record and Bela came in and played on a couple of tunes with Aquarium Rescue Unit. And he came to some of our shows when we were on the road and in Nashville when he was off the road. I was struck by the guy and how down to earth he was. I always wanted to work with him again. There were times that I got to sit in with bands he was in and we got to play in that situation. We played with Bruce Hornsby together as a sit in and that was a blast a few years back. Then I had the fortune of playing with him at Warren Haynes Christmas Jam last year, Jeff Sipe, who knows Bela well asked, asked me if I wanted to sit in with this Christmas Jam with Bela and Bill Evans and I was like "Yes!" And Warren was kind enough to let us play in the Christmas Jam. I just felt a connection with him [Bela] and Bill Evans. I knew I would be making a record soon and was lucky enough to get them to play on this record.
And as far as that acoustic element you mentioned. When I saw Nicky perform with the Steep Canyon Rangers, I was really impressed. You know, he just took the roof off of the building. The band was so superb and the band knocked me out. And they were at the Christmas Jam and I got to meet them before even seeing them perform.  And when I met the mandolin player Mike, they invited us to come to the Variety Playhouse a few months later. And we did. The whole family went. My wife, and children, we went to their show and were just knocked out by them. I called Nicky, again through Jeff Sipe. And that tune "Red Wing Special" screamed of needing a fiddle player to play along with me and so he did an amazing job.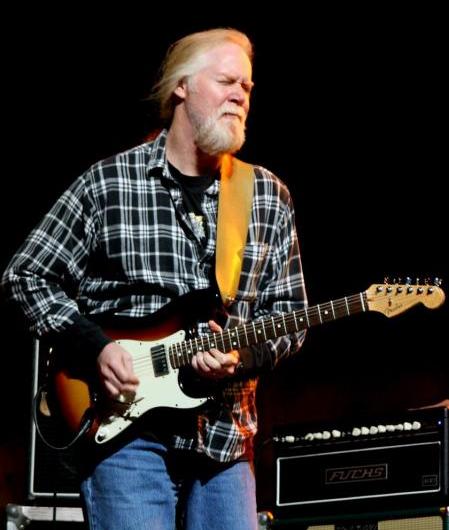 That wasn't acoustic for me, I was on electric guitar, and he was on acoustic fiddle. I just love the sound of his playing and I figured that tune would be a good vehicle. And as for Bela, I wasn't sure what Bela was going to play. Unfortunately I couldn't be in the same room with him when he did it. Our schedules were both so busy and he was in Vermont when we were cutting that track. So I had to mail the track to Vermont and then he went into a studio with his acoustic banjo and he laid the track down and sent it back to us.
Man, I hate that we couldn't be in the same room recording it together but when I listened to it, it was just a testament to how great of musicians these guys are because they weren't in the same room with us when Nicky put his fiddle part down, or when Bela put his banjo part down, or when Bill Evans laid down his sax, they weren't present in the studio with us.  I don't notice that when I listen to it, which I think is good. It just goes to show that If you want to play with people and they're not available, you just have to send the track. Which kind of sucks, but its better than not playing with them [laughs], you know?
GW: I would have had absolutely no idea Jimmy. It sounds like you guys are all-smiles together in the same room recording. It works, regardless either way.
Earlier you were talking about Jeff Sipe a member of your touring band a friend for so many years and so many different projects. You have five Colorado dates with him in the band, and a special headlining performance at NedFest in Nederland, Colorado. Five dates in Colorado, Why five dates?
JH: Well, we all love going there. It seems to be a state that is really open to music, and not just one particular kind of music. They seem to be really open to all forms of music. The Colorado audience supports people going out on a limb. There just happens to be a lot of venues in the state of Colorado that support this kind of music. And when we were told these are all possible places to play in Colorado I said, "Let's do it. We're there. It's a long way from home. We might as well play as many dates there as we can." And everybody there is so wonderful and supportive. And everyone knows its one of the most beautiful places on the Earth so it just seemed like a win-win for everybody to go there and play.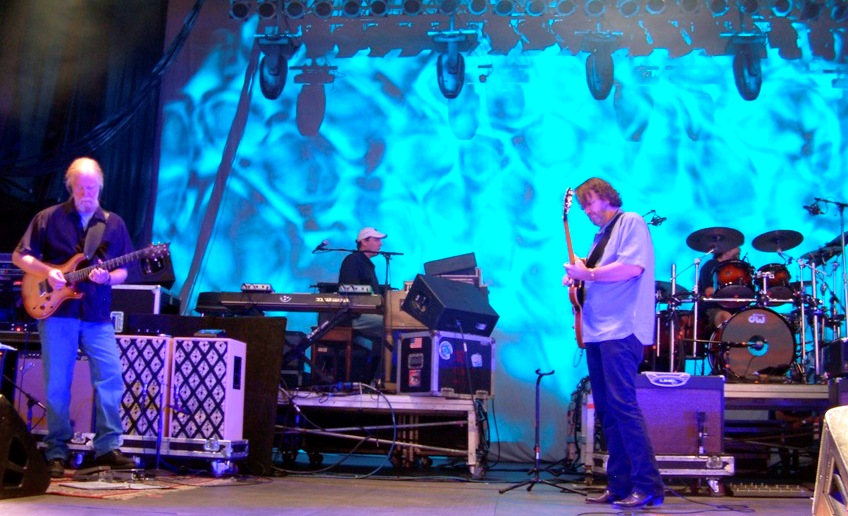 GW: Absolutely, and the tour is obviously going everywhere. It's in the South, The North East, the Midwest. I wanted to encourage readers to buy and listen to "Subject for Change Without Notice" due out on August 28th and catch Jimmy out on the road.