Pat Mastelotto joined iconic English "Progressive rock" originators King Crimson back in 1994. His years as a stalwart L.A. session drummer brought him to audition with Crimson's founding guitarist and (undefined) bandleader Robert Fripp. The rest is history. Mastelotto's diverse style lent itself to their groundbreaking double-trio format which deeply expanded the ensembles live spectrum of possibilities. In deep conversation with Grateful Web's Dylan Muhlberg, Mastelotto opened up about his formidable years, ambitions, joining forces with Crimson, and since then never playing the same way twice.
GW: You're a Northern California native and got your start in your teens in Los Angeles. Do you recall your ambitions as far as what types of acts you wanted to gig with? With whom did you end up breaking into the scene with?
PM: I was born up in Chico and was raised all over Northern California and The Bay Area. In my senior year of high school the band [I was in] moved to the East Bay. When that band imploded was right around the time I moved to L.A. My dream at the time was a fascination with these  'studio drummers' that were showing up on a lot of records, specifically Jim Keltner, Jim Gordon, James Gadson. I'm a band guy, but thought, "wouldn't that be cool?" This Keltner guy is playing with Joe Cocker and then George Harrison, then Clapton etc etc. I wasn't't thinking of a session musician as a guy who reads and does film and jingle work. [Laughs] You understand where I'm coming from?
GW: Yes.
PM: And those were my aspirations at the time.
GW: So, you saw these phenomenal drummers playing in these diverse backgrounds and wanted to be a part of that.
PM: Yea, I was bitten by the Beatle bug and radio in the mid-60s, so being in a band was where it's at. And the fact that I'd see these particular players names showing up on different records, and i realized that a guy like Russ Kunkle was playing with both Linda Ronstadt AND James Taylor. That just seemed like the greatest dream to get into a situation where I could play with several different songwriters and artists.
GW: From what I gather it happened pretty swiftly for you. You moved to L.A. in 1974 and after years of notable session work you landed larger recognition with the band Mr. Mister.
PM: Well I didn't't meet the Misters until 1983. So there was almost ten years that I was taking the sessions I could get and working a lot of different gigs, largely singer/songwriter demos in those days. That's how I met Danny & Phil (they became The Rembrants a little later on). In The 70's I got involved with Mike Chapman who was #1 producer at the time most notably for The Knack, Blondie, and The Sweet, which were big records in the 70s.  Mike started using me on a lot of sessions with different artists. The first top-ten type song I played on was with Martin Briley, called "Salt of my Tears," which was an early MTV rotation probably around 1981.
When I found out about the audition for the Misters, who were called Pages at the time from my buddy friend Kim Bullard, Kim was one of the first musicians I met when I moved to L.A. and he had just moved from Georgia, we had several bands together and also continued to do sessions and be side men. At the time he was playing with Poco and he was a friend with Steve Farris and Richard Page. He told me he wanted to introduce us and I told him I knew those guys and they had Vinne on their last record and that I couldn't't play what Vinnie Colaiuta plays [laughs]. He told me "they don't want that fusion sound anymore. They're going toward that pop sound." Something more song oriented. So I went over to audition.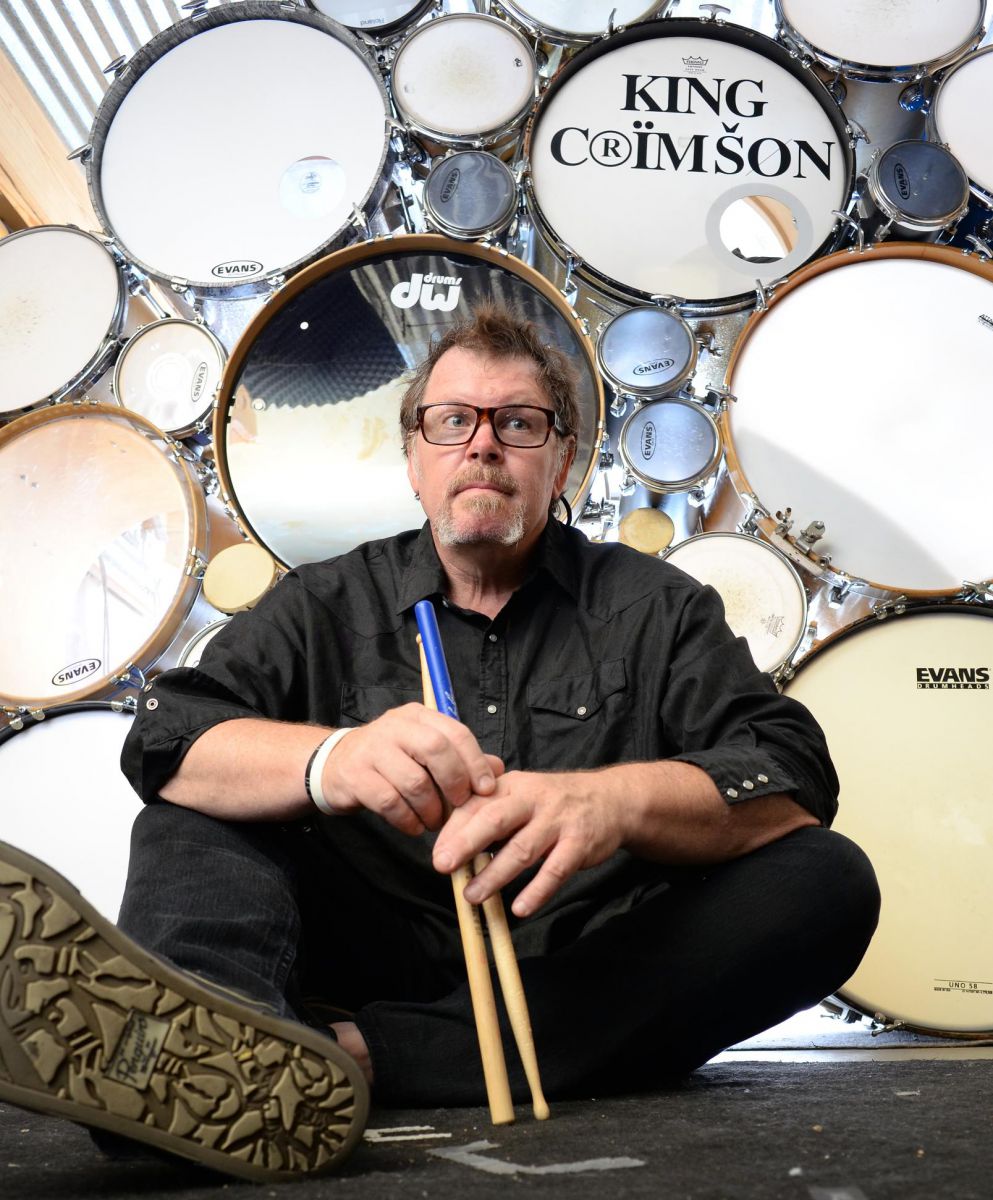 At the time besides music I was stamping envelops for a [software] magazine called Soft Talk. Coincidentally there were two other out of work drummers who were also stamping there; and that was Robert Williams, who was part of the Captain Beefheart band, and Cliff Martinez who was drummer for The Red Hot Chili Peppers. So the three of us out of work drummer guys were stamping away and I took a lunch break to go meet Pages (The Misters). That was just a run up Ventura Boulevard so I only had the length of a lunch break to audition. Richard Page was supposed to be the singer/front man amongst his keyboards and guitar, but he strapped on a bass to audition me and there was instant chemistry. The manager walked into the room and says, "A four piece, I love it!" Within half an hour we had become a band. They decided right away to change the name and we got right into rehearsing and songwriting. 
They got out of their record deal on Capitol as Pages, and then we started doing showcase gigs calling ourselves Mr. Mister.
GW: You're talking about the golden age of session work and the record industry. It's a totally different time almost none of which is apparent today.
PM: Yeah, it was very different. The first record we had did not have a big hit. We just barely cracked the top 40. It wasn't until the second record with "Broken Wings" where we'd had our first hit. And I started to get a lot more session work.
GW: All those years of countless formidable gigs led to your biggest and longest standing of all. In 1994 you joined King Crimson. What had been your exposure to their music up until then? What was it like joining into the original "Prog-rock" band?
PM: Well, progressive music as a general term is where my love of music was anyways. Whether you're talking about The Beatles, Jimi Hendrix, or King Crimson, my leanings have always been towards the progressive Avant-garde. I first heard Crimson in about 1970 at the Oroville public library. Besides listening to the radio I'd go to the public library and listen to LPs in headphones. I was probably twelve or thirteen. I remember hearing "Cat Food." That was the first Crimson song I ever heard. And then the next record I heard that day was The Tony Williams Lifetime record [laughs]. That day really changed my head. Then I talked my parents into getting In The Court of The Crimson King, as an 8-track, to play in the family car.
I was a huge Crimson fan. I saw them in San Francisco during the time I was living in the East Bay with that band, it was in summer of 1974' opening for Ten Years After at the Cow Palace and they played a short set that included Starless. Next day I saw in Rolling Stones national listings page that Crimson were playing the following week in LA as a headliner, so that was part of what made me move to L.A. since my band was breaking up it seemed like time to move on. . It was a wild week to move down there. My first few weeks in L.A.  I saw Mahavishnu Orchestra at the Roxy, also Gentle Giant doing Glass House in surround at The Whiskey, Return to Forever had just released Romantic Warrior and I saw them at The Troubadour and King Crimson as a headliner at The Shrine. There was all of this great music activity in Los Angeles. So, of course I knew "Prog" and I knew Crimson, but you don't talk about that stuff when you're trying to make pop records in the 80s. [Laughs] Those were part of my roots and as Robert [Fripp] puts it I had Crimson DNA.
My audition to play with Robert was not to play with King Crimson but with the Robert Fripp & David Sylvian band and in a way, it was similar to The Pages situation where if I thought I was going to have to play those complex King Crimson parts I wouldn't have even gone to audition. But I'd actually heard an advance copy of their Sylvian Fripp record on NPR, which gave me the encouragement to think I could play their material at that audition.
GW: When you did officially become part of King Crimson, not long after those auditions you completed a lineup configuration which has been referred to as "the double trio", meaning two drummers, two guitars and two pianos. You have continued with King Crimson over twenty-three years now. This anticipated upcoming tour, The Radical Action Tour, will see the same sort of double trio format, as I understand it. What will The King Crimson of this tour look like
PM: Well obviously, a lot has happened creatively for Crimson in the past however-many years. It's interesting how the band has continued and there's still more places to go... Originally, with the double-trio, two drums, two guitars and two bass/stick players we thought how could we could extend arrangements and have poly-metric cross-rhythms that could allow the whole ensemble to morph from one trio to another, if that makes any sense? If we had continued maybe it could have become more like a Harry Partch march or a deejay, crossfading two LPs.
This current configuration is a bit different. It's an eight-piece band. Robert specifically wanted three drummers. It's Gavin Harrison, Bill Rieflin, and myself. One big difference about this band is that Robert wanted our drum sets right at stage front. Also unusual is that we are doing quite a bit of older material. Typically Crimson always looked ahead and didn't do much of the older repertoire. When it was reinvented in the 1980s with the Discipline record, the music was very different from the early 70s incarnation of the band, similarly when we reconfigured to the double-trio arrangement, and then again very different in the early 2000s with the double-duo arrangement.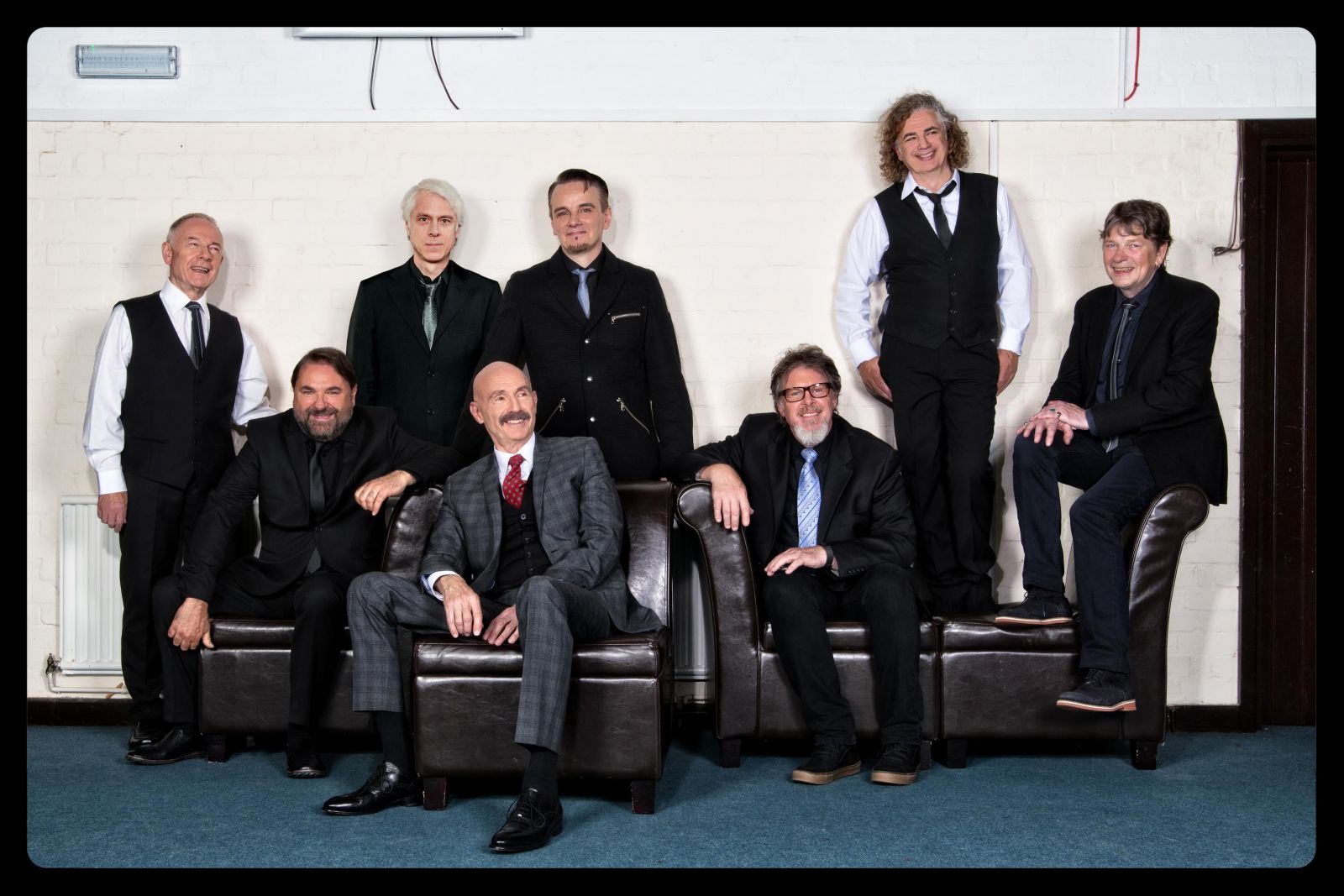 In any of those versions Crimson didn't play much of the early material. With this current tour that's all changed. Now the band has become such a large ensemble, we find ourselves now as an eight-piece lineup, with technically four drummers, though Bill Rieflin will predominantly play keyboards this year. So, the canvas is huge and There's a lot of activity in the rhythmic formation, it's a bit of a spectacle; we've divided up the parts, play a lot of polyrhythms and short drum interludes. This Crimson is its own beast.
GW: It's almost intimidating, for a casual fan like myself, to look at the entirety of the Crimson catalogue, considering how complex and immersive each individual record is.
PM: We'll, since your site is Grateful web I'd guess you're a Deadhead, right?
GW: Yep, you guessed correctly
PM: Well we have our Crimheads J In some ways Crimson is very much like Grateful Dead, its a band that plays different every night, we have a huge spectrum of material and instrumentation in the band. This year we'll feature three mellotrons :-)
Anyways, for me the connection to the Grateful Dead was that they had audience that followed them vigorously in terms of devote listeners taping and sharing to savor their collections of those different performances and renditions of the material.
GW: Having never seen King Crimson I wasn't sure if the intricate orchestration made for uniform set lists, but clearly that's not the case at all.
PM: Absolutely. We have moments of improvisation built into almost every song. And since we've had this particular ensemble for three or four years now and we have an abundance of material and for this tour we've brought in even more. We added about thirty-minutes of older classical Crimson material at the rehearsals we had last month in England. We can play multiple nights in the same venue and vary those set lists a lot. Robert [Fripp] draws up the set lists fresh every day. Even when we play the same material we change the order or sometime take a given song and omit the introduction and beginning at the "B" section and that modifies the way the performance of the piece happens. It's far from a stadium rock show where everything is meticulously the same every night.
And we do something else unusual -  we've removed all lights. It's like going to a symphony. We'll play under white light.
GW: It reminds me of Jonathan Demme's film with The Talking Heads, Stop Making Sense, where they eliminated the spectacle and distraction of the light show.
PM: There's no smoke and mirrors.
GW: This is something that's being anticipated by a lot of fans. What has changed about your style since you began with Crimson? Have you studied different modes or backgrounds of drumming? It seems like two decades with Crimson could changes some things…
PM:  yes it has. It required more of me, and still does. So I've studied, when Crimson paused in 1997 I went back for lots of studies. Like a lot of musicians, I set off with a dream of what I wanted to accomplish, but then I found myself in a top-40 world where there are limitations and the music isn't always the appropriate place to express certain stylistic ambitions at least not within the context of those gigs.
One thing about Crimson is it blows the ceiling off all of that. There is no limitation in Crimson. Robert encourages everyone to participate like it's a democracy and it provides an opportunity that encourages a musician to continue learning, and I've taken advantage of that.
GW: Oh yeah. That's the trouble with the whole "progressive rock" labeling. It doesn't really lend much information, especially for an act as vast as King Crimson.
PM: Well Crimson is not a legacy act. Although now we're actually playing some very early material that Crimson never played live before... For many years the band never played their biggest 'hits' - "21stCentury Schizoid Man," Or "In The Court of the Crimson King," or "Epitaph." Songs that people wanted to hear for many years that now we do play.  Our set list is huge with this band. Without giving it away, there's even a couple more classic pieces just added at last months' rehearsals and It's going to be beautiful to play them on this tour, especially in the open-air venues. We can't wait to get out and surprise even the most hardcore fans.
King Crimson's North America Summer Tour 2017, "Radical Action Tour" includes a 17-show run playing venues scattered throughout the United States including intimate venues like Mountain Winery in Saratoga, CA (6/15), The Fox Theatre in Oakland, CA (6/16-17), and Chicago Theater (6/28). Don't miss the legendary cult-followed English rock act if you are lucky enough to get tickets before they sell out.