Dylan Muhlberg of Grateful Web. I am thrilled to be joined by Grammy Award winning bassist Victor Wooten. His virtuosic techniques have yielded an illustrious solo career and continuing collaborations with music legends of similar caliber such as Bela Fleck and Stanley Clarke. Victor is author of The Music Lesson: A Spiritual Search For Growth Through Music, and runs several educational camps and clinics at his Center for Music and Nature at Wooten Woods Retreat. We join Victor today to talk about what's current and how music enhances our lives for the better. Thanks so much for joining me today Victor.
VW: I'm honored. Thank you for having me.
GW: Of course. If music is a universal language far more communicative than spoken words, how can this language be used to bring together a larger understanding of the world around us?
VW: I think any time people are brought together; it can help cause for understanding. And music definitively does that. I will say that music is probably one of the main things that bring people together in a peaceful way with without competition like sports where half the audience is against you. When people come together for music they're there for the same purpose. And often times it doesn't matter what religion, race, economic or political status you are. Everybody is there to listen to music and to support the artists that are playing the music. That's a beautiful thing. It's beautiful to be on both sides of that spectrum, as a performer and as a listener. It's a beautiful thing. A lot of the times in music, the lyrics, if there are any, don't need to be understood to get the point across, and instrumental music of course will be interpreted by each individual listener. I think music is a great equalizer. It's a thing that brings people together. Every country and every culture has their own style of music. And it's not something that we have to agree or disagree on. We just have to appreciate.
GW: Thank so much for that. I hadn't even thought about the comparison of sports versus music. That's insightful.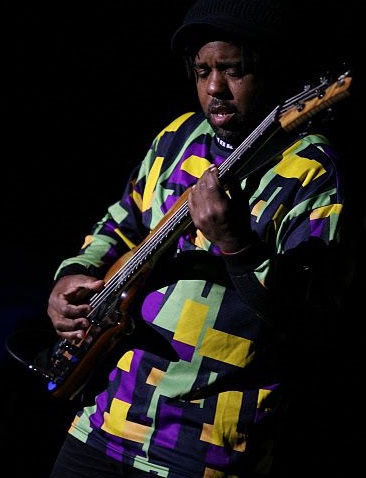 So, your years of playing with diverse musicians and backgrounds have created a template of infinite possibilities when it comes to your performances. Why diversify instead of sticking to a certain genre or style?
VW: Well, I don't really think there's any way to not diversify. If you think about even your voice, even though you're speaking English and using similar words, you're speaking it your own way. You don't sound like anyone else, and your not intending it, because it's just natural. Life is change. Everything about life is change. Nothing stays the same. So I think there's no way not to diversify. I think that if you honestly search yourself, you will realize that you are growing and growth is learning, growth is change, growth is expansion. So when it comes to music, certainly for me and my brothers, just doing what has already been done is not enough for our growth. And we always seek out more, and music answers our call, life answers the call. It's like trying to count to infinity. No matter how long you count you never get any closer to the end. You can explore for a lifetime. I think that those that are living life fully will continue to explore.
GW: No doubt, that's a unique prospective from a man whose living in the Nashville scene.
VW: [laughs] Yeah.
GW: Lets talk about your current band for a moment. It features continuing vocalist Krystal Peterson, your brother Regi Wooten on guitar and vocals, Derico Watson on drums, and Karlton Taylor on keyboards. How has this particular ensemble together been gelling together? Any surprises with the different strong musical voices?
VW: It's a great band. A lot of the times I have my brother Joseph on keyboards, but he tours with the Steve Miller Band, so I can't always get him. I have another longtime friend who lives in Nashville, Tennessee, Karlton Taylor. And Karlton is nice because he brings a different element to the band, so the band changes slightly just from the introduction of one person. He has a classical music background, of course a strong jazz background, and he's from Bermuda, so he's got that Island background also. It gives us a different flavor and pushes us in a different direction, so that's always fun.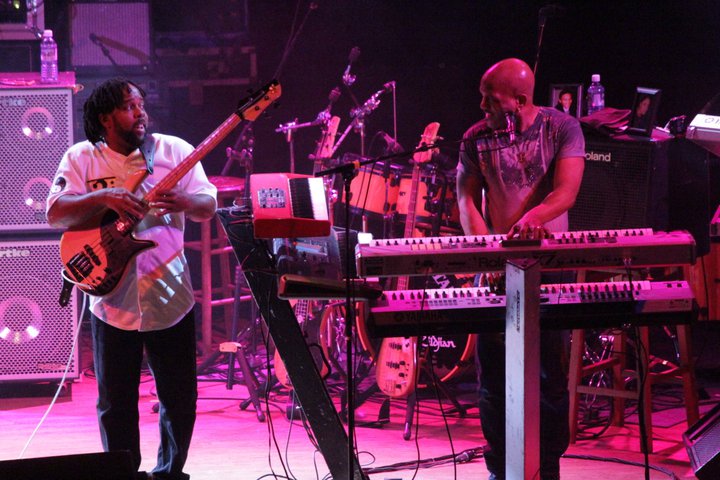 And Krystal Peterson, I met her over ten years ago, but I didn't start performing with her until the last few years. And she is just a phenomenal vocalist. And the thing I like about her is that she can adapt to anything. We don't have to do the songs the same way every night. We can just add a new section and break it down with the drums and just her, and just say, "Krystal, sing!" And she's very confortable and very fluid in her attitude and ability. So it's amazing to see her because she goes in new directions every night, just the way we like to go. So she's like the sister we never had because us five boys never had a sister. But if we did, she would totally be like Krystal, and would hopefully be able to sing half as great as Krystal can.
GW: Yeah she's certainly an asset to your group. I remember the Boulder show a few years back and was blown away by the diversity of what she was capable of.
Not surprisingly, you have continued to be extremely active in the studio, having produced and released two albums simultaneously in late 2012. Sword and Stone all-instrumental, and Words and Tones featured vocals from you and your band.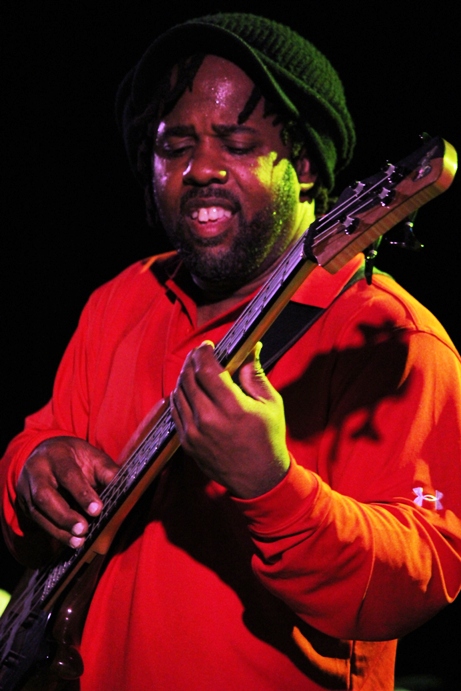 VW: Yeah.
GW: So can we expect to hear much of this material, are you going to be digging deep into your back catalogue, maybe some unexpected surprises?
VW: Yes, all of the above. You will definitely hear some of the songs from those albums. We'll also go back into the old catalogue, as well as new material, and improvised material that we haven't even heard yet. We like to be as surprised as the audience, that keeps it fun for us, when we come up with new things that we didn't even know we were gonna do. But Krystal just put a few songs online and she has some download cards that will probably be at the show that people can download two new songs for free from her. So we'll probably perform those two songs. Two new songs that no one has ever heard.
GW: Looking forward to it. So you've spoken of your siblings, all fantastic musicians. How have your brothers helped shape the musician and person you have become?
VW: In every way. I am the youngest of the five brothers. My four older brothers were like four other parents. We weren't the kind of brothers that would argue or fight. Actually our parents made sure that we didn't. We could have heated discussions, but we weren't welcome to prove ourselves right for the sake of being right. So we couldn't argue. But almost since my birth I've been the bass player in the band. And we've worked together and learned to work together my whole life, and that continues to this day. So, they totally shaped my way of playing, my way of thinking. And often times the little brother has the advantage because the little sibling always looks up to the older siblings, and having those great brothers to look up to. All the things they were into, I was into also. And things seem to trickle down to the younger sibling often times. That was a great way to grow up.
GW: Absolutely. Lets shift toward talking about you as an educator. After doing some research about your Vix Camps clinics and residencies I was really impressed about the amount of diversity and different programs offered. When did you begin to put together these camps? How and when did the Center for Music and Nature come to be?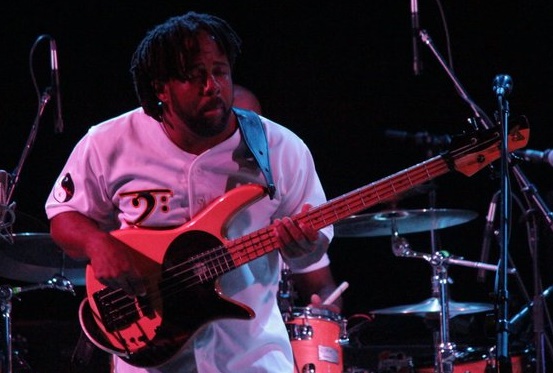 VW: We did our first camp in the year 2000, so this is our first year, and I got the idea to start running the camps after I took a weeklong class in nature skills and studies. How to live off the land, make fires with sticks, listen to the birds, predict the weather, how to track animals, and essentially how to be more aware. And this is a man named Tom Brown Jr., in New Jersey, he's written about fifteen books. And as I was sitting there listening to him, I told myself, this guy is teaching music. Whether he realizes it or not he's teaching music. And more so this is the way music should be taught.
Lot of the time music is taught by locking yourself in a room being told to practice for hours and hours. And this is an unnatural process. So I learned a lot for many years for almost ten years I kept going back and forth to Tom Brown's classes and that was the early 90s. I took a lot of his ideas, a lot of his exercises and turned them into musical exercises. And then as well as a lot of stuff I learned from my experience and my brothers growing up, and decided to share my ideas of music, with people, whoever would show up. And not only my ideas, my brothers, I have many guests who show up. Because I don't want it to be just my ideas, I don't way them to only hear what I have to say. I want these students to have a choice. So we have a lot of different instructors. People come from around the world. Music is bigger than one class can offer. Knowing that people are different with different interests we have different types of camps.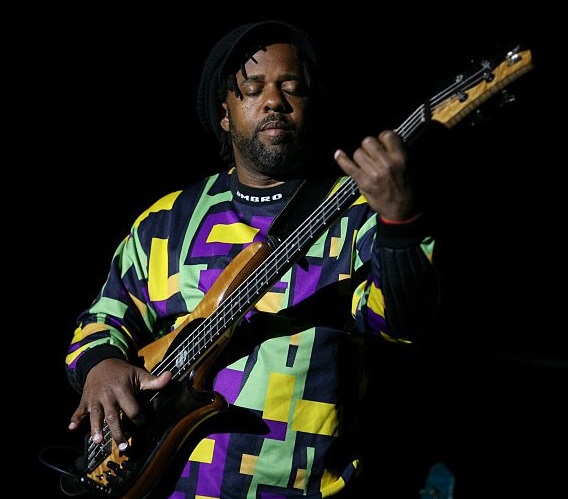 GW: Yeah, It really sounds like you folks are moving some minds and changing some lives.
One of the best things I noticed about the programs is that the camps seem to be aimed at all different age groups, with many accessible to younger generations of musicians. Why is it so important for children and youth to integrate music into their education and lives?
VW: There's studies that show that people who study the arts, whether its music, dance, drawing, painting, they do better in academics. There's something that happens in the mind that keeps it open, something that allows people to prosper in other aspects of their lives. So I believe it's really good for kids to study the arts, I don't only say music, though music is a good one. Also, a lot of the time we would grow with society not supporting honest expression. And music teaches you to honestly express yourself, if you're taught it or shared with you in the open way. If you're only taught what was done before you then it could close you off. I want to help kids express themselves honestly, really if its through music or whatever. I just use music as a way to address the whole person. My mom was really concerned with who we were as people when we were growing up and she would always say, "What does the world need with just another good musician?" So my mom and my dad were really concerned with who we were as people. And really understood if we were successful human beings that we would be successful with whatever we chose to do with that being. So my underlying purpose with the camp is to help raise good people. Give the opportunity to let people be the good people that they really are. And we do that through music.
GW: No doubt. Thanks for sharing your insights on that.
Are there certain contemporary or current musicians that are an inspiration to you on a personal or musical level?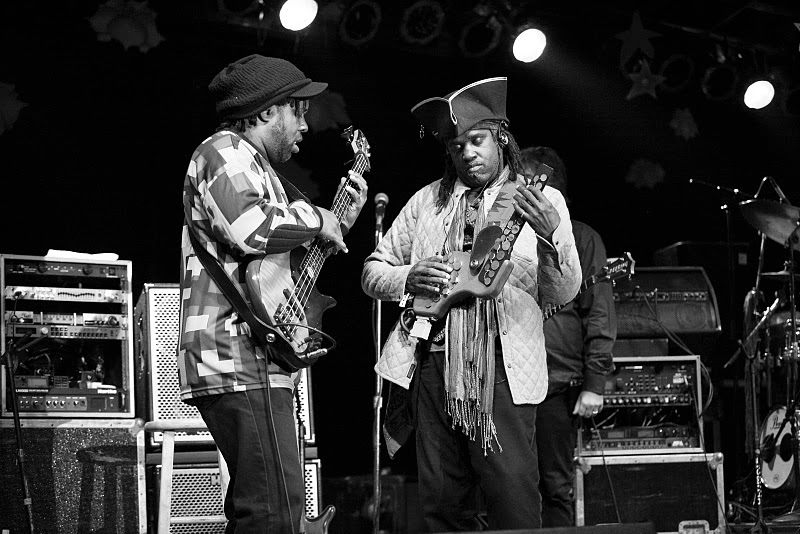 VW: Sure. A lot of the heroes that I grew up listening to, many of them are still around. One of my musical heroes that plays bass on a lot of the soundtracks of my upbringing is a man named Chuck Rainey, who has been at every camp I've done for bass players only, he's been there since 2000. He's one of our elders, in the tradition of the ancient societies. You know the aborigines, the Africans, the Native Americans; they looked up to the elders. In society today we look up to our peers. Our peers who don't know any more than we do is who we try to impress and idolize. I look up to my elders, and we have Chuck around. The fact that he's a sound mind and a nice person who's still growing as a musician and person, I really look up to him. Bootsy Collins is another one. As eccentric as he is with his star glasses and outfits' people have no idea how down to Earth he really is. He's the kind of guy that reads the Bible all the time. He doesn't drink and do drugs and all that stuff you'd might expect. He's really together.  And then I have a lot of friends and heroes, like Stanley Clarke, and Marcus Miller, and many more. And so far I've only mentioned the bass players. People from all walks of life that still inspire me to this day.
GW: And I'm sure in turn you inspire them, with the common collaborators you just mentioned.
VW: I hope so. I do.
GW: To have that blessing of being able to continue and expand with musicians like Stanley Clarke. It's the continuation that whole sensibility from that generation.
VW: Yeah.
GW: One of your most brilliant qualities as a bassist is that you abolish the notion that the instrument only serves as a basic backbone for rhythm. You have often toured in the past with another or multiple bassists onstage to further illustrate the possibilities. As the sole bassist this time around, do you see your role as bandleader shifting?
VW: Maybe it's shifting from what people think the bassist is supposed to be but it hasn't shifted for me. Here's the thing, if you take all the instruments in the world and laid them down on the table or the floor, those instruments wont make a sound. In that sense it shows us that all the instruments are the same. They don't make music. People make music. And just like vocalists, if you have a high voice, a medium range voice or a low voice, you still sing solo. You can still sing support roles. You can still make people laugh, cry, or think with that voice. Because it's the person behind it. So instruments are the same. We know that the bass originated as a supporting instrument. We know that that's its role. But that doesn't mean that's all it can do. A lot of people have paved the way before me. I am continuing in that form of expanding the role of the instrument. But I'm doing it in the way that my heroes before me did it, by not abandoning the role that it was invented to do. I'm still a bass player. But I'm showing you that the instrument, and me, can go beyond that. Just like a piano, or a guitar.
GW: While you are a gifted improviser, you are an equally accomplished composer. While there might be room for both, do you find the structure of composition to be more valuable, or the unpredictability of spontaneous creation?
VW: Both. Absolutely both. Because they're both. Composition is improvisation in slow motion. They both come from the same place. Even if you're going to compose something, you gotta make it up at some point, then write it down, then record it. Improvisation just happens on the spot. It comes and then it's gone. With composition you get to write it down then perform it the same way over and over. I'm happy that I get to do both. It's kind of like an actor that gets to do Shakespeare then improv comedy. It's kind of two versions of the same thing. I think I'm a more complete musician when I get to do both, and more.
GW: It's a reciprocal relationship.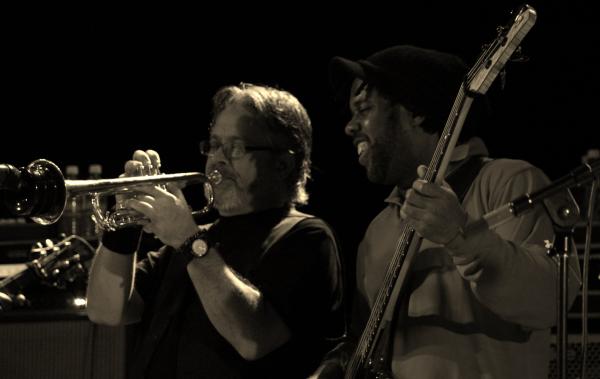 VW: Yes it us.
GW: Well, that's all the questions I have Victor. I wanted to thank you so much for your time. You are such an asset to the jazz and beyond music community I can't emphasize enough how long your music has inspired me. Your music with Bela Fleck and the Flecktones, with Bass Extremes, with Marcus Miller and Stanley Clarke.  Grateful Web are huge supporters of everything that you do and it's been a thrill to talk with you.
VW: I do appreciate it. I wanted to let your listeners know that if they do want to learn more about music and life and nature they can come to my camps. They can go to my website victorwooten.com and go to the camp link. And we do camps usually every year from March through October every month and we still have a bunch of camps left for this year, and we'd love to see people coming through right outside of Nashville, Tennessee. We'd love to see you there.
GW: I would like to second that and encourage our listeners to really check that out, one of the more valuable clinics and experiences out there period. We're also encouraging our listeners to check out Victor Wooten Band tour, which is hitting locally at the Boulder Theater on May 30th. Thank you so much for your time Victor. I look forward to catching the show next week.
VW:  I appreciate it very much.
GW: Take care my friend.
VW: Alright. Goodbye.