Last weekend I had the good fortune of attending the Mile High Music Festival in Denver, or more appropriately Commerce City, Colorado.  This year was the festival's inaugural year, and as far as I could tell, the affair went off without a hitch.  And I love festivals.  There is something savory about the vibe put off by people at a festival, something uniquely and honestly human.  Even though the weather is hot, even though there are lines for the bathroom, lines for food, lines to buy tee shirts, even though the beer costs $8 and a salad costs $11, the majority of people are happy, enjoying themselves to the utmost, and you can learn a lot about people by how they act when they enjoy themselves.  The eternal voyeur, I forsook the luxuries granted to me by my media wristband.  Air-conditioned bathrooms, special bleachers to sit on, access to the media tent with wireless internet access, a true music junkie craves not these things.  I got out amongst the people, and met some fairly interesting ones at that.  It was a weekend filled with music, and the intensity of the human spirit.
Festivals can be tricky things, pure sensory overload.  Of course, my ambitions for revelry are always high going in.  Twelve to fourteen potential hours of non-stop music each day, if you plan it right.  Skip around, see the first half of an act here, the second of another over there, and before you know it, your passed out under a tree, only there are no trees because it's a gigantic, sun-parched field.  No, no, one learns quickly that approach can be painful, and the cost-benefit ratio doesn't add up right. With 48 bands and five stages, spread out across several soccer fields, one must pick and choose.  I saw fourteen acts, eight on Saturday, six on Sunday, and drifted through several others.  What the average is I can't say, but I was definitely exhausted at the end of it, and I stumbled around the office, mumbling incoherently for the better part of Monday.
When I'd heard that the festival was to be held on soccer fields, my first thought was of the wastefulness of destroying all that lush, water-sucking green grass, and having to replant it.  I soon came to appreciate the grass, however, for it is a much nicer thing than bare dirt to sit on, and gets comfortably cool in the evening.  Last year, in June, I was at the Bonnaroo music and arts fest in Tennessee, my first time at that particular festival, and was struck by the unavoidable filthiness.  Cups and sandwich wrappers aside, which people will, alas, leave behind no matter what their environment, the real filth of Bonnaroo came from dust.  It was everywhere, and coated your skin and lungs right some good by the time everything was over.  After Bonnaroo, I had one of the worst attacks of bronchitis I'd ever had, and spent several days hacking up acrid yellow mud.  But at Mile High, there was no dust, and no post-festival sickness.  Although the grass was toast by the end of Sunday night, it held out long enough to keep the dust down on the ground where it should be.  Thank goodness.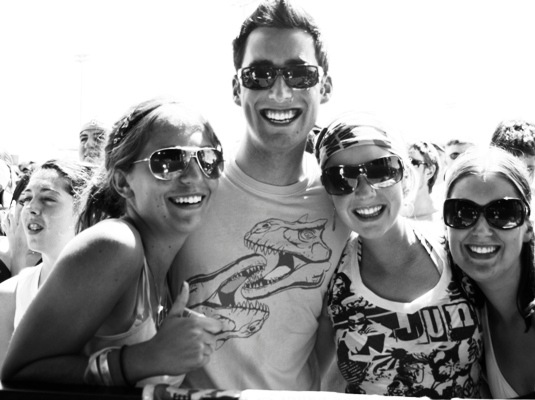 My very first impression of Mile High, before ever having seen the grounds, was unfortunately of disappointment in the scheduling.  For instance, Saturday started out with several up and coming Denver-area bands, including Meese, Born in the Flood, and the Railbenders.  Great, I say, always good to have the hometown guys get noticed.  But they all played at the same time, making it impossible to see more than one of them.  But I soon relented.  You can't possibly see everyone you might like to, there is simply too much to do, and that's probably the way it should be.  As it would turn out, the choice of which Denver band to see wouldn't matter for me so much, since I was being pointed in several different directions but unknowing attendants in the parking lot, trying desperately to gain access to my all-important media credentials.  My choice then became easy, since Meese was the only Denver-band still playing by the time I actually got inside.  They played the Main stage, to a fairly good-sized crowd, given that it was still early in the day.  Spirits were high.
This was also my first chance to look around the grounds.  Aesthetically, they were on the right track, and the grounds, if shadeless, had enough interesting things to look at to keep people of all walks, mindsets, and brain chemistry satisfied.  And as opposed to Bonnaroo, which is aesthetically excellent, but where simply walking from one stage to the next is a chore, the grounds were compact and open enough to allow easy access to all stages without significant time being wasted in the commute.  All along the north side, and extending south at the center point, there was a long row of consumer heaven, food stands, tee shirts, a Guitar Hero bus where you could pretend to play music instead of actually seeing music, and a good stretch of artisans hawking their wares.  In the very center of the grounds there is a low-lying, futuristic Astroturf field.  Much better looking than the tennis ball green stuff of my childhood, it was soft and slightly squishy underfoot, and not at all uncomfortable to sit on.  An elaborate fountain stands near one end of the field, providing respite from the heat, while other pieces of general oddity are scattered about here and there.  Along the south end of this field there are two tent stages, the Elk Tent stage and the Bison Tent stage.  To the east of the field, back some distance over a slight rise and across another living grass field are two larger, open-air stages, the Lizard and Bullsnake stage (picking up on a theme here?).  The Main stage is near the main entrance, west of the Astroturf at the far west end of an immense expanse of grass, light towers, enormous speakers, and TV screens broadcasting rock and roll into outer space.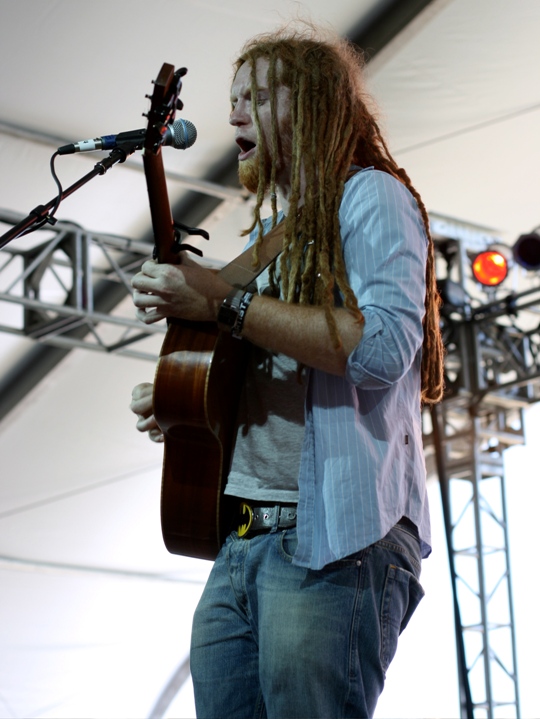 I made my way to see Newton Faulkner at the closet of the tent stages, the Elk Tent.  I had no idea what to expect, having only heard one song on the radio, and often enough to begin to tire of it.  But I was not disappointed.  A jovial individual who enjoys talking to the audience, and remarkably innovative, Newton Faulkner is literally a one-man band.  By using a combination of picking, strumming and tapping, both on the strings and on the body of his acoustic guitar, Newton is able to create both melody and rhythm.  Throw in his able voice and a toy keyboard that you play by stepping on it, and you've got a four-piece band embodied in the frame of a single human being alone on stage.  Included in the set were a brief foray into You Spin Me Round (Like a Record, Baby!) and a cover of Teardrop by Massive Attack.  Needless to say, I was impressed.  It was a mellow crowd, enhanced by interesting, and equally mellow sounds and the tent provided a cool atmosphere out of the increasingly angry heat of the sun.  It was also my first time up front in the photo pit, and here I met the crowd of other picture-snappers that I would see time and time again over the next two days.  Despite the frequency of our encounters, only a few of these individuals ever took the time to say anything to me, and even fewer looked like they were enjoying anything (like, say, the music) aside from their cameras.  Pity, I think they probably missed out on a few things, but maybe that's just the nature of this particular beast.  I, however, was glad not to have missed out on Newton Faulkner.
From there, I headed east, to see State Radio perform on the Bullsnake stage.  Hailing from Boston, MA, and with ties by way of the singer to the folksy, hippie-rock jam band Dispatch, this high energy, socially conscious trio is a little bit punky, a little bit grungy, and little bit reggae. Chad Urmston, Chuck Fay and Mike Najarian make up the band, on guitar and voice, bass, and drums respectively.  Although Chad announced that Hank Azaria, actor, and voice of many "Simpsons" characters, was drumming with them that day, I suspect it was just a joke – the two look very much alike.  Very animated in their performance, State Radio's beefy licks, quick and heavy bass and rumbling drums had much of the crowd on its feet and hopping, head banging, or air guitaring along with them, in spite of the heat, which was beginning to turn from angry to mean.  State Radio's newest CD, Year of the Crow, was the main source of the material played that day, hyped-up, extended, and much louder of course, and touching on such political themes as the U.S. administration of Guantanamo Bay, and the notion of a government that spies on its own people.  In the here and now, these sorts of songs are incredibly poignant and powerful, but I always wonder for how long they will continue to be so.  Such specific critiques of society seem to have a definite shelf life, lasting only as long as the actual events they describe, and do not necessarily have the staying power that the classics dealing with more general trends have (like the Buffalo Springfield song For What It's Worth).  But there is something to be said for living in the here and now, and State Radio does indeed say things that need to be said about the world we live in.  So even if no particular song will go down in the annals of music history as of the greats of our time, the attitude and conscience of a band like State Radio might.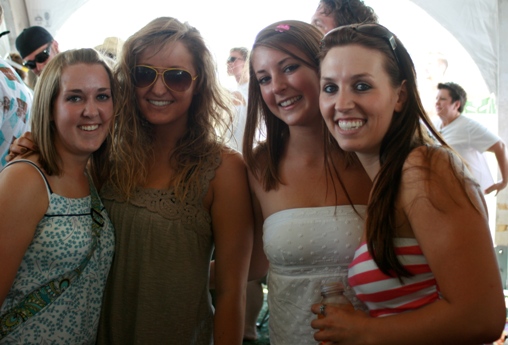 It was at this point in the day when I had another first.  The music scene, and festivals in particular, has a tendency to attract the enhancement drug user, and inevitably, a few go overboard.  At Bonnaroo, to draw another comparison, I would have expected a fair few of these people, but I wasn't sure what to expect at Mile High.  Metallica and Pearl Jam (headliners at Bonnaroo this year) attract a different crowd than John Mayer and Dave Matthews do, and some might say that the latter are a little more "adult" than the former, and would attract responsible "adults" rather than imprudent young people, but I would say that's not entirely accurate.  I would say that one elicits more daring and dangerous urges than the other, and encourages the primal and experimental nature of mankind to a greater degree, but that's a separate issue.
So it was at this point that the first completely wasted girl that I saw at the festival stumbled through my midst.  Her feet unsteady and her eyes unseeing, she hobbled into the folding camp chair in front of me, and was saved from falling down by several people around her.  Although they did nothing to save her from falling, the friends she was with, to their credit, made lady inebriation sit down and drink some water.  She was quite pale and shaky.  The troop of girls sat for a few moments, then took their troubled friend away again, hopefully somewhere she could be in peace and cool, but I cannot say for certain.  The band, naturally, continued on, as did the people, and all was soon forgotten.  It's a dog eat dog world out there.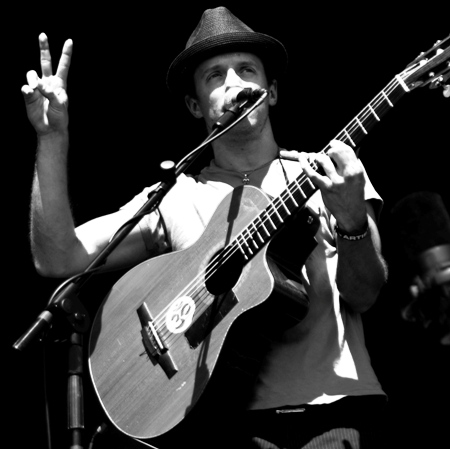 At the east end of the festival grounds where the Bullsnake and Lizard stages are located, music emanates alternately back and forth from one stage and then the other with so little time in between acts that the halt in the music is almost imperceptible.  The sound quality at these stages was high as well, as it was over the entirety of the festival.  Jason Mraz and his band were beginning to play on the Lizard stage, and I made my way there next.  This was the easiest and most convenient commute on the grounds, and I was lucky enough to make it and few others over then next several hours.  The trade-off is that there is no shade like at the tent stages.  None, that is, except for a smallish tent in the middle, specifically set up for that purpose, but which is unfortunately behind both soundboards making each of the adjacent stages invisible, though quite audible.  But I couldn't sit behind the soundboard even if I wasn't taking pictures, half the fun is seeing.  So once again, I weathered through the sun's intensity.  Survival mode began to kick in…
Jason Mraz's show happened to be at a time when relatively little else was going on, and as a result the crowd was sizable.  I waded my way to the front through a sea of hot bodies, many of which were becoming more and more uncovered as the day wore on.  Sexy?  Yes, but also a little smelly at first.  Soon though, everyone would be a mess, and when everybody stinks the smell has a way of seeming to vanish.  A little bit jazzy, heavy on the jams, and highly rhythmic, Jason Mraz is not quite like anything else, although the hints of nearly every genre are detectable in his songs.  Self-described as a minimalist, Jason Mraz in person was anything but.  Backed by bass, drums, percussion, and horns, Jason et al created a rich and grooveworthy sound.  Mraz is also quite animated on stage, but in an entirely different way than State Radio, more like a mime and less like a furious seizure-child.  The gestures and motions made him quite interesting to watch.
It came time for hydration.  The water I obtained upon entrance to the festival, by way of a public water cart and a camelpack, was much depleted and hot as hell by now.  Unfortunately, all the nearest "Bottled Water" booth sold was soda, so I was forced to stray farther.  Although the public water cart water was quite decent, not like public water other places I've been to, I wanted something cold enough to hurt my teeth, something cold enough that I could feel it all the way down, something to temporarily slake my desire for cooler climes.  For all I know, heat exhaustion could have been what felled lady inebriation (unlikely), and having always been uncomfortable in the heat, I was conscious of my need to avoid that road.  As Hunter S. might say, my blood is too thick for the heat, and I can never properly express myself in that climate.  The moisture is sucked and stolen from you whether you try to prevent it or not, and the only cure for the disease is gallons and gallons of water.  Ironically, the beer cart turned out to be just the place to find water, and after slugging down half of the bottle immediately, I walked back to the Bullsnake stage to watch Steve Winwood and his band.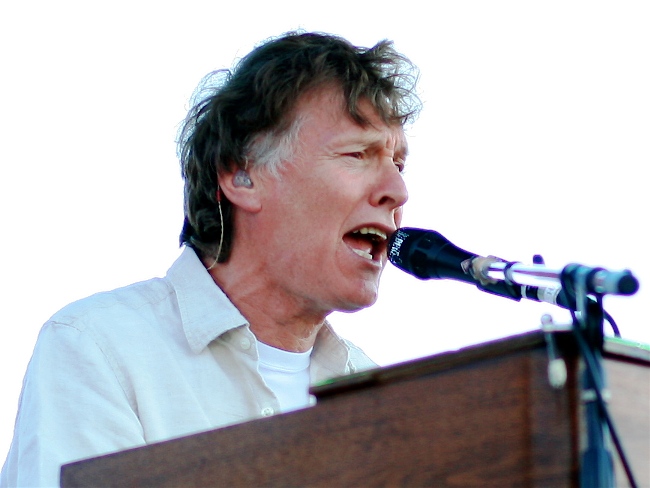 Steve Winwood's magic on the Hammond B-3 organ, his rich, distinctive voice, and his quasi-psychedelic, melodic, and significantly instrumental performance was just what I needed to zone out a little in the heat, and I noticed a great many people seemed equally hypnotized by the music.  Not merely a wizard on the keys, Steve Winwood is an amazing guitarist as well, and he played a fair share on that instrument too.  Some might say his entire career is legendary, and in point of fact, his was one of the powerful performances at that made the festival, if not solely for the passion and intensity of his music, then also for the chance to see one of rock and roll's greats in person.  Killer renditions of Can't Find My Way Home and Give Me Some Lovin' were the highlights for me, and for a great many other people I suspect.  But it wasn't just old stuff coming out of Steve Winwood, his career does span some 40-plus years after all, and the band worked in some new stuff too, from Steve Winwood's latest album Nine Lives including "Dirty City," another personal favorite.  My knowledge regarding this illustrious artist is patchy, but after seeing and hearing him live, I'd like to get to know him a little better.  Festivals have that effect on me, and I may very well waste a ton of money on new CDs in the coming weeks.  But is that really such a waste?
Back across the field to the Lizard Stage for an act that I was quite interested to see.  Coming off a gig at the Fox Theatre in Boulder the night before, moe. put on quite a show.  More music than words, moe. played maybe five songs in 90 minutes.  That's probably an exaggeration by understatement, but I only get three songs in the photo pit, and it was definitely the most time I spent in the there that day, probably by twice.  Control of the jam is handed back and forth between guitarists, one of whom wears enormous earphones for reasons I'm not privy to.  Vocals, when there are vocals, are shared by both guitarists and the bass player, not in harmony, but in alternation, a feature of the band I highly appreciate, as it adds a distinctive element that is sometimes lacking in their sound.  Everything was tight, and their transitions were flawless, and even if their jam rock is slightly generic, moe. does it well and has a reputation for imbuing a crowd with energy and fervor.  "Name one band around today who makes better music than moe.!" one fan in the front row demanded of me.  I thought a moment, and dozens of possibilities came to mind, but I knew what he wanted to hear and I shrugged.  He nodded eagerly and was pleased.  I can appreciate that sort of enthusiasm; it's good to be into stuff.  This same fan formed an instant bond with the photographer dressed in a sequins Santa suit, left unbuttoned in the front.  When Santa started toking a joint in the pit, the fan joined in.  As I said, we spent a great many minutes shooting three songs, and I could see why you might have the time to kill.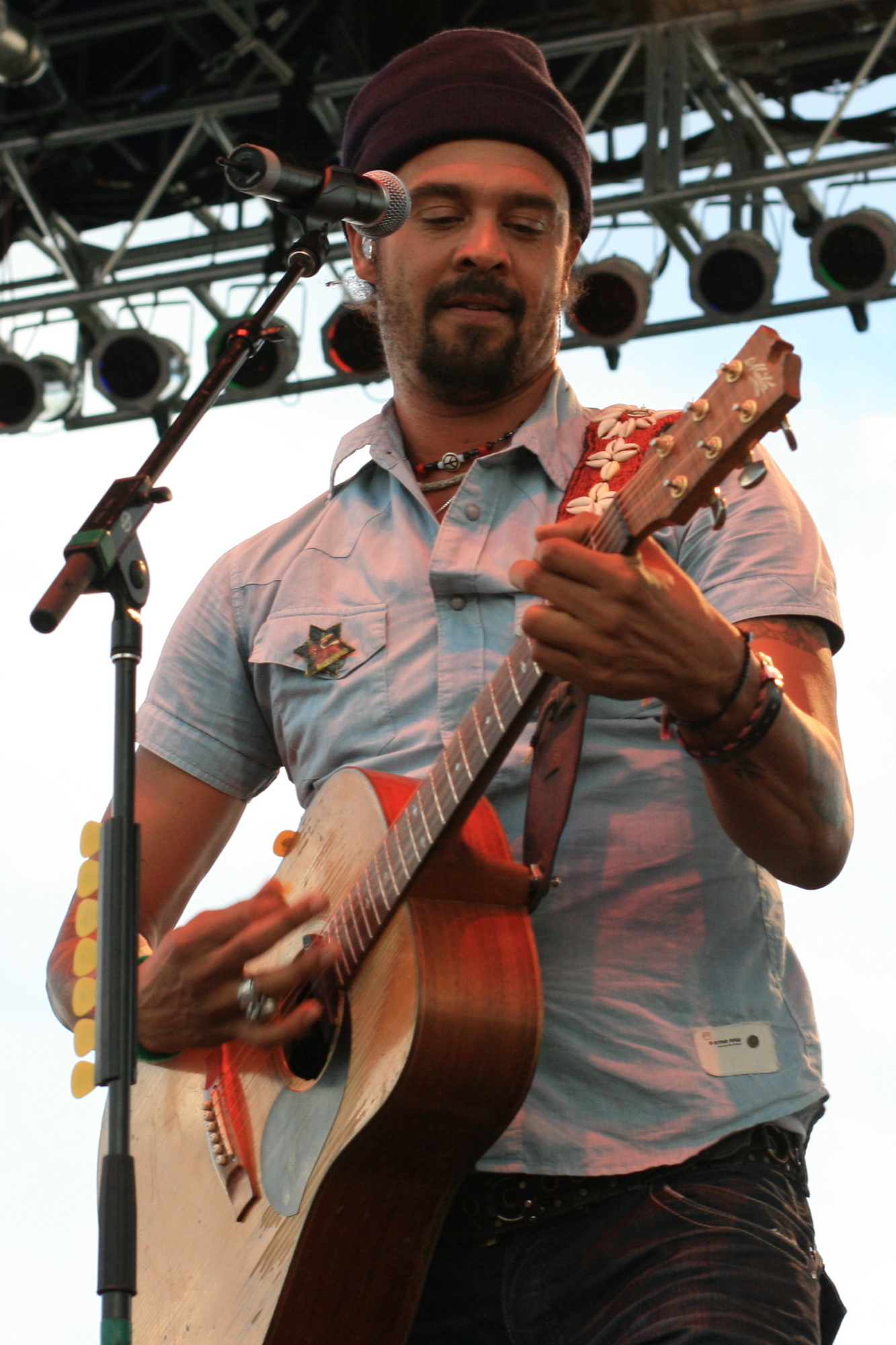 Someone's prayers to the cloud gods must have gone through, and for the last few hours of sunlight, the sun dipped mostly behind the clouds, granting some measure of relief from the heat.  moe. finished their set, and I set out once more across the field, the fourth time now, to see Michael Franti and Spearhead on the Bullsnake stage.  This was a difficult decision, for Spoon was playing at the same time at one of the tents, another scheduling problem I noticed, and I was disappointed not to be able to see both.  As I said, with 48 bands, you absolutely cannot see everyone.  Let me tell you why I chose Michael Franti.  I have a lot respect for Michael Franti, for his socially conscious music, his optimism at a time when it is often difficult to be, and his message of love and tolerance.  Spoon is awesome, but Michael Franti makes me feel good.  One of the most dynamic performers around and perpetually barefoot, Franti dances all over the stage, and has a way of connecting to his fellow man during a show.  During the first three songs, Michael Franti jumped on top of a speaker out in front of the stage where he played for a time, and then got down in the pit, where he leaned out into the crowd and was surrounded by well wishers.  This sort of stuff drives a crowd nuts.  He also had Steve Winwood's guitarist up on stage, sort of unsolicited, to play a song.
The setlist is never the same with Spearhead.  I've seen them three times now, over as many years, and am always amazed at how unique each set is from every other.  Its hard even to describe the setlist, since songs blend together, going from one to another and back again, and maybe sampling a riff or two from some other recognizable song along the way.  Both a tribute to the night's headliner, and a clever cry for social justice, Michael Franti worked in lines from Tom Petty's Refugee in the middle of Everyone Deserves Music.  Other highlights were Hello Bonjour, Is Love Enough? and Time to Go Home, all off of Franti's recent album Yell Fire.  The mood was set eloquently by a beautiful orange and blue sunset over the mountains.  It was fortunate, since Commerce City itself isn't really what you'd consider to be a beautiful place.  As the sun set, the air grew cool, and Michael Franti made everyone feel alright.
The main event was upon us.  Tom Petty.  The Main stage.  Nothing else going on, anywhere (not like I'd miss Petty if there was).  The crowd was moving en masse toward the west, into the last rays of the setting sun.  As the light of the day waned, and festival workers began erecting fire statues meant to be visible by night in the open places in the field.  The stage itself was fixed with an elaborate light setup, intended simply to dazzle and amaze.  The crowd was anxious, chanting, yelling, showing off the words "I © Petty" painted on their tan, bikini clad stomachs, and the photo pit was crowded shoulder to shoulder, people jockeying for position, bragging about shots they got that day, or how they had some fan's camera taken away at a show once, or saying nothing at all and only watching the stage intently.  When Tom Petty and the Heartbreakers came on, the crowd went wild.  At this point in his career, Tom Petty's setlist is fairly predictable.  He plays his hits, the songs everyone knows, and would know even if they'd never bought his albums.  But the reason everyone knows these songs is because they're memorable, they're lasting, and they elicit fond memories.  Tom Petty's goodtime music gets whole stadiums singing along. Classics like Mary Jane's Last Dance, Refugee, Free Fallin', American Girl, Honey Bee and his newer hit Saving Grace were all on the bill.  Steve Winwood made an appearance and played Give Me Some Lovin' and Can't Find My Way Home again.  Although I was disappointed with Steve Winwood's decision to play two songs he'd already played that day, especially given that a great many Petty fans are also Winwood fans and would have been at his show, seeing two rock legends like Steve Winwood and Tom Petty on stage at the same time was a unique experience not to be missed.  It's these sorts of collaborations that really make the festival scene amazing.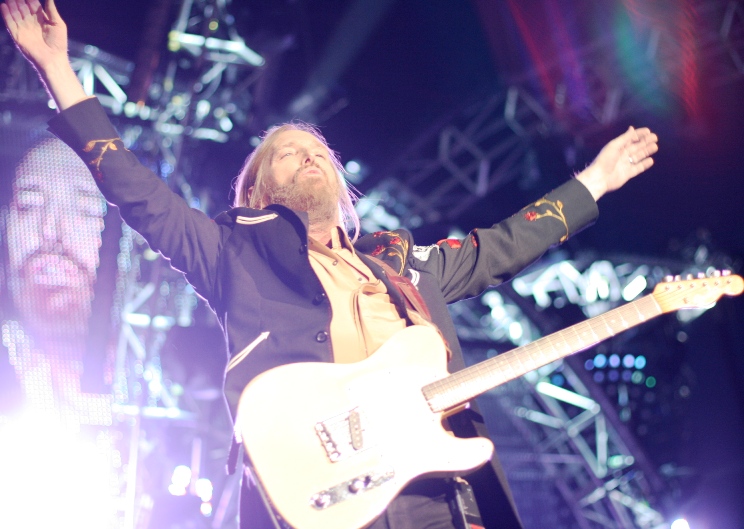 Tom Petty, for all his years in the biz and his predictable setlist, keeps putting on quality performances year after year, and I guess since he's never really stopped touring, he cannot be accused of doing anything as silly as a "nostalgia" tour.  Being the main act and all, the stage was at its finest, and the lights were phenomenal, jumping back and forth across the spectrum, in wild shapes, patterns and speeds.  Not all bands are suited for such wild displays, but Tom Petty and the Heartbreakers occupy the big stage well.  As Tom Petty whirled slowly across the stage, his arms outstretched, I could tell he was enjoying the spectacle as much as the crowd.  He finished strong, and the crowd lingered for a many minutes hoping that he would reappear.
Most people left after Tom Petty went off stage sometime after 11:00 pm.  I stuck around for the Rebel Alliance Jam, held in the Bison tent, until sometime after 1 am.  Featuring a crowd of musicians from various backgrounds, many of whom I did not recognize, the Rebel Alliance rocked out, improvised, and kept the last of us on our feet for as long as they were allowed.  Among the guests I did recognize were Mike Gordon (formerly of Phish), Chad Urmston (State Radio), Chris Chew (Hill Country Revue), and Brett Dennen.  During the show, the supergroup covered a few crowd favorites including Come Together by the Beatles, Stir It Up by Bob Marley (sung by Brett Dennen, mic in one hand, beer in the other) and a few George Michael songs I didn't know the names to.  Towards the end, there was an extended, psychedelic washboard solo.  You wouldn't have recognized the sound as coming from a washboard if you hadn't seen it in person.  The light hearted, fun loving, easy going crowd, a mere few hundred out of the nearly 95,000 who attended during the peak hours of the day, had plenty of space to spread out, and dance or lie down, and I found myself outside of the tent gazing upwards at the full moon, taking in the music as it drifted out across the grounds.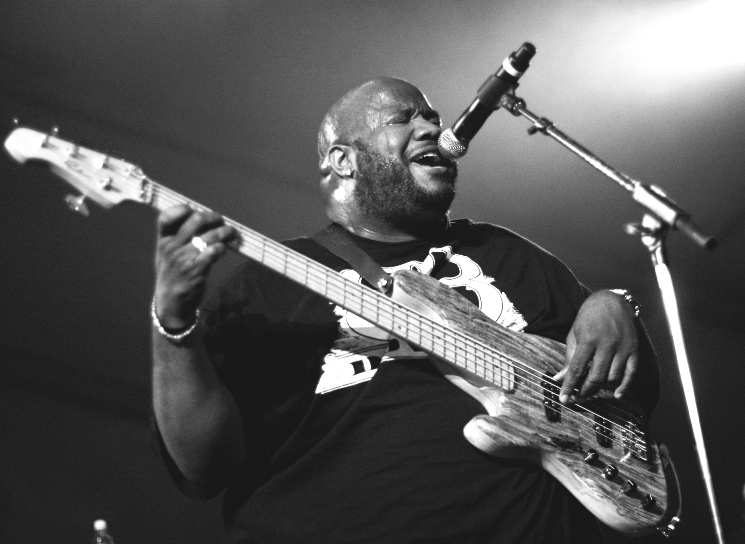 Day One of Mile High was coming to a close, and as I walked back across the grounds to the exit I finally figured out what was up with the odd monkey structure I'd seen earlier in the day.  Rubber monkey dolls dangle by rings from an amusement park style rotating swing set, each fixed in a position as if it was somewhere in the middle of swinging from ring to ring.  When I'd seen them earlier, they weren't moving, but by night, a carefully timed strobe light made it seem as though the monkeys were actually swinging from ring the ring, while the rings remained motionless.  In reality, the whole structure was rotating and each monkey remained stuck and unmoving to its ring, but the illusion was damned impressive.  I stopped briefly to purchase discounted, end-of-the-night mini donuts, and prepared to go home, ready to get up in only a few hours and do it all again.
Stay tuned for my take on Day 2 of the Mile High Music Festival, coming soon!