Summer seems to be coming quickly to a close, and the end of festival season is in sight.  This summer was somewhat special, as I was able to witness the birth of two new music festivals onto the scene.  In July it was the mega-sized Mile High Music Festival, and on August 16th and 17th the smaller, cozier Jackson Hole Music Festival. Set in Teton Village, at the foot of the Jackson Hole ski resort, and only a stone's throw away from Grand Teton National Park, I can't imagine a more beautiful location for a musical weekend.  Over the course of two days, ten bands shared a single stage, playing to a crowd of only a few thousand people who danced, drank local Wyoming beer, ate organic pizza, and basked in the fantastic vistas and warm, clear skies.
For Jackson, WY residents, this was definitely the place to be, and I'd say that nearly half of those in attendance lived within an hour or two of the grounds.  Everyone seemed to know each other, and even when they didn't they acted as though they did, with all the kindness and camaraderie of old friends.  A smattering of people from Colorado, Montana, and Idaho were also in attendance, but if anyone was from farther away, I either didn't meet them, or they just didn't tell me.  For a festival so small, you might expect an odd assortment of semi-famous musicians that no one's really ever heard of, but almost the exact opposite was true.  Big names like Wilco, The Black Crowes, and Ben Harper all brought some serious noise to the tiny venue, and rocked it like they were playing to an audience a great many times bigger.  Mega-fests are a great time, no mistake, but they do have a tendency to border on sensory overload.  Tough decisions need to be made, do I see Michael Franti or Spoon, for example, or will it be the Roots or the Flobots?  Personally these decisions drive me crazy, and the grass almost always seems greener around the neighboring stage.  But in Jackson Hole, with only one stage, the only decision that needed to be made was whether to sit near the beer stand, or the tee-shirt booth.  (FYI, I went for one day of each.)  Once the blanket and chairs are down, there is no reason to go anywhere else, and all ten bands will parade out right in front of you.
Saturday morning started out with some piano-driven down-south blues, courtesy of Henry Butler.  In his bright gold suit, and dark sunglasses, Henry Butler's fingers moved at lighting speed across the keys, producing a splendid combination of blues, jazz, Afro-Cuban and old southern folk music.  The pride of New Orleans and renowned world wide as one of the finest blues and jazz pianists alive today, Butler is also apparently (and fairly ironically considering that he's been blind since he was a child) a well-known photographer, and has had his work displayed in several prestigious galleries.  Unable to see the crowd, which was fairly scant, but growing every minute, Butler played call and answer with the audience to get a feel for out mood and size, and seemed pleased that people were out so early in the day to see him.  Butler's deep and silky voice carried far across the grounds, and could be heard well before you reached the venue proper, giving those still on their way up the hill a little preview of what lay ahead.  Both the air and the rhythms were hot, and Henry Butler's cover of "Iko Iko" (talkin' 'bout hey now, hey now!) got at least a few people up and dancing and clapping in time.  Spirits were indeed high.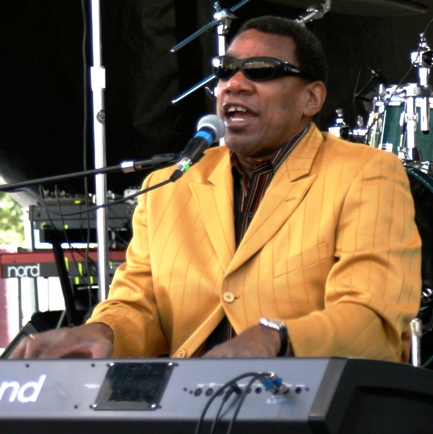 In addition to the ten main acts, there were several "in betweener" acts that played on a small platform out in front of the stage to keep the crowd occupied while the roadies did their thing.  After Henry Butler left the stage, local boy Aaron Davis brought his acoustic guitar out front and played a few songs.  A little folksy, a little bluesy, with some pretty cool slide riffs and a harmonica worked in, Aaron Davis created a pleasant interlude until Kaki King came to the stage.
In February of 2007, Kaki King had the honor of being the sole female listed in Rolling Stone Magazine's list of the "New Guitar Gods," and fellow guitar god Nels Cline (of Wilco and the Nels Cline Singers) made an appearance on the side of the stage to watch her play.  Backed by a full rock band lineup, Kaki King plays a mean tap-and-pick guitar, and sings.  Her style is along the admittedly vague lines of singer-songwriter, but with more emphasis on instrumentation and creating a mood, or atmosphere, that frames each piece, rather than the tremblingly emotional vocals exhibited by a great many other singer-songwriters.  Not that she lacks a voice, but she uses it with something of a minimalist slant.  There's a dark side to her music, not angry, but slightly twisted, laced with hints of black comedy and drama, and at times bordering on psychedelic.  Hers is truly a unique method and a unique sound.
Several Jackson Hole residents might remember Kaki King from her show at the resort's bar and hot spot, the Mangy Moose.  Kaki admitted to the audience that she had been sick for that show, with something like a 100° fever, and barely remembered it.  Although in good health this time around, bad luck seems to follow her to Jackson Hole, and on this trip the Transportation Security Administration had seized an entire box of her latest CDs, a box that she had intended to sell at the festival, and her toothpaste.  "I guess I'll get cavities, but I won't be able to afford to get them fixed since I can't sell any CD's," she said, "so if anyone has any extra toothpaste…" Then she broke a string, and while she changed it her band jammed it up a bit, and things were back to normal in no time.  The jam actually flowed quite well into the next song, giving the performance a little of that spontaneous flavor that festival shows are known for.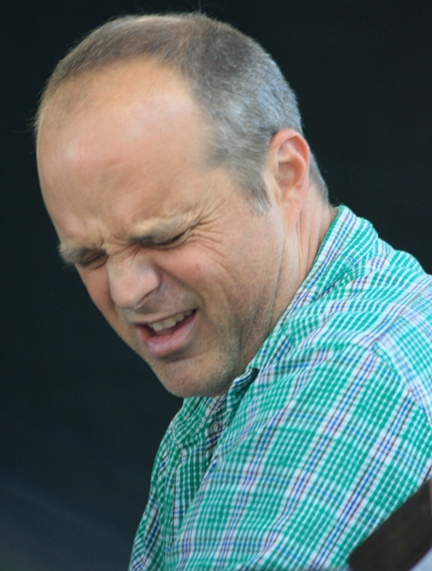 While the crew took down Kaki's gear and set up for Medeski, Martin, and Wood, Ari Lester brought his brand of spoken word hip hop to the platform.  Upbeat, quasi-political, intellectual, and often humorous, Ari Lester is the kind of optimist whose attitude rubs off on those around him, but at the same time, he's not everyone's cup of tea.  Although they were far outnumbered by those who found Ari intriguing, I caught a few people in the audience grumbling, strange as it seems to me to be put off by optimism.  I, on the other hand, preferred to laugh along.  Ari's a creative guy, no doubt, and in it just to get his message out, and to put people in a good mood.  Although he was selling home-burned CDs for $5, he made it clear that if fans really wanted one, but had no money, he'd give them one anyway.  Ari is good people.
A little jazzy funk was next on the menu, care of Medeski, Martin, and Wood.  The last time I saw MMW, it was slightly anti-climactic.  But then again, the venue, and consequently the sound, sucked.  In a proper setting with proper sound, MMW really kick it out.  The crowd around the stage was pretty dense, and getting denser all the time, and despite the heat of mid afternoon, the audience danced and jumped around ardently, intoxicated with funky rhythms and craft beer.  The beauty of this particular threesome is the distinctive talent of each individual.  John Medeski is something of a wizard on the keys, using several sets simultaneously to weave a vivid and wildly experimental soundscape built upon jazz foundations but transcendent into a genre all his own.  Chris Wood plays both electric and standup bass, incorporating elements of blues, jazz and electronica into his heavy bass lines, which are in many ways the driving force behind the band.  And Billy Martin's flare with atypical beats, and small noise making devices, provides the rhythmic framework and danceability behind everything.  All in perfect harmony, the trio moved seamlessly through their set, synthesizing a never-ending barrage of energy and sound.
The one downside to the Jackson Hole Music Festival was the distinct lack of guest appearances.  With so many talented musicians in one place at one time, festivals provide the perfect opportunity for collaboration, and concertgoers love this kind of stuff.  I found myself fantasizing about a Ben Harper-Robert Randolph slide guitar jam, but sadly, it never came to pass.  In fact the only guest appearance during the whole weekend was when Kaki King came back out to play around with MMW, inserting her dark and hypnotic atmospherics superbly into their experimental jazz framework.  Medeski, Martin and Wood grooved their way through nearly and hour and a half of music, flawlessly transitioning from one thread to the next, and pushing every rhythm into the body of every fan.  As I wandered the photo pit, I could tell by the bands body language that they were enjoying themselves far more than then had when they played the University of Colorado gymnasium (the last time I saw them), proof-positive that the quality of the venue does indeed make a difference.  A huge difference apparently, since my impression of their show at CU was that the whole thing was rather flat.  But on Saturday, MMW must have been on, because their set seemed to be over far too soon.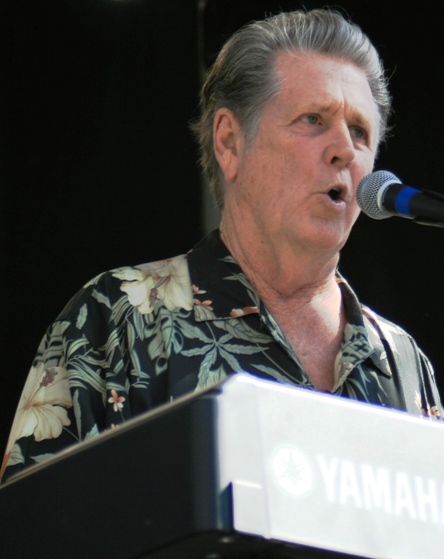 Next on the bill was Brian Wilson, and since his roadies couldn't seem to set up without broadcasting all their doings to the entire crowd, the in-betweener act was scratched.  Instead we had to hear "check, check, Brian's mic, check, check," for nearly 40 minutes.  I would rather have heard Ari Lester again.
Brian Wilson was one of the Beach Boys, a past he clings to with ferocity.  I recognize how influential the Beach Boys were on early 60's rock and roll, you can hear their influence strongly in the Beatles' early work (and even in a few White Album tracks) for example, but still, I've never been a Beach Boys fan.  Happy-go-lucky singing about surfing and cars just doesn't do it for me, what can I say?  But since Brian Wilson's career goes well beyond the Beach Boys, I tried to keep an open mind.  The crowd seemed into it, and danced and sang like the ocean was just beyond the stage, but I must say, I was not impressed.  For one, Brian Wilson seems to rely to an inordinate degree on his backup band, which is large and perhaps unnecessarily complex.  With 9 other people on stage with him, including at least one other keyboard player, Brian Wilson doesn't really need to do anything.  His voice was swallowed up in the 4-part vocal harmonies, and his hands were only on the keys about 10% of the time.  The rest of the time he merely clapped or rested his hands on his thighs.  He played more than a few Beach Boys songs, and only their number 1 hits.  "I love the Beach Boys," a front row fan confided to me, "I just didn't like the Beach Boys songs he picked.  I think he could have done better, but its still great to see someone like this."  Perhaps she was right.
There was a high point, however, when Brian and the gang sizzled their way through a cover of "Johnny Be Good."  Additionally, there were plenty of Brian Wilson originals; imbued with back-in-the-day SoCal spirit still, but at least I hadn't heard them a million times before.  And there was a Theremin, which is almost always cool.  It wasn't all bad, it was feel-good music, good for a hot day, where the weather is fine, the beer is cold, and the people are friendly.  And undoubtedly, Brian Wilson is a legend.  Just to seen him is worth something.
The Miller Sisters came out to play a few songs while we all waited for Wilco.  The pair has got a bit of an Indigo Girls vibe, and much of the crowd remained standing during their set, which usually a good sign.  Unfortunately for Wilco, the sun was directly in their eyes when they came on stage.  Jeff Tweedy and the gang were good sports, though, and Jeff bantered with the crowd, getting quite a few laughs and claps for his familiarity and easy going manner.  Wilco's brand of country rock seemed to fit in perfectly to against the backdrop of the Wyoming landscape, and as the sun set behind the mountain and Jeff Tweedy bid it "good riddance" and "sayonara," the air grew cool, and the last of the paragliders floated over the stage (oh, by the way, there were paragliders in the skies all day).  The audience had reached its maximum.  As I looked back up the hillside, the venue seemed near capacity, and everybody was fixated on Wilco.  For me, one of the highlights was to watch Nels Cline play guitar.  One moment he is passionately melodic, the next he's viscously tearing through a dissonant and highly distorted solo.  The guy is pretty amazing.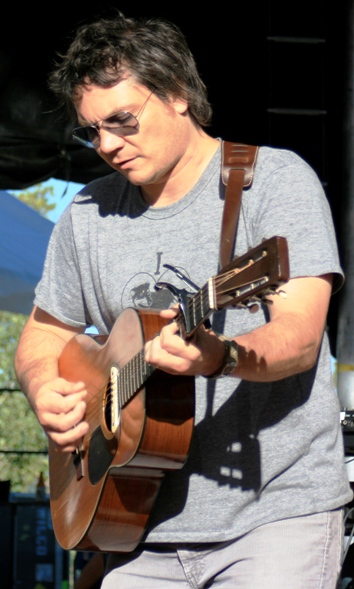 Wilco pulled songs from all over their career, but mostly from their most recent two studio albums.  Included in the bill were "You are my face," "Impossible Germany," "Walken," and "Hate it here," all off Sky Blue Sky, and "Jesus, etc.," "Pot Kettle Black," and "I'm the Man Who Loves You" off Yankee Hotel Foxtrot.  After playing something like 18 songs, the band took a quick break and encored with "Kingpin" and "Hoodoo Voodoo."  Wilco has gained a fair bit of notoriety over the past several years, but to see them in such an intimate setting (a festival it may have been, but as I've said, it was quite a small one) was a treat I'm glad not to have missed.  When Jeff Tweedy spoke to the crowd, you could almost believe that he was speaking to you, and could hear what you yelled back at him.  Jeff Tweedy was even nice enough to dedicate "California Stars" to Brian Wilson.  Maybe he's a Beach Boys fan.
It wouldn't be quite fair to classify Wilco as country music, nor is it entirely rock and roll.  Whatever it is, Wilco's appeal is their insightful, impassioned and melodic brand of country rock.  Their songs feel like the mean something, more than just good-time music, certainly, and sans the lyrics about "my old pickup truck" and "my old hound dog," which are borderline staples in County-Western music.  There is often a sense of tragedy in their work, and growing beyond it to something else.  There may be a strong pop rock vibe to Wilco's songs too, but only in the sense that they stick with you, and I would say there is an element of depth and experimentalism that goes beyond the bounds of pop music as a genre.  There was no longer any mindless crowd chatter, as there inevitably is during the mid day festival acts where some percentage of the population is merely killing time until the next show.  All eyes were on the stage.  Some people danced, many people sang along, a quite a few people just kicked back, drank a beer or smoked a joint and listened intently.  The setting was perfect, the music was cookin', the air was cool and fresh, and all seemed right with the world.
Day One of the Jackson Hole Music Festival wrapped up at around 8:30 pm or so.  This seemed early to me, but after thinking about it, I feel like I know the reason why it made sense.  Every effort was made to make the festival as green as could be.  Recycling bins were abundant, the plastic cups were compostable, and the Pizza tent even attempted to use reusable wooden plates (although this works less well as the day goes by and people stop bringing them back).  Sustainability was obviously a priority, and a worthy one I would say.  But if the festival goes too late, then there has to be lights set up for people to guide themselves by.  Big lights and all over the place to cover the necessary ground.  By ending just after sunset, in the dusky hours of evening, the festival crew saved themselves some serious money by not running all that lighting equipment, savings which were in turn passed on in the form of low ticket prices.  What is more, in an era where the source of our energy is a genuine concern, any effort to conserve energy is worthy of applause.  I can handle an early end to the night if it means less energy was wasted.  But with a lineup of this caliber, I don't think anyone had any reason to complain about the first annual Jackson Hole Music Festival.