With twenty-one records released through the genre bending marathon existence that is Jacob Fred Jazz Odyssey, the band has plenty of material to choose from. Original founder and ivory tickler Brian Haas, along with his well-versed cohorts, dug deep into their songbook for a set of re-worked classics spanning their twenty-year career last Thursday at Dazzle Jazz in Denver, Colorado. To celebrate their twentieth anniversary, JFJO performed four separately ticketed sets over two evenings, all being recorded for a future live release. Due to the live recording taking place, Dazzle's musical director pleaded with us to keep off of our phones, not to holler too much, and to welcome the band, which is where I became confused as to whether I should stand, clap, whistle, or just reside in my seat, a subtle golf clap showing my subdued appreciation.
The low-lit ambiance of Dazzle slowly morphed into a seated affair, where bobbing your head and rapping your fingers replaced dancing. If somehow unaware of the decade, you could imagine your favorite literary sleuth slouched in a corner booth over a whiskey highball, neat. It's a Philip Marlowe haunt. Sam Spade could be assessing a case in the back of the room, a smoky silhouette lingering over his cold eyes. Having never stepped into the nationally renowned jazz club, I had to ask myself, "why not?"
The Jacob Fred Jazz Odyssey is one of those bands whose name you've heard or seen, possibly even recognized, though you might not be familiar with their brand of charismatic, cross-genre musical pollination.  Bringing the evening to life was the aforementioned Brian Haas on pia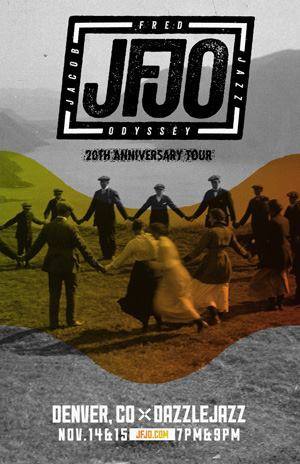 no and keyboards, Chris Combs on lap steel guitar and electric guitar, and the animated Josh Raymer keeping the beat on drums. To start the show, the close-knit group tantalized the crowd with slow excursions into uncharted audible expression: the haunting whine of the lap steel, the intricate syncopation of Raymer's kit, and the ramming chime of Haas' piano.
While most jazz doesn't call for a lively stage presence, JFJO isn't your normal jazz band. With Raymer getting the most out of his two hands, Haas and Combs watched each other sprint through solos, comically chiding and urging one another to continue in any given direction or to bring the song to a split-second conclusion. When the band felt it, and acknowledged to each other that they were really going somewhere with their playing, the crowd did as well. Being in such close proximity and intimately seated in booths and tables a paper airplane toss from the stage, I couldn't help but smile when a particular song like The Muppets Get Lost at the County Fair excelled to a level the band was visually satisfied with.
While jazz is the first genre one would expect this band to play, they're often associated with the jam band community, probably due to their unleashed takes on intricate arrangements and their knack for playing summer music festivals. You could even say jazz was the original jam, and if that's the case, JFJO consists of a little bit of everything.  Comb's effect driven lap steel adds an otherworldly take on the rural country music of the band's home of Tulsa, Oklahoma. Rotating between an electric guitar and lap steel, he looked like he was doing the worm, vertically, with shockwaves shooting from his toes to shoulders. And then there's Haas, playing piano and all sorts of other bells and whistles in his keyboard world. He'll be going jazz one minute and honkytonk the next; bouncing and gyrating like Dr. Frankenstein when he brought his monster to life. He seemed to hold the keys (pun intended!) to each number, often leading the way and mouthing encouragement to the band.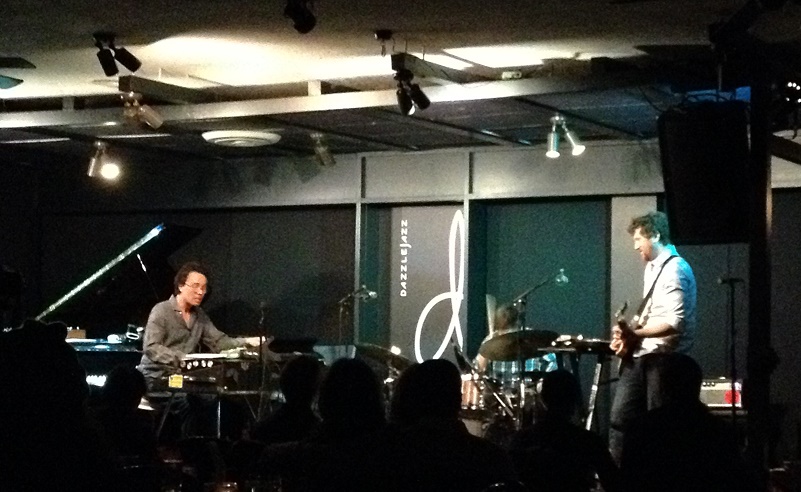 Though it seemed they might play right up until their second show was set to begin, Haas thanked the crowd for their support and lack of excessive cheering before introducing the final number. When the lights came back on, I wasn't quite sure what I had seen, but I knew I liked it. JFJO continues to push the limits of musical distinction, meshing favorable styles like country and blues into their psychedelic jazz background twenty years in the making. Hopefully, Dazzle brings them back sooner than later, and the special night of recorded music makes it onto a vinyl pressing for Record Store Day on April 19th, like Haas said is their intent. It wasn't until I was well into my drive back to Boulder that I realized there is no Jacob or Fred in the band, but a jazz odyssey is a fair description, though it might not justify the true extent of musical backgrounds represented in their compositions.