Only a year into her teens, and boasting a wide smile at every concert, Jaden Carlson seems to be doing what she loves, and it shows in her playing. There's no comparison to the crashed and burnt refugees of the entertainment industry; no label issued stranglehold on her creativity and self-motivated drive. She writes her own songs and lyrics and even finds time to do her homework between band practice.
Following an acoustic album and assembly of the fully electrified Jaden Carlson Band, the trio has been performing all over Colorado. Most importantly, they've struck a balance between their live shows and recording. Those familiar with Jaden's guitar solos will feel right at home with JCB's debut album, Polychromatic. Recorded and mastered by some of the most recognized names along the Front Range, the album is crisp and runs along in a structured arrangement that for the most part sees tracks alternate between instrumentals and those with Jaden singing.
The opening track, "Essium," is a feeler. It introduces the guitar driven instrumentals that showcase Jaden's vibe before steering into the meat of the album. The true kicking off point comes in the form of "The Wrong Way." The little funkstress' still developing but well-rounded vocals materialize while bassist Eric Luba double-times on keys, particularly the organ heard throughout the eleven jam heavy tunes. Drummer Will Trask is money on the beat, allowing the keys and guitar to build to a carefully plotted climax.
Drawing on jam band influences, Jaden is naturally pulled to the funky rhythms that get a live crowd rollicking. "Mudflip" runs around in circles, up and down the fret board with a Nascar pace. You can close your eyes, breathe in the music, and picture a dark club with disco ball reflected laser lights washing over sweaty, rhythmic bodies as they flail to Jaden's rapid fire, effect laced playing.
While her emotive lyrics can come off as moody and misplaced for her age, they're actually clear, contemplative views of the dark side of growing up. Backed by much more uplifting instrumentals, songs like "No Use Hanging Around" still take on a somber tone, finding balance in light of lyrical angst.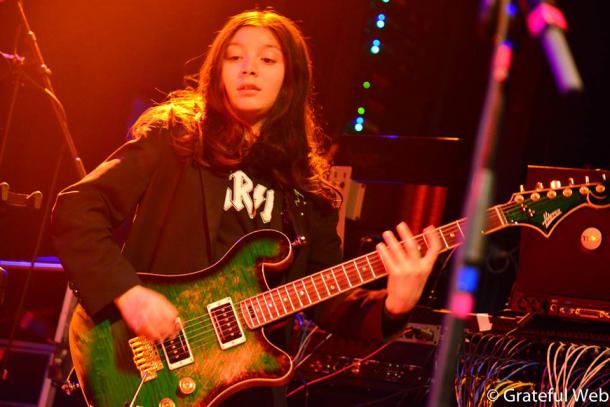 Following the funk guitar driven "Backwards Kick," "Beyond These Walls" and "Nothing Left" drift into lyrically nihilism. "I've got nothing left/and all I ever learned/was to take everything you loved/and watch it as it burned." A youth beyond her years and seemingly not out of her depth, there's something special about Jaden's drive and prowess. Reading like a heart stolen for the first time, Jaden enunciates the emotions of good times and bad, solemn yet luminous. At an age where belonging can take the place of self-expression, her matter of fact yet metaphorically laced tongue is something anybody can appreciate.
The final product comes off sounding a step above the similarly talented funk-jam combos coming out of the high altitude Colorado Front Range. With Jaden's ever evolving knowledge for the guitar and the unfolding nature of her lyrics, it's only a matter of time before we see her adorning front pages of publications, listening to her recordings on Sirius/XM's Jam On, and touring through the club scene of America. While it's easy to be swayed at a young age and lose track of the dreams you possess as a child, Jaden seems to be living to her own rhythm. Armed with an album that more than holds it own, it'll be a treat watching the band, and Jaden herself, grow into the now lofty expectations they've set for themselves.