Of the living legendary Jazz musicians of the 20th century, few perform with such purpose and poise as Mahavishnu John McLaughlin. As the groundbreaking Jazz-fusion originating guitarist has put it in two separate interviews with Grateful Web, it's all out of love. Love for life, love for the players in his earth-shattering 4th Dimension band, love for exploration, love for all people. McLaughlin first came to worldwide prominence as the dissonantly precise guitar for Miles Davis' game-changing 1969 albums "In A Silent Way," and "Bitches Brew." Davis' unrelenting ego, refused to succumb to music chart evidence of jazz fading in wake of rock 'n' roll's snowballing popularity. He knew that jazz too would evolve. McLaughlin would soon go on to front the formational Jazz-fusion group Mahavishnu Orchestra. But before all of that, there was a little club in London's SoHo district, Ronnie Scott's.
McLaughlin's career blossomed in the 1960s as a member of the house band at the revered club, which opened its doors in 1959. It was there that the young guitarist would develop a sense of musical adventure and his rudiments of stylistic identity. Now, at age seventy-five, the genre-defining bandleader announced a monumental U.S. Tour that will indeed serve as his final tour of the Americans. McLaughlin has chosen to honor this pivotal year by releasing a compilation of two outstanding sold-out gigs from March of 2017 at none other than Ronnie Scott's. Fittingly titled Live @ Ronnie Scott's, McLaughlin hand selected nine remarkable career-spanning tracks that embody the gracefulness and technical prowess of his 4th Dimension group, as they stand contemporary. The virtuosic ensemble of Gary Husband (keyboards and drums), Ranjit Barot (drums, konokol chant), and Etienne M'Bappé (drums) match McLaughlin's sense of adventure with a certain restraint that could only come from a heart connection of playing together for the better part of the decade, and surely Live @ Ronnie Scott's will be met by delight of jazz appreciators everywhere.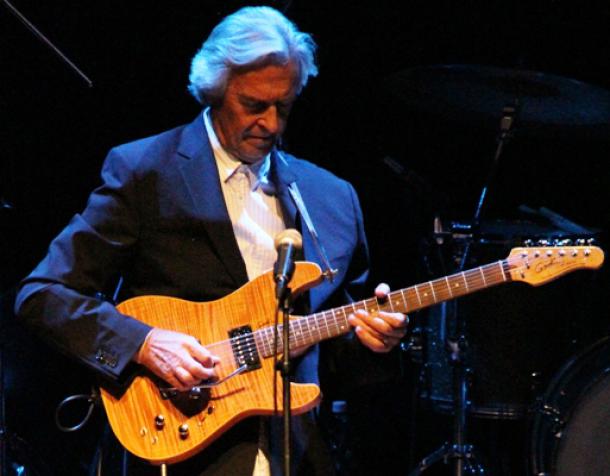 The flourishing opening track, "The Meeting of The Spirits," exhibits McLaughlin's signature tight precision and melodic disposition. It's also the title of his upcoming co-headlining farewell tour with guitarist Jimmy Herring. The two revered artists undoubtedly share an affinity for voyaging lesser-explored realms of the guitar. To the delight of fans they'll share the stage for a series of limited live engagements. Herring's Invisible Whip will open for The 4th Dimension followed by the two joining forces for an expansive closing jam based on classic Mahavishnu Orchestra material. On that note, two classic cuts from Mahavishnu Orchestra's original lineup are covered on Live @ Ronnie Scott's. Both "Miles Beyond," and "Vital Transformation" are classic tracks that introduced the world to the style of jazz-fusion. Decades later, at Ronnie Scott's with the 4th Dimension, these fresh renderings bring innovative concept and expression contrasting the original recordings.
Other standouts include an electrified rendition of "El Hombre Que Sabia," McLaughlin's impassioned tribute to his late dear collaborator Paco De Lucia. Perhaps the finest progressive flamenco guitarist in history, Lucia had a special relationship with John, the two wrote and planned on recording "El Hombre Que Sabia," shortly before his passing. The original recording from Black Light (2015) was a supple acoustic track, but here at Ronnie Scott's, listeners hear The 4th Dimension's fiery tribute inversely electric. The dissonant "Gaza City" guides the listener through vibes of a scenic melody-scape of a spiritual space of turmoil. The closing track of Ronnie Scott's, an honest rendition of "Echoes From Then," sounds starkly dissimilar from the 4th Dimensions previous live release The Boston Record. More spacious and upfront is McLaughlin's soaring lead guitar to kick off the track. On display is an artist who has never needed to settle into any path but his own, and he's found that vessel of expression that is better received than explicated.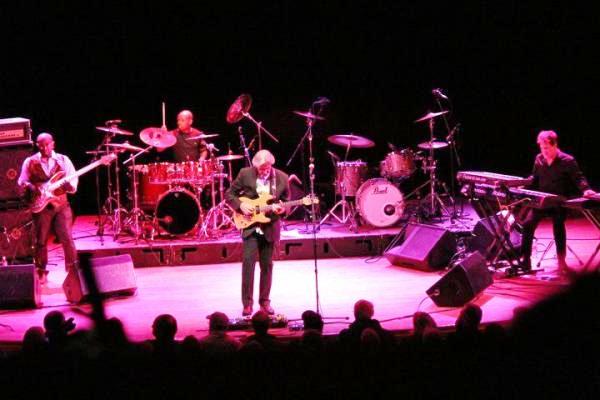 Live @ Ronnie Scott's will be released on Abstract Logix on September 15th. Exploratory music aficionados should know this current expression from Mahavishnu John McLaughlin serves as a proper preview of the vigorous playing to come on this Fall/Winter's heavily anticipated Meeting of The Spirits co-headlined tour with Jimmy Herring & The Invisible Whip, which will indeed be McLaughlin's final U.S. Tour. Get yourself mentally strapped for the awesomeness to come and get ahold of Live @ Ronnie Scott's to begin celebrating McLaughlin's wholehearted farewell to the Americas.