While many acts from the progressive rock era of the 1970s still perform, none play with the precision, conviction, and authority of King Crimson. A Bold statement you say? Without bringing other specific acts into a debate, it all boils down to the devotion and continued creative drive of founding visionary Robert Fripp. From the band's inception in 1968 through their final album of the 1970s Red (1974), Crimson underwent three pivotal lineup changes, once an entire personal change with Fripp standing as the group's sole anchor creator. He saw rock music as broader than what the 1950s had produced, and even the farthest out notes of Sgt. Peppers Lonely Hearts Club Band only scratch the surface of the blissful weirdness contained in the band's breakthrough debut In the Court of the Crimson King (1969). The forward-thinking Fripp never relied on the popularity or momentum of a particular song or album to get cozy with. Instead he wove one of the largest webs of instrumental experimentation and vast original catalogs in rock. The cult fans of King Crimson could maybe even make Deadhead nerd-dom look amateur by contrast.
Crimson's lifeblood isn't measured by which members do or don't play with them anymore. Rather, Fripp seizes every personnel change as an opportune moment to birth uproarious arrangements and evolutions in their propensity. King Crimson's 2017 tour of America is titled "Radical Action," playing fourteen cities and twenty-one concerts in the United States and Mexico. While their strong EP of new originals "Heroes," (in tribute to David Bowie) has devoted fans pleased and open-eared, it's the rarities from the back catalog that haven't been played in decades or ever that make this tour's lineup exceptionally strong.
Longtime members Robert Fripp (guitar, synths, mellotron), Tony Levin (bass), Mel Collins (saxophones and flutes), and Pat Mastelotto (drums), were joined again by Jakko Jakszyk (lead vocals, guitar), Gavin Harrison (drums), Bill Reiflin (keyboards, synthesizers) and Jeremy Stacey (drums, piano, vocals.) Fripp has referred to the octet as a double quartet, as the extended instrumentals phase, prominently featuring individual players in distinct movements. It's less of a solo format but rather waves of fusion accompaniment. To the delight of California fans, Crimson played five shows in four cities this tour. Grateful Web was delighted to attend the first night of two at Oakland's Fox Theater, which had nearly sold out months in advance. One admirable side note was that the band politely but firmly requested absolutely no photography whatsoever from the audience. No I-Phones, no professional cameras, no distractions. This enabled an entirely disturbance-free habitat for King Crimson to captivate its audience. The crowd's response was not of this century; total immersion, complete silence, entire engagement. The band went as far as to eliminate flashy concert lighting gimmicks. They needed no gimmicks with the three drummers stage-front and a whole electronic orchestra for our complete enjoyment.
Crimson opened with the classic cut "Neurotica" from 1982's album Beat. Levin's wild finger-work took the cut far beyond the breadth of the wild studio version. From the get go their discipline and attention to the tiniest detail was evident, the drummers furiously interweaving but never surpassing another softer element. Continuing with deep cuts, Crim broke out "Pictures of a City" from the seminal second album In The Wake of Poseidon (1970). The extended instrumental utilized the uninhabited range of original saxophonist Mel Collins, who was a member of Crim during that classic era. Vocalist Jakko Jakszyk, who joined Crimson in 2013, did Greg Lake's original vocals solid justice, if not surpassing in range and longevity. Noticeable immediately was the coinciding melodic lockdown of stoic Fripp (seated humbly stage-left toward the back) and Collins. Their sparks brought this classic material in back full throttle. "Radical Action III" a newer cut, was met with wonderment and approval.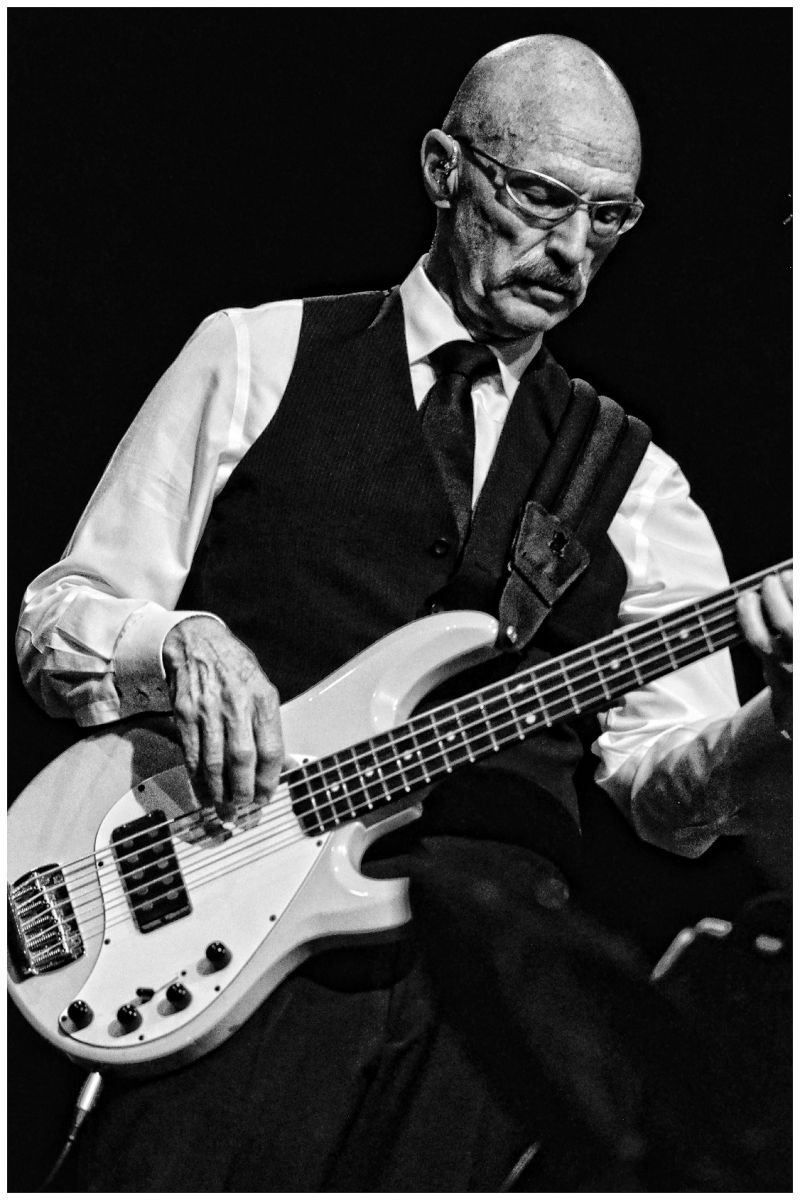 Their first foray into Crimson's evolutionary album Islands (1971) began softly with Jakszyk's best minstrel vernacular before explosions of blaring soprano and heavily syncopated guitar licks. Impressive were the nuanced thrashings of Mastelotto, who played the loudest and softest of the three drummers that evening. Also from Islands came "Sailors Tale," followed by recent material "Easy Money" and "Meltdown". The real peak of the first set was closer, the title song from Islands. Jakszyk truly did it justice, as it was brought out of hibernation this tour for the songs first performance since 1971. His beautiful yet downhearted approach made for a touching contrast to the rowdier moments of the first set. Yes, Crimson does beautiful ballads too. Another surprise element was finding (the band's newest) drummer Jeremy Stacey on a proper piano accompaniment, nestled behind his kit.
The second set brought more material from the classic "Discipline" era of Crimson, when the band temporarily went by that name in the early 1980s after disbandment since 1974. "Indiscipline" brought the heavy guitar and synthesized modules prominently forward, with earth-shattering bass from a mischievous Levin. After "The Construktion of Light," the band sprang into one of the night's highlights. A large sum of Crimson's third groundbreaking album Lizard (1970.) It marked a turning point in the band's sound when Fripp stepped up as the prominent architect of compositional direction. Jakszyk, who mastered the challenging poetics and dense lyrical alliteration, executed "Cirkus," with sheer precision. Collins' angst-ridden blaring foghorn never sounded livelier, specifically melding with Fripp's fleeting fills. Notable also was Bill Reiflin's trippy synthesizer work, for which he was prominently featured, as in previous Crimson incarnations he also lent his talents as a drummer. "The Battle of Glass Tears" movement from the "Lizards" suite followed, further demonstrating vast soundscapes and that anything was potentially up for performance. Also from the classic era (met with riotous applause from the crowd) was the title track from the band's final album of the 1970s, "Red." In perfect contrast next to the developing soundscapes of Lizard, Red was heavy lead guitar fury from Fripp, whose prominence was met by the wildest reactions of the night. "Fallen Angel" and "Starless" closed the second set, with an encore call that needed no extrapolation whatsoever.
Crimson closed their first night at The Fox with two heavy-hitting classics, "The Court of King Crimson," and "21st Century Schizoid Man," with a cover of David Bowie's "Heroes" sandwiched in between. Astounding as it was, King Crimson still has the propensity to tackle songs from all over their vast catalog, while incessantly adding new intersections and elements. The vibes in the room were awe, glee, and respect intertwined. Devoted loyal die-hards reaffirmed and new fans well acquired, Crimson has substantial ingenuity pumping through its veins. Catch the octet on tour now, if you're lucky enough to get tickets before they sold out!