Though jazz connotes many meanings to many different people something most can agree upon is that jazz necessitates devotion to an instrument. How that layout translates is wide spanning. Jazz can also be narrowed down stylistically by place of origin. Chicago and New York jazz will have signature qualities and different style. Modern day, the city of New Orleans is host to the hardest working jazz community and even broader live performance in general. Those who have visited know that a trip to the French Quarter will ensure entertainment from dozens of "nameless" performers, many who are masters of their craft. It all culminates every year with the gigantic New Orleans Jazz and Heritage Festival, which is so much larger than just the festival grounds and the lineup. One band is taking the spirit of the New Orleans jazz scene, representing certain modern progressions but more importantly preserving that devotion to musicianship that jazz and New Orleans is all about.
The Preservation Hall Jazz Band gets its name from the famous Preservation Hall in the French Quarter, performing over 150 shows a year. Most impressively is that six of the eight current musicians that make up the band appear to be at least 60 years or older. Pres Hall has no front or lead performer. All showcase their individual talents that reflect the deep roots of New Orleans Jazz. Though this incarnation of the Pres Hall Band has members dating back to 1982 (as according to trumpeter Mark Braud) the original moniker/band name dates back to the 1960s performing at Bill Graham's venues and beyond. Alongside Braud is the talented Freddie Lonzo whose vocals and trombone playing reflects a deep understanding of tradition and history of the New Orleans style, regardless of being decades younger than other members. The senior members include tuba player Ronell Johnson, Joseph Lastie Jr. on drums, Rickie Monie on piano, Clint Maedgen on tenor saxophone and Charlie Gabriel on clarinet/saxophone. All share lead vocal and instrumental duties.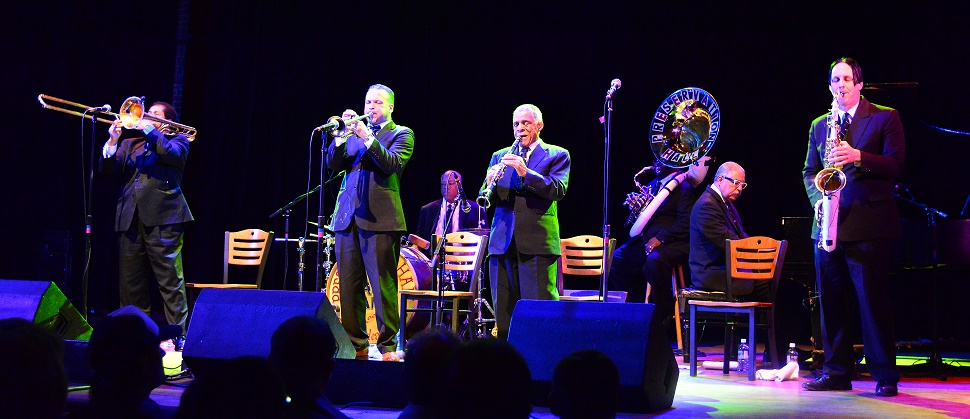 In addition, Boulder crowds were quite eager and enthusiastic about this particular performance since it was a rescheduled date from their original planned September 2013 gig, which had to be canceled due to the historic Boulder flooding. In a sincere moment of empathy, Braud acknowledged the band's joy in finally getting to Boulder and reminded us that their home city and ours have both endured the hardships of flooding and displacement. Pres Hall Jazz is all about featuring each player's talents in the forefront. At many moments during the music the performers would allow their fellows to take the lead while they respectfully sat back with their dormant instrument waiting to join back in unison. Though Pres Hall Jazz represents a retrospective of No 'leans Jazz history, their throwback is to the times of bigger band music, less about improvisation, more about interplay and commonality. It's an unintended history lesson for the audience and a pleasure for the band.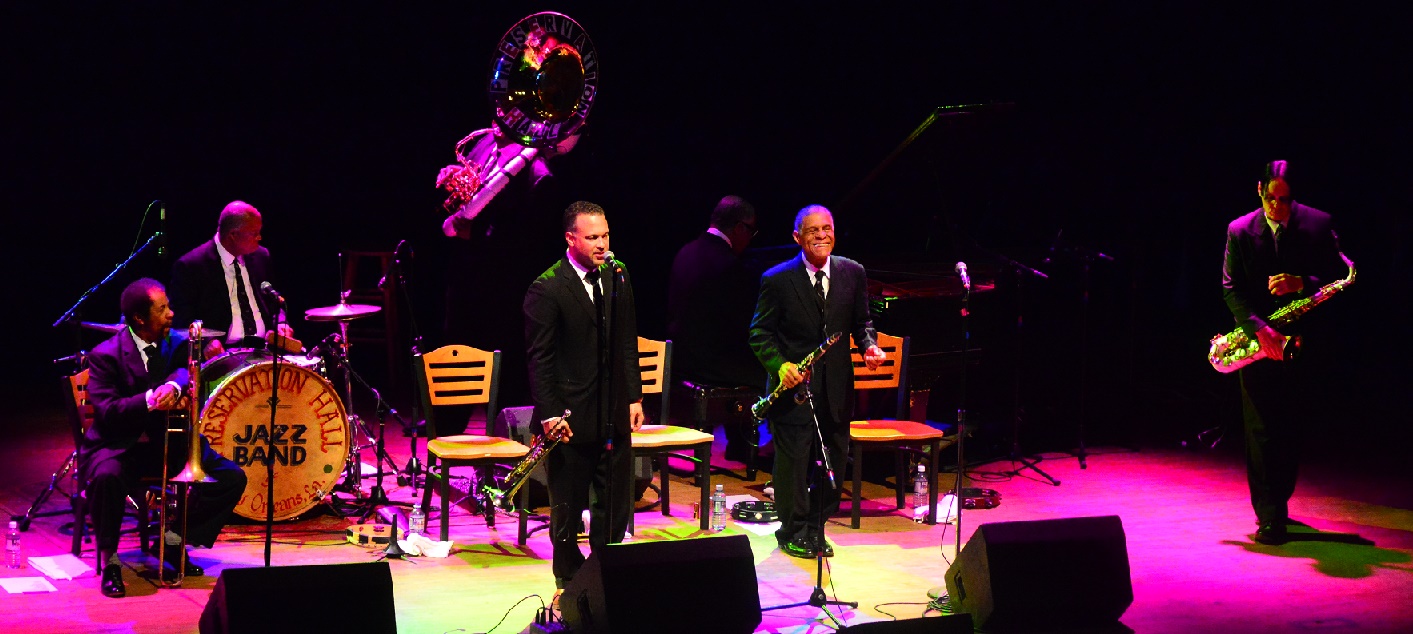 Last Thursday's Boulder Theater performance was adoringly received as the band worked through classics like "Saint James Infirmary," "When The Saints Come Marching In," and "Sixteen Tons." They didn't have to beg anybody for standing ovations after many of the night's songs. Boulder got a taste of New Orleans heritage and after some light imploring from the band, got out of their seats to dance and swing around. Nearly half a year after their scheduled Boulder Theater performance, the Pres Hall Band brought it big time. Grateful Web looks forward to their next stop in our Colorado territory. For those who can't get enough, down south to New Orleans for the Jazz & Heritage Festival next month!