This August 2011 was the sixteenth anniversary of the passing of Jerry Garcia. Most heads know the time between his birthday (August 1st) and his death day (August 9th) as "The Days Between". For the countless people touched by the band and its legacy, these days are a reminder that though the band known as "The Grateful Dead" stopped performing after Garcia's passing in August 1995, that the musical entity of Grateful Dead will always exist through continuing musical interpreters and as long as there are fans to support its longevity. It is a certainty to say this band's music will be around for much longer than any of the surviving members.
Aside from Bob Weir, Phil Lesh, Mickey Hart and Billy Kreutzmann's side projects since the disbanding of Grateful Dead, including their "Other Ones" projects or even the 2004 and 2009 "The Dead" tours, no post-Dead incarnation has been more successful in keeping the Grateful Dead's musical sensibility and mission alive than Dark Star Orchestra. Founded by Guitarists Rob Eaton & John Kadlecik and keyboardist Scott Larned in 1996, the bands original mission was to keep the music of the Dead alive by recreating Dead setlists from various years, staying faithful to the musical arrangement and ambiance of the year and show they were recreating.
Guitarist Rob Eaton who takes on Bob Weir's ace personality and musical style has been a Head since the early days, sharing many of his 1980s taped recordings on the Internet Archive for all to hear. Eaton's other side band from Dark Star Orchestra, The Rocky Mountain Grateful Dead Revue, seems to be less intent on precisely recreating shows. Rather, they seem to simply continue that musical sensibility. Last Friday, August 26th, his band performed an energetic and genuine performance at Boulder, Colorado's historic Boulder Theatre, located in the heart of the downtown area.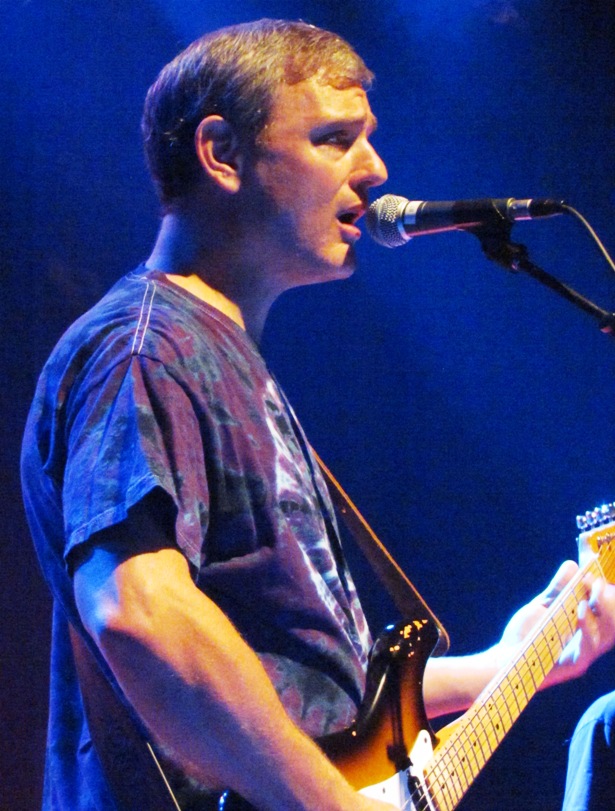 Though the Friday night show was far from sold out, the boys launched into a set of unforgettable interpretations of Dead classics and rarities. That evening, members of Colorado's own Shakedown Street, another Dead cover-band mainstay, backed Eaton. Drummer Jake Wolf and Keyboard player Joe Weisiger are the continuing members of Eaton's Dead Revue project and accompanied him with conviction and high energy. A ragingly loud "Mississippi Half-Step Uptown Toodleloo" gets the medium sized crowd in the zone. Suddenly, a sold-out sized crowd doesn't seem important. Out of the opener, the band drops into the delicate classic "Jack Straw". They had come to throw down, and it was immediately apparent. The boys continued to bust out classic renditions of dead tunes capping the first set off with a bit of a rarity: "The Music Never Stopped" into the Garcia/Hunter classic "Sugaree" dropping back into "Music Never Stopped" reprise to end the set. Eaton is obviously getting his DSO kicks out with this ultra-rare medley only performed once by Grateful Dead in 1982 at Alpine Valley, now famously documented as Dick's Picks Volume 32.
As the house lights brightened at set break I noticed a thicker audience boisterously spirited and holding on for another quality set. Boulder Theater's bustling downtown environment was the perfect habitat for such a show. Having seen nearly a dozen Dark Star Orchestra and other Rocky Mountain Dead Revue shows here, contextually the performance and scene is right at home. Second set highlights included a workout on the Motown classic "I Second That Emotion" performed frequently by Garcia's side bands "Legion of Mary" and his own side band "Jerry Garcia Band". The Dead Revue gives new life to this classic number. The topper of second set for me was certainly the Dead's concept opus "Terrapin Station" interpreted as the Dead performed it live rather than the over-orchestrated studio rendition. Drummer Jake Wolf hammers and plunders away on his set covering percussion parts of both Hart and Kreutzmann. Quite impressive for a song that took the Grateful Dead's two drummers to perform live adequately.

Leaving the venue after the nearly three-hour show, I was reminded about how strongly the currents of the Dead tributary are still flowing, through the surviving members and their next generation of interpreters. Just as Bach and Beethoven continue to be interpreted by symphony orchestration as standards, the Dead's music continues in its own context far beyond the existence of the original band. They affected so many people and the musicians that continue their mission allow old fans to nostalgically look back and younger fans to experience the music live that they never could have else wise. Eaton's Rocky Mountain Grateful Dead Revue is a must see for any casual fan or the most hardcore tour-head.