When I walked into the Fox Theatre last Tuesday night through the crowd of longhaired, indignant teenagers, would-be revolutionaries and otherwise strongly opinionated young people, the building fairly stank of angst and attitude. The cause: Rose Hill Drive was celebrating the release of their second studio album, "Moon is the New Earth," and it attracted the usual gang of Alice In Chains, Kurt Cobain and Hansen look-a-likes, as well as a healthy assortment of all-around rock and roll junkies whose physical appearance wasn't so easy to stereotype. Hometown heroes around the Boulder music scene, Rose Hill Drive has been at the game long enough to draw a serious, and rowdy, crowd.
Rose Hill Drive's style is largely influenced by 60's and 70's era rock and roll, touching on elements of rhythm and blues, heavy metal, and psychedelic, but with a grungy modern flare. As essentially the sole purveyor of back to basics rock and roll in our fair city, Rose Hill Drive has, until recently, been one of Boulder's favorite secrets. Then word finally got out and the secret died, and now we have to share them with the world. For a while they seemed on the verge of blowing up, and Rose Hill found themselves playing with big name acts the likes of The Who and the Black Crowes, while being hailed internationally, by Rolling Stone Magazine among others, as a band to keep a close eye on. Then Rose Hill Drive sort of dropped out of the spotlight. Now we know what they've been working on.
While their first album was more a tribute to their influences, ranging from Led Zeppelin and the Beatles to Aerosmith and Hendrix, "Moon is the New Earth" is more about Rose Hill Drive carving out their own unique niche in the genre that is simply (and without a preceding adjective) rock and roll. Forceful, high energy, cocky, debauch, and infused with the heavy, pounding rhythms, distorted guitars and towering solos that characterize what we now call "classic" rock, "Moon is the New Earth" has proved worth waiting for. The first four tracks rumble through with hardly a pause, and are catchy enough to stick in your head almost immediately. In particular, "Laughing in the Streets," a line of which is taken for the album's title, is sure to be a mainstay in Rose Hill Drive's YouTube, and has been getting loads of hits.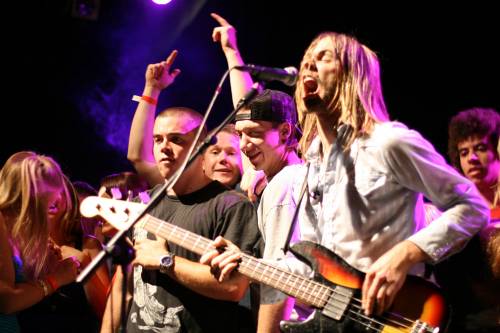 Songs on the second half of the album get a little darker and edgy, and in the case of "One Night Stand," haunting and sexy. Without any of the 12 songs running more than 5 minutes, the album is short enough for even my attention span, and strikes an excellent balance of simplicity, memorable licks, defiant lyrics, and self-assured swagger. They only weak point on the album is a song in the second half called Godfather, which has all the hallmarks of radio-friendly pop rock, a fairly serious departure from Rose Hill Drive's rebellious standards. Otherwise, having listened to it roughly 37 times already, I can say that the album is solid, and an intriguing glimpse into the capabilities and potential of this band. It will be interesting to see where they go from here. repertoire for some time to come, and "Sneak Out," the new album's opening track, could easily catch on as a mainstream fan favorite. A video for "Sneak Out" is also posted on youtube.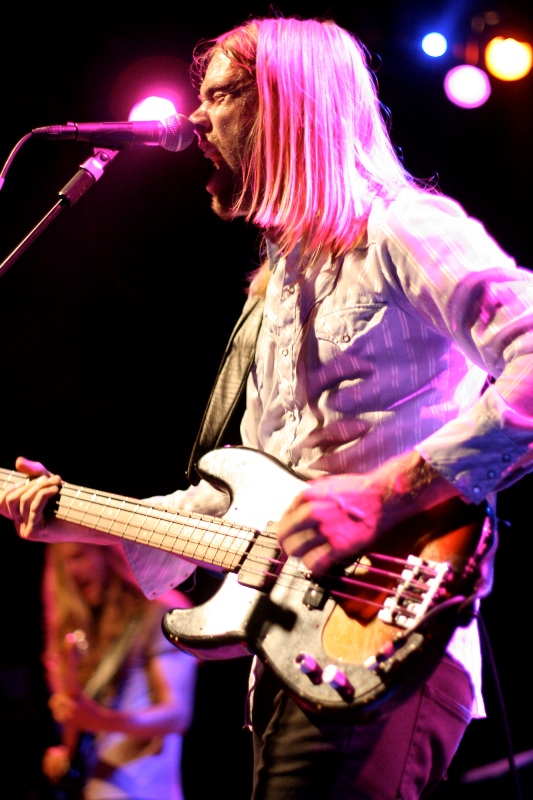 On Tuesday night, Rose Hill Drive brought their swagger on stage, reveling in the energy and enthusiasm of the hometown crowd. It was symbiosis – the harder they played the harder the crowd threw themselves around, and the more the crowd got into it, the harder the band played. Most if not all of the tracks from the new album (I hadn't listened to it yet) made it onto the setlist, in extended, tricked-out form, and were bolstered by a collection of some of the best tracks from their first album, including "Reptilian Blues," "Showdown," "Cool Cody," and "Raise Your Hands."
In top form, Nathan Barnes and brothers Jacob and Daniel Sproul, on drums, bass and guitar respectively, were as exciting to watch as they were to hear, embodying every beat, and sweating out every note, holding nothing back. Backed by the expert rhythm of Nathan's drums, Jacob's deep and dirty bass work carries his powerful, dynamic voice and snarling falsettos, which are reminiscent of some of rock's all time great vocalists (like Robert Plant, Chris Cornell, or Steven Tyler). Meanwhile, watching Daniel navigate through his beautifully savage riffs is like watching something almost pornographic, as the touch of the strings alone seems to cause great emotion ranging from rage to ecstasy. Or maybe it's just Michael Jordan syndrome, in which the mind focuses so hard it can no longer control what the face is doing (remember his tongue?). Either way, Rose Hill Drive's performance showed all the quality and strengths of a much larger, much more seasoned band. Of course nobody minds when a band is talented beyond their years, but an inflated ego beyond what is deserved can be detrimental, and there is always the concern among the hometown fans that Rose Hill Drive will outgrow us, and leave us behind. Murmurs in the will-call line suggested that Rose Hill Drive's recent success and the large heads that came with it were coming between them and their fans, but in the theater the band seemed to genuinely appreciate their fan base, thanking them often, and inviting a flood of well wishers up on stage for the encore.
The love lasted nearly to the end, when everyone was kicked off stage for the final song, a raucous cover of Zeppelin's "Communication Breakdown" that would have made Jimmy Page and Robert Plant proud. It was an excellent rendition, but with a choice like that, it's no wonder Rose Hill Drive is continuously compared to Zeppelin (I think I made the connection like three times in this article). But then again, it's not like being compared to one of the greatest rock and roll acts of all time is a bad thing!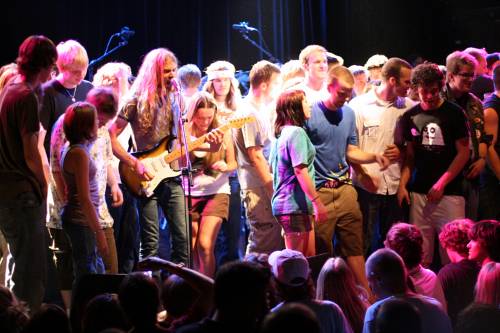 The band is currently touring in support of their new album, and will be making an appearance at the inaugural Mile High Music Festival in Denver. I'll see y'all there! And remember, if you buy the album make sure to listen to it loud. It's better that way!