Summer is music festival season. Plain and simple. It's the easiest time to travel to whatever destination and have the assurance that you will be comfortable and satisfied with variable weather conditions. July festivals do have their pitfalls on that end though, with scorching temperatures and fields filled with thousands of festival-goers, sometimes the dead of summer multi-day musical festivals can be exhausting and problematic to those who are more about the music and less about sunscreen and lugging camping gear around. That's why it's refreshing to attend a festival like Avon, Colorado's Snowball Music Festival.
Snowball had its generally successful second year running in Vail Valley near Beaver Creek Ski Resort, an upscale mountain and resort. The mountain was built in the 1970s in anticipation of drawing a Winter Olympics to the Colorado Rockies. Alas, it never happened, but Beaver Creek Resort and the small town of Avon have grown up over the decades into a high-end mountain resort experience. Avon has been a town regarded for its live music scene because of it's Villar Center, an acoustically inert opera-house style venue known for drawing a variety of high-end touring musicians. Bringing the likes of jazz, classical, bluegrass, and other highbrow styles, many tours make their way through Avon and Vail Valley to hit Villar.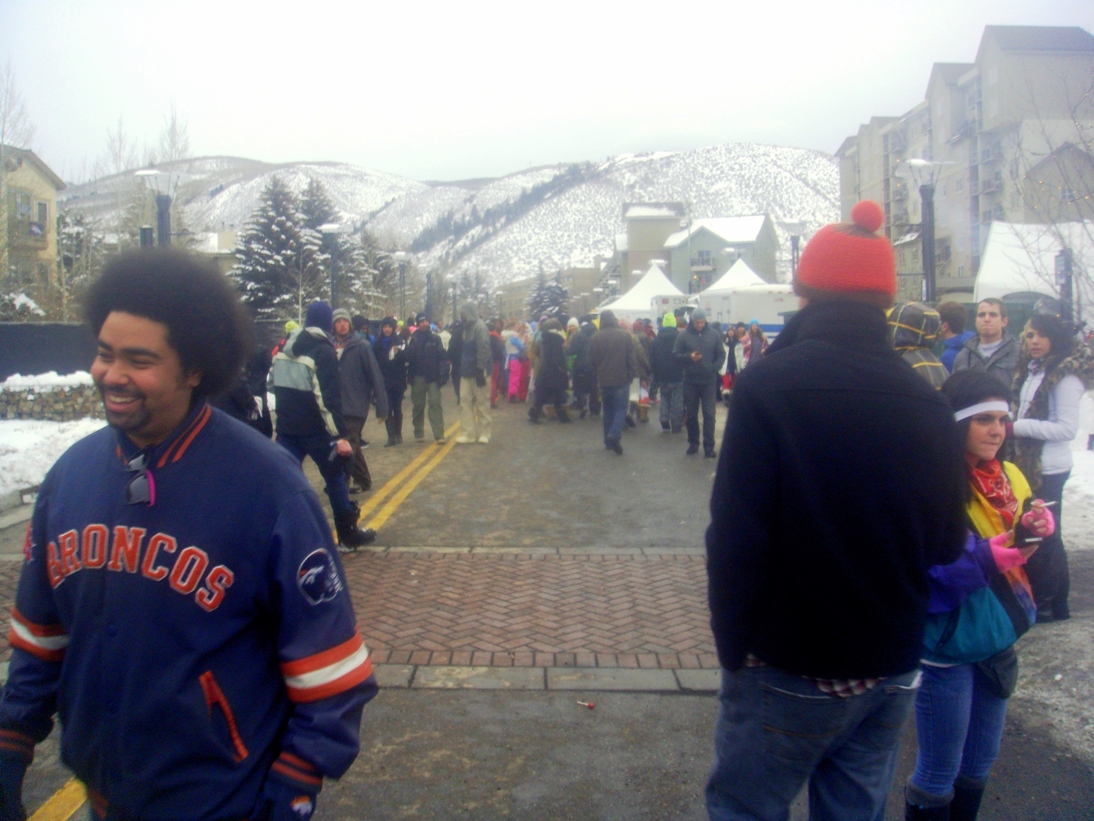 Never to sidetrack, Snowball is a three-day multi-stage musical festival that seemed to me to hold roughly 15,000 people in its relatively small grounds. I was privileged to represent the G-Web in coverage of the entire event. Regrettably, other commitments made it impossible for me to attend the opening Friday of the festival. My coverage will be of the two weekend days. Though the scene drew a huge and impressive variety of all styles, the overwhelming quality of most of the acts was that they played electronic music. Whether through the medium of a DJ, partial band, full band, or a hybrid, many would dub this an electronic music festival. American and European acts brought a huge variety of "electronic" music such as Dub-Step, Moombahton, Trace, Electro-funk, House, to name a few. Honestly, electronic music and raves has never been my scene. In the past I found much of it to be convoluted and repetitive. This experience however changed a lot of my outlook on the live scene surrounding these acts. Here we have a super-devoted fan base of enthusiastic, often geek-out style followers that know their favorite musicians act from the bottom-up. This festival helped foster much of that spirit.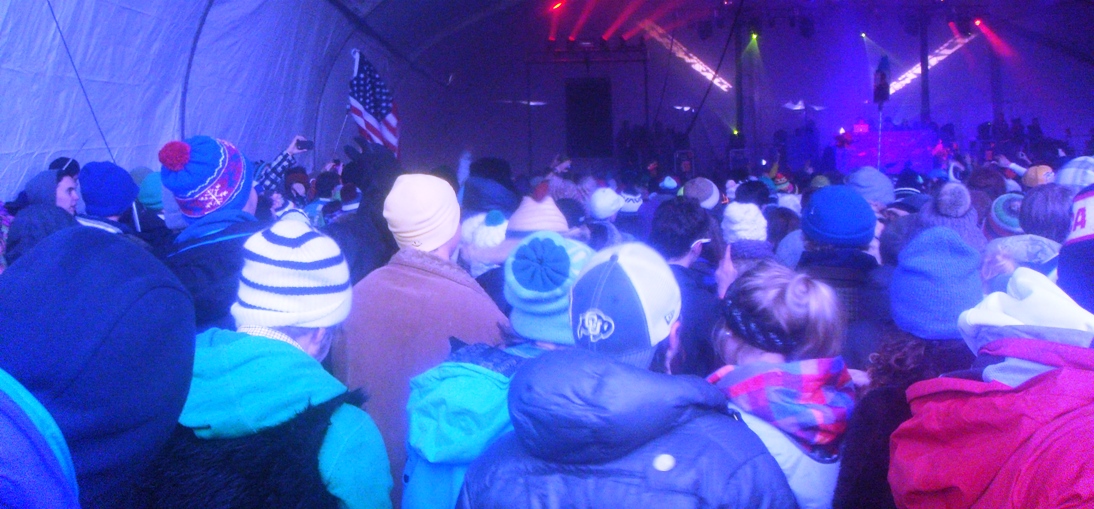 Before getting into a play-by-play of the performers and their sets, I wanted to give a quick wrap on the festival logistics, the grounds themselves, and the people running the festival. First off, the town of Avon seemed like a bit of a logistical hassle to throw a festival attracting most college-aged fans. Obviously this was not a camping festival in the middle of winter at 7,400 feet above sea level. Lodging seemed mostly upscale and pricey. Parking was poorly marked and unclear. People working the lots seemed to try and be helpful, as much as they could considering the general lack of unified knowledge about whether or not their was free parking or what entailed VIP or whatever. In my opinion Avon as a site is flawed. In the past I had attended festivals at Copper Mountain and Keystone resort, both of which had free-parking and were much more accessible and self-explanatory in terms of arriving and finding the grounds. Also lodging was much more affordable to the mostly under 25 crowd.
Every day seemed like different rules and enforcements at Snowball. The first day I was able to park right at the public library (attached to the festival grounds) in a street spot per recommendation of a volunteer guiding traffic near the festival. My car was safely parked the entire night until I relocated it to the supposedly free parking across town (only a mile and a half walk, still, far in the cold. Shuttle service was also provided). But even the parking lot attendants were unclear if parking was free or not. They were told to charge 15 bucks a day for parking, but by the time I re-parked on Saturday night around 10pm, nobody was collecting money for parking, though I could not be guaranteed that I would not be towed or ticketed. Basically there was no real communication between the town and the festival. The next day the library spots were no longer accessible to festival patrons. Since my Press pass included VIP access I inquired at the VIP parking lot about getting a parking permit. The volunteer running the lot told me to talk to box office about obtaining a car permit. When I arrived the box-office lady seemed confused as to my basic inquiry. She used her I-Phone to call her supervisor named "Joe" who informed me that though I had VIP access that I would not be able to park in the VIP lot or obtain a parking pass. He didn't offer any real explanation as to why and made me feel like I was wasting his precious time. Confused and unorganized was the production side at Snowball.
The festival grounds had a large main stage with a sprawling field to fit some 10,000 come headliner time. Three smaller stages, all tented, were scattered around the grounds. "The Groove Tent" was where most of the highly anticipated electronic acts performed. "The Ballroom" stage was located too close to main stage, and noise pollution flooded in, often overwhelming the performers at the smaller stage. The smallest of the stages "The Heat Hut" was for more up-and-coming and support acts. I spent most of my time at the Groove Tent and Main Stage.
One more general complaint about the festival management before getting into the obvious most important element, the music, was that festival did NOT provide water fill stations for patrons inside. Rather, they required you to buy an expensive official Snowball water bottle to refill for free once purchased. To me this is bad business ethics on behalf of the festival. If you're going to be stingy and up charge, don't do it with taxing the water. You want your crowd to be happy, healthy, and hydrated.  People don't mind paying six bucks for a small cup of beer, but please, make water accessible and free. You will be rewarded with return patronage and happy festival-goers. This water issue went so far that certain venders complained to me first hand how management had threatened to kick them out for selling cheap bottled water! Snowball management should call up Planet Bluegrass and get a well-needed ethics lecture on treating your patrons and vendors with respect and dignity. The artists at the festival were great, while the management disappointed me. Anyways, few regrets and onward to talking about what makes it all worth it: the music.
I arrived in Avon early Saturday afternoon. The town is located just a few miles beyond Vail on Interstate 70. After a few confusing roundabouts and poorly marked directions to the festival, I got lucky and scored one of the library parking spots, adjacent to the festival grounds. I was quickly connected with my media credentials and let in through the relaxed security checkpoint of cheery volunteers. I arrived to find the Groove tent bumping to Figure, producer Josh Gard's drum/dub-step crowd-rousing project. I run into a friend who enthusiastically praises Figure's music and reputation. The crowd in the tent is comfortably full and raging to the beats.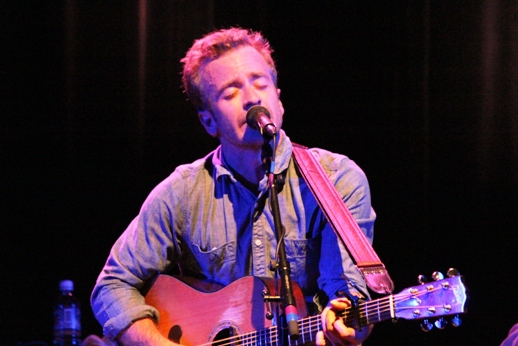 I wander over to the main stage to catch the last few songs of Trampled by Turtles, Michigan's own brand of newgrass that has been respected in the scene since the mid 2000s. Though the main stage and day set is not the most enthusiastic performance of theirs that I have witnessed, they still performed amicably, and got deserved respect from the mostly electronic-head crowd. After Turtles set ended, I scoped out the festival grounds, which had a respectable array of different vendors, food, crafts, and clothing. Everyone seemed to be having a swell time. I was surprised to find myself more at-home at this "womp" festival that I imagined. After all, they did a decent job in varying the lineup and keeping things interesting.
Next on the main stage came "The Head and the Heart". I have seen them at the Planet Bluegrass Ranch in Lyons, CO before and the indie-folk sextet brought their best colours to that intimate space. Unfortunately the environment at SnowBall did not foster the same ambiance or enthusiasm as could have been, especially since the main stage may have been to large of a space for their day set. I wandered over to the Groove Tent for what I was told was an act not to be missed, Dillon Francis.
When I arrived at Main Stage I found it more packed in than the previous set. I found a comfortable standing area just outside of the tent but still within viewing and listening proximity (right behind the soundboard). Francis certainly got the crowd enthusiastic and moving to his multi-appealing blend of Moombahton, Dub-Step, House, and Pop. I found his set to be a little self-indulgent. He seemed as hyped or more than the crowd. Perhaps I am not quite as used to that DJ mentality of hyperactive entertainers but he still seemed a little into himself. The crowd totally ate it up though. And it was an enjoyable hour. Perhaps his all around appeal was a positive quality. He ended the set by telling the crowd that he wanted to take shots with them at the main stage bar. Classic.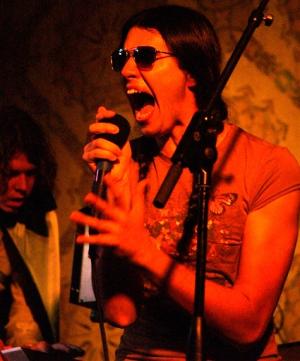 Following almost immediately at the Groove tent was Electro-house duo DataLife, an act that came all the way from Sweden to grace the SnowBall festival. This crowd was the most enthusiastic as I witnessed all weekend. DataLife got the crowd moving after a few technical gremlins and didn't stop with that energy the entire time I was watching. Though I was enjoying myself I wandered over to Mainstage to make it in time for one act I didn't want to miss, TV on the Radio.
The Chicago born TV on the Radio truly defied genre. If you called them Indie, it would mean you were confused on what to call them. It's more like a sound-scapey rhythm and blues psychedelic sideshow. The band brought their unique sound amicably to the festival, getting people in the crowd, even those who had "like no idea who was performing" totally into it. An hour and fifteen minutes went by fast and I was rocking out the whole time. This was one I was excited to see as part of the lineup.
Back to the Groove Tent for one of the festival's most exciting moments, Ghostland Observatory's set. Ghostland is another difficult one to describe. Their a duo, one of which plays on a sequencer and modulator while the other dances about in a Prince-esque manor singing distorted vocals into his mike. While their sound is completely indescribable, you would certainly classify it is electro, but where and how? It didn't seem to matter to the some four thousand jammed packed raging fans that were eating up every moment of their set. I was beyond the barricade for this one, right next to the stage. Their light show was one to be witnessed as well. Sequenced shots of lazers in every direction at every speed kept the energy level high as well. This was one of my favorites of the entire weekend.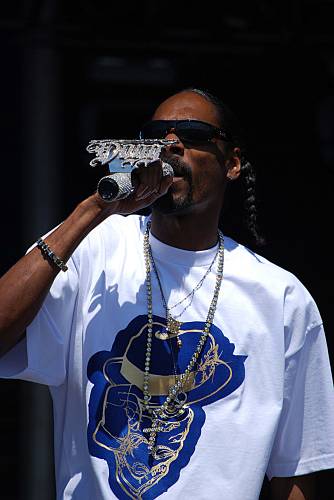 Run over to the main stage to catch that night's headliner Snoop Dogg. I saw his headliner act a few years back at the first Rothbury Festival. Those who know Snoop's celebrity and rapper persona would not have been shocked or surprised by his set, that included an array of backup dancers and singers, a DJ to lay down the tracks, and of course Snoop's diamond embroidered microphone. After running through a setlist of classics he ended the night with "Young, Wild and Free", an anthem about all the things that most of us "young" people do, regardless of care or approval from those who supposedly matter. A nice note to end Saturday night on.
Sunday was a different story. After a full ski day I arrived at the festival around 3PM to find yesterday's parking scenario forbidden. After rude production people running me around I bit the bullet and parked across town for fifteen bucks. Granted Avon is a very small town and the lots would have been only a twenty-minute walk or a five-minute easy shuttle ride, I was bitter because of how easy the day before had been. I arrived on the shuttle to hear people buzzing about the unannounced guest, Leftover Salmon!!! Boulder's own self-described Polyethnic Cajun Slam-grass act was celebrating their 22nd Anniversary with a tour across hotspots in the Rockies. Unfortunately this lineup was sans Bill McKay, their talented keyboard player. This time the band was in top form, even without McKay, featuring founding members Vince Herman (Acoustic Guitar), Drew Emmitt (Mandolin, Electric Guitar), and longtime sidemen Jose Martinez (Drums), Greg Garrison (Bass), Andy Thorn (Banjo). This rendition of Salmon went through many classics, like "Zombie Jamborie", "Hot Burrito Breakdown", and a take on Jimi Hendrix with an upbeat "Hey Joe" led by Drew Emmitt on vocals. Salmon brought a surprisingly stimulated energy to the electro-crowd, who seemed to get down to their energetic hour-long set.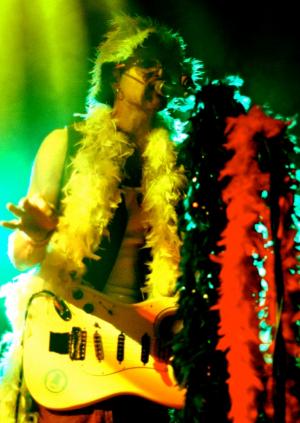 After Salmon, I went to check out Zion Godchaux's band BoomBox, a electro-dance-funk set that is excited the first time you see it and gets growingly more underwhelming each time you return. The sound just wears thin upon repeat listening. I didn't spend much time at Zion's set, as Colorado's own The Motet was about to begin at The Ballroom Stage. As Dave Watts (Drums), Joey Porter (Keys), Garret Sayers (Bass), and the others began to play their "Motet Music" (simply too much wonderfulness going on to describe with genre) the abrasive sound of the Main Stage Afroman set flooded in.  The Motet cranked the sound up and nobody seemed to notice, though the Main and Ballroom stages were certainly too close together for comfort. Logistical changes to keep in mind for next year. After "dancing my face off" to The Motet for well over an hour, Bassnectar, the Sunday headliner, took Main Stage.
The most exciting part of Bassnectar's set was his multi-media production and lightshow. Just one man behind the DJ booth, long hair and gangly in appearance, aided by huge multi-media screens on all sides of the stage displaying psychedelic imagery to kooky cartoons, it certainly aided in his production. Those who are familiar with his music may have appreciated the music side of things more. I was enjoying watching from a distance and seeing the crowd happenings. After an hour and a half of dancing their hearts out, the Snowball crowd dismounted and returned to their cars or hotel rooms for an inevitable long journey home.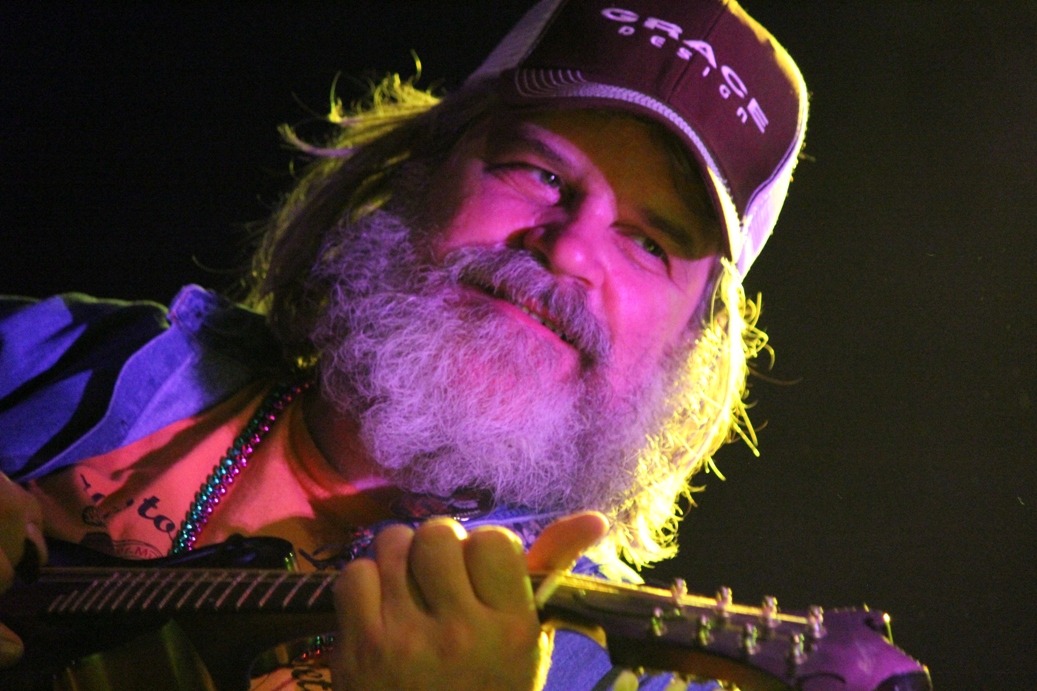 SnowBall Festival was a general success. Its accessibility to nearby mountains made for a fun hybrid experience that those who were willing to throw down for expensive lodging and the right mind-altering substances would have been drawn to. Production for music festivals is always challenging, but that side of things needs to keep in mind being more humanitarian and not charging patrons for water. Also having consistent rules and enforcement instead of each person telling you a different story. In their defense its not always easy organizing these sorts of things so hats off to another successful year of SnowBall. Despite some logistical failures, I would be proud to cover the event again in 2013. Hat's off to all of you womp-heads, dub-fans, and beautiful people. Keep passing those good vibes around and take care of one and other. See you next year!