North Carolina's Steep Canyon Rangers have been picking quality bluegrass since their formation in the early 2000s, but it took a little while for their well-deserved recognition and success to begin snowballing. Sure it helped in 2009 when comedian first and banjoist second Steve Martin recruited the gang as his touring support (really Martin supported their talents), but the quintet really built their reputation on their songwriting abilities and musicianship that has earned them national adoration, multiple Grammy Nominations, and a Grammy win this last season for their new studio album Nobody Knows You. Something about their wholesome old-fangled bluegrass image combined with grounded yet progressive playing ethic really agrees with the national Bluegrass community. It seems like they would fit in nicely in either Nashville or Telluride. Sincerity comes through in their stage demeanor and probably has helped bridge appeal between conservative listeners and newgrass junkies. Regardless of the tired labeling game, Steep Canyon Rangers kill it.
Fiddle Player Nicky Sanders, Guitarist Woody Platt, Banjo-man Graham Sharp, Mandolin Player Mike Guggino, and Bassist Charles Humphrey all share beautiful harmony vocals which are of the up to the caliber of expectations of the traditionalists.  One of the most memorable moments of their Boulder Theatre performance last night was an acapella, which upheld my previous impression that they have the strongest harmony vocals of any of the younger generation of bluegrass ensembles. I saw the band for the first time at Lyons, Colorado's RockyGrass festival about five or six years ago.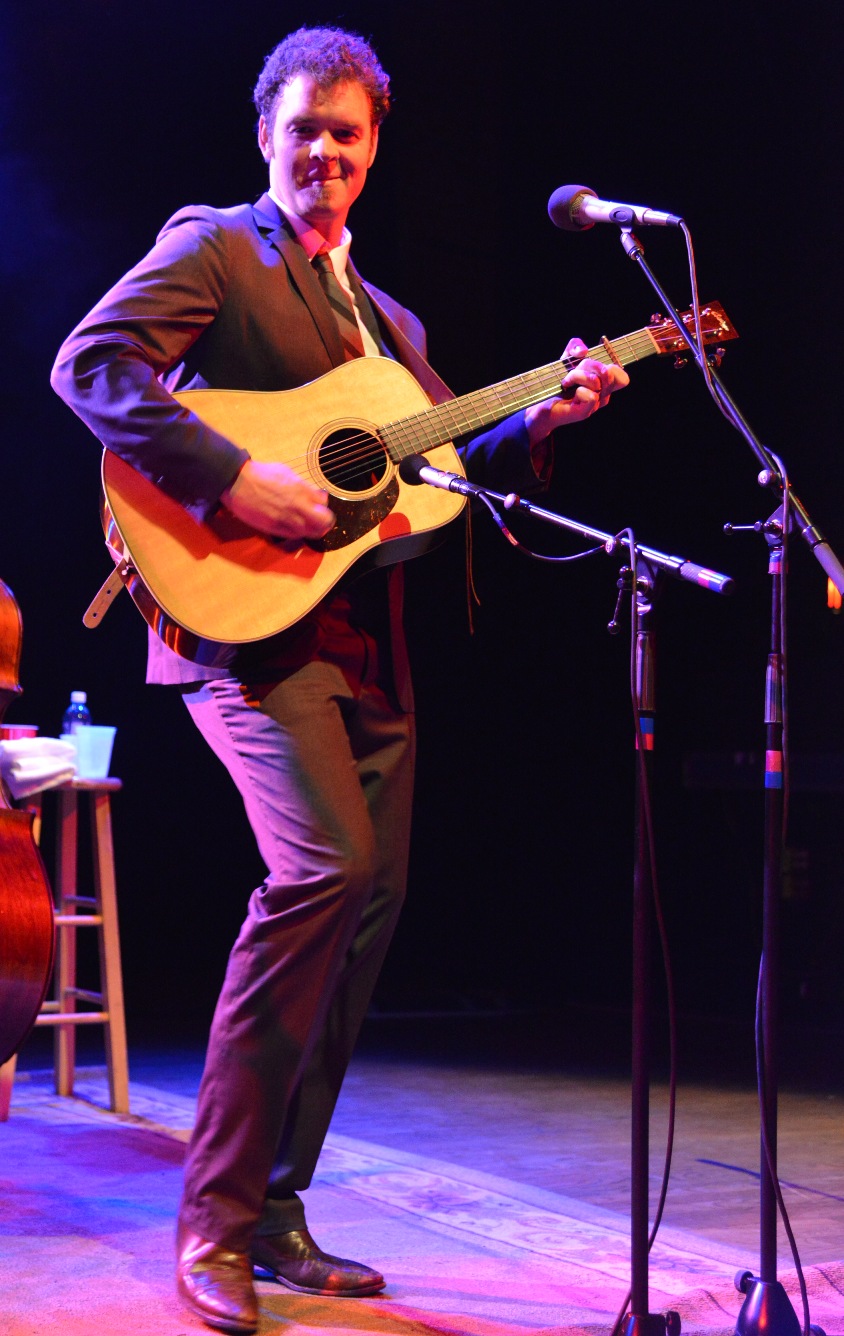 This was before their Steve Martin days and their identity since has seemed untarnished by potential factors that could have influenced their creative direction differently. In addition to the success with the Grammy from Nobody Knows You, the guys are hard at work between touring recording at the late Levon Helm's Studio in Woodstock, New York. They expect to cut and release a new album by the end of the summer. These guys could be contender as the hardest working in the biz. But still these efforts seem natural for a group who has accomplished so much so quickly.
Last night's Boulder Theatre performance featured an opening set from multi-instrumentalist Drew Emmitt and Banjo-man Andy Thorn. Emmitt is a founding member of Colorado's own Leftover Salmon, while Thorn joined the band around four years ago. The strong connector that most likely brought these two to open for Steep Canyon Rangers was session drummer madman Jeff Sipe. He himself is a Leftover Salmon alumnus, and had a long-lasting tenure with the Cajon slam-grass outfit. Though the drums aren't a traditional bluegrass instrument Sipe's strong background in jazz and funk made him a valuable collaborator in Leftover, who was never known for playing straightforward grass. Steep Canyon Rangers had Sipe sit in with a snare, high-hat, and cymbal kit for their Boulder Theatre show. It was nice to see the guys welcome these Colorado boys to their hoedown for an evening of loose collaborations and good times. Thorn and Emmitt played for an hour opening set ranging from standards to originals that had the locals crowd heavily engaged with the familiar place and peoples.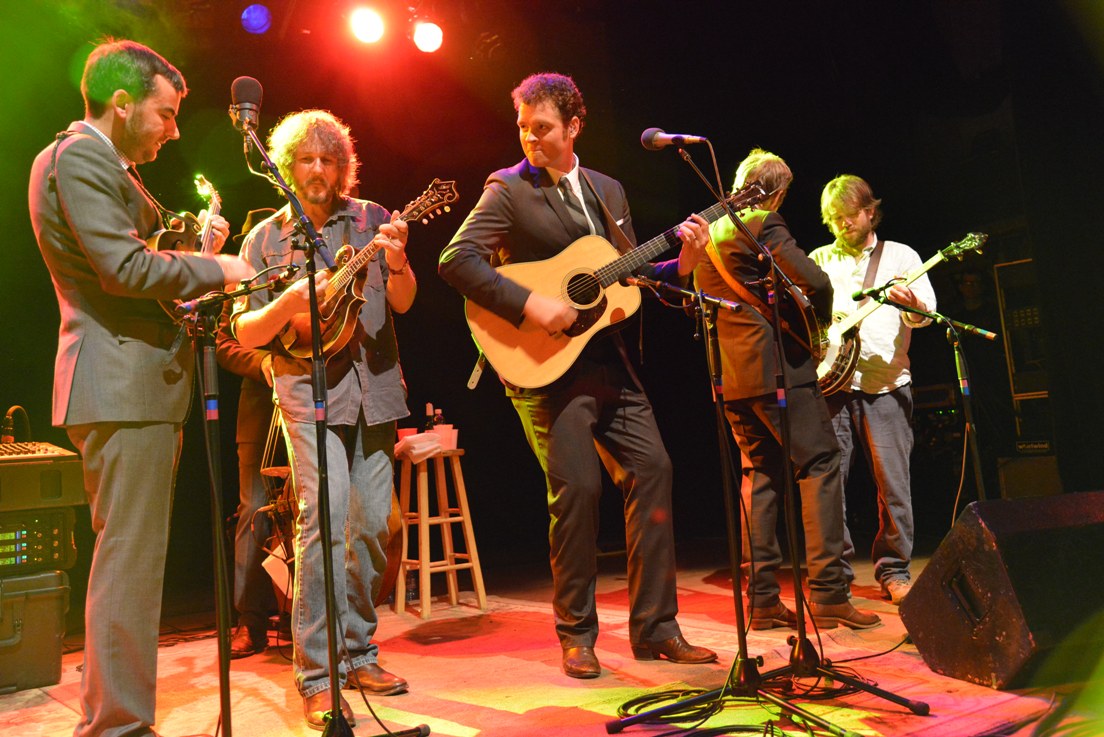 One of the best qualities of Steep Canyon Rangers' performance was that they generally stuck to their own original material. So many of the newer acts feel obligated to pay homage to the founders by constantly covering the classics. This has its time and place but it was refreshing to see these guys putting their material in the forefront and focus. If Nicky Saunder's fiddle line reminded you of "Lee Highway Blues" it was just a little snippet and tease within an original Steep Canyon Rangers Tune. Saunder's in particular stuck out last night with dexterous speed and accuracy. He is up there with Gabe Witcher as one of the hottest fiddle players on the scene. The highlight of their show for me was when Emmitt and Thorn came out to jam three tunes and then again for the encore. It was great to see Mike Guggino and Drew Emmitt playfully duel each other in a game of Rockies v. Appalachians. At the end of the duel everybody seemed to win. Though I am less familiar with Steep Canyon Rangers original tunes, I can say that each was received as individually characteristic of traditional styles without rehashing themes that are tired and too familiar. They seem to have that perfect balance in their catalogue.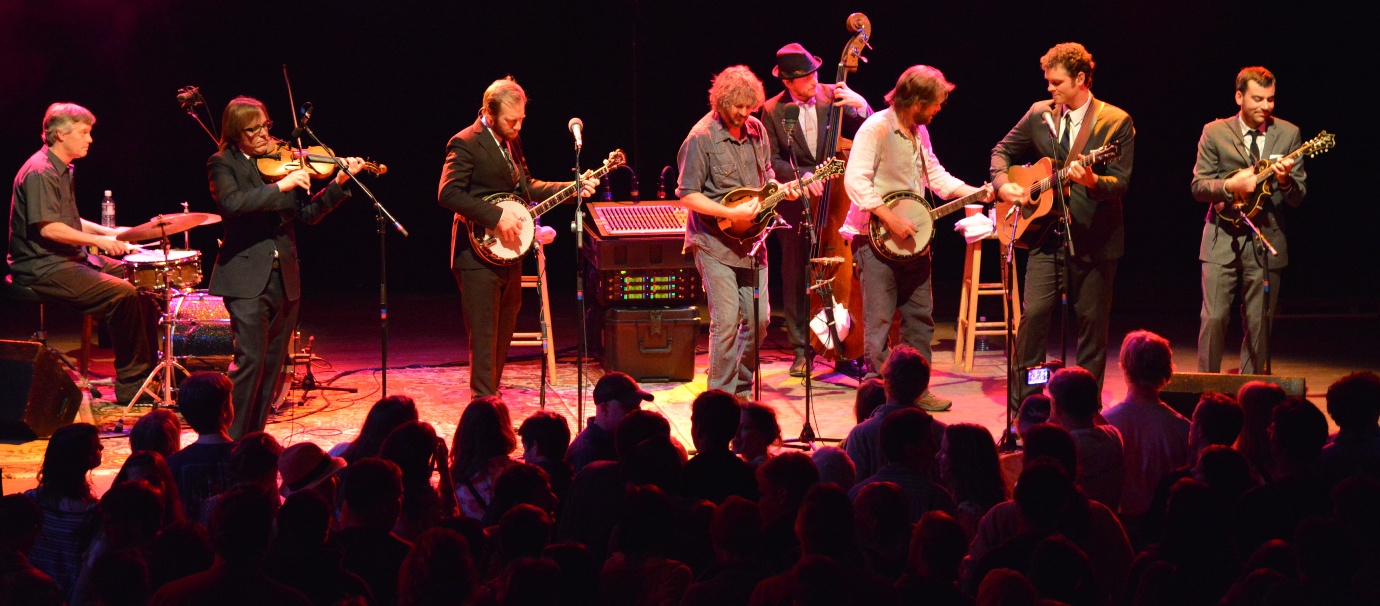 Though the crowd was a bit thin because of a faux snowstorm that probably scared the hordes away, enthusiasm and approval felt like a full house's worth. My only issue with the Sipe collaboration was that he simply wasn't used to his abilities. Keeping the beat on a basic kit has never been Sipe's game, and he respectfully seemed to take the backseat for the entire performance. Never did he have the chance to duel it out or showcase his fine talents. It was a bit of a shame how underused he seemed. Perhaps this was what he and they intended, but as an observer I would have liked a little more interplay. Regardless it certainly didn't detract from the overall performance, it just didn't aide in the way I had expected. In inclusion of the Leftover family was warm and well received as was the generally stellar performance from the guys. I really hope that their up-and-coming album brings as much game as Nobody Knows You and look forward to seeing much of it worked out this summer as Steep Canyon Rangers perform at the Telluride Bluegrass Festival. But until Festival Reunion time, Ahoy!