I drove down to Live Oak, Florida the Thursday before last with a close friend, for what was their third Hulaween experience and my very first one. My friend cautioned me at one point: "I wouldn't tell people this is your first Hulaween." That made sense at the time, considering much of Hulaween's attendance were probably loyal returning patrons, who were in the know about what this place and weekend are like (and there's something to be said for that). But now looking back, I think: why not? Hulaween, as many people hyped to me that it would be, was a milestone live musical experience, something unparalleled in its whole presentation of sound and color and feeling. And that, I think, is worth announcing as something I didn't know before but now do.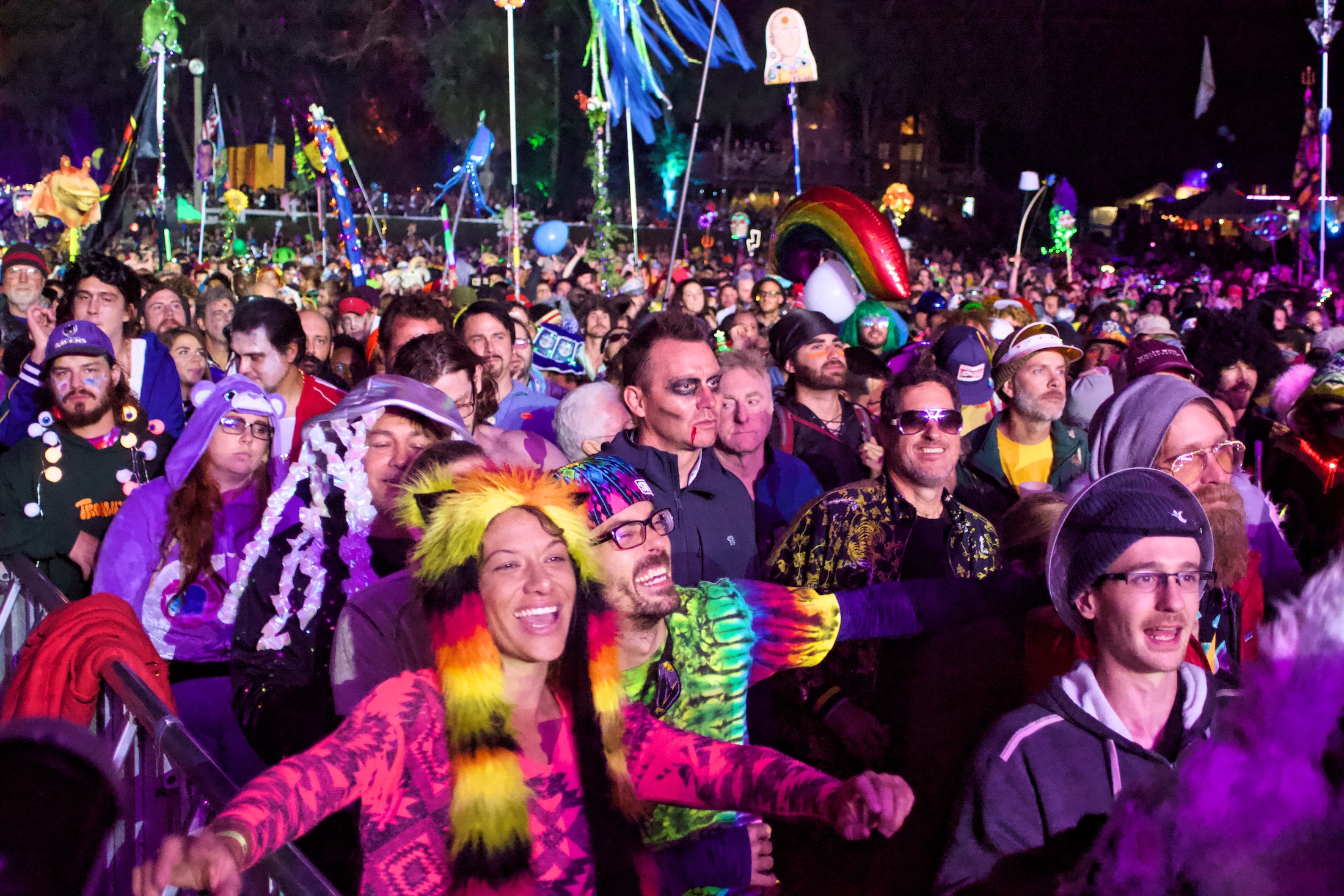 Hulaween is a communal, immersive experience to the max, and I'm not just referencing the wild artistic and special effects sprawling at its Spirit Lake center. Maybe it's because it's a Halloween-centered event, but there's a house party atmosphere that permeates the corners of this music festival that makes it memorable beyond the music. Hulaween is like your music scene's best local band throwing a wager at the favorite hometown venue and for some reason twenty thousand people, and a handful of legendary bands, show up to enchant the evening.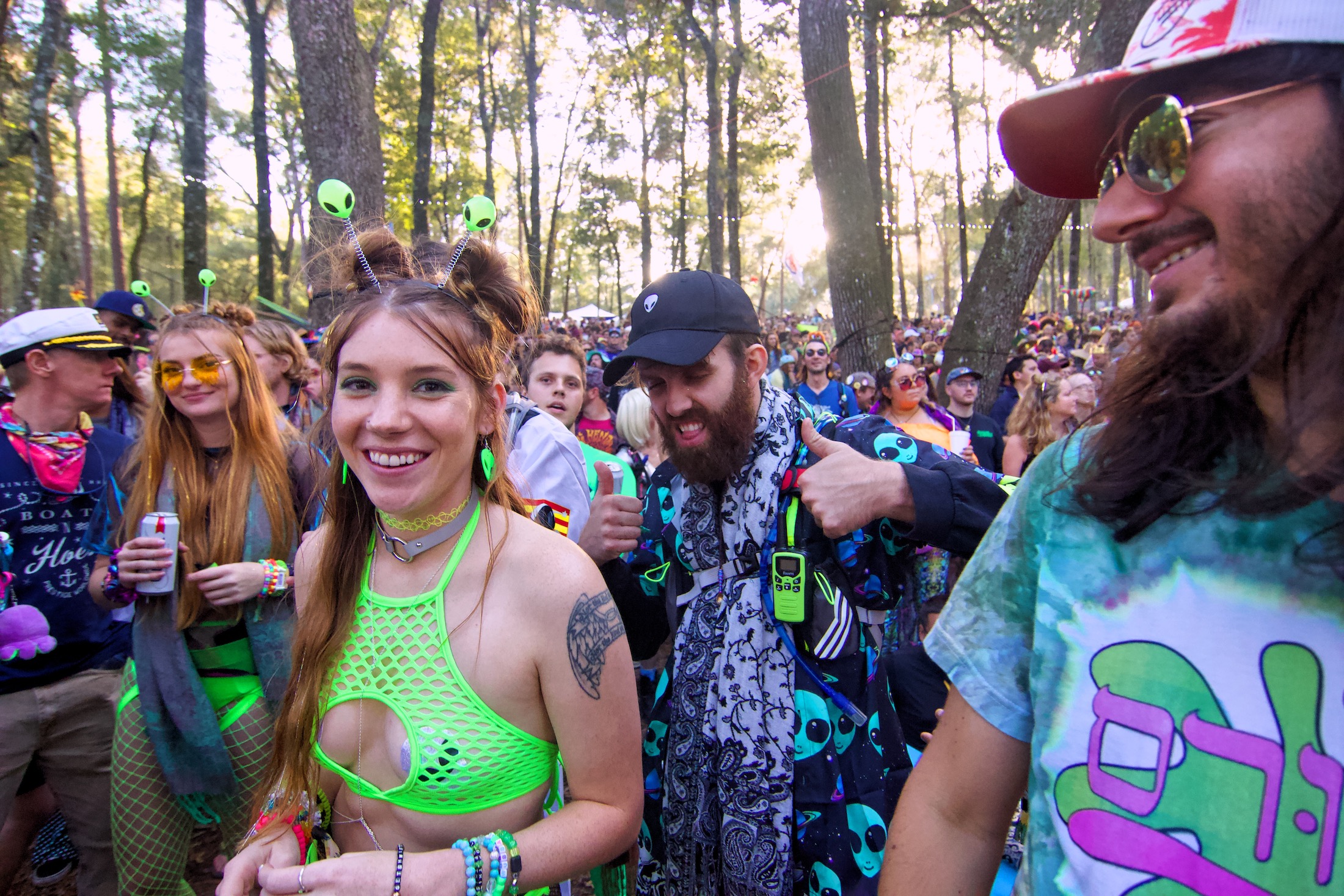 Festivals are the grounds on which to make connections with beautiful strangers, and Hulaween seems an endless well for connections with beautiful strangers. Ninety percent of the crowd is dressed to the max from Thursday to Sunday—I saw Mel Gibson in full-on crazy mode, Oscar The Grouch in a trash can, and everything imaginable in between—and everybody wants the passing photographer to take their picture. But they also want to get to know you, tell you a story, make a lasting impression.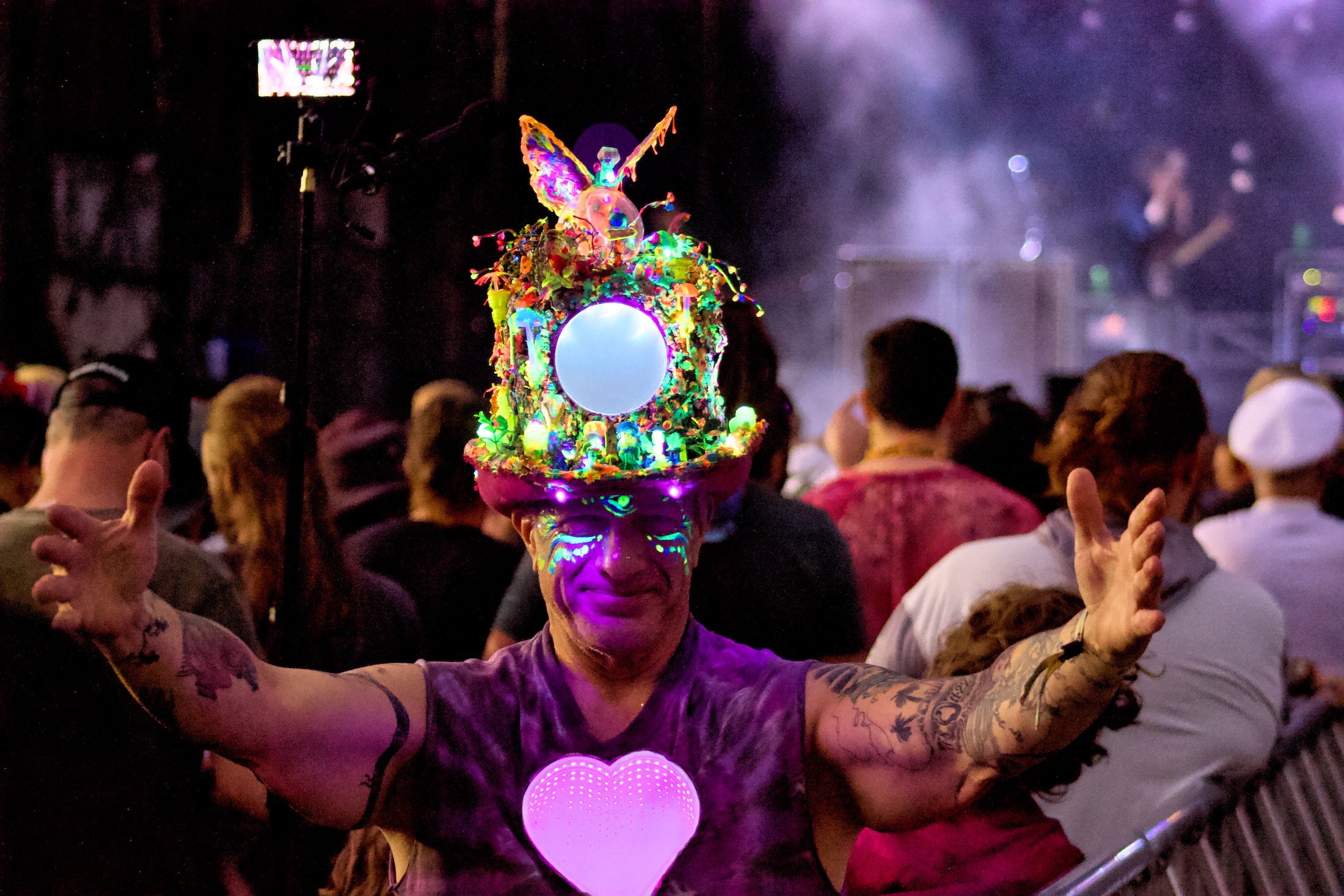 Not twenty minutes after beginning to wander the festival's grounds, just taking it all in, I was having an illuminating conversation about the history of the underground electronic music scene in Detroit—which, as the lovely couple dressed in full pirate regalia assured me, was one of the best in the country. Three days later, as the festival was winding down from its frenzied heights, about one hundred yards away from where I had met the pirate couple I met a fellow photographer, a serious one: we were in the middle of dancing to The String Cheese Incident and he was showing me photos he had recently taken, at a distance of about five feet away from the subject, of police and protesters clashing in downtown Hong Kong. Now that was a cool dude, and I was speechless.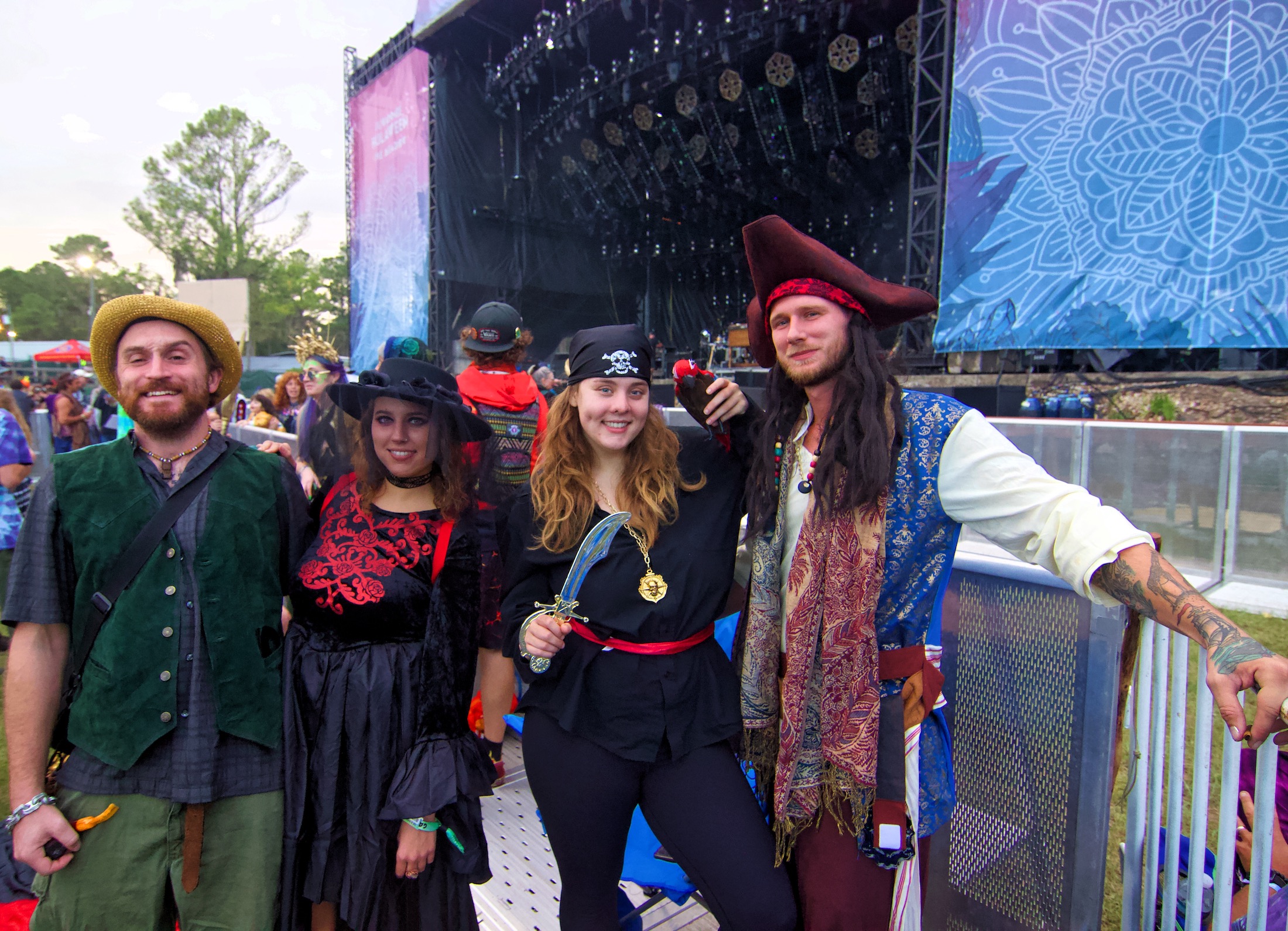 But let's talk cheese. Certainly, there are actually people who go to Hulaween year after and year that are not going for The String Cheese Incident—and the wonderful thing is there's more than enough music and experiences for them to never once have to see the festival's host band and still have a jam-packed weekend—but those people might be outnumbered by those who do. I certainly went to the weekend with the intention to see every set from this band I'd already seen play live a dozen times.
String Cheese plays some of their most solid live material at Hulaween, and 2021 didn't bring any exceptions. Friday brought some really choice performances right away. Often, Cheese's hottest moments are in segue, and Friday but a number of them. "Black and White" into "Dudley's Kitchen," "Rollover" rolling over into "Impressions" and "Sirens" blasting full speed into "Restless Wind" were all prime, prime String Cheese. On Saturday, even before the big climactic third set, we got a few more of those in the killer "Way Back Home" into "Miss Brown's Teahouse," and the perfect tempo-ed, crunchy version of "Boogie On Reggae Woman."
Then there was the Big Dance—that's a Bob Newhart phrase that means the main event, but here it actually applies. Cheese's Saturday evening third set extravaganza was a set full of dancing songs. Other String Cheese Saturday night Hula sets may have been more elaborate, others more musically thematic, but this one was just pure fun, and pure groove. On paper, it looks so strange, songs one would not think String Cheese would nail. But that's one of the things with them: with SCI the musical stars sometimes just align in the right way. Standout song here, ABBA's "Dancing Queen." I remember thinking, as the band and their musical guest singers were grooving beautifully and cohesively through that one, "How is this THAT good right now?" It was one of the first things I HAD to listen to again on the car ride home.
The set wound through a couple of more recent radio hits, which was less amazing, but when they ended on "Tiny Dancer," well that was it. That was the moment of the weekend. The confetti, SCI's light display, the fireworks, the dinosaur and the dragon in the sky, and then the cheesy, major chord climax on the Elton classic—for a span of about a minute and a half or so everything connected in a nebulous of musical and artistic exultation.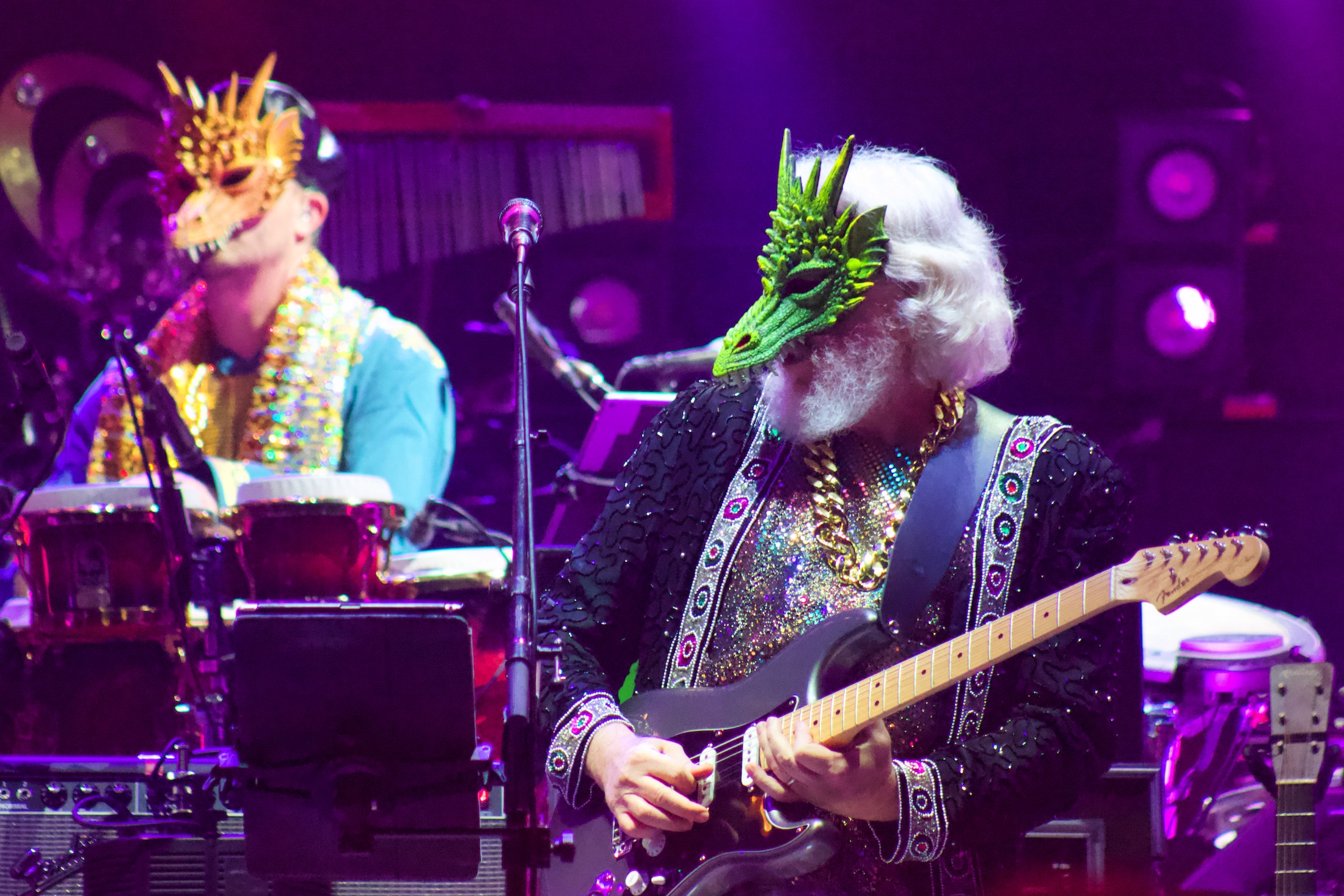 Sunday from Cheese, while certainly kind of a musical soft landing from them, did have a gem or two of its own. The band invited modern bluegrass luminary in the making Sierra Hull, along with the fiddle player from her ensemble, up to throw down on "Lonesome Fiddle Blues." This song always jams, and with Hull and her fiddle player some incredible licks into the mix, this was a special version. Hull and her band played their own super enjoyable set of music a few hours before Cheese's farewell. These cats can pick with the absolute best of them. In addition to material from Hull's new album out this year, the rock-tinged stringband outfit played a Del McCoury tune that was just straight smoking hot.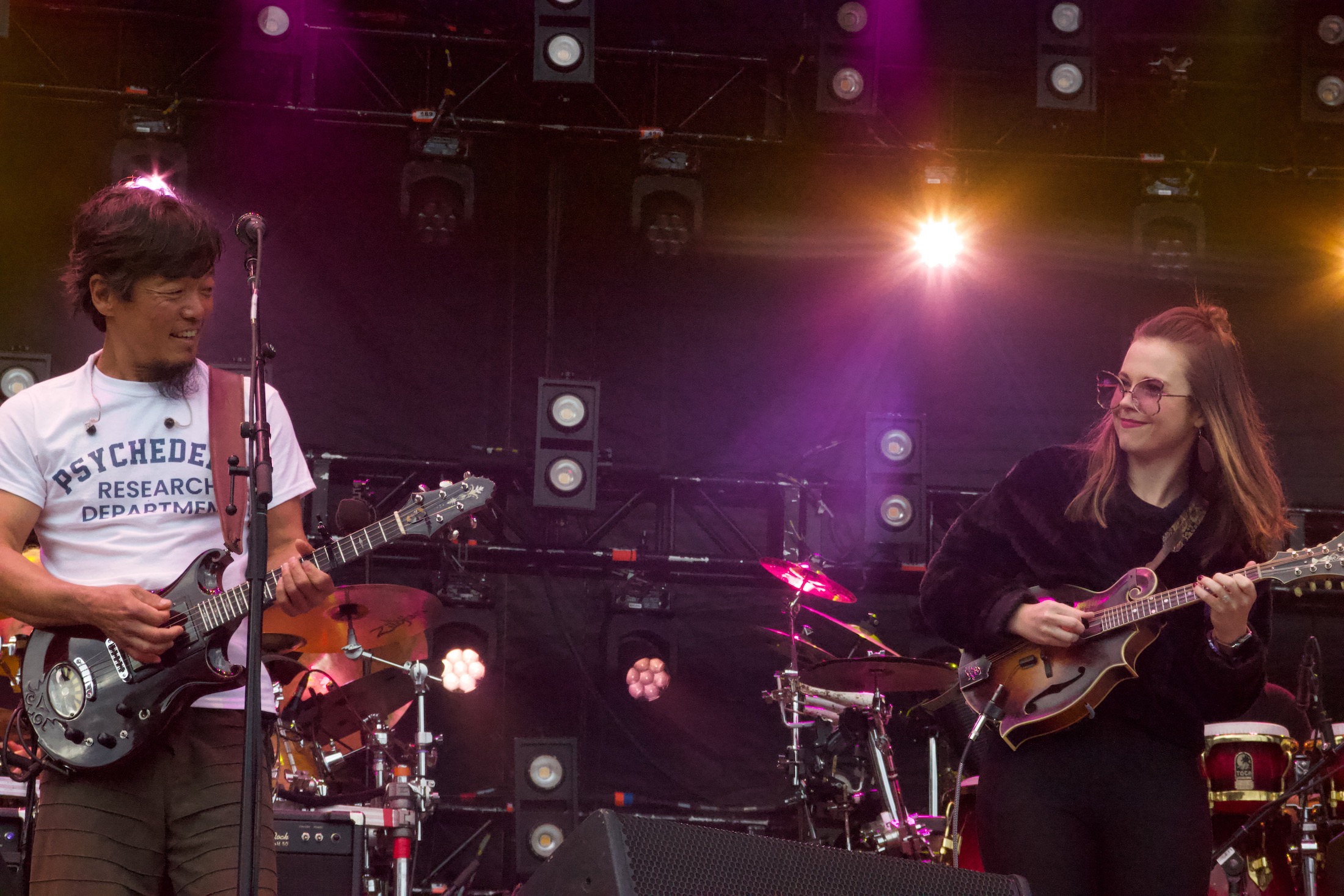 There's always a small slice of bluegrass at Hulaween, a musical spice thrown into the mega whirlpool of epic-scale, rock, funk, and electronica. And let's be frank here: Sunday afternoon is for bluegrass, plain and simple. That being said, this weekend at Hulaween there was some first rate bluegrass to be experienced in the twilight hours. Grass is Dead and Jon Stickley Trio both rocked a 2AM-4AM time slot, the latter of which I caught the entirety. Jon Stickley Trio are musicians' musicians, wizards of technical prowess, and with that fueled into an ethereal, folksy aesthetic of gorgeous songwriting—its the perfect thing to hear in the mystical enclosure that is Spirit Lake.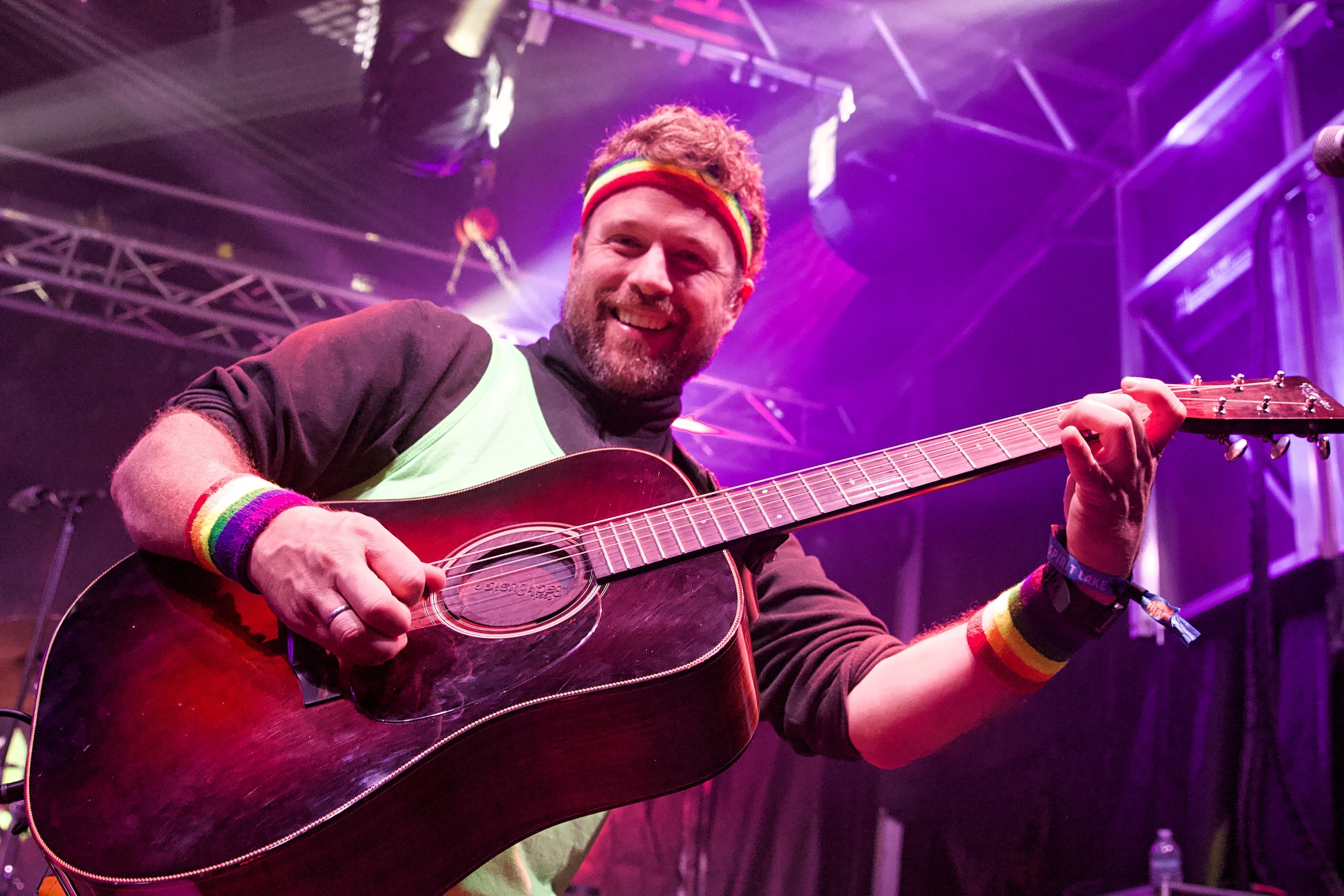 The musical diversity, though, was so wide. Hours before this jamgrass trio on the same stage you'd be hearing some of the freshest stuff in house, techno, and trap music. Or also, the night before, Neal Francis, someone needing quick mention here because he simply kicks musical ass. The keyboardist, and his three member band, played some of the most fly-by-your pants, rip roaring rock and roll soul I've heard in awhile. I closed my eyes a few times during the set and honestly could have convinced myself I was at a Tedeschi Trucks show. Francis actually did record his latest "Can't Stop The Rain" with Derek Trucks, but obviously his live rendition here at Hula didn't have the legendary guitarist. But it still smoked something fierce.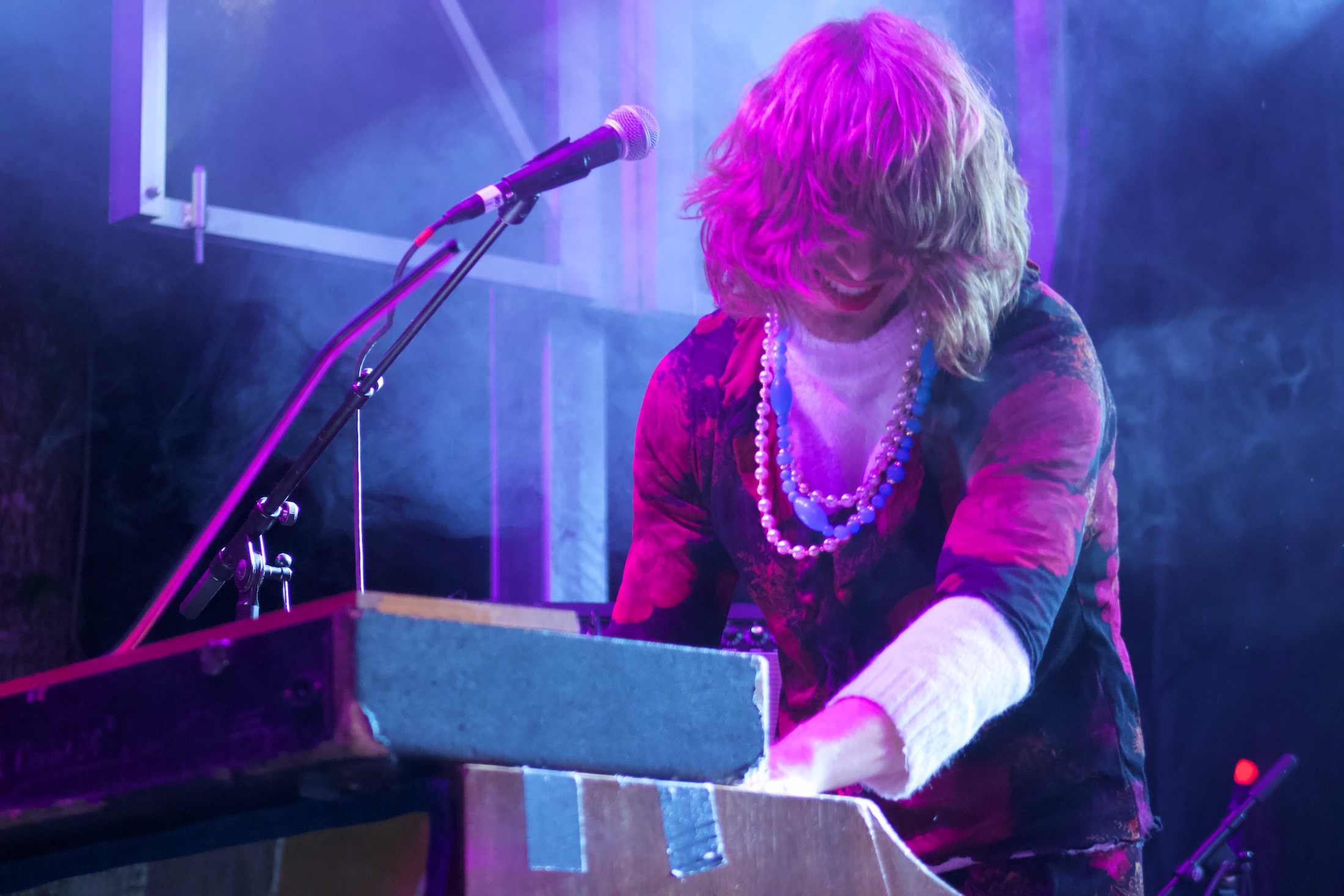 Oh right, Spirit Lake. It is indeed a festival fever dream outside of the music it offers. The art displays, the projections of light across the jet-black lake, the multiple towering pillars of pyrotechnics—if you've been, then you already know. If you haven't been, as was the case with me up until last weekend, words won't do. It would take the whimsical silver tongues of Willy Wonka or Jack Skellington to properly describe.
And yet, interestingly enough, right in the midst of all this grand scale, theatrical visual magic, one of the niftiest parts, to me at least, of this whole place was this thing called The Complimentary Bar. I'm not exaggerating when I say my friend and I found ourselves hanging out at this tiny little setup, which was no bigger than a teacher's classroom desk, at least four or five times throughout the weekend. It was this tiny, totally unmonitored honky-tonk style bar top where random groups of people would "take their shift" and serve up compliments to customers free of charge. And the line for the bar was long all weekend.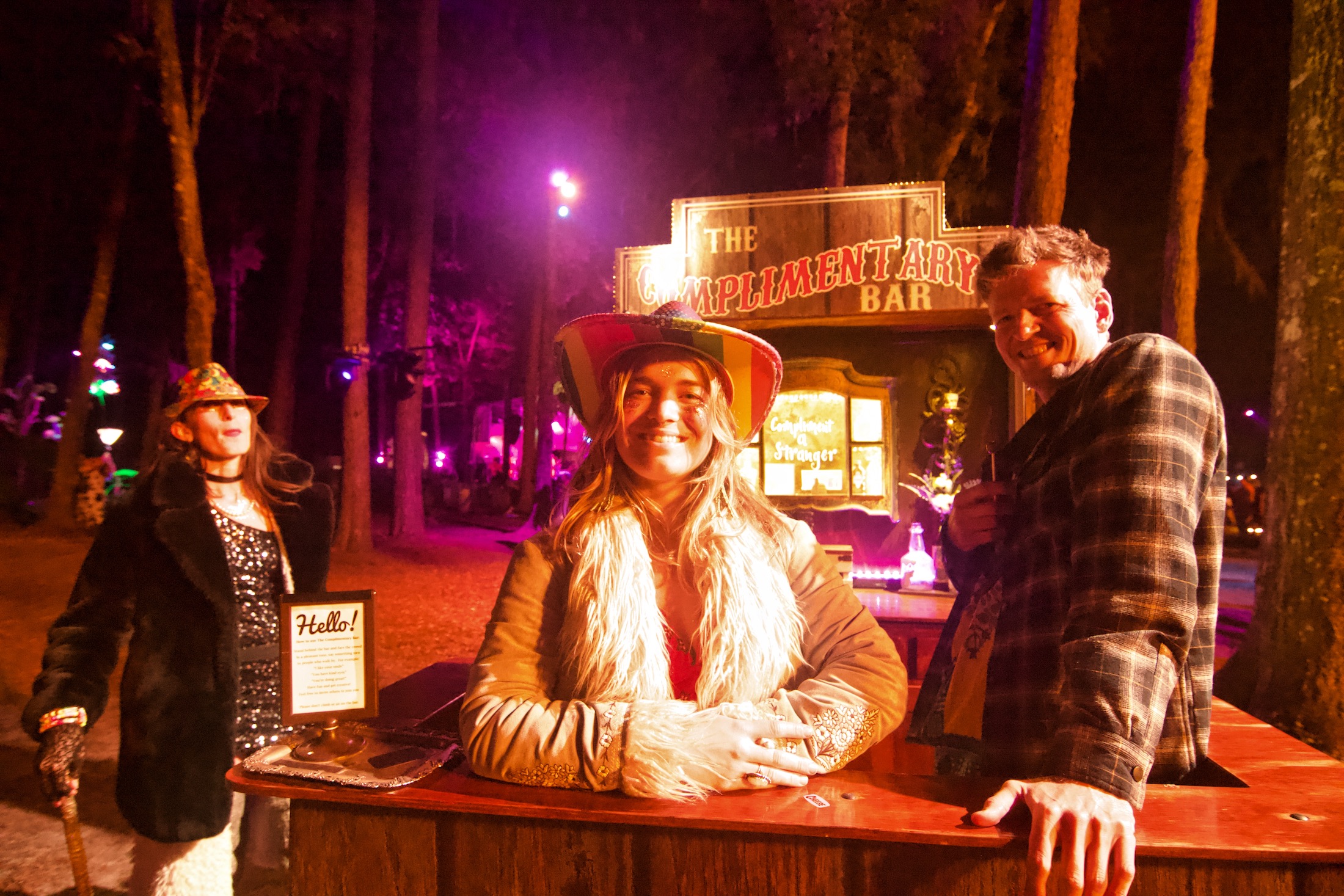 Even in comparison to Spirit Lake, The Amphitheater Stage, across on the other side of the festival's main road, would actually seem to be one the best spots to walk up to for your first time ever at Hulaween, such as was my experience. Between the scene's exotic enclosure of looming trees and the lights and lasers splicing through the air, it's a little like stepping onto an alien planet. Pulled up just in time to hear The Floozies playing a really high energy set. The house party vibe came on in a huge wave. The crowd in these woods, massive in size, had this really chill essence, and it was so cool. Most people were just hanging out, drinking a cold one, showing off their costumes to each other. But there were pockets of people in this sea of people that were swirling, vibrating with energy to the music.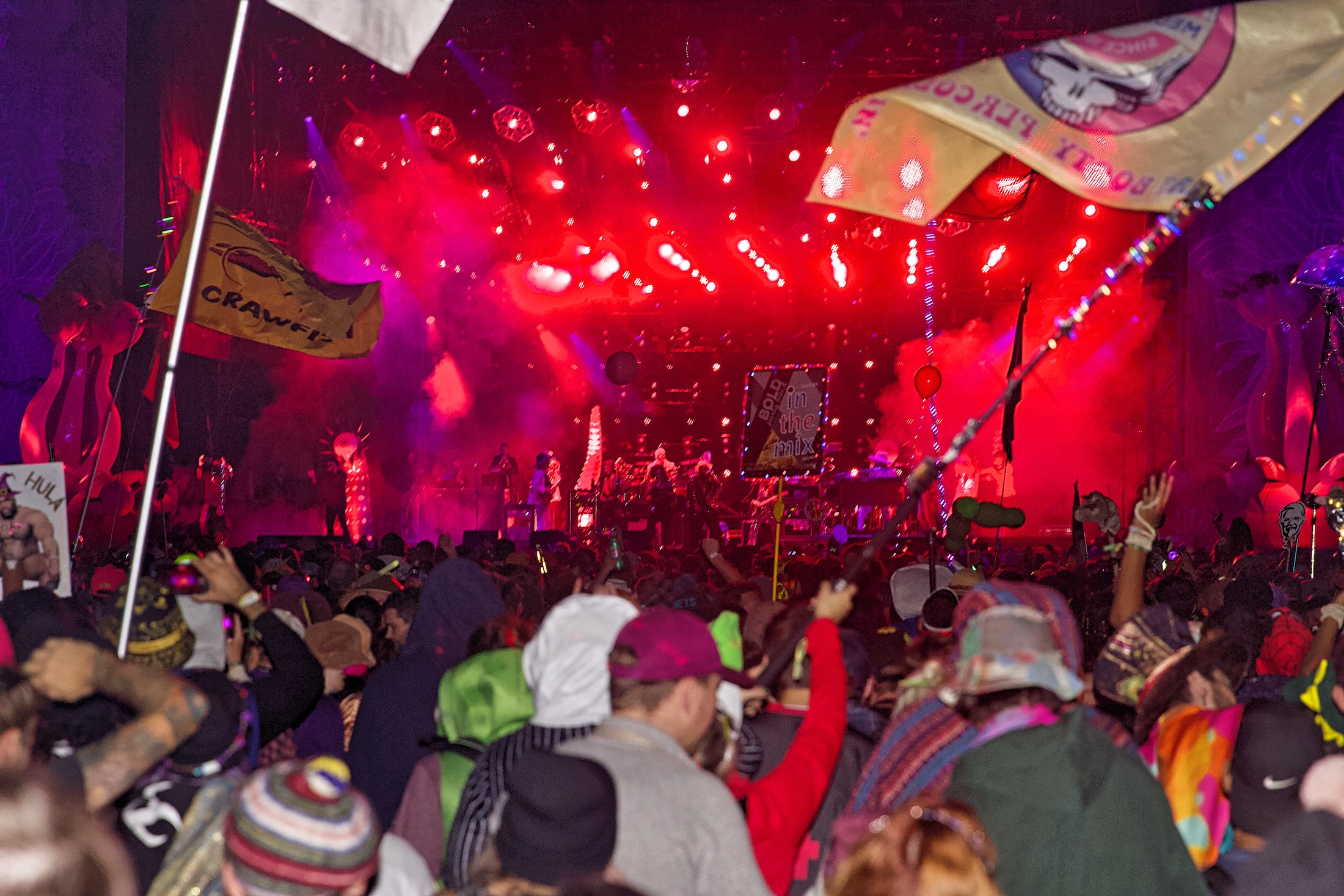 Lettuce played a set in this ultra cool place the next day and I decided that I didn't hear a sound in the entire weekend more singularly cool than Jesus Coomes' bass. Lettuce's was a concert danceathon of the most cosmic proportions—live Lettuce pretty much always is, but deep in the Suwannee park it just seemed to fit the best.
To a similar end but from a totally different musical genre: if you want to guarantee that at the very least two hours of your festival will be magical, just book My Morning Jacket. And this band doesn't even need elaborate outfits or crazy concept tricks to blow minds (Although Jim James did perform with a trippy timebomb clock looking like some sci-fi version of Father Time). Their own gigantic, heavenly presentation of rock and roll has been doing that for decades. Think Marvin Gaye's "Mercy Mercy Me" and "What's Going On" are NOT the cover choices to get a few thousand people going crazy? You would be right unless you saw MMJ perform Saturday night at Hulaween. Powerhouse renditions.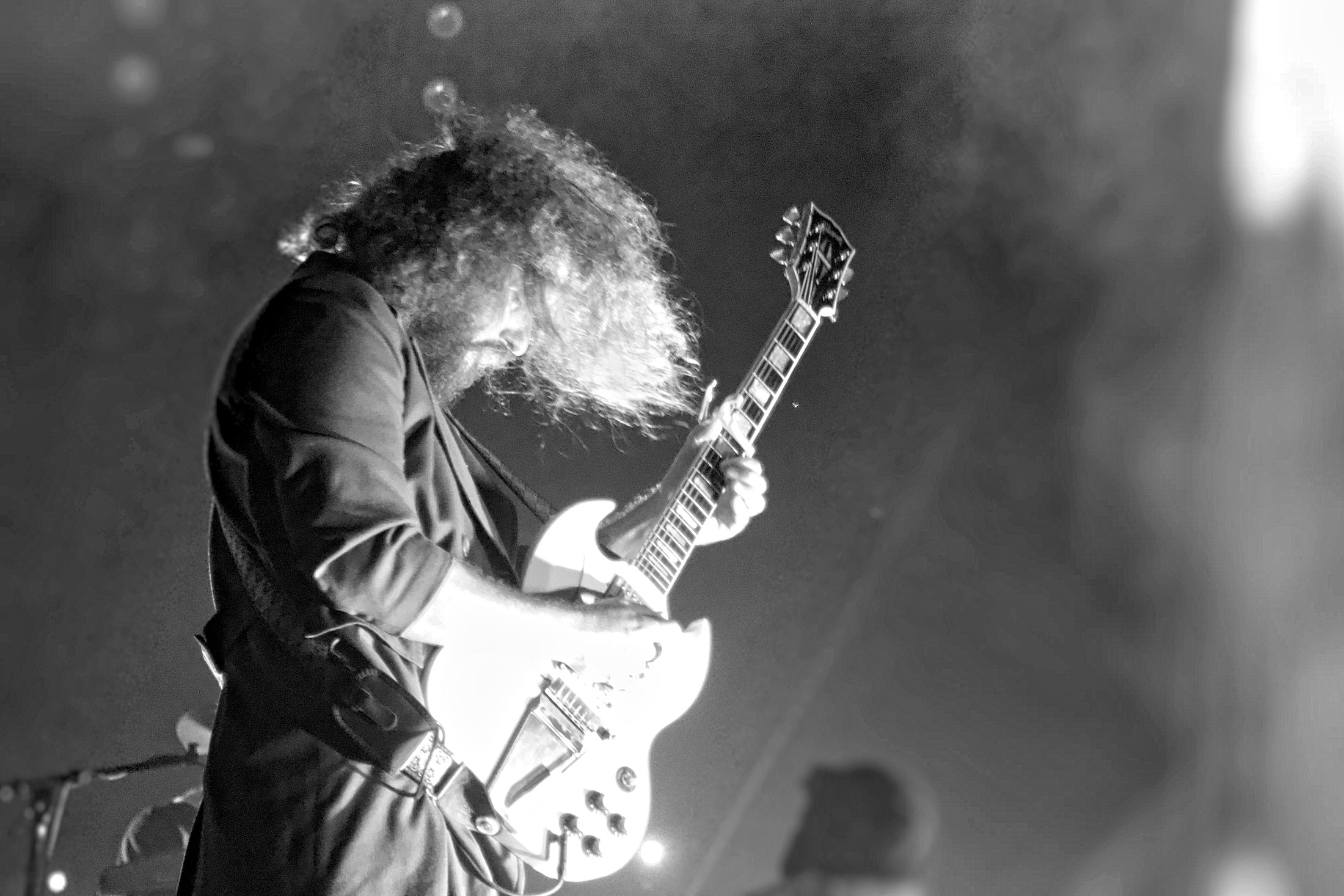 The thing that everybody knows about the music festival experience is set conflict. But my friend dragged me away from MMJ to hear a group called Funk You on The Campground Stage. I was a little unwitting at first, but the Campfire Stage was definitely one of the places to be several times in the weekend. It's a pure festival spot—a loose, lowkey, relaxed crowd getting down together in an intimate little field. The band name Funk You is a little juvenile, so I didn't expect the world from them. But they threw down hard for Hulaween. It seemed like they were playing to rival Lettuce or Turkuaz, it was such a forceful yet professional display of funk.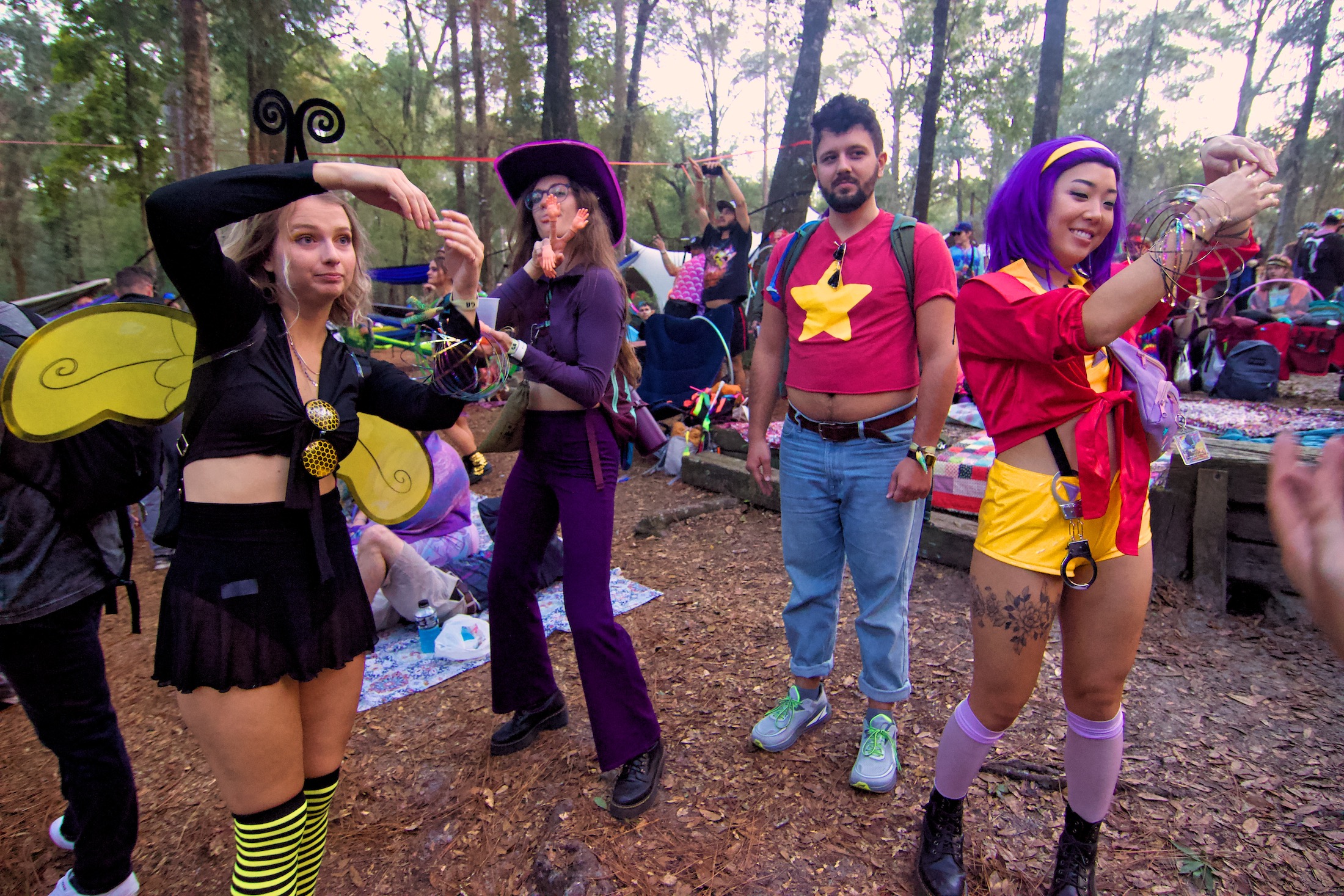 One sneakily sublime set of the weekend was the Sunday afternoon performance from solo artist Bedouine. You may or may not know her; she's a big deal. In and around her set at Hulaween, the indie folk singer and her band were on tour playing opening sets for My Morning Jacket. Her set was intoxicatingly sweet and charming, not least of all because of her brilliant songwriting. And her crowd fit the scene, or really made the scene: pockets of people, loving couples, slow dancing, holding each other, hugging. Dressed in funny costumes of course. It would be like if the trippy 1951 version of Alice in Wonderland included a scene in a cocktail bar featuring a set of music from Emmylou Harris and Dean Martin. Bedouine at one point mid-song said, "I've never ever in my life had Ghostbusters dancing to my music before."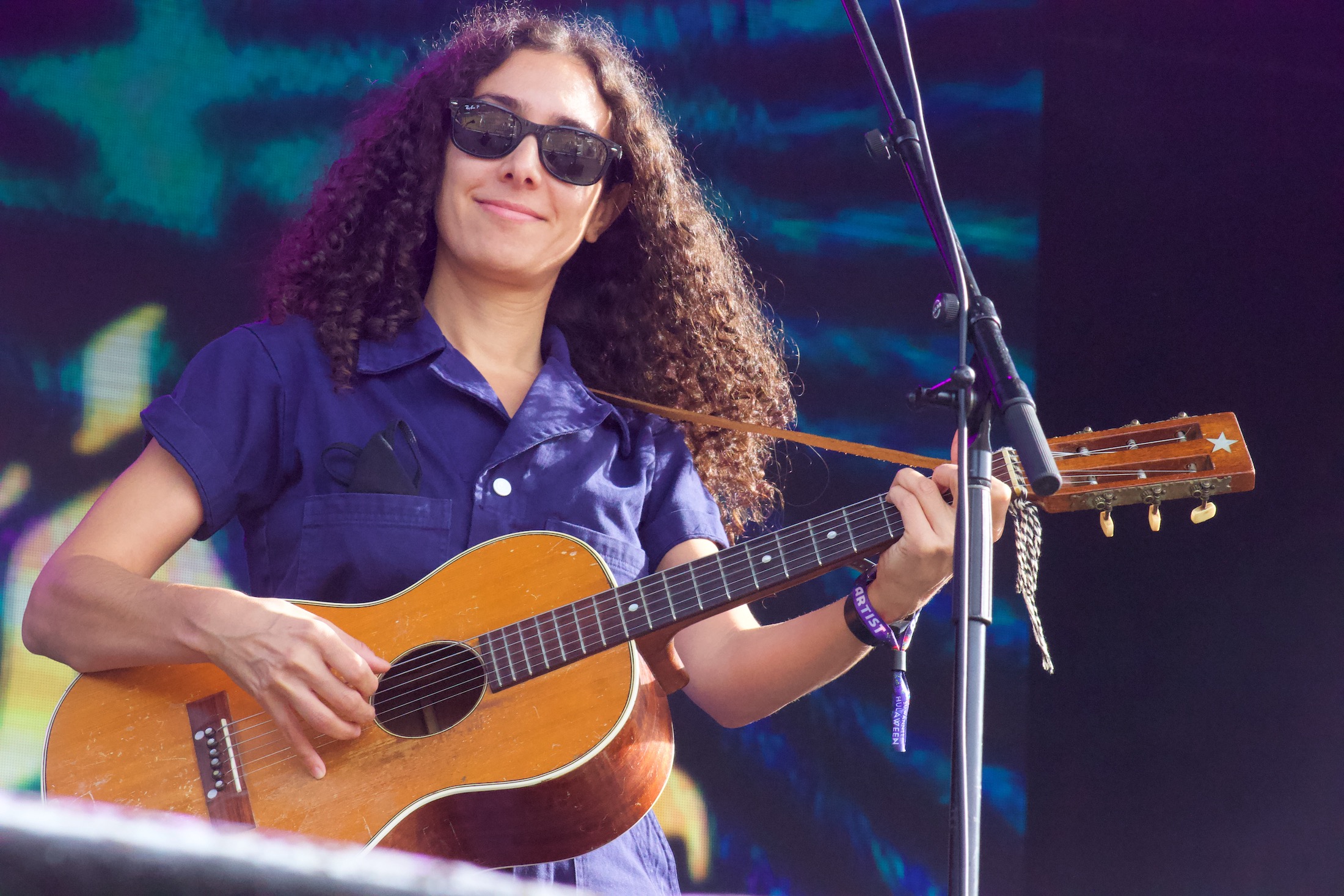 On the other end of the spectrum, Khurangbin headlined this last day of Hulaween with their own over the moon main stage set. To be candid, I was not expecting to have as much of a good time as I did seeing them perform. But it turns out I did. For starters, there's a suspicious mesmerizing quality to the trio's music, especially live. Relatively simple-structured grooves just have this focusing power, something you could fix your ears on for hours. But for this set they sent it big time. In the spirit of the season and the weekend, the band sent it big time, not least of all in the form of a costume change halfway through the set. Their cover hits were some of the most fun of the whole festival. When the trio played "Miserlou," that was when their crowd was one of the most exciting ones to be in all weekend. People lost it. I mean, I'd never expect so many people to be screaming and fist pumping to a Thai funk band like it was a Franz Ferdinand concert, but they did, and I was with them.
Festivals, the really special ones at least, will give you moments that will be unique to the rest of your live music experience in life. I went to Tank and The Bangas perform and one such moment happened. At the beginning of their set Tank, the group's prodigy lead singer and rapper extraordinaire, didn't have any power to her mic. She didn't know at first, despite the crowd very nobly and kindly trying to help her out, and she was rapping with no sound. It was actually kind of neat, because you could tell she was absolutely killing it without hearing anything. Then when she realized, the band and tech crew went to work on solving the problem, and there was a minute or two of lull. The crowd, totally unprompted, began singing "Why Can't We Be Friends?" Tank's mic came on, and she joined the crowd, and her band, full of first-rate hip-hop funk musicians, grooved out the song a bit too. It was a moment both so cool and so wholesome.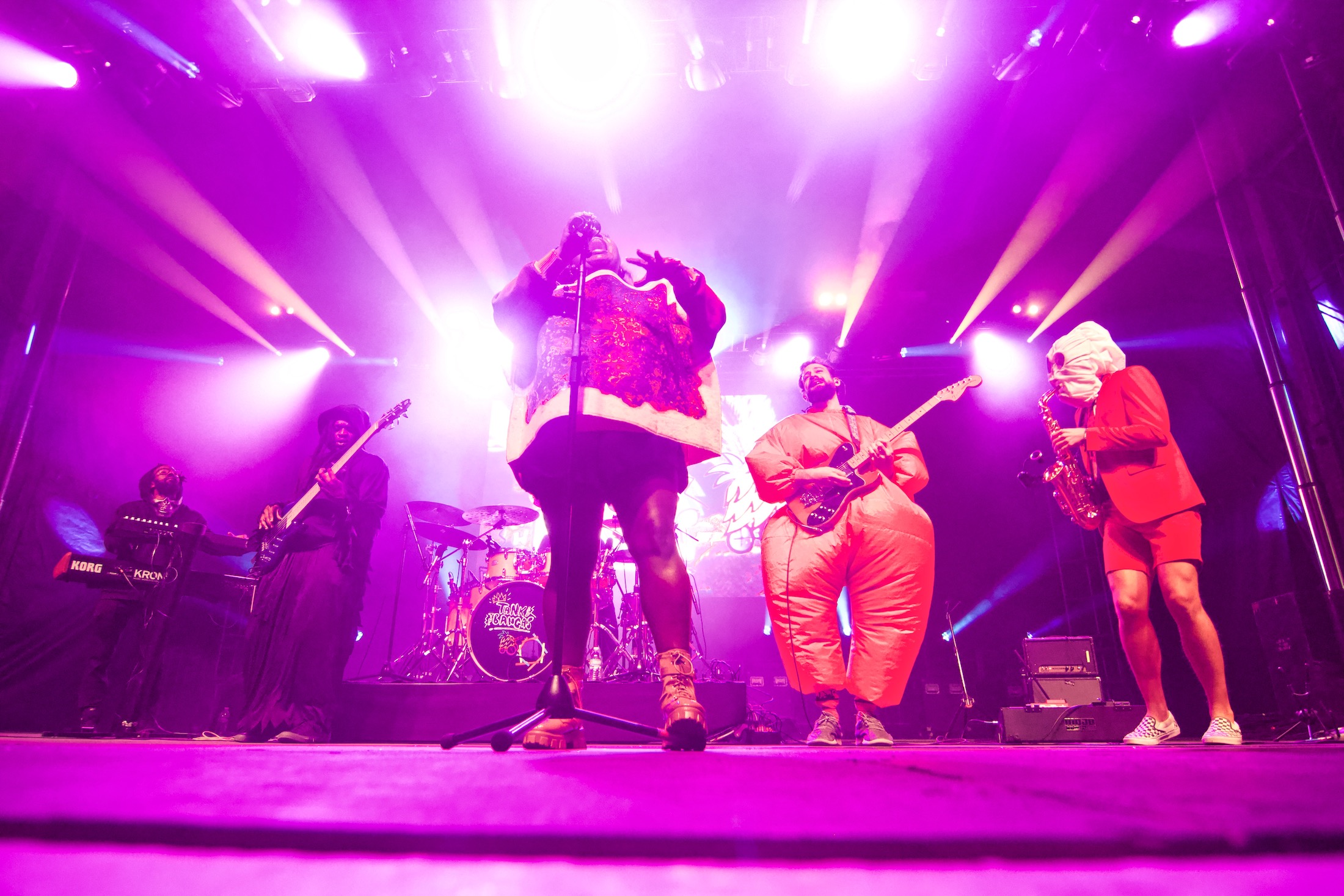 Another one-of-a-kind moment, of a more bizarre level, happened in a secretive little corner of Spirit Lake. Somewhere in there is this unlisted stage for producers and DJs to perform on, called Incendia. It seems like something you have to stumble onto to discover accidentally, which I did at some point during the weekend to experience a wickedly fun set from a guy named Fuzd. Multiple people in the crowd, when they saw me taking photos, did their heartwarming justice to this producer in pleading with me to spread these photos around because they wanted their friend Fuzd to blow up—which he should because he had great beats, cool mixing style, everything to soundtrack a great little forest party.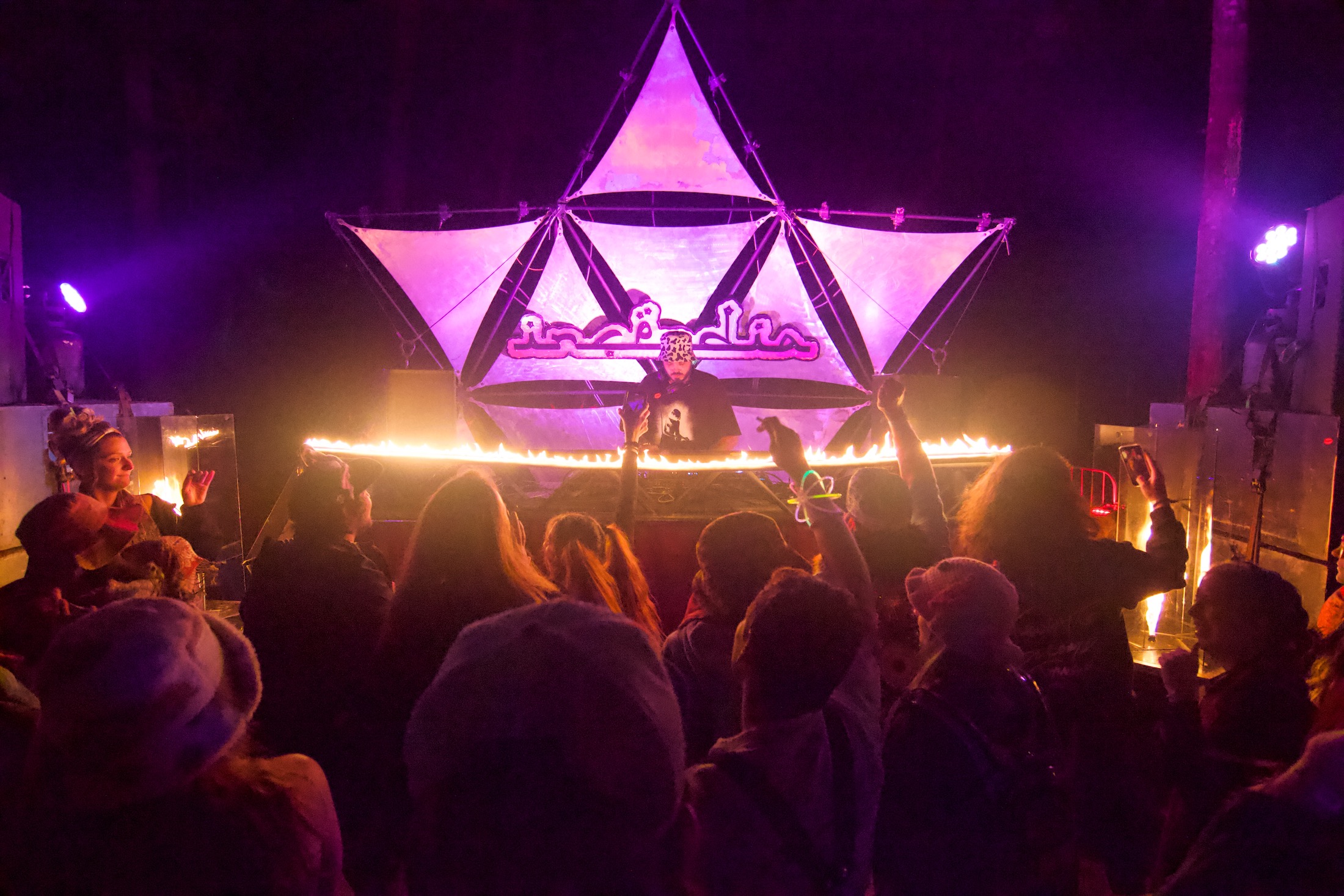 But also he was performing on this stage that's literally on fire. The front end of the stage has this glass rail apparatus that separates performer and crowd with a tiny unbelievable line of flame. Crazy. (Skrillex, by the way, apparently threw down a surprise set on this very same tiny stage at some point during the weekend). But what's really crazy is that, midway through Fuzd's dance party, a pair of truly veteran, we've-done-it-all hippies came up with a plate of sausages and proceeded to cook a midnight dinner on this flaming edge of the stage. We all went crazy, how could we not? Again, one of those things that would really only happen, or at least be "normal," at a music festival, and only a special one like Hulaween.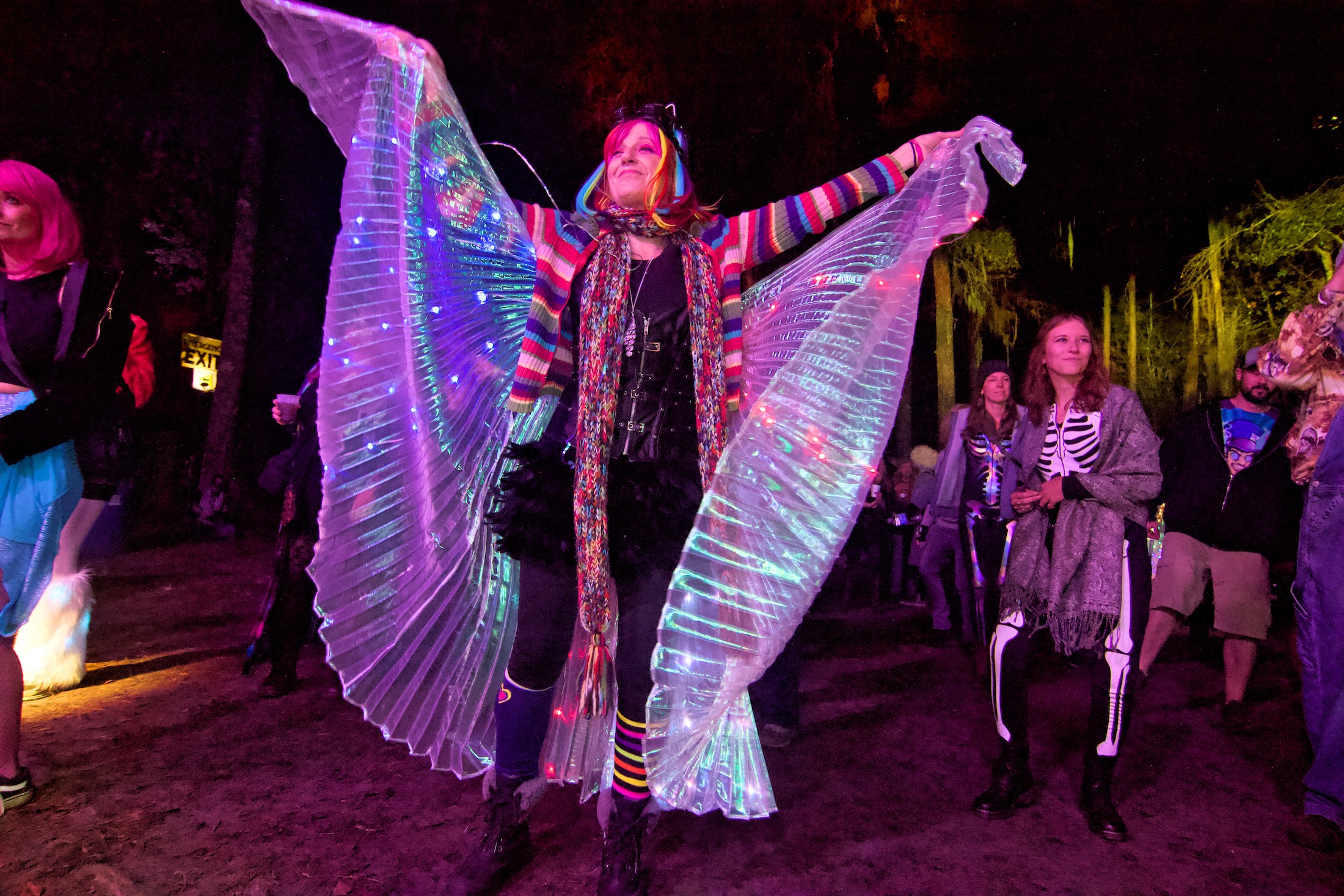 As far as unrepeatable moments go, what we now know to be one happened Sunday mid evening. Unbeknownst at the time to probably everyone in attendance at Hulaween except for the band—and maybe not even them at the time—Turkuaz was giving the world its last performance as its current nine member lineup. They would announce not a full day after their performance of Remain in Light, with special guests Adrian Belew and Jerry Harrison, their dissolution as a touring group. Had we known that was coming, certainly the set would have maybe carried an extra heavy weight of poignancy. But even without that, the set was powerful, because Turkuaz is powerful. To reference one person's response to the band following their big tragic social media post: "There's nobody doing what you guys do."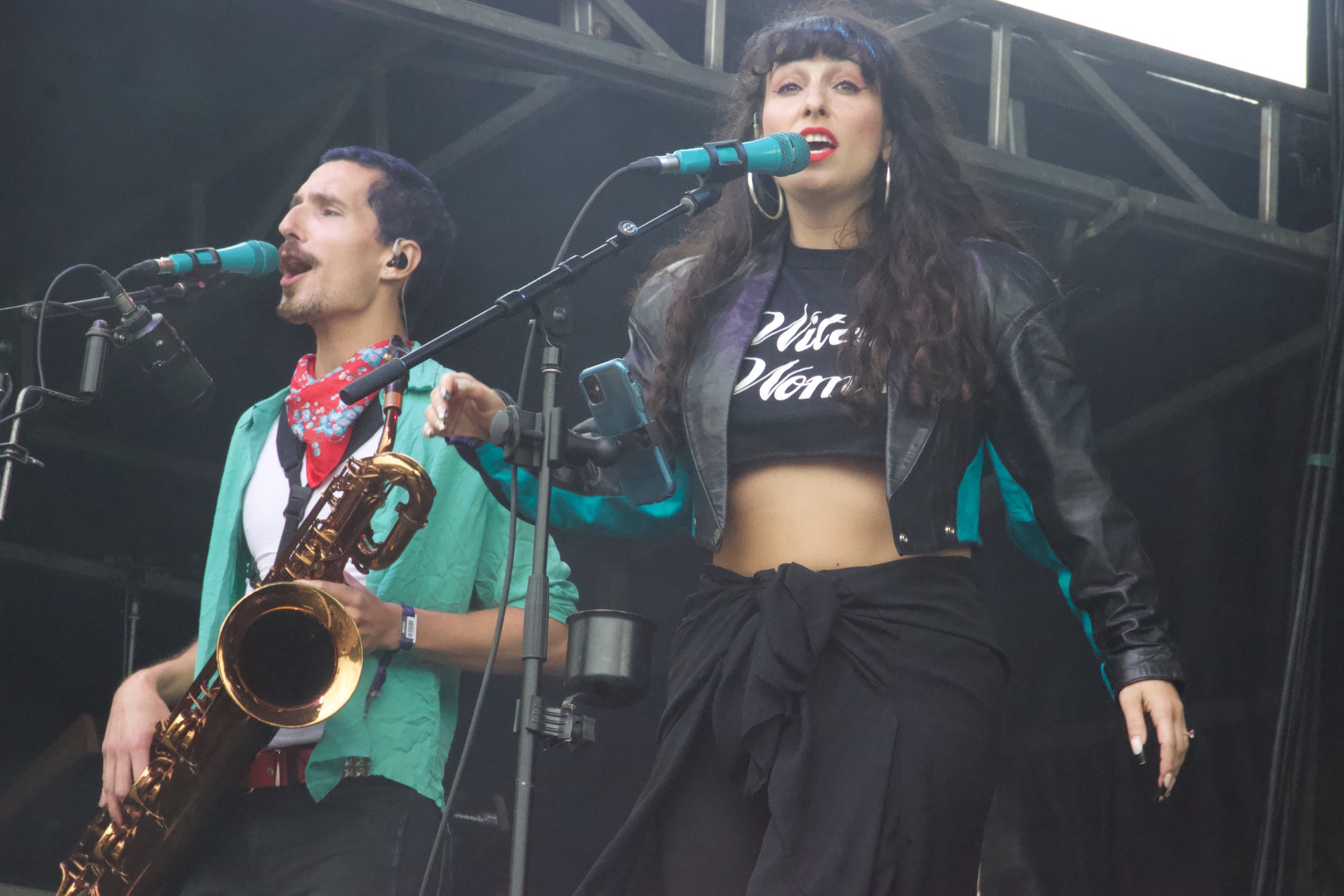 Whether or not they were actually having fun, the band members made it look like they were. Their earth-moving delivery of dance funk affects them just as much as it affects any member of the crowd. It certainly affected Adrian Belew and Jerry Harrison, as well, who were nothing but smiles for the whole show. "We haven't played these songs in thirty years, Adrian and I, it's fun to finally play them again," Harrison told the crowd before a blistering rendition of Crosseyed and Painless. It was a pretty good last send off: Turkuaz and Harrison and Belew had a massive crowd for Sunday evening, and you better believe everybody was boogying.
There's legions more to be said about Hulaween, even about just this particular 2021 weekend. But these are some of the performances, occurrences, and adventures that profoundly and improvisationally affected and directed my inaugural experience of this mega music festival. As a photographer and a music lover, it was doubly the place to spend Halloween.