One of the great joys of attending concerts is the never-ending exposure to new artists and the swift kick in the ass feeling of why you haven't been listening to them. This isn't usually the case with most headliners, as you know what you're getting into, but when it comes to the opening band, all bets are off. It's a crapshoot. You might as well bet it all on red.
While I've been aware of Toubab Krewe's special blend of African influenced jam vibes for a few years, the brothers Rootz and Zeebo Steele of See-I have been eluding me. I've been deprived of their hard rocking reggae personas and the Thievery Corporation live band musicians that back them up. Sheltered from their velvet coats and safari helmets. Rudely left in the dark concerning their rollicking live funky reggae parties. That all changed when they opened for Toubab at The Fox Theatre on Thursday night.
On a mild evening that saw the shorthanded Denver Nuggets slide by the Philadelphia 76'ers on a series of gut check three pointers and trips to the charity stripe, one was led to believe that the night was brimming with potential. The Fox had recently added Odell's 90 Shilling to their draft beer selection. Their came whispers about members of Thievery Corporation. There was curiosity in the air.
A quick search reveals that See-I stands for state, elaborate, exemplify and illustrate, and is used in writing and research. Obviously Rootz and Zeebo took this to heart and crafted their well thought out and opinionated lyrics according to the method.
Their band is a recognizable bunch, with Ashish Vyas playing bass and Rob Myers adorned with an orange scarf and sunglasses bringing his shining black Les Paul to life. These two led a fantasy laced mood jam, accompanied by Jeff Franca on drums. My first thought was that these musicians are far more talented than the numbers in the audience indicated. My second was that this stylistic form was in no way the reggae that I was led to expect. Then, the Brothers Steele walked onstage looking like dreadlocked circus ringleaders, and everything changed.
Their fun loving party portrayal of roots reggae has them whirling around four on the floor beats and the barefoot bass lines that chart into the territory of Wayne Smith's "Under Me Sleng Teng." One of the brothers asks us if "We can hear the bass in our bottoms," before the obligatory Colorado legalization reference and the jump off into a dubbed out version of Iggy Pop's "The Passenger."
While boasting a band worthy of headlining, the group balanced a heavy bass onslaught with sprinkling wah-wah guitar and the typical tinkering keyboard fades of reggae dub parties. The accumulation of talent left my eyes racing from side to side; one minute watching Ashish bounce around barefoot in an El Mariachi suit and the other trying to absorb what the Steele's were rapping above each four count smash of the bass drum. Usually the opening band warms up the audience. See-I gave a full nights' performance and left some without the legs to carry on.
Toubab Krewe made their way to the stage following a brief break in the music, allowing their gear to be placed accordingly. Toubab, or foreigner in multiple West African languages, is a rhythmic collective influenced by their extensive travels and mind-expanding meetings with international musicians, particularly throughout Western Africa. With their roots tied deeply to Asheville, NC it was no surprise to walk into The Fox Theatre's room to the sound of a smoky mountain jamboree that touched on bluegrass and traditional folk sounds with the added flair of Drew Heller's soku, a traditional fiddle found in Mali.
The unfamiliar instruments being used on stage didn't stop there. Justin Perkins enthralled us with his mastery over the kora, which is a 21-string bridge harp that when played resembles a hand picked early blues acoustic guitar with more of a majestic sounding desert pluck. This instrument goes a long way in the decisive sound Toubab has sought out and made their own through a fusion of wandering musical interests.
When they played "Rooster," one of my personal favorites, it looked like the first time listeners found the balance of understanding the context of the band. While it's easy to qualify them as a jam band, it is next to impossible to not recognize their international savvy. They have a penchant for carving out their own niche in the expansive and button bursting world of jam bands. With this number you can hear the basic structure of the band as well as the use of the kora and a world of different percussion items. They go from being that jam band to being worldwide travelers carrying you on a mood induced rhythmic voyage across international waters.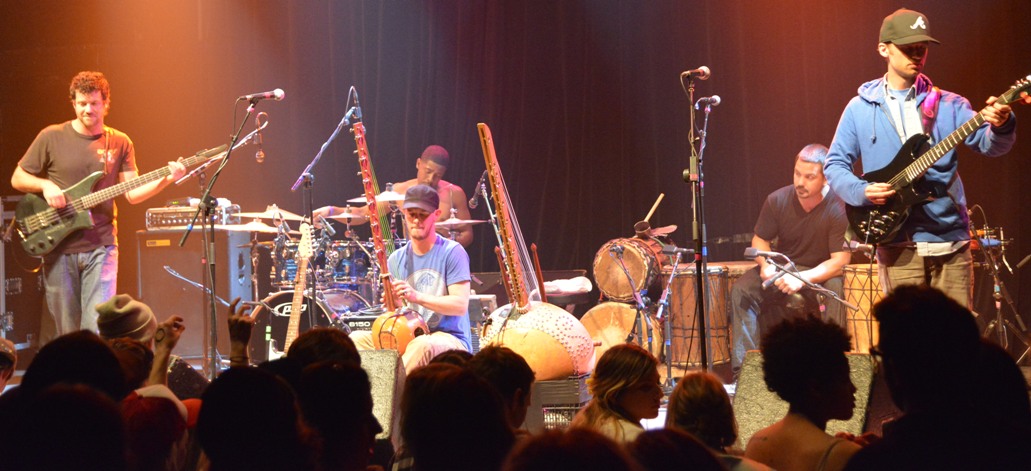 While most of their set focuses on this instrumentally international flavor, and even features Spanish vocals on some tunes, the song "John Hardy" saw them take a step back and really focus on rocking the house and letting master of percussion Luke Quaranta carry them. With Justin picking up a second electric guitar to complement Drew Heller's own, the band went into full rhythmic shakedown and took on a sound that in these parts resembles The String Cheese Incident with a kora instead of a mandolin.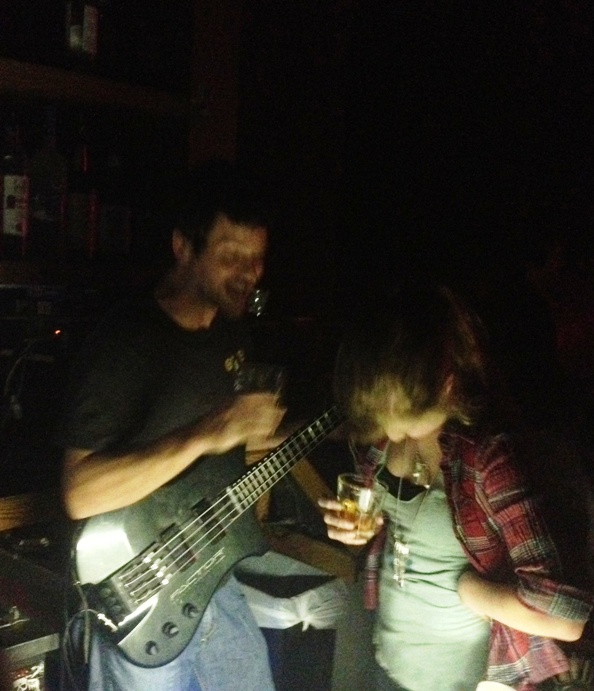 Following "John Hardy," they treated us to an Appalachian traditional splashed with their usual international fervor. Terrence Houston started out a fast paced rocking beat and Justin treated us with his vocals on "Cluck Old Hen." While their mesmerizing takes on West African styles are defining of the band, these last two songs set the house on fire and left many wondering why they didn't find this balance between international and southern blues earlier in the night. If this wasn't the booze laced rocker of the night, then I don't know what else could have prompted bassist David Pransky to walk his instrument all the way down the side of the crowd to the bar to take shots before running back to the stage to finish the song.
Regardless of pace or setlist structure, Toubab Krewe's nearly annual show at The Fox Theatre saw them trotting in new directions with genre defiling musical escapades and even vocal lyrical talent I haven't seen out of them before. Whether they're singing in English or Spanish, or playing the sounds of Mali or the delta blues of the American South, Toubab Krewe continues their educational enlightenment from city to city gaining new fans with their unique melting pot of a sound.