The issue with calling any band a "jam band" is that you force them into an extreme marginalization that could come along with a stigma. The category "jam band" could encompass everything from Little Feat, The Disco Biscuits, Bela Fleck and the Flecktones, Phish, or MMW. So as we can see the categorization is really just a fallacy. It's musicians like Billy Martin that may get unfairly lumped into that category. He's a fantastically versatile jazz drummer who may be best known for his collaborations with John Medeski and Chris Wood as MMW, but has done so much in the New York Jazz scene and beyond since the early 90s. He certainly tours in the jam circuit, but his style is so dexterous that it has led him to collaborate with some of the finest in the jazz club scene in addition. Not quite free jazz or fusion, a little bit of hard-bop with some Latin influences; his style is simply his own. And to top off his heavy recent touring activity with MMW (featuring jazz guitar legend John Scofield) he has finally completed a decade long dream of bringing together a collaboration with old friend, trumpeter Steven Bernstein, alongside tuba player Marcus Rojas, and trombonist Curtis Fowlkes. They're calling the project "Wicked Knee".
Just over a year old, they embarked on their first European tour a little over a week ago covering everywhere from Paris, Amsterdam, to Vienna. When I realized their Vienna date matched up with my European vacation, I jumped on the opportunity to cover their show at Vienna's famous jazz spot Porgy & Bess. Nestled in a charming European side street in the heart of Vienna's first district right downtown, the venue evoked a classy feel like some off Broadway spot combined with an intimate jazz juke-joint. The seated two-level club couldn't have held more than 800 people and was pouring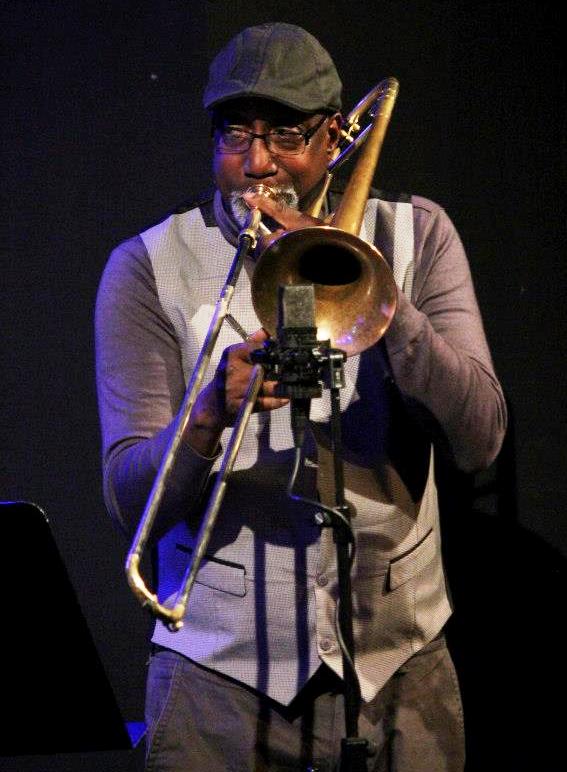 German beer for less than four Euro for a half-liter. Anyone who ever makes it to Vienna must not miss this classy spot especially for the low ticket price and unbeatable ambiance.
Billy and the gang came out and played two laid back sets that covered every soundscape imaginable, from avant-guard to classic jazz standards. Much of the material played that night came from Wicked Knee's brand-spankin' new album "Heels Over Head". I took a few listens through before heading to Europe and I must say that the three-horn and drum line contains a full-bodied punch that many contemporary jazz projects are missing. Marcus Rojas' tuba evokes all the right bass tones to complete a rhythm section with Martin's eclectic kit. He also brings humor to his playing with some scat-box lip work combined with his tuba playing. Steven Bernstein, whom I had never seen, is an astonishing trumpeter. His improvisational chops reminded me of mid-60s' Miles Davis Quintet when he was just starting to get way out there. It's no doubt that Billy was thrilled to finally bring this project into full fruition with his old friend.
The four seemed to be having so much fun that it was almost as if we were sitting in on an in-studio jam session. Cuts that stood out from the new album were the New Orlean's flavored "Ghumba Zumba" and "Sugarfoot Stomp" which gave Billy a chance to dig deep into his wild percussion set which involved every shaker and squeaker imaginable culminating in a tambourine/tuba jam-out. While Billy is a eclectic singular force, his collaborative desires bring out the best in his playing. You could see the ear-to-ear smile on Curtis Fowlke's face throughout the entire performance, exchanging conspicuous glances with both Martin and Rojas. The band finished their second set with a playful version of "When The Saints Come Marching In" where each member of Wicked Knee continued to display a musical sense of humor. This was one of the most charming elements of their performance. Not only did we have four extremely talented players sharing the stage at this inspiring musical space, but their sincere efforts to never act pretentious or take themselves too seriously came off very clearly to the crowd.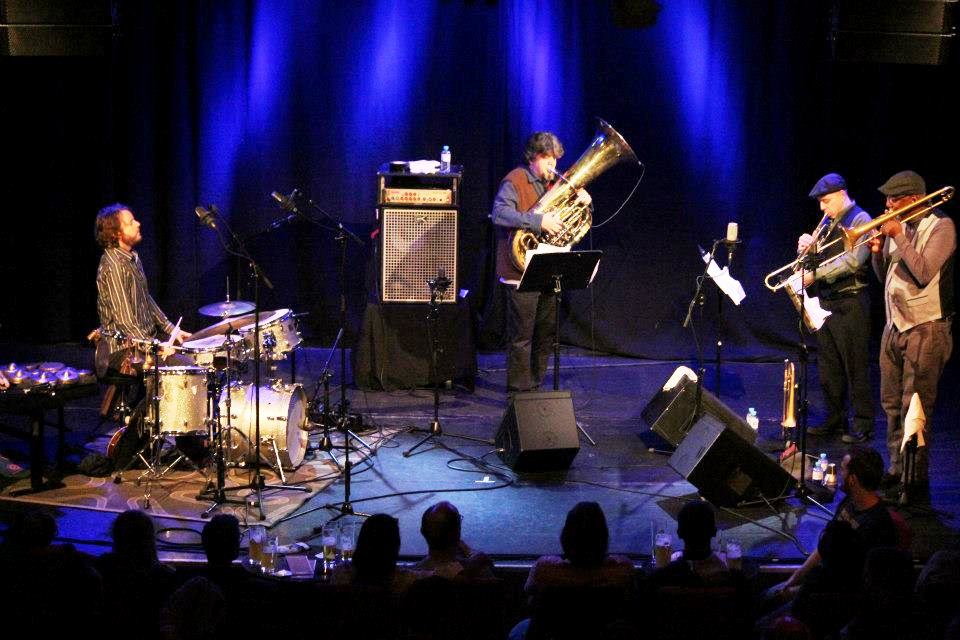 Let's hope that Wicked Knee does a small venue tour of the U.S. and makes their way to Colorado. Fan's out there would eat it right up. For me, I was thrilled to have the opportunity to see this show half-way around the world. Catching up with Billy after the show was certainly a pleasure as well. He, Rojas, Fowlkes, and Bernstein were mingling with those left from the crowd, many of which stayed around over an hour after the performance had ended. Perfect Euro-jazz club experience. Laid-back, hidden away, but totally accessible. Thanks again to the guys for allowing Grateful Web to photograph and have full access to their Porgy & Bess performance. Please support Wicked Knee by purchasing "Heels Over Head" and catching them on tour whenever possible.