It's coming up on that time of year again, my favorite season, the summer outdoor concert season!  And that, among other things, means its festival time.  The floundering economy may have it's dirty little fingers stuck in pretty much everyone's pie, forcing more than a few festivals to close up shop this year (Langerado's off, and Jackson Hole seems like a long shot), but rest assured Denver, the second annual Mile High Music Festival will be going strong right in our own backyards! 
Last year's go-round was a complete success, garnering Denver and the Front Range nation-wide media attention and some hardcore musical street cred.  The inaugural shindig featured the likes of Tom Petty and the Heartbreakers, Dave Matthews, John Mayer, Michael Franti, Steve Winwood, Spoon, Jason Mraz, and a slew of others.  With a first year lineup like that, it was hard for me to picture how they could improve.  That is, until AEG announced this year's lineup, which is already over the top with more artists on the way.  Highlights include:  Tool, Widespread Panic (two nights), the Fray, Incubus, Ben Harper and Relentless7, G. Love and Special Sauce, the Black Keys, Gov't Mule, Buddy Guy, and Gogol Bordello.  Holy shit.
Now, I'm sure that a lot of these names are familiar to you, and maybe even more than familiar, but here's my take on what's at stake, and a few recommendations for acts not-to-be-missed:
Tool – On the cutting edge of dark and twisty prog rock, Tool is a spectacle for both the ears and the eyes.  Their set at Bonnaroo two summers ago (in 2007) was the hands-down highlight, even in a year that saw a Police reunion tour come through town.  I'm talking lasers, projection screens, trippy and sometimes downright frightening images, guest appearances, ultra-psychedelic and ultra-deep jams (Tool can do it too!), and a wise-cracking frontman (Maynard James Keenan) as famous in the industry for his musical prowess as he is for his shroud of mystery and enigma.  Tool is Pink Floyd for generations X through Z, and an act that comes along only once in a lifetime.  Sure, they'll scare they crap out of you, but you'll remember it forever.
Widespread Panic – If Tool is the Pink Floyd of our generation, Widespread Panic is our Grateful Dead (never mind that many of the originals are still around).  With a sound that is at once undeniably imbued with the jammy, psychedelic spirit of The Dead, and unmistakably original in its craft and execution, it should be no surprise that even after 20 + years on the job Widespread Panic is still considered to be on of the most exciting and entertaining jam bands on the market today.  Renowned for their extensive and ever-changing live shows, Widespread Panic's appearance at Mile High is sure to be a treat.  I'm hoping for back-to-back late night sets.
Relentless7 – Ben Harper's newest musical collaboration is said to be dirtier, grittier, and more purely Rock and Roll than anything Ben has done before.  Having seen his live show a few times now (with the Innocent Criminals), I can tell you that's saying something – it's hard to imagine his Wiessenborn sporting any more distortion than he throws at it already.  Additionally, and regardless of the setting, Ben Harper has a passion that few others can match, a passion that he shares with and spreads to his audience at every opportunity.  This guy's got soul, baby!
The Black Keys – Foot stomping, body shaking neo-blues, pure and simple.  Dan Auerbach and Patrick Carney always sound like they are on the verge of completely breaking loose, releasing more energy (and sound for that matter) than two people should reasonably be able to.  Their recent collaboration with Danger Mouse on their album Attack and Release revealed a new side to the Black Keys, one that is as experimental as it is rollicking.  Above all, the Black Keys are proof positive that complexity isn't a necessary prerequisite of awesome music.  Do not miss this one!
Gogol Bordello – I'm not quite sure how to describe the hedonistic phenomenon that is Gogol Bordello.  Gypsy punk fits, but so does polka rock and rolcka.  Widely regarded as one of the most dynamic (and possibly insane) frontmen on the scene today, Eugene Hutz is a spectacle in and of himself.  Expect him to do outlandish things like crowd surf atop a bass drum (I've seen it happen!), but don't expect him to wear a shirt or clothes without holes.  And as if Hutz's antics alone aren't enough, he's backed by a gang of 9 raconteurs and n'er-do-wells, giving Gogol Bordello's East-meets-West sound a luscious complexity quite unlike anything you've ever heard.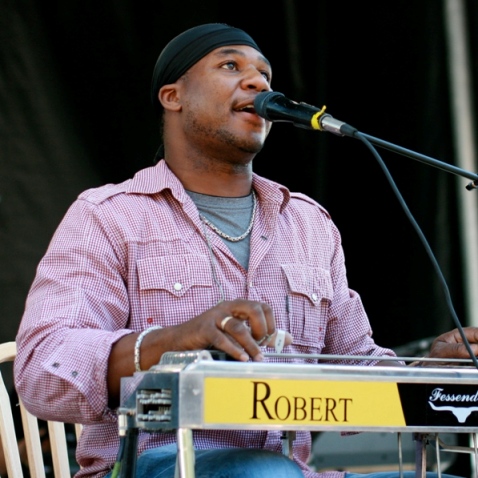 Robert Randolph and the Family Band – Heavily influenced by gospel music and a wiz on the "Sacred Steel," Robert Randolph may very well turn you into a praying man (or woman) if you're not one already.  Deserving of accolades like "World's most exciting lap steel player," Robert Randolph and his instrument are either one and the same entity, or the coupling of true, hot and sweaty lovers – Robert's instrumental half wails to the heavens like a woman in the throws of ecstasy while Robert himself growls like man gone back to the wild.  I was blown away by the Family Band last year at Jackson Hole, and would recommend this band to anyone anywhere who thinks they've got soul – but be warned: you ain't seen nothing yet.  Going to church never felt so good!
Joe Pug – Fans of mellower, rootsy-er singing and song-writing would do well not to miss Joe Pug.  A little bit Bob Dylan, a little bit James Taylor, and storyteller through and through, Joe Pug's honest, down-to-earth lyrics will keep you thinking all afternoon.  Sometimes tragic, sometimes darkly humorous, and sometimes hopeful – just like life itself.  If you like Ani DiFranco (also performing at Mile High) you'll dig Joe Pug too!
And the list goes on and on…
The 2009 Mile High Music Festival will return to Dick's Sporting Goods Park just outside Denver, CO on July 18th and 19th.  At that time, 18 soccer fields will be converted to the ultimate playground, filled with good music, good vibes, and good people basking in some of that trademark Colorado sunshine.  Mark your calendars – if last year was amazing, this year is not to be missed at any cost!  One- and two-day passes go on sale this Friday, April 3, at 10 am.  For more details, please visit www.milehighmusicfestival.com.
See you there!