Sometime last Saturday night it dawned on me why the guys from the Infamous Stringdusters are doing so well for themselves; their charm and charisma comes through without toting a hometown identity. When the Dusters play in Nashville or Telluride, or Eugene, they make the crowd feel like their hometown crowd. Since the evolving genre of bluegrass is always progressing with artists that are adding unique instrumentation, new canonical additions, and decontextualized delivery, it's really a hard task to remain cutting edge. But the Dusters aren't trying to be "cutting edge," they just seem to play whatever inspires them and gives their crowds a rise. It's also apparent that their relatively new personnel changes (loosing original guitarist Chris Eldrige to Punch Brothers for Andy Falco, and parting ways with mandolin player Jesse Cobb) has only inspired creativity and tightened them together as a unit.
Their new album Silver Sky reveals a maturation of the reformed Dusters, not focusing on what so many progressive string-acts loose their identity in, which is trying too hard to be cutting edge. Instead the guys used the album to strengthen their songwriting and collectively fluid playing. You can hear the stark contrast between the sound on Silver Sky and their breakthrough album from 2007 Fork in the Road. Their first few albums we're released under the Sugar Hill Records Label, Sam Bush's label. Obviously the right people from the beginning sighted their talents. But since their founding of the independent label High Country Recordings, the guys have taken on a do-it-yourself attitude which has gained them respect and adoration in the industry in addition to their rapidly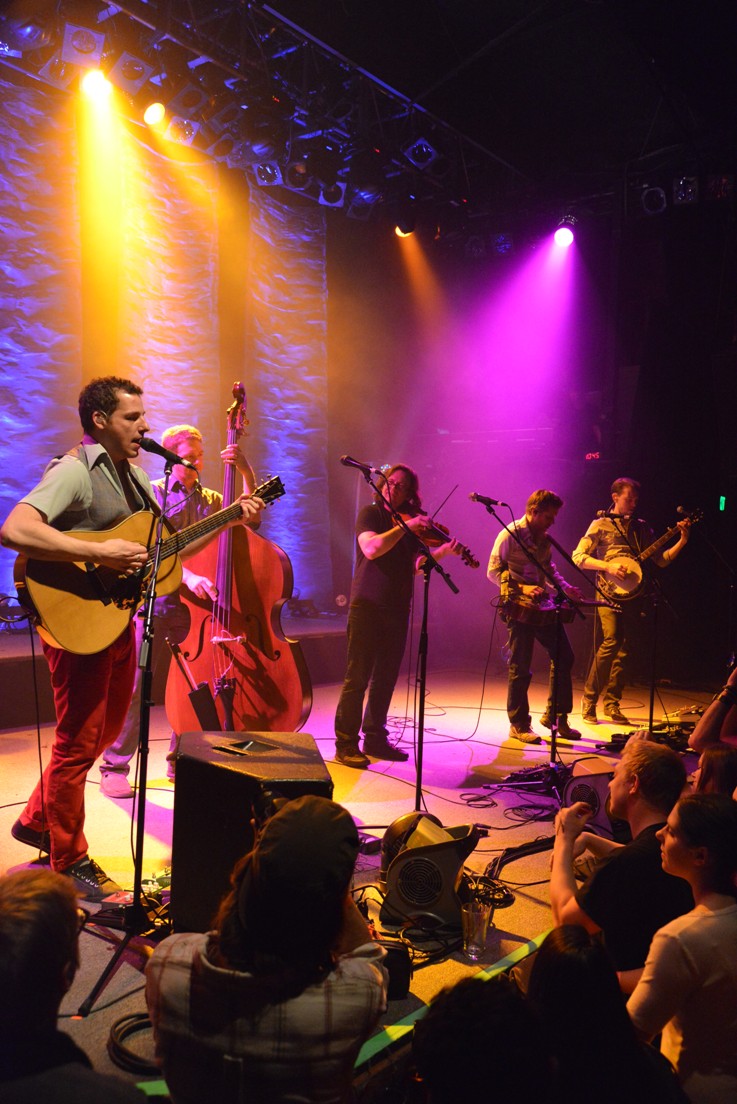 growing fan base. Perhaps that's why the Nashville Community and Planet Bluegrass are booking these guys as often as possible. Travis Book, Andy Hall, Andy Falco, Chris Pandolfi, and Jeremy Garrett, always dress to impress, but it's never outside of the sincere bounds of their individual and collective personalities.
Last weekend saw two strong sold-out performances at Boulder's University Hill Fox Theatre. The small-capacity venue had no trouble selling out (the guys could have easily filled the larger sister venue, downtown's Boulder Theater, for a two night engagement,) and their stronghold support was more apparent than ever from this stronghold musical community. The tour is being toted as the 2013 Ski Tour and is seeing the guys touring through the great ski towns of the Rockies including Park City and Jackson Hole before continuing on east and south toward countless other dates. Their stage setup included heightened platforms toward the backstage for their trademark jamlette moments where two members will break off into their own little pocket jam within a jam before reconvening with the full band for a climactic finish. It's cool to see the guys customizing stage space to fit their musical needs and enhance their strongpoints.
I was fortunate enough to cover their Saturday night show, the second of the two-night Boulder run. The guys greeted the packed hall with "Road to Boulder" as the opener. The Virgina-born band wrote a song about our hometown! Sweet! Without skipping a beat the Dusters jammed into "Black Rock" off of their self-titled album. This tune always gives Dobroist Andy Hall a chance to reveal his frighteningly skilled playing to the few who have never witnessed it. Dusters owe much of their sound to Hall's powerhouse abilities and far spanning musical aptness. Other first set highlights included "Don't Mean Nothing" off of the Silver Sky record. It's great to see these tracks evolving from their studio beginnings to full-fledged live jammers. No doubt, the crowd-favorite "Deep Elem Blues" reconnected the casual fans and toted the Duster's familiarity with canon standards. The first set closed with the hard-stomping jammer "Moon-Man" from their debut album.
Setbreak is literally a rest for the crowd who has been working up a sweat dancing their collective asses for the last few nights. Without letting the momentum loosen, the gang arrived back quickly to deliver an even stronger second set. Opening with "Fork In The Road", one of my personal favorites, was a choice selection to get the Fox going for the second act. Next came "The Hitchhiker" one of the strongest tracks off of the new album that is sure to become a staple of the Stringdusters catalogue. The John Hartford classic "Steam Powered Airplane" had the whole crowd singing along jubilantly. I was surprised how much bluegrass know-how there was amongst a younger looking crowd. The real highlight of the second set was a long jam vehicle wrapped around the traditional "I Know You Rider." Travis Book got his epic standup bass solo in, Andy Falco proved to be one of the fastest playing flat pickers in the biz, with Garrett & Pandolfi putting in their two-cents worth as well. When the dust cleared nearly twenty-minutes later the crowd and band felt like a collective group rather than a band with an audience. Encore time was also strong with covers of Pink Floyd's "Fearless" with some great fiddle interpretations of the original guitar parts into "Foggy Mountain Breakdown".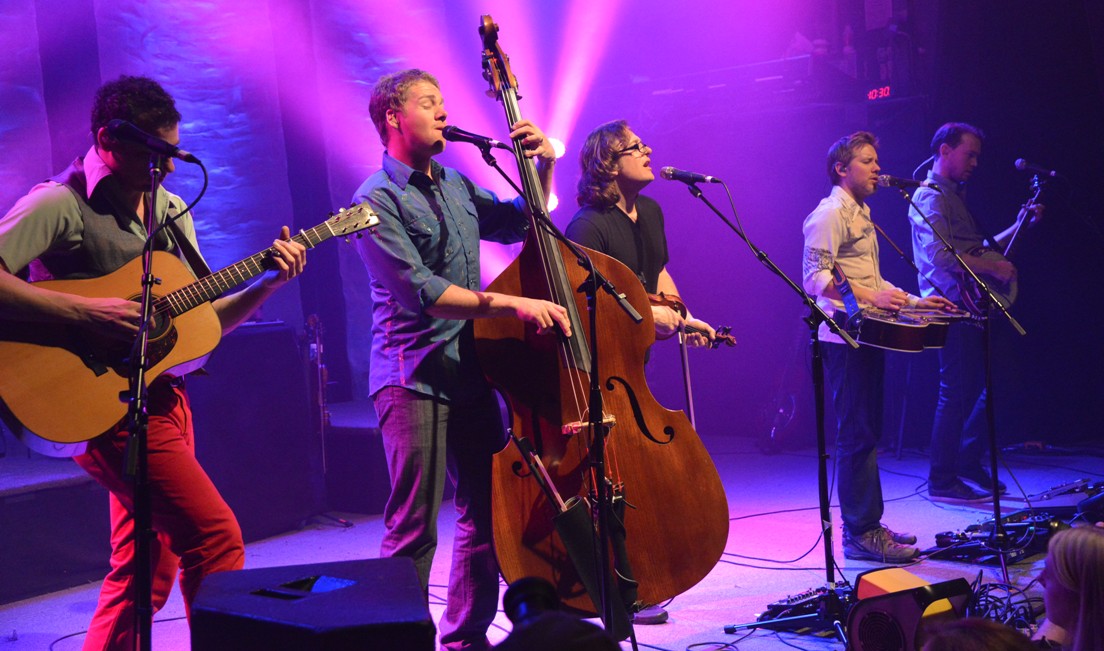 It's so effortless to be taken by this group of killer musicians every time they throw down a live gig. Their connectivity radiates through as tried and true to crowds nationwide and everybody leaves wanting more. Us Coloradoans have the Telluride Bluegrass Festival main stage to look forward to as the next announced Dusters gig. Thanks for never skipping Colorado on your tour and for bringing something new to the table each time. Keep on taking chances and never let any big-time record industry Joe tell you to do anything differently.