Fans anxiously awaited Alison Moyet's appearance as soon as the house lights dimmed and the stage lights formed iridescent shadows across the spacious Palladium, while the spoken word, 'April 4th from the recently released 'Other' echoed. When the star did appear, dressed simply, but elegantly, greeted by hoots and major applause, she stood silently for a moment, as if in awe of her surroundings. This singer-songwriter has satisfied fans of all ages over her storied 40-year career as a soloist and as a new wave collaborator with Vince Clarke in the dance-oriented Yazoo.
On keys were musical director John Garden (Scissor Sisters) and synth-player and tenor, Sean McGhee (Alanis Morissette, Rizzle Hicks). The versatile duo framed the singer's voice with precision and warmth, inserting cool backing vocals, flashes of guitar, bass and bright chordal accents. Notably these two musicians provided spot-on harmonies throughout the 90-minute set.
2017 has proved to be an exceptionally busy year for the fiery contralto. She completed a tour in New Zealand, Australia, Scotland and major cities in England before her mid-week London concert. Moyet's material pushes her miles above the standard artist; judging by her sincere back stories, she seems only to perform songs with which she shares a deep, personal meaning. 'I Germinate' not only complied with that ethos; it allowed her luminous voice to soar. Moyet's range was flawless in the nostalgic, heartbreaking 'When I Was Your Girl,' while 'Wishing You Were Here' brought out a softer, romantic tinge.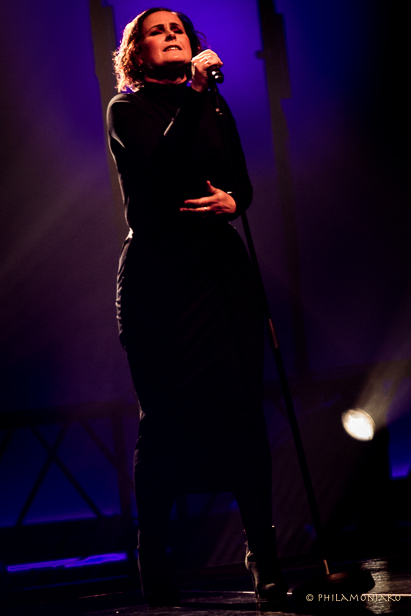 Moyet headed off her repertoire with sincere observations: her delight at being accepted as part of the Brighton community, after having felt like an "outsider" for much of her life, became palpable when she sang, 'The Rarest Birds,' and in another particularly poignant moment, she spoke about her mother's descent into dementia. Her tribute, 'The English U' was based on her mother's determination to speak English exceedingly well.
One of the best surprises of the night was the melodic 'The Man in the Wings,' which she sang on behalf of the deep relationships Moyet has cultivated over the years. The rhythmic 'Nobody's Diary,' 'Only You' and 'Situation' from her time with Yazoo were spread out across the hour-and-a-half set, and motivated fans from all across the balcony to pump their fists in unison.
A cluster of excited fans, who danced joyfully in the aisles, inspired Moyet to do a two-song encore.  'Whispering Your Name' and 'Don't Go' found Moyet swinging her hips and losing herself at the moment, as well.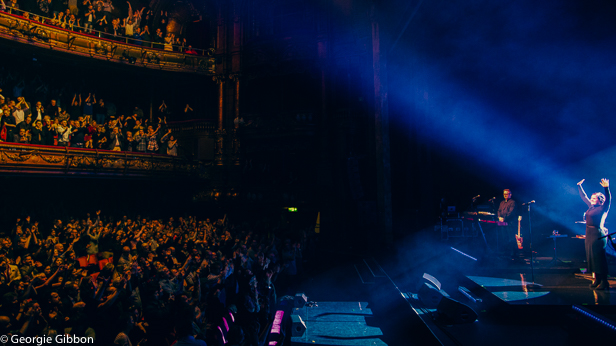 "I love you," she repeatedly crooned to an exceedingly grateful audience, who reveled in her every move. In essence, Alison Moyet's inspirational set brought forth the best of her old and new material and proved that forty years on, she still ranks as one of the UK's more vital forces.
Setlist:
April 4th
I Germinate
When I Was Your Girl
Wising You Were Here
Nobody's Diary (Yazoo song)
Ski
The English U
Only You (Yazoo song)
Beautiful Gun
Changeling
All Cried Out
The Man in The Wings
Other
The Rarest Birds
Alive
Situation (Yazoo song)
Love Resurrection
Encore:
Whispering Your Name (James Shear)
Don't Go