Once ZZ Top guitarist Billy Gibbons and bassist Dusty Hill began dishing out shared vocal duties, truculent lead solos and iron-fisted bass lines with hard-working drummer Frank Beard at the helm on a warm Tuesday night at Chicagoland's Ravinia, it became hard to keep track of the star-studded hits that just kept rolling down the rocker pipeline at full force. 'Got Me Under Pressure' proved to be a celebratory opener, followed by the buoyant Sam and Dave smash, 'I Thank You.' But after that cover, the power trio primarily relied on the colorful, legendary repertoire that encapsulates their rough-hewn but lovable personalities.
Through the night, Hill and Gibbons loosely engaged in schmaltzy side stepping before exhibiting a famed pair of furry instruments. But aside from the predictable antics, it was Gibbon's wry observations that kept the set list moving.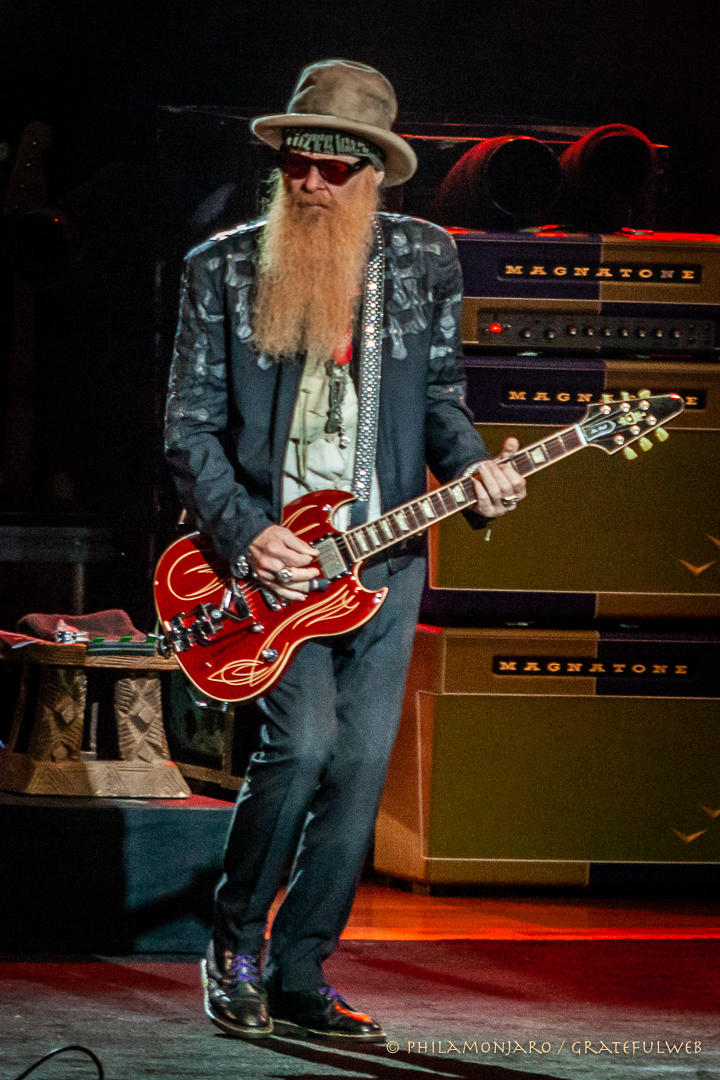 "We've been coming around with you guys for about three decades. …same three chords right here. We're gonna take you way, way back."
And that they did, with illuminating videos to boot. 'Legs,' specifically, drew fan attention to a palpable visual, complete with fishnet stockings, but it was 'La Grange' and 'Tush' that got fans asserting their own sing-a-long talent. Another pop-rock odyssey, 'Pearl Necklace' got fans on their feet, as sultry scenes erupted from the massive screen. In essence, this night was rife with compelling eye candy.
'Just Got Paid' was another rouser, with Gibbons etching out his infamous swampy introduction, as the commanding lyrics slid off his acerbic tongue. And as the front man waxed nostalgic about performing the Merle Travis cover 'Sixteen Tons' with Brit Jeff Beck, he followed the memory up with one of the evening's most expressive and striking solos. Of course, the stars could not align without Gibbons demonstrating his skill for slide guitar. Kudos to the visual gods for the close-ups of that unparalleled craftsmanship. Gibbons, refusing to stand on ceremony, modestly offered, "We're just making this stuff up as we go along…"
In the vocal department, too, there was lots of lust. 'Beer Drinking and Hell Raising' found Hill and Gibbons trading some fierce, fiery phrases, and more than a couple of fans stood up to express their gratitude.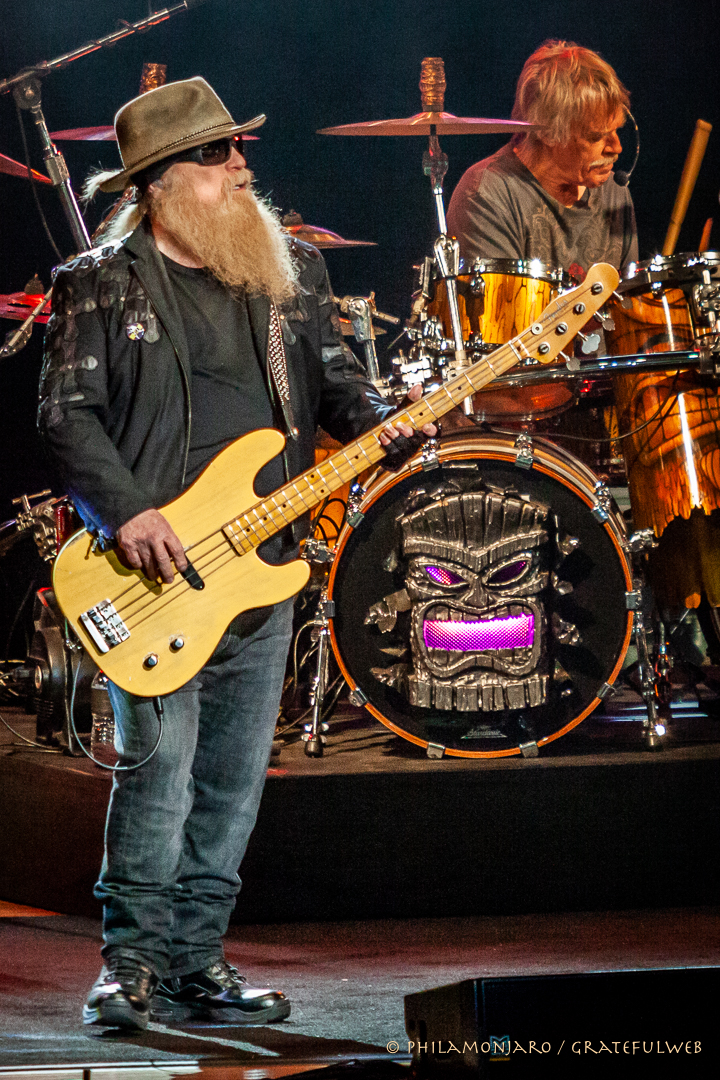 This raucous 'Blues and Bayous' tour also featured sensational co-headliner, John Fogerty, who is no stranger to the Ravinia family circuit. Although the legendary Creedence Clearwater Revival front man was in excellent stead with a roving horn section, jazz-savvy saxophonist, organist and passionate performances by his electric guitar-wielding son, Shane, and a commanding solo by former John Mellencamp drummer Kenny Aronoff (voted one of the 100 best drummers by Rolling Stone Magazine), sparks flew when Gibbons returned to the stage to stylize new hit 'Holy Grail'.
Forgerty, committed to performing his own CC hits, as well as a heartfelt homage to veterans via a virtual performance with fellow songwriter Brad Paisley, looked as thrilled to welcome Gibbons back onstage, as the bearded guitarist did, himself.
Props to Ravinia for bringing together these two iconic acts for one jam-packed, historic night.
ZZ Top Set List:
Got Me Under Pressure
I Thank You
Waitin' for the Bus
Jesus Just Left Chicago
Gimme All Your Lovin'
Pearl Necklace
I'm Bad, You're Nationwide
Beer Drinkers & Hell Raisers
I Gotsta Get Paid
Sixteen Tons (Merle Travis) 
Just Got Paid
Sharp Dressed Man
Legs