When the Struts played at Chicago's Aragon in 2015, they opened for a popular electronica band, Awolnation, and appeared after singer/songwriter Meg Meyers. Many of the attendees had never heard of the British quartet, so they couldn't sing along with confidence, despite frontman Luke Spiller's grand enthusiasm. But that was then and now is a fascinating wow.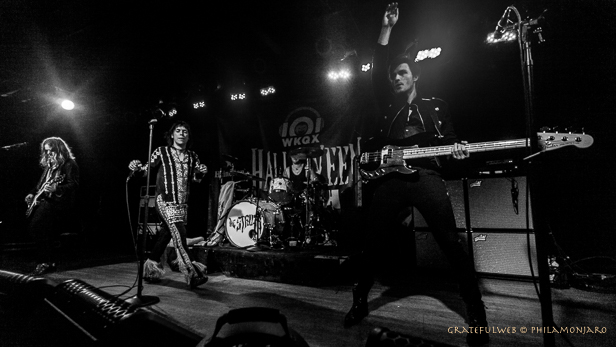 These days, Chicago and The Struts comprise a compelling love match. The place was jammed; fans still pouring in and craning their costumed necks to see the low stage at 9 pm. At Chicago's Bottom Lounge, Halloween was certainly a hot topic. Fans were dressed as super heroes and hot dogs. The host of sponsoring radio station 101 WKQX didn't miss a beat, commenting on a mid-set contest, after the opening band, The Gin and Tonics, got off stage.
The Gin and Tonics? Opening act? Hmmm. Funny that the four guys who played six Oasis covers, dressed like young Brit pop stars, bore a strong resemblance to Darby's darlings. After the "ah-hahs," fans settled in to enjoy a set of swooning harmonies and jangling chords. But while the harmonies recalled classic boy bands, the covers were another story. This first set of The Struts was a tribute to Oasis.
Guitarist Adam Slack, drummer Gethin Davies and bassist Jed Elliott supported their singer with pumped-up licks, delirious smiles and wicked drumming. They are big on image, too—a visual cross between Pan's lost boys and Twist's Artful Dodgers.
The other thing about this band is, they look louder than they sound, which is great because the volume was not as ear-splitting, as one would expect. Translation: big, broad stage movements, without the decibel debacle. The sound guy was on top of the nice, crisp, clear electric guitar solos and the blistering, bottomless bass.  
The Struts have opened for The Who, The Stones and Guns 'n' Roses and it doesn't take a bop on the head to see why. They know how to win over an audience. During that first set, the preening Spiller, lost no time professing his love to Chicago. And he was in exceptional voice, backed harmonically and instrumentally by some real technical experts. And what was really fascinating? That a band with an enviable roster of originals would devote a set to six (Oasis) covers, but the tease worked, whetting our appetite for their chestnuts. And they really understood Oasis: the dark, brooding progressions and visual lyrics. Especially well-done was 'Wonderwall'.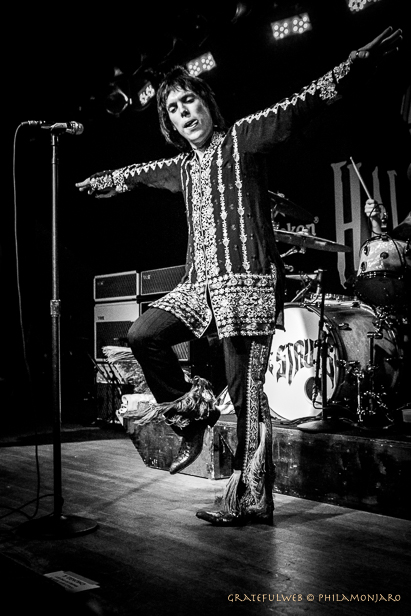 True, Spiller's impeccable voice brings to mind Queen's Mercury, but the singer does not respond well to formula. He's toned down some of the vocal schmaltz over the years and has really come into his own.
Set 2 inspired a mass push towards the stage. Spiller chanted: "Are you ready to learn? Are you ready to sing?" When this lad asks, he's not interested in hypotheticals. He stared us down until we answered. Soon enough, hands were in the air, dudes were slapping each other on the back and voices roared.
The Struts drew about six songs from their debut so it was exciting to hear that we'd hear 'Prima Donna,' a brand new tune, probably appearing on their upcoming album. The wood blocks gave the ballad a terrific timber. 'Kiss' gave Slack a chance to take off like a lightning bolt.
And who's to argue with the concept of 'Sexy Money'? The repetitive lyrics of Bowie's 'Rebel Rebel' turned satin-skinned Spiller into a snarling punk, as the band went crazy, stomping out bluesy riffs and swarthy bass lines, all the while, surveying the front lines, and having a blast?
'Put your Money on me' and 'Could Have Been Me' ran together like honey and cream from the bottom of a heated mug. Both tunes imbue a catchy, innocent warmth. Even the somewhat shy and self-conscious fans, swiveled hips.
The last third of the set, included a dynamic drum solo by Davies and a cheeky, compulsory court-martial by Spiller, who commanded the fans to crouch and jump, as he bopped around singing, 'Oh, oh, oh, where did my love go?'
It didn't go anywhere, Struts. It stayed right in the room, and the fans lapped it up.
Stay tuned for The Strut's upcoming album and their return.  
Opening Set List:
Rock 'n' Roll Star
Morning Glory
Wonderwall
Cigarettes and Alcohol
Don't Look Back in Anger
Supersonic
Headline Set List:
Put Your Hands Up
These Times Are Changing
One Night Only
The Ol' Switcheroo
Prima Donna Like Me
Kiss This
Dirty Sexy Money
Let's Make This Happen Tonight
Put Your Money on Me
Could Have Been Me
Encore
Where Did She Go?