Two homesick space aliens walk into a bar. They yearn to feel at home. So what do they order? What's on tap? Hell no--Gary Numan, bro. Numan's flowing tunic, octopus' arms, and catatonic stare were made for the sound effects his amazing musicians manufacture. Now, the blistering electric solos would be grand enough alone, but when Numan sings his post-wave heart out and channels a higher spirit, you've got undefinable magic. The purveyor of 1979's "Pleasure Principal' still oozes Oxytocin into the air. Isn't that illegal?
Numan's delirious 'Cars', not surprisingly, got the biggest bang. The infectious rant soon graced all lips. But this show wasn't just about the hits, it was about the mood and the eerie spaces between the melodies.
With two percussionists and a trio of horns, Twin Peaks were raring to go. This young band which consists of Cadien Lake James, Clay Frankel, Jack Dolan, Colin Croom, and Connor Brodner rose from the ashes of the Humboldt Park days and have accumulated quite the fan base at Riot Fest's newer locale.
"What Up Dawg" was accompanied by a fellow musician dressed in a Dalmatian suit. Yes, that fur ball was James Swanberg who unabashedly joined in the vocal hook; after all, it was his song they were singing. Jack Dolan's pipes were properly raw and convincing as he kept pace with his own creative bass lines.
Connor Brodner's drums grew overpowering for a spell through no fault of his own, but the tech issues couldn't hide the fact that he's a talented dude. And besides, this group of outgoing guys wasn't going to let anything stop them from having a great time.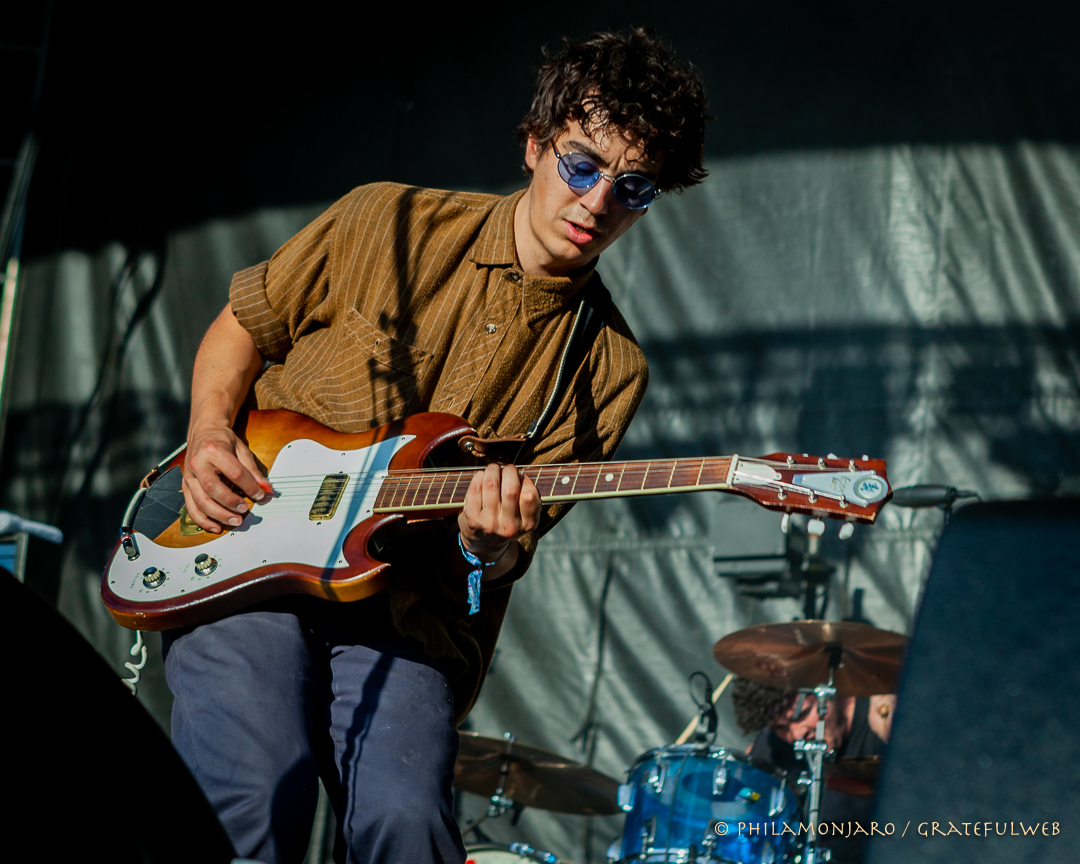 Their latest album, Sweet '17 Singles,' is a compilation from which they drew with gusto, and which speaks to their prolific fortitude; Twin Peaks has released an album a year since 2014, with the exception of 2015.
As the crowd grew bigger and bigger, the hooks grew more and more strident, as voices from the back and front rows conflated. Twin Peaks gets under your skin with their classic rock renderings and lived-in confidence, although it must be stated that they still retain a dash of hometown humility. Even their contemporary lyrics allude to their love for their local fans: "We Will Not Make It (Not Without You)," being a solid example.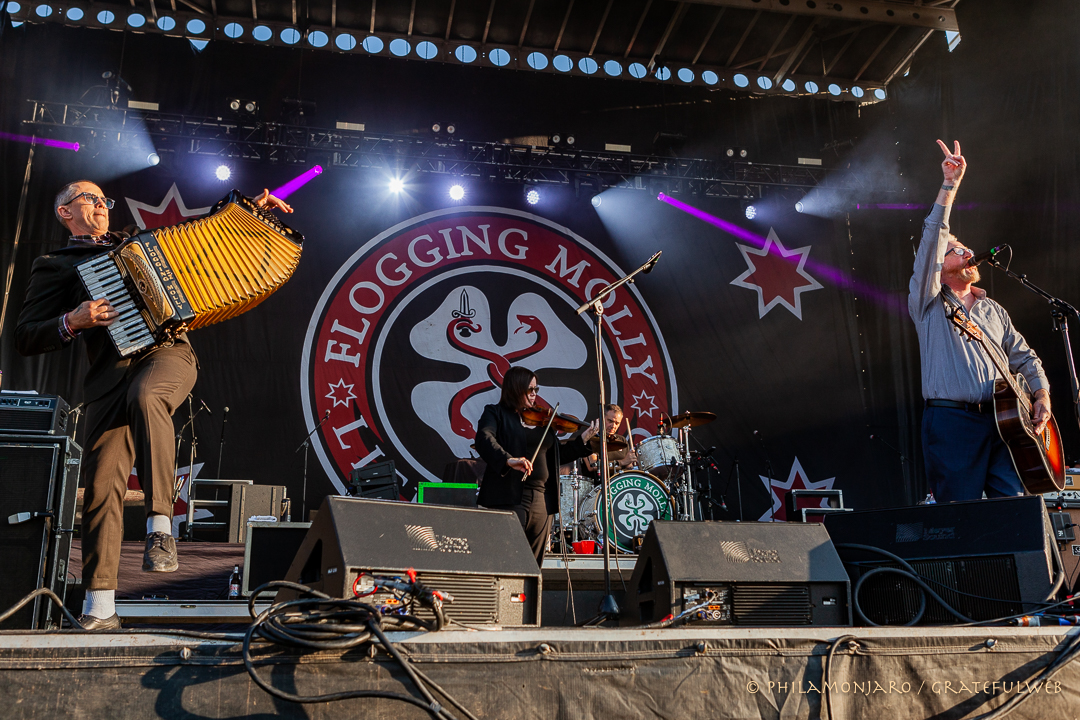 Flogging Molly's tin whistling "Devil's Dance Floor" and the sobering introduction to "What's Left of the Flag", would create enough of a stir alone, but as usual, their set included much more. They opened with the colossal, crowd-pleaser/character study, "The Hand of John L. Sullivan. The seven-piece group pleased with a couple of songs from 2002's Drunken Lullabies, Float, Life is Good, Swagger and the closing number, "The Seven Deadly Sins" off Within a Mile of Home.
Flogging Molly has been touring since the late 1990's and their colossal command of the stage shows. They swagger from mood to mood artfully, i.e., consider the poignant opening line of "The Likes of You Again"— "It's been so long since I lost my daddy-o," and how that mournful statement segues into a cannon of ferocity in the blink of an eye.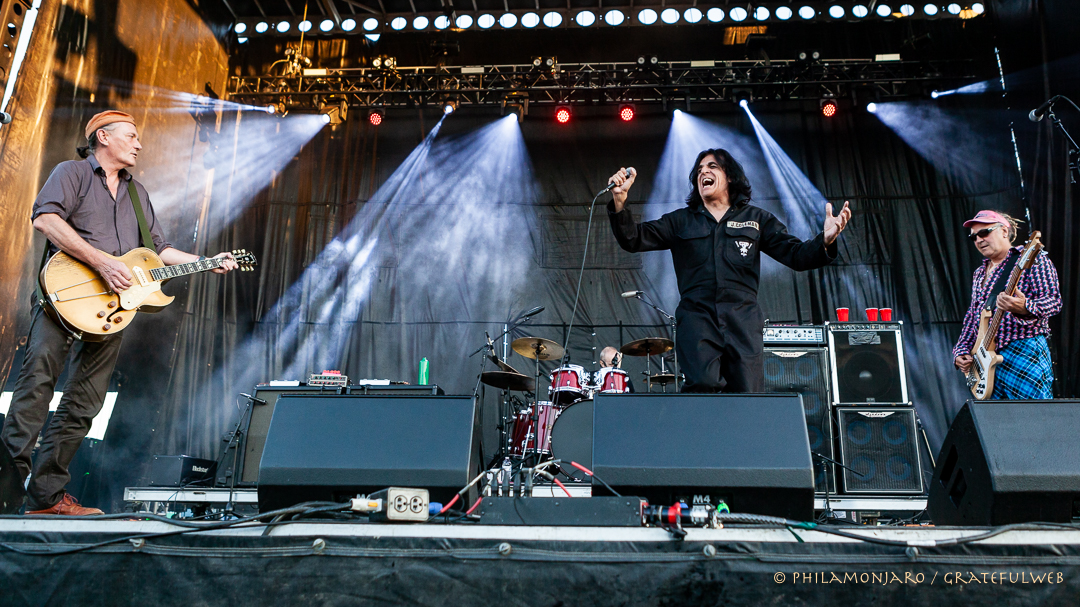 Killing Joke, who hails from the Notting Hill section of London, have inspired Soundgarden and Metallica. Their lineup consists of vocalist Jaz Coleman, guitarist Geordie Walker, bassist Youth, and drummer Paul Ferguson, Coleman may resemble Ozzy Osbourne or Alice Cooper at first glance, but he's not a doppelganger.
Ferguson's truculence on the drum kit was a definitive part of their appeal. Walker snuck in some eerie solos. Youth sent chills up the spine with that bass line acuity--he's so unafraid to take a risk and his confidence shows.  
Jerry Lee Lewis made his first records at Sun Studios in Memphis circa 1956. Since then, many critics and fans alike consider this rockabilly singer/pianist a close king of rock 'n' roll, with his nickname being, "The Killer."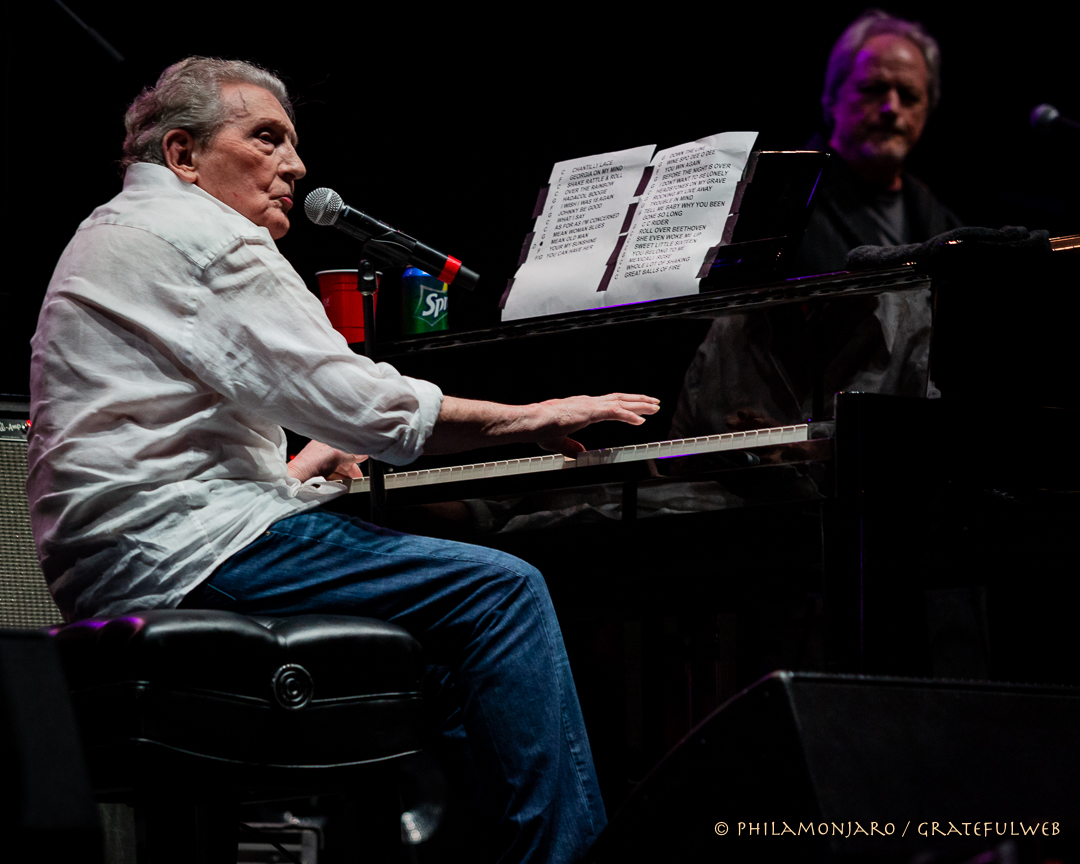 Fans couldn't wait for "The Killer" to come on stage. They stood against the barricade, chanting his name, while his bandmates played an enjoyable, but sizable set. Soon they were on their fourth song, leaving fans confused, as the figures on stage weren't clearly visible from all angles and a player who slightly resembled Jerry Lee stood in the shadows, plucking away at a guitar. Now maybe this configuration works at the casino, but Riot Festers were getting agitated and downright antsy.
"Is that Jerry Lee playing the guitar?"  "When is he coming on stage?" This hiatus also inspired gossip. Fans compared notes about what they had heard over the years. "Is it true he married his cousin?" "She was only 13?" Before they could reach a consensus, the lights streamed over an 82-year-old in a glittery, eye-popping jacket. He untucked his chalk, white shirt, sat on the throne and allowed his silver-streaked hair to fall against his forehead.
Any confusion about which one was Jerry Lee Lewis disappeared. He received a riotous reaction when he played his hits; leave it to legacy, people of all ages knew the lyrics. And anyone who knows about Jerry Lee knows what he was expected to play. This octogenarian still has a strong, persuasive voice and a malleable ear. His fingers don't exactly do what they used to, but he makes up for it with his bubbly personality and familiar chord clusters.
"The Killer" has cut way down on his touring engagements and has been known to cancel over the years so fans were lucky to see him, even though his set was finished in a flash. That said, he played exactly what we expected him to play and even a few more for good luck. His band did a terrific job, especially seasoned drummer Kenny Aronoff. But who can sing Jerry Lee Lewis better than Jerry Lee Lewis? Duh. Hiring "The Killer" for a predominately punk fest may have seemed weird to some, but "great balls of fire," we were blessed.
Peering out from under the brim of his midnight black hat, Beck illuminated the Riot Stage, when closing late Saturday night. The elongated set spanned the breadth of his brilliant studio career and also allowed time to showcase evocative tracks from 2018's Colors. Always the engaging team player, he murmured, "I just had to see a little more of that," before standing side by side with Gary Numan, who vivaciously rehashed his beloved 1979 produced "Cars," which he had done earlier to a growing crowd.
Beck's vibrant lighting, nonstop movement and all-around joie de vivre made for a spectacular concert. His music is so relatable and he's such a consummate showman that it was impossible to take your eyes off of him. And conversely, he couldn't take his eyes off of the audience. In essence, everything clicked, and Beck put on one of the most well-paced shows of the Riot Fest season.