When Dweezil Zappa's Choice Cuts! World Tour commanded the stage of Chicago's Vic Theatre Friday night, Scheila Gonzalez (horns, keys), Adam Minkoff (rhythm guitar, vocals), Cian Coey (vocalist), Ryan Brown (drums), Kurt Morgan (bass) and Chris Norton (keys) and Dweezil Zappa, the late Frank Zappa's most dedicated interpreter entertained receptive fans for approximately three exuberant hours.
Dweezil explains on his website's promotional video that the exploratory set list was "designed to showcase obscure songs, expose lesser-known arrangements of well-known songs and balance them out with Zappa classics."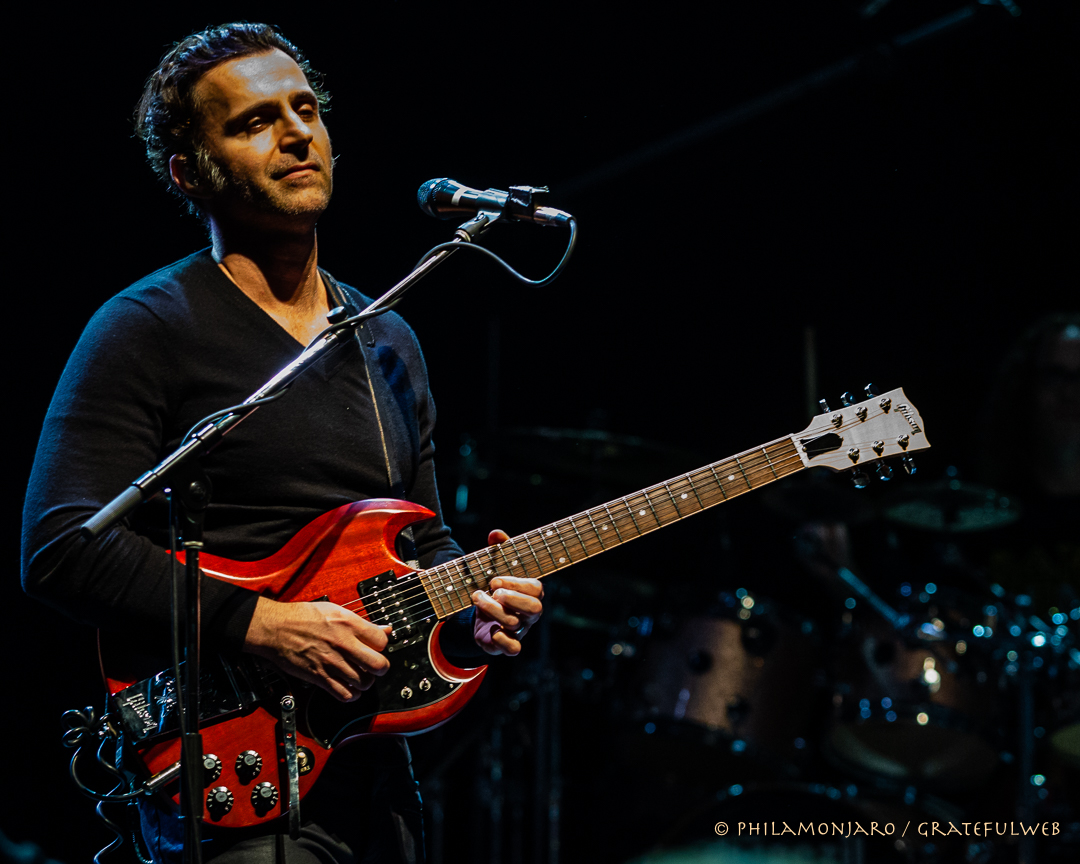 The 30-plus song set list was, as expected, derived from decades of fan-friendly music, but a fascinating number have been rarely heard on tour. Ask any fan who has trailed Dweezil intensively, and they'll likely agree that Frank Zappa's songs are a challenge to perform live. Many are comprised of complex rhythms, angular backing vocals, nonsensical or political themes, and comical mimicry, while others reveal lush orchestral introductions or outros. Still, other songs follow a more basic structure in an effort to celebrate blues or country, and because there is also a very theatrical arc to many of the themes, an ensemble has to be multi-talented and resilient to pull off this kind of show successfully. Remarkably, Dweezil and this multi-talented ensemble do it all, seamlessly.
Drummer Ryan Brown is unarguably masterful at sneaking in complex fills that accentuate and never dare to distract from all the clever antics and onstage cacophony. Cian Coey decked out in an elegant black and white gown, demonstrated her superb range and dexterity when skating from blues to faux-opera in a flash. Her star moments? 'Honey, Don't You Want a Man Like Me' from 1977's Zappa in New York and 'Tell Me You Love Me' from Chunga's Revenge. Cian can belt like hard-edged Joplin and bend blues notes like Bonnie Raitt and then some.
'Absolutely Free' from 1968's We're Only in It for the Money' harkened back to the long-haired Mothers of Invention days with peace-loving harmonies.
Adam Minkoff has a great ear for comedy, and his strong vocals and terrific strumming made every song stand out. His vocal rendition of 'Andy' from 'The Best Band You Never Heard of in Your Life' was beyond par; Adam got to shine many more times throughout the night, bringing many zany fictional characters to life.
Kurt Morgan demonstrated outstanding showmanship as the night progressed, easing into even the most complex tempo changes. Scheila Gonzalez dependably and coolly switched from keys to her trusted sax but at one especially explosive moment, she wildly entertained with triple-horns, a routine that required immediate assistance from an adept crew member--Dweezil's description of his longest-running touring partner as "pretty much bullet-proof as a musician" was spot-on; when donning flashy, cheap sunglasses, her 'Valley Girl' monologue from 'Ship Arriving Too Late to Save a Drowning Witch' garnered plenty of good-natured laughs.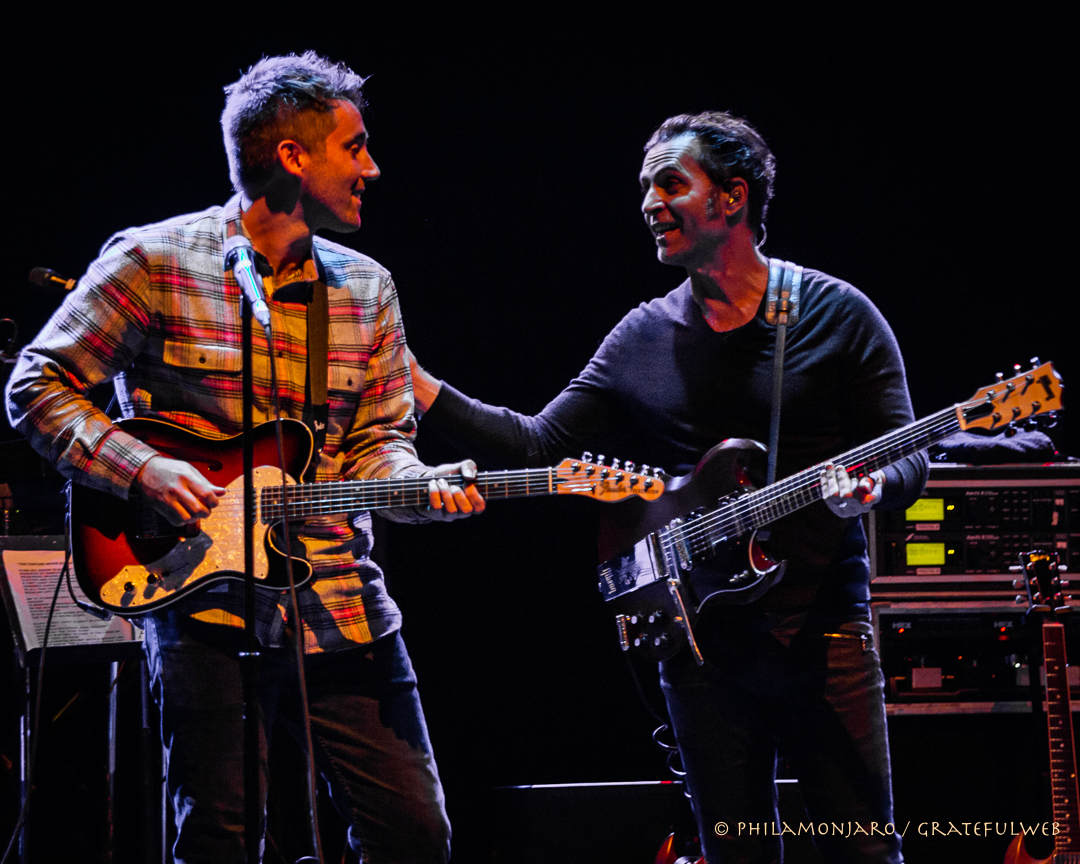 As the generous set progressed, Dweezil invited up a couple more players: Nathaniel Murphy, whom Dweezil first noticed on Instagram and whose dynamic solo on 'King Kong' from 1988's Uncle Meat became incrementally more breathtaking, as well as a School of Rock guitarist, Ian Hammond, who passionately peppered up 'Muffin Man'. Both of these unexpected artists impressed and Dweezil's delight at having them there was palpable.
But the rest of the time, Dweezil handled guitar solos himself, exhibiting enviable tone, deep emotion and confidence that can only come from years of diligent performing, while incorporating the strongest trait of all, "active listening." Most notable were his solos on 'Keep It Greasey' from 1979's Joe's Garage and the incredibly complex 'Black Page.'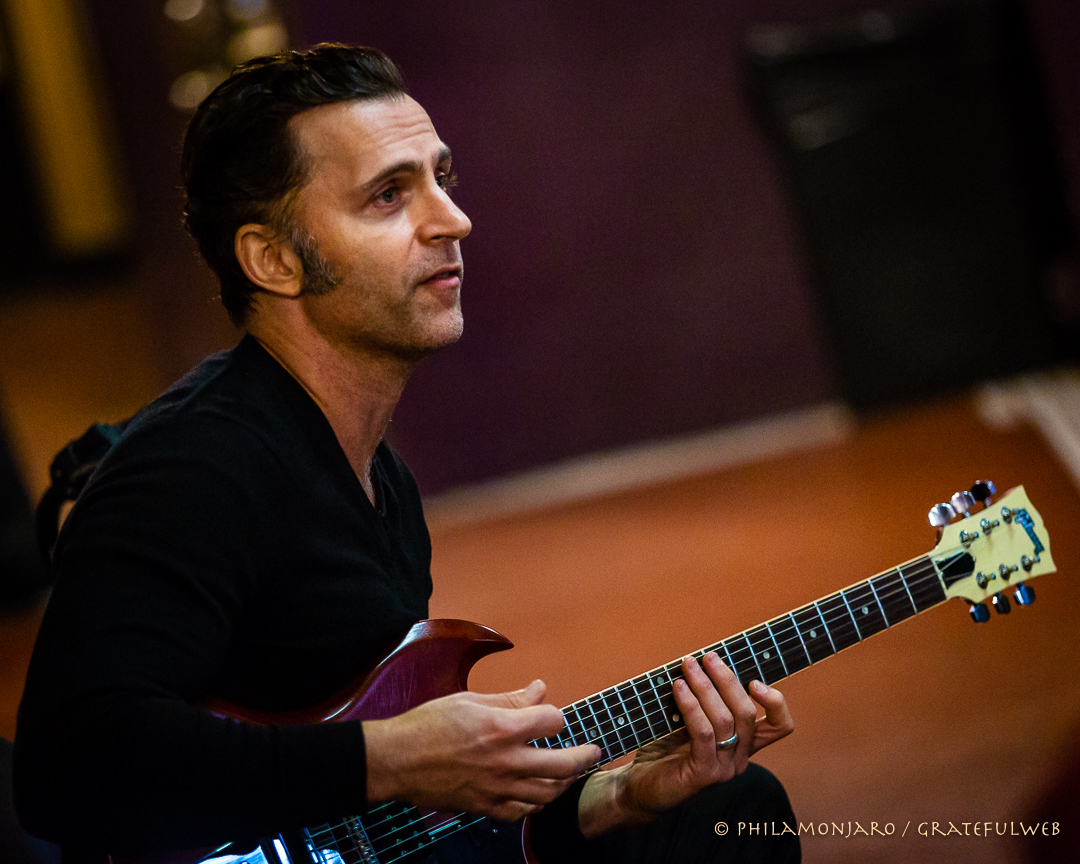 For a dozen, multi-aged, shredders, Dweezil had offered a unique master class at 3 pm. About half of those in attendance showed up with their own instruments and followed along, while others took mental notes, but all who were there listened with great interest.
Dweezil shared a variety of strategies and techniques--for instance, how to achieve proper thumb placement, increase muscle memory and ways of using a pick economically, but the guitar-master also demonstrated how to play non-chordal notes against a droning "A." He also demystified modes, asking pointedly, "Does 'Phyrgian' sound Spanish'? and showed how to break down complicated runs through the exploration of "shapes" and "contours."
In Dweezil's own words, "You have to figure out what you like about a sound and learn how to communicate it through music. Take something complicated and break it down into simple pieces." He also stressed the importance of forward thinking: "Like playing sports, you have to be ready to react."
Class members were curious about the art of embellishing solos: how does Dweezil process so much practical information when he goes onstage? How does he tackle difficult passages, such as those in the complex 'Black Page'? When does he improvise and when does he attempt to reproduce what's on a classic record?
Dweezil hinted at "bending below the pitch" and emphasized how to best pace passing tones. He also added that rehearsals allow him little time to pre-plan solos, but he does rely on many of these tried-and-true techniques as he performs live. "I just like mixing up ideas to see what happens." Dweezil thoroughly enjoys 'the freedom to use your ear."
But how important is sight reading? Are his band members expected to read arrangements? Dweezil explained that though many of his band members have a solid grounding in theory, that's not the only way to go--he relies mostly on his "ear" and when combining all of their skill sets, his talented band rises to the occasion.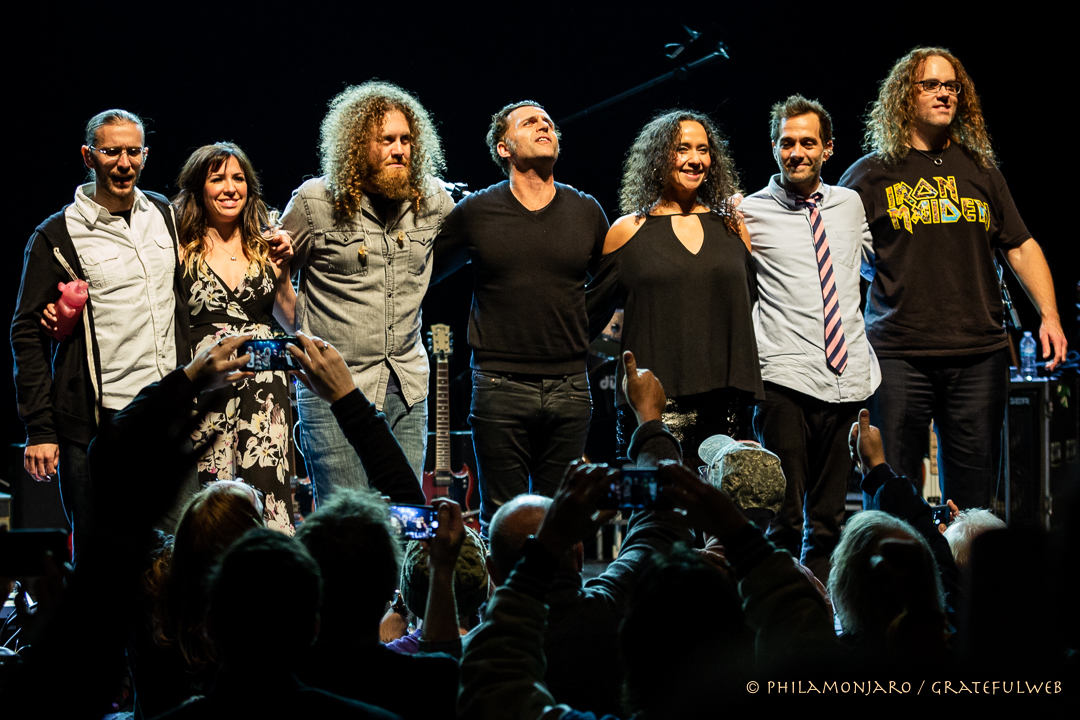 Although Dweezil's day sounded truly compact, the night did not end with the concert and even the extended encore. The band stayed on to sign autographs at the merch table. Choice Cuts! inspired a tremendous outpouring of fan love. Chicago really appreciated Dweezil and his band giving their all and then some.
Choice Cuts! started in Amsterdam in July and this exciting world tour will come to a close in Portland, Oregon on December 15.