Founding members Phil Lesh and Bob Weir, of Grateful Dead fame, playing as a duo without a backing band for the first time together, ended their "Bobby and Phil Tour" with two, consecutive nights at the Chicago Theatre, after selling out New York's Radio City Music Hall and Boston's Wang Center. Although the two musicians have long enjoyed a reputation as on-the-road constants, individually, performing on the same stage was the ultimate "can't wait" draw for fans; a rare pairing that for many represented a one-off dream.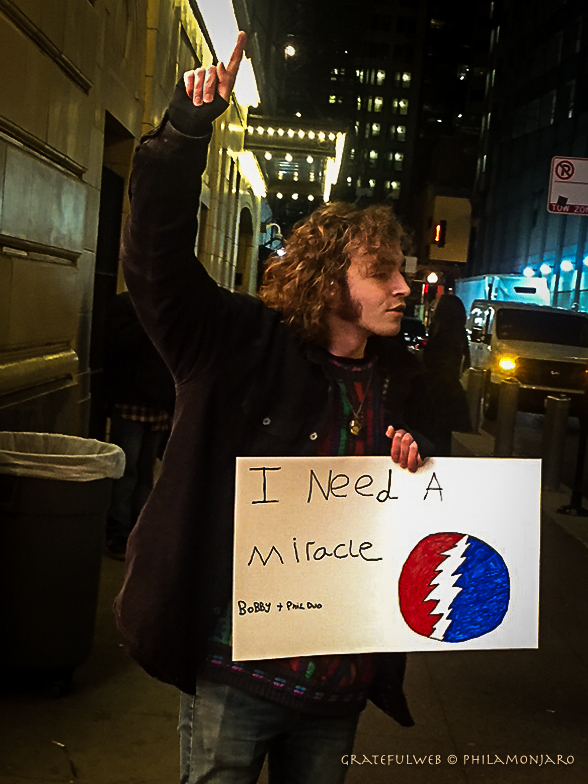 Phil Lesh, in a press release, said, "…I think that fans of our music will enjoy this new format as much as I do.''Lesh, a Grammy Lifetime Achievement Award recipient, frequently appears with Phil Lesh & the Terrapin Family Band.
RRHOF recipient Weir received this honor in 2007. He enjoys performing with Dead & Company, along with Mickey Hart and Bill Kreutzmann, John Mayer, Oteil Burbridge and Jeff Chimenti.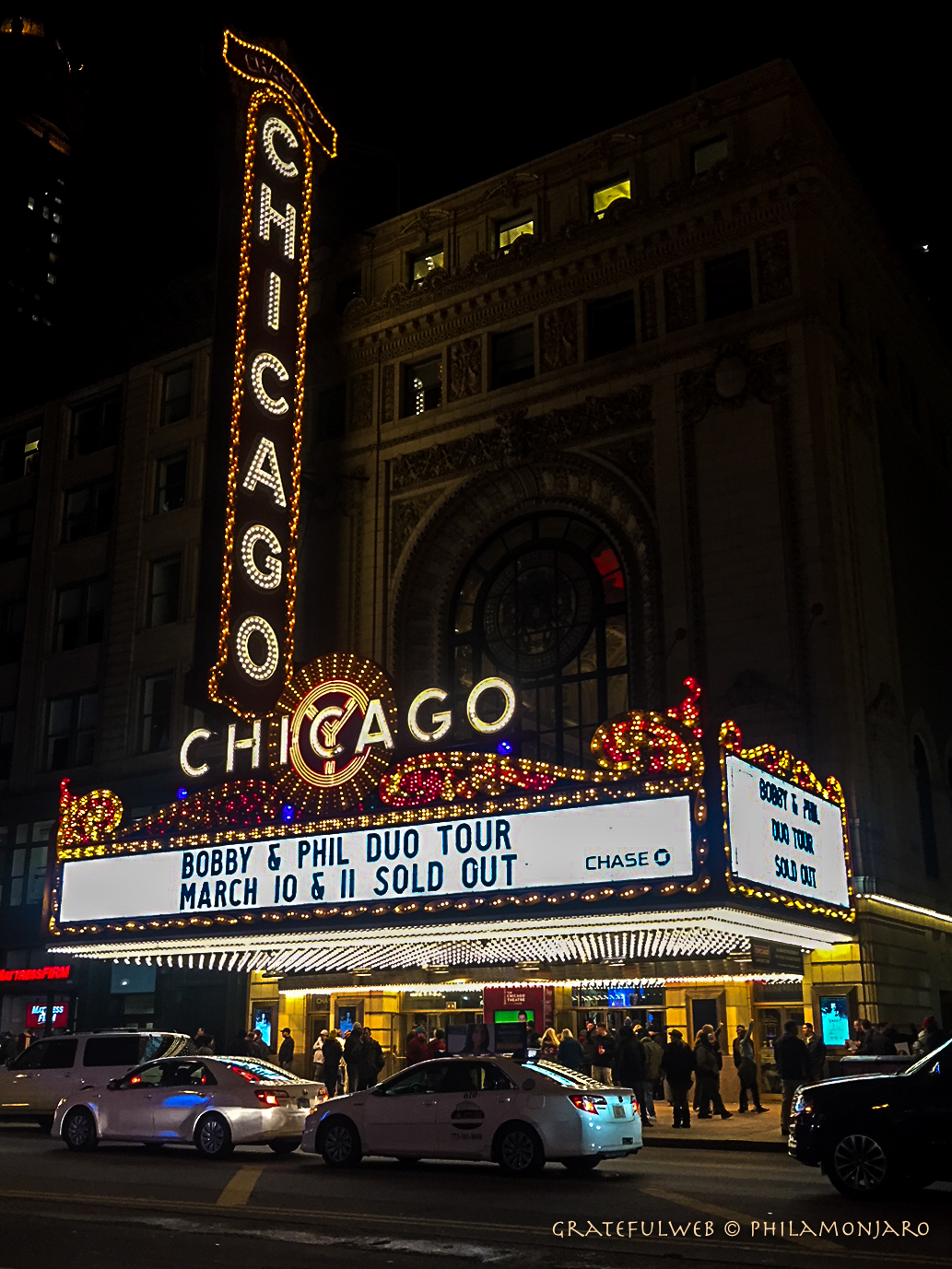 The first set was, not surprisingly, laid-back and lo-fi. The duo relied on jangling guitar and uncluttered, old-timey balladry. Adhering to the core audience's counter-culture preferences, they engaged in fluid, melodic jams, leaving the fast-paced, outside world behind them.
Percussionist Wally Ingram made his challenging job look effortless during this penultimate Chicago Theater performance. To his credit, he remained sensitive to ever-changing tempos in both sets.
The early portion of the setlist featured "Box of Rain" and a full-blown, folk-smacked rendition of 'Ramble On Rose.' Weir was having a good time conveying the bouncy narrative, although, at times, the lyrics were rushed. Still, the cantankerous rhythms and harmonies seeded memories and fans were swept into a state of bliss after every cadence.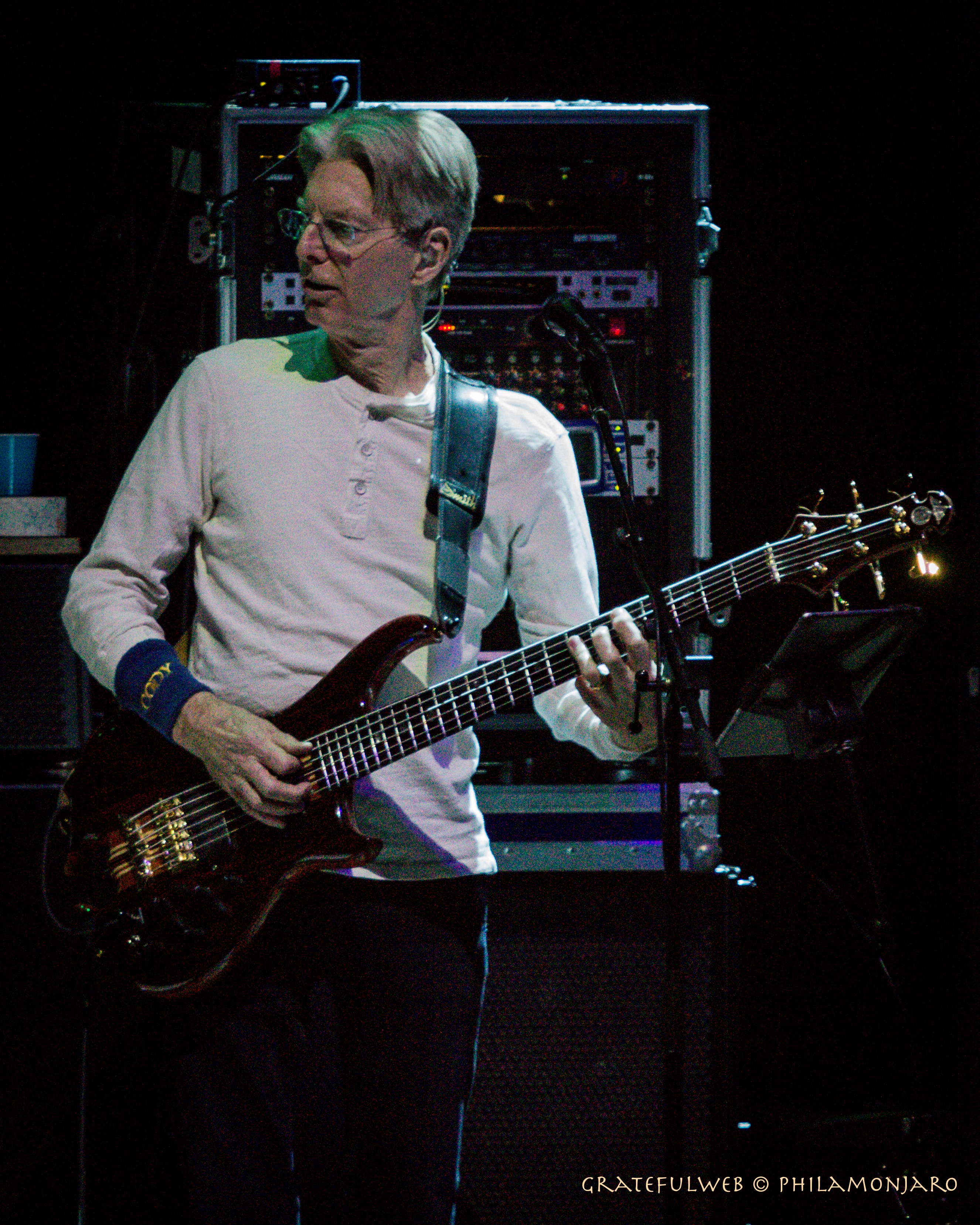 Lesh, in an introspective mode, reminisced about the impromptu creation of 'Cosmic Charlie,' and the old school setting where it had been concocted.
The catchy 'Looks Like Rain' got the front rows singing along with the duo, and swaying independently to the chorus. The two men joked about writing this ballad over the phone, never guessing the outcome.
'Estimated Prophet' drew more memories, this time of the American West Coast, with Weir, on jangling, electric guitar. The result was more of a jazz/folk fusion. Changing it up, Lesh, his vocal timbre, more soothing, launched into 'Operator,' but it was during the swirling 'West L. A. Fadeaway' that the players loosened up.
The second set featured (Dead) pianist Jeff Chimenti, guitarist Larry Campbell and sparkling chanteuse, Theresa Williams (who also performed in Boston). This smart addition allowed for more precise arrangements, tighter transitions, and dreamy interpretations. At this point, Weir and Lesh looked noticeably more relaxed.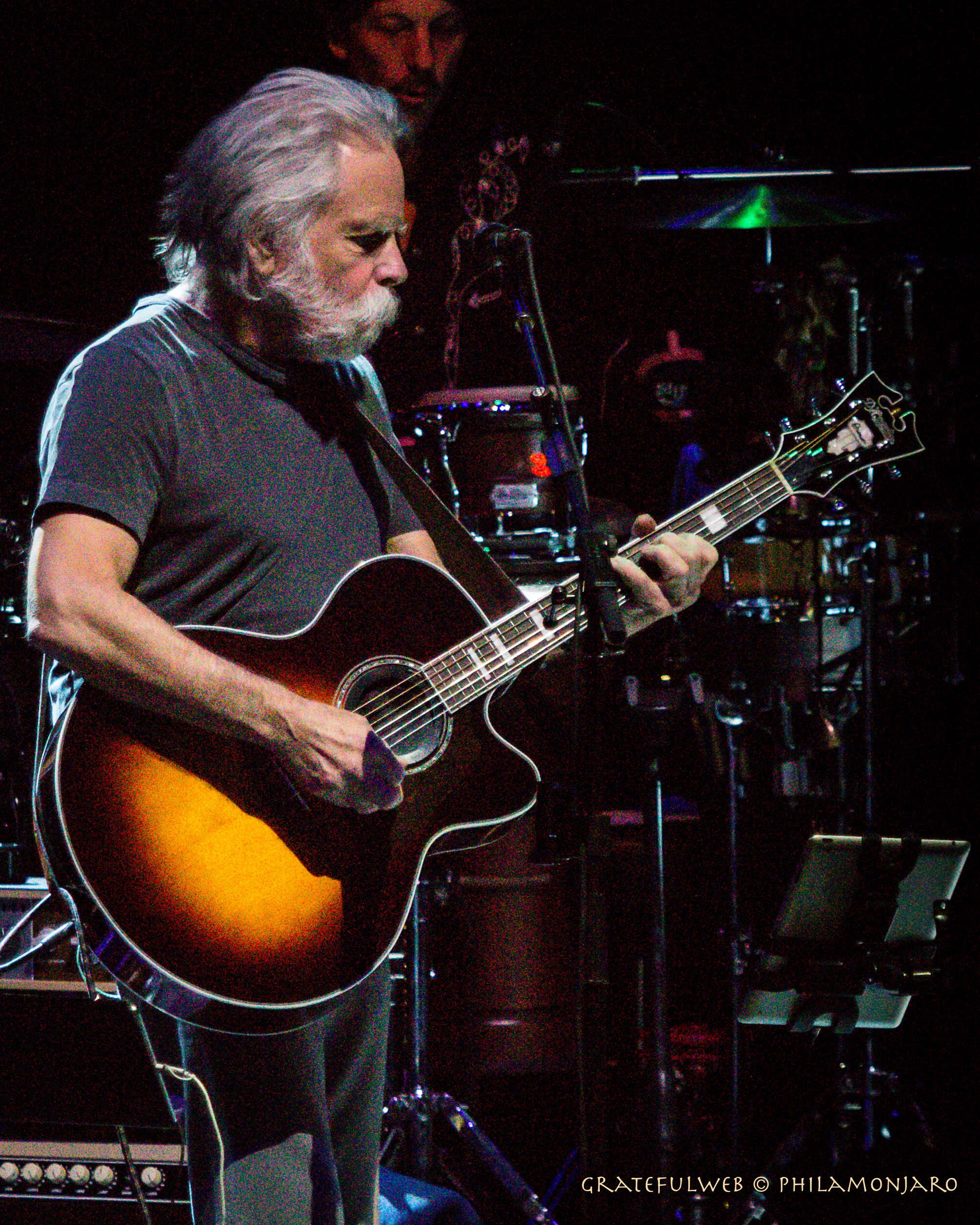 Case in point, 'Playing in the Band,' was lush, with Campbell/Weir co-comping muscular rhythms. 'Scarlet Begonias'/'Fire on the Mountain' displayed Campbell's crisp mandolin, whereas Lesh's lead-off of 'Dark Star' highlighted the bones of this epic; the holistic talents of the ensemble breathed new life into it, by virtue of stringent harmonies and an overall refocused energy. In unapologetic jam mood, 'St. Stephen' blossomed. And the rootsy transition and rendering of Dylan's, 'A Hard Rain's a-Gonna Fall,' couldn't have been more demonstrative. Weir and Lesh, unabashedly, came back to the fore on 'Bird Song,' where the innocent lyrics were offset by the duo's gritty, instrumental insouciance.
'Sugar Magnolia' kept up the pace, too, offering the continually screaming fans a great opportunity to chime in, vocally. Chimenti's jazzy pianistic embellishments added just the right touch of majesty; the guitar solos were focused and highly melodic, in contrast to the meanderings of 'Dark Star,'; more emblematic of the age of psychedelia, except when Teresa Williams, wielded her sterling, soprano. And, of course, the fans rightfully refused to leave without an encore. What song better to end the night than 'U.S. Blues.'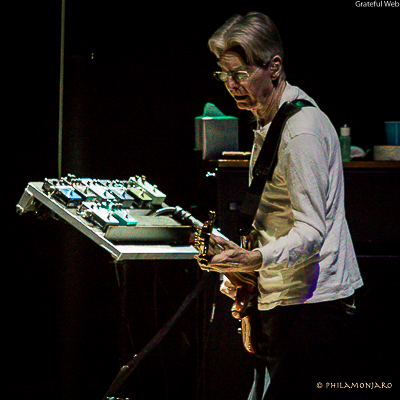 Throughout, Lesh and Weir, rose to the auspicious occasion, adding bright, bluesy nuance to their instrumental lines, while taking care not to over shadow each other's floating solos. And despite the ongoing party atmosphere, when the legends spoke, the audience listened, whether the topic was songwriting or politics, for example, when Weir excitedly exclaimed, "Is everyone registered? If you love the way things are going with our government, why bother?"
Also, there was the simple elegance of white space that came into play. The legendary "Dead" variety of music settles the nerves and invites friendship. That hasn't changed. And that said, this second-to-the-last night offering, was, two-fold. On the one hand, it was about enjoying the warmth and spontaneity of rock's most steadfast troubadours, as they paid tribute to their classic repertoire's acoustic/electric subtleties. On the other hand, it was an opportunity for the revved-up audience to reconnect. As the pair conversed freely, keeping the mood light with pertinent asides and lyrical perspectives, fans expressed their approval, via gestures, shouts, and spirit.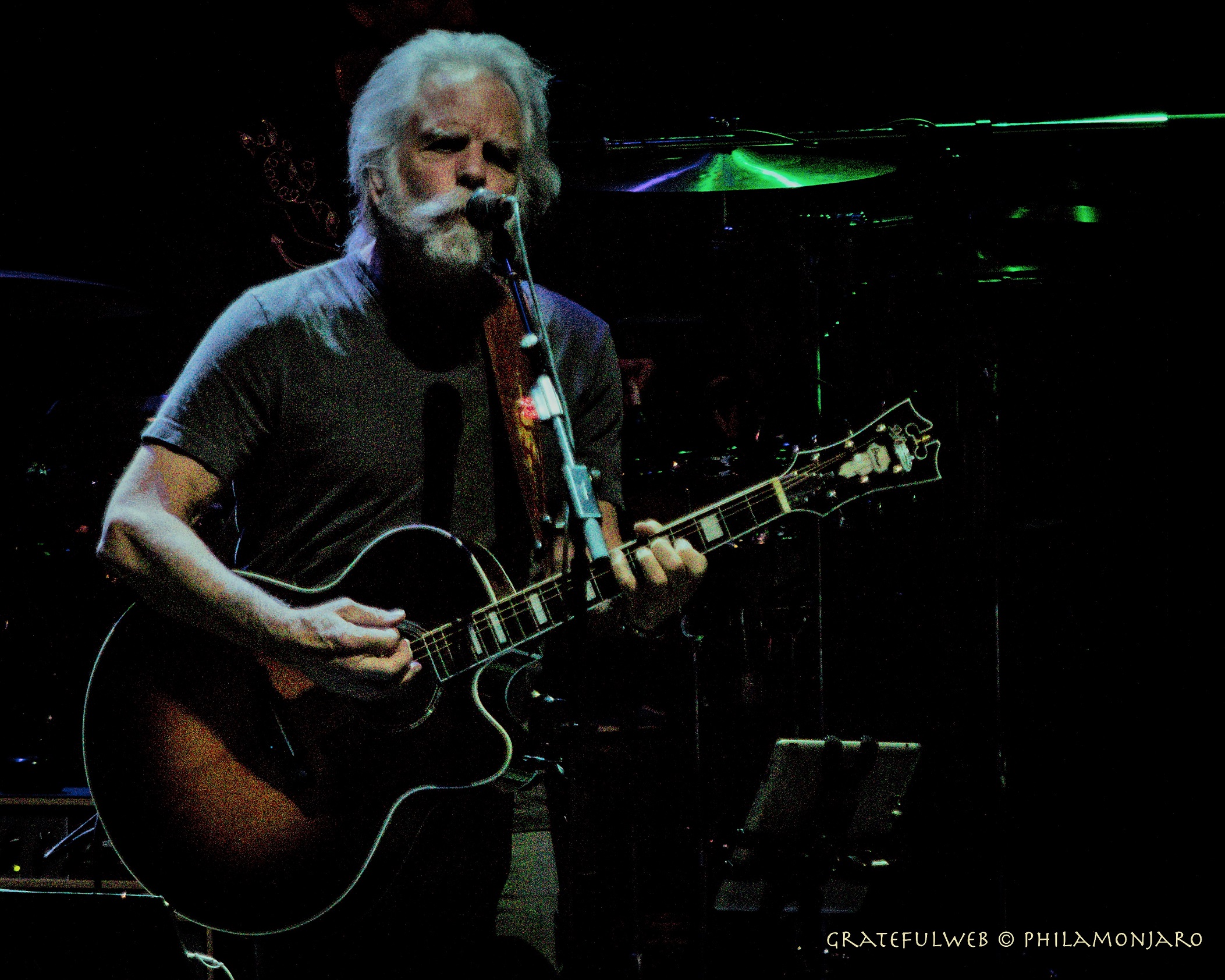 'U.S. Blues' made a deep impression as an encore. "I'm Uncle Sam, that's who I am, been hiding out in a rock 'n' roll band…" This tongue-in-cheek song reminded us not to take little things too seriously, yet, it slyly projected a deeper meaning, a paradigm so often reflected in what fans enjoyed all night...